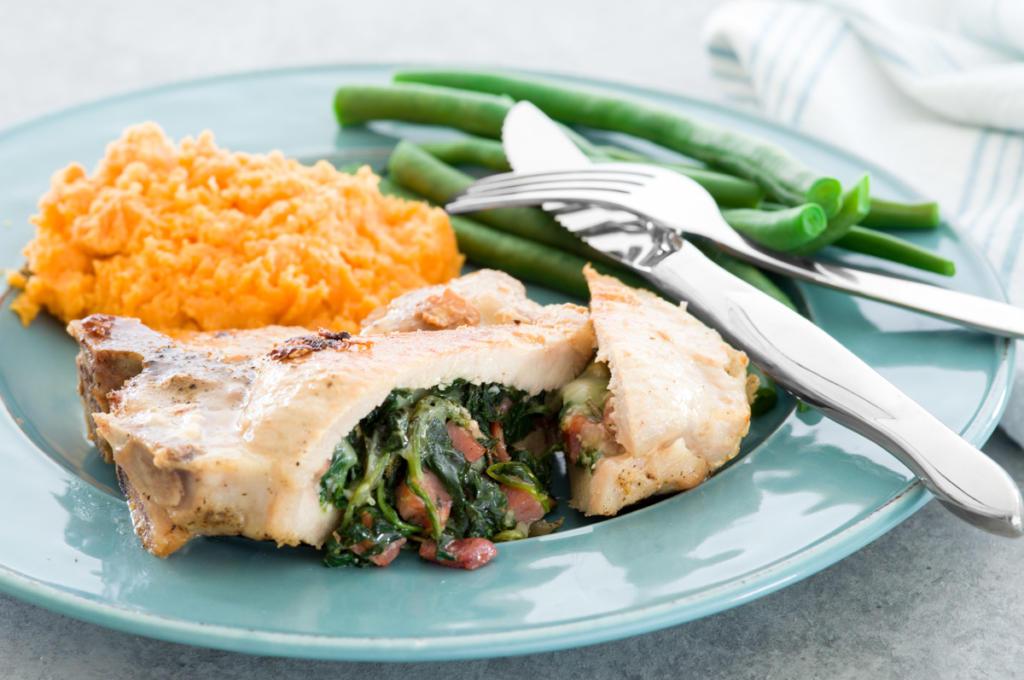 When someone says stuffed pork chops, do you automatically think of big, thick chops stuffed to overflowing with bread stuffing? That's my first thought. Here's a twist on stuffed pork chops that contain no bread. Instead, spinach, capocollo and provolone cheese are combined to make a tasty stuffing for thick, pan browned then baked chops.
Stop by the deli at your local grocery store and ask them for thick slices of capocollo and mild or medium provolone cheese. Use the hefty and sharp Hardy Slicer to cut both into small a small dice.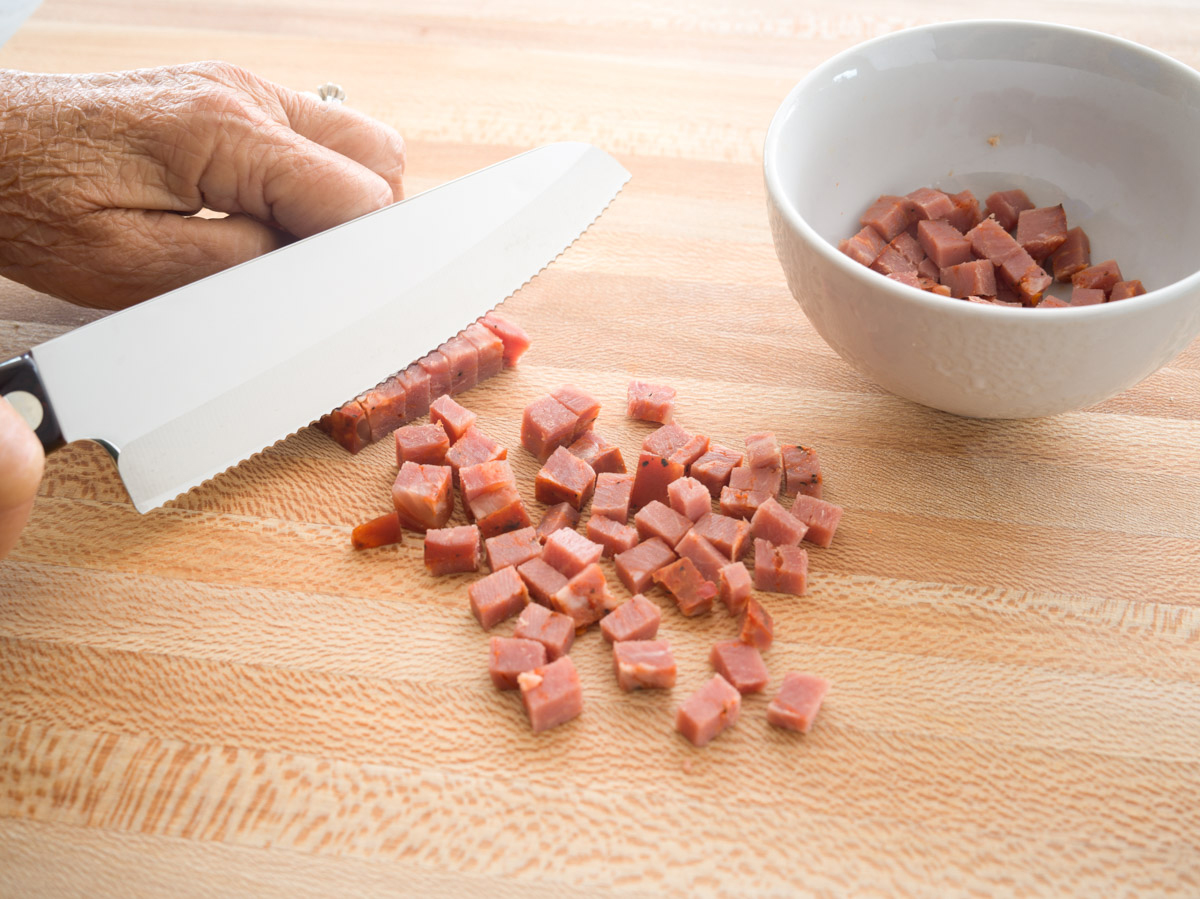 Once the spinach mixture is prepared, make sure it is cooled completely before adding the rest of the ingredients. If the mixture is not cool enough, the cheese will become soft or even melt which is not what you want.
Lay a chop on a cutting board and use a long, thin knife like the Boning Knife slice a deep pocket all the way to the bone. Its super sharp flexible blade makes accomplishing this task quick and easy. Stuff each chop full but don't overstuff. Toothpicks work great to secure the stuffing in the chop. Just make sure to remove them before serving.
This is a lovely dish to serve to your family or dinner guests. It looks like you spent hours preparing it but you can have it on the table in less than an hour. The stuffing bakes up nicely and stays inside the chop. Add some mashed sweet potatoes and fresh green beans for a plateful of goodness.
This is a dish I'm betting you'll make more than once. I think even those who aren't fans of spinach will like it. The spinach taste is subtle while the spiciness of the capocollo and the mild flavor of the cheese, combined with the pork, are delicious.
Ingredients
2 tablespoons olive oil, divided
2 cloves garlic, chopped
1 bag (6 ounces) baby spinach
1/2 teaspoon salt, divided
1/4 teaspoon black pepper, divided
1/2 teaspoon Italian seasoning
1/4 pound capocollo (spicy Italian ham), cut into small dice
1/4 pound provolone cheese, cut into small dice
1 egg, slightly beaten
4 thick cut (1-1/4 to 1-1/2 inch) bone-in pork chops
Directions
Heat 1 tablespoon of the oil in a large saucepan over medium heat. Add garlic; cook, stirring occasionally, about 1 minute. Add the spinach, 1/4 teaspoon salt, 1/8 teaspoon pepper and the Italian seasoning. Stir and cook until the spinach is wilted, about 2 minutes. Remove to a medium-size bowl; cool completely. When cool, add the capocollo, cheese and egg. Stir gently to combine.
Preheat oven to 375°F.
Place the pork chops on a cutting board. Cut a slit horizontally to the bone so the chop can be opened like a book. Stuff each with 1/4 of the stuffing. Secure with toothpicks.
Heat remaining 1 tablespoon of oil in a large skillet. Add the chops; cook until browned, flip and cook the other side until browned. Remove from skillet and place in a single layer in a baking dish just large enough to hold them. Sprinkle with remaining salt and pepper. Bake for 15-20 minutes or until internal temperature registers 155°F on an instant-read thermometer. Remove chops to a platter, cover with foil and let stand 5-10 minutes before serving.
NOTE: These chops can be prepared through stuffing them then wrapped in freezer paper and frozen up to 1 month (do not secure with toothpicks). To cook and serve, thaw in refrigerator overnight, then proceed per instructions below.
Recommended Tools