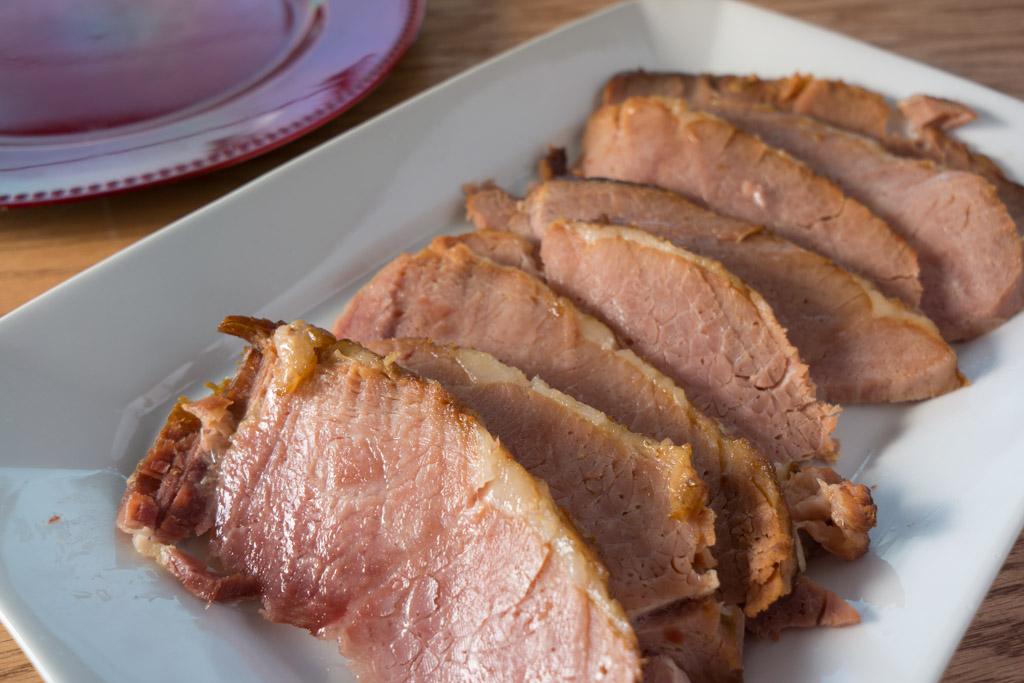 The way we celebrate family time has certainly changed over the years. Children grow up, marry and have families of their own, and it can add up to more hectic family gatherings.
Although some families chose to have an elaborate sit-down dinner for special occasions and holidays, others have adopted a more casual buffet type brunch or dinner instead. If you've chosen the more casual approach for dinner, then this Slow-Cooker Holiday Ham is for you. It's easy to prepare and produces a sweet broth that is thickened and used as gravy over the ham slices.
Once sliced, the ham can be put back in the slow-cooker with the gravy and set on warm. Add a casserole of cheesy hash brown potatoes, a vegetable platter with dips, a cheese plate, rolls, a few gourmet mustards, a colorful platter of cookies and anything else you may want to add and you have a buffet that guests can enjoy no matter what time they arrive.
Don't worry about slicing the bone-in ham. Follow our step-by-step How to Slice Bone-In Ham infographic to learn how easy it is.
Use disposable plates, cups and napkins. There are some whimsical designs that lend themselves to the casualness of a buffet. If space permits, place battery-operated candles and small pots of flowers on the table as well.
Originally published Dec. 15, 2015
Ingredients
1 fully-cooked ham, approx. 7 - 8 pounds*
2 cups pineapple juice
2 cups brown sugar
4 teaspoons Dijon mustard
4 teaspoons balsamic vinegar
4 teaspoons honey
2 tablespoons cornstarch
2 tablespoons water
Directions
Remove ham from packaging, discarding any flavoring packet.
Pour pineapple juice in bottom of a large, oval slow cooker. TIP: use a slow-cooker liner for easy clean-up.
Mix brown sugar, Dijon mustard, vinegar and honey in a medium bowl. Spread the mixture all over ham and place, flat side down, in slow cooker.
Cover with lid and set temperature to low. Cook ham 4 to 6 hours or until meat is tender and internal temperature reaches 140°F. Ham can be flipped and basted halfway through cooking time and again about an hour before ham is done.
When done, remove ham to a platter and tent with foil to keep warm. Skim fat and drain juices from the slow cooker into a large sauce pan and place on stove over medium heat.
Stir cornstarch into water to make a slurry. Slowly pour slurry into pot of ham juices. Allow mixture to bubble and thicken, stirring occasionally. If you want a thicker sauce, mix more cornstarch and water and slowly stir into sauce.
Serve warm, with sauce on the side or drizzled on top. *Any type of fully cooked ham can be used. Bone-in, boneless, whole or spiral cut, cured, uncured, smoked or not. You can also use a smaller ham. Simply adjust the cooking time. For example, a 3-pound ham will probably be done in 2 to 3 hours. Don't overcook or the ham will dry out. You may also want to halve the other ingredients if the ham is 4 pounds or less.
Recommended Tools