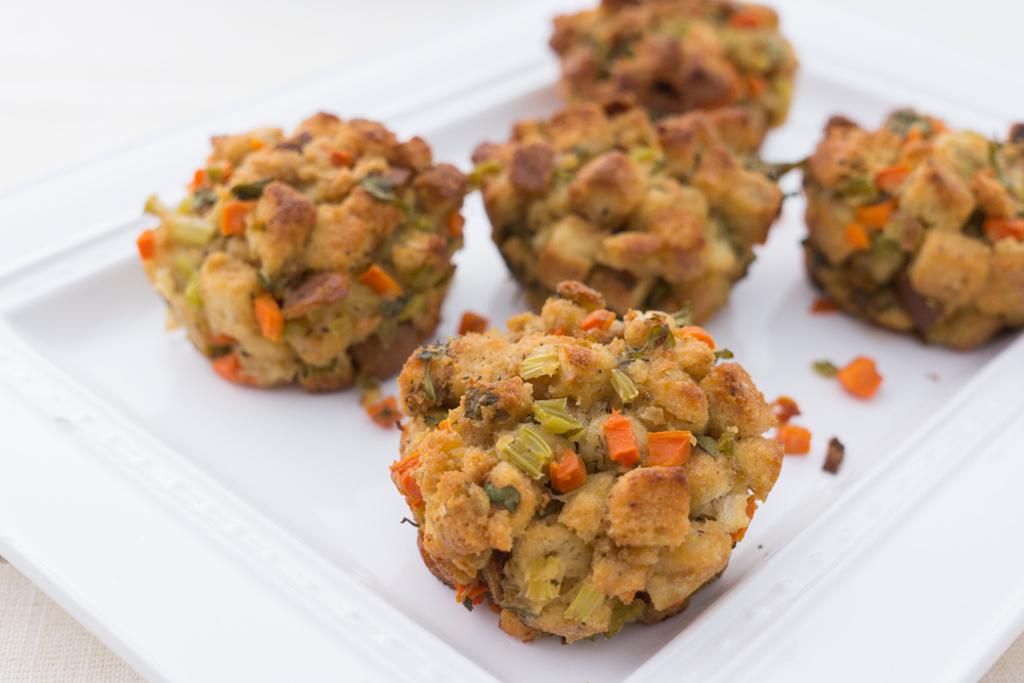 At our Thanksgiving table stuffing is almost as important as the turkey. These Single-Serving Stuffing Muffins add a new twist to this savory side without changing the traditional flavors.
The individual servings make a nice presentation and might become the talk of the table.
I like to have a couple of extra chef knives or santoku knives for anyone who wants to help chop the onions, carrots and celery.
Ingredients
2 tablespoons butter
1 onion, finely chopped
1 1/2 cups chopped celery
3 carrots, finely chopped
1/4 cup chopped fresh parsley
4 eggs
1 cup chicken stock (if stuffing is dry, add more chicken stock a little at a time)
9 cups soft bread cubes
1 1/2 teaspoons salt
2 teaspoons dried sage
1 teaspoon dried thyme leaves
1/2 teaspoon fresh ground black pepper
Directions
Preheat oven to 375°F.
Sauté onions, carrots and celery in a 10" skillet until tender.
Mix all ingredients in a large bowl.
Spray muffin tins with non-stick spray. Fill muffin tins with stuffing mix, pressing mix down and filling until just overflowing.
Packing the mix tightly will prevent the muffins from falling apart when removed from the pan.
Bake for 25 minutes or until crisp on top.
Variations:
Oyster Stuffing: Add 2 cups rinsed and drained oysters. Reduce salt to 1 teaspoon.
Bacon Stuffing: Cook and crumble 9 slices of bacon, add to mix.
Apple/Cranberry Stuffing: Add 2 cored, peeled and chopped Granny Smith apples and 1/2 cup dried cranberries.
Raisin/Nut Stuffing: Add 1 cup pecans or walnut halves and 1 cup raisins.
Mushroom Stuffing: Add 1/2 cup diced fresh mushrooms.
Sausage Stuffing: Add 1 pound cooked mild or sage breakfast sausage to sautéed onion celery, carrot mix. If using sage sausage, reduce dried sage to 1 teaspoon.
Recommended Tools