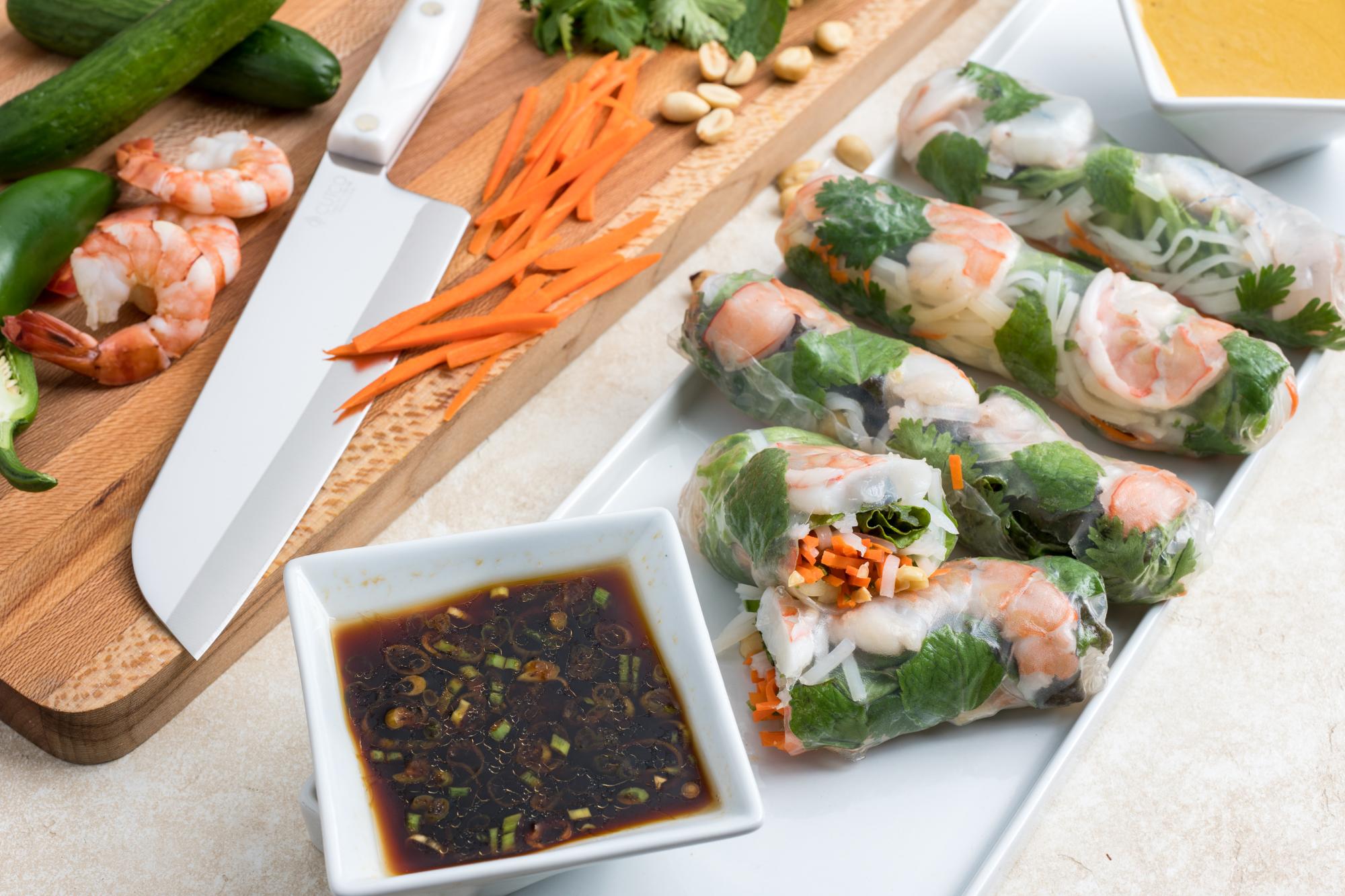 This is a recipe that looks long, but the preparation is minimal. The fun part is rolling the ingredients up in the see-through rice paper wrappers. The flavors and crunch of these Shrimp Spring Rolls makes the effort well worth it.
Most grocery stores feature an Asian foods section, so look there for the fish sauce, rice stick noodles and rice paper wrappers. You can also pick up some prepared dipping sauces if you don't wish to make your own. If you want to eliminate the step of boiling the shrimp, buy pre-cooked shrimp.
Use the Vegetable Peeler to peel the carrot and cucumber, then the 7" Santoku knife to cut them into matchsticks.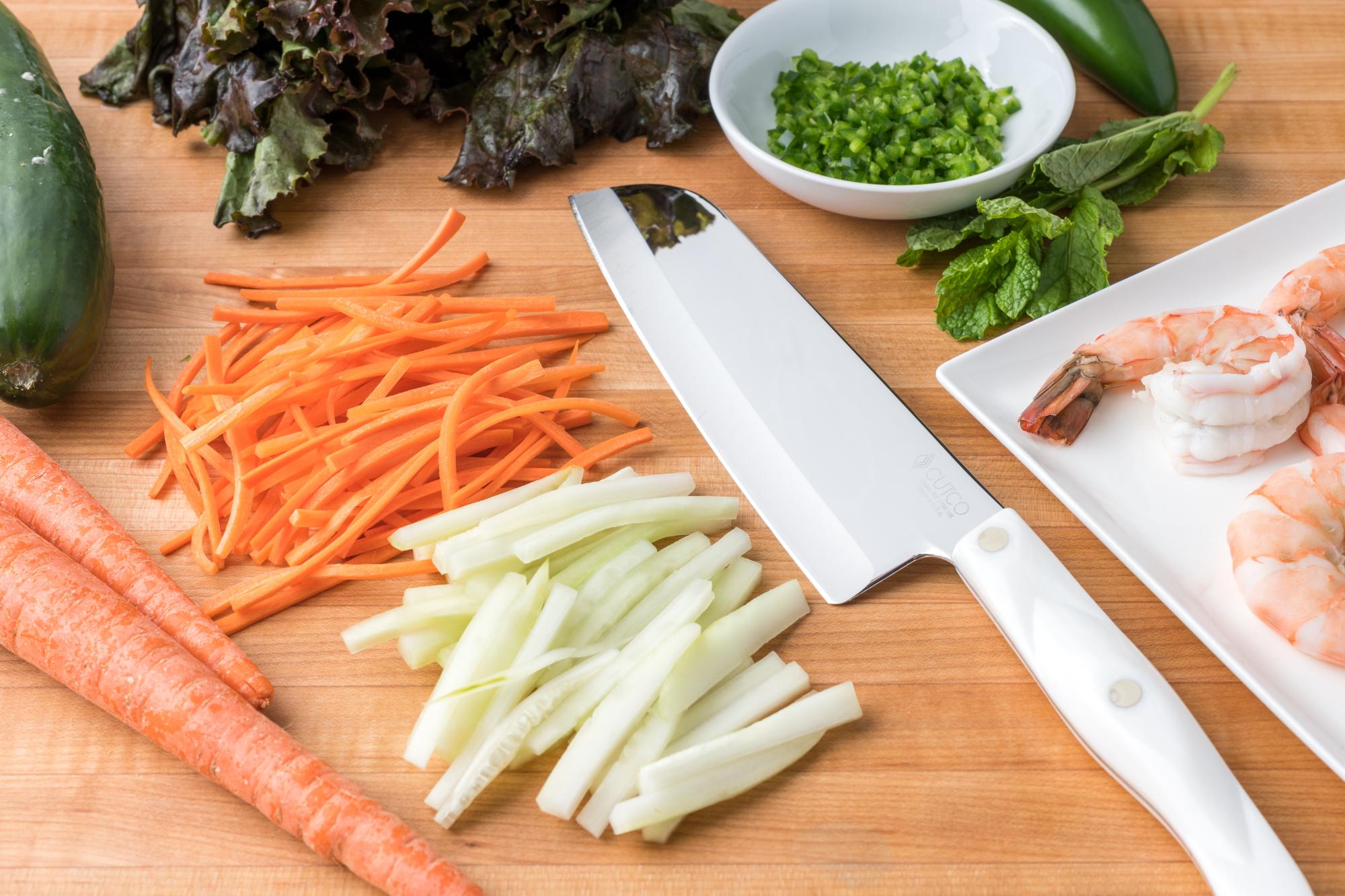 For deveining and slicing the shrimp, the 3" Gourmet Paring Knife makes it fast and easy.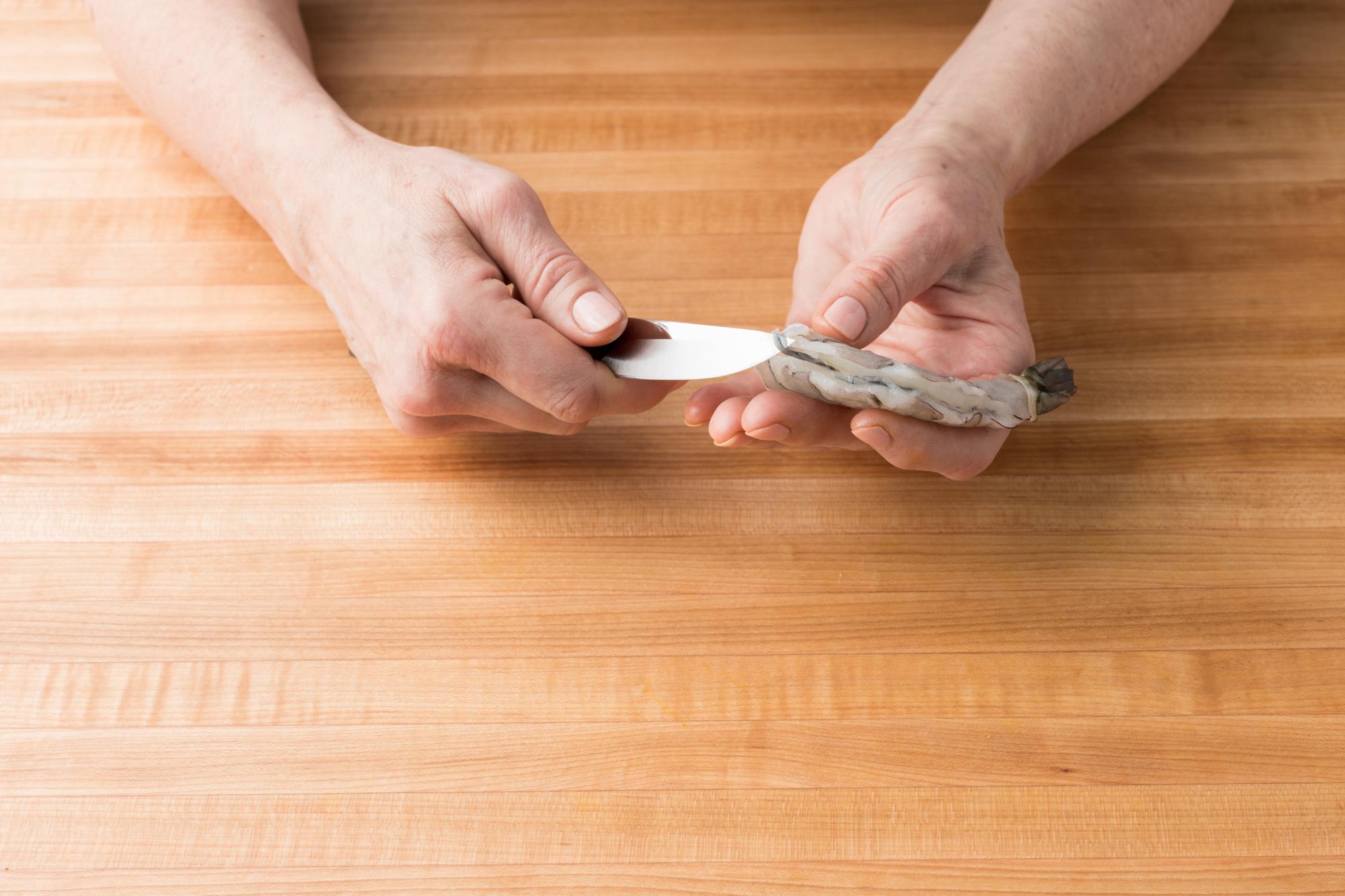 Ingredients
Spring Rolls
1 1/2 tablespoons fish sauce
2 tablespoons fresh lime juice
1 teaspoon granulated sugar
1 large carrot, peeled and grated on large holes of box grater, or cut into matchsticks
1/3 cup chopped unsalted roasted peanuts (optional)
1 medium jalapeño pepper, stemmed, seeded and minced
1 tablespoon soy sauce
1 pound raw "easy peel" medium shrimp, (thawed if frozen)
4 ounces thin rice stick (vermicelli) noodles
1 large cucumber (about 12 ounces), peeled, seeded and cut into matchsticks
6 leaves red leaf lettuce or Boston lettuce, halved lengthwise
12 round rice paper wrappers (8 inches in diameter)
3/4 cup loosely packed fresh Thai basil leaves or mint leaves, small leaves left whole, bigger leaves torn into 1/2-inch pieces
3/4 cup fresh cilantro leaves, loosely packed
Dijon Mustard Dipping Sauce
Makes 1 cup
1/2 cup Dijon mustard
1/2 cup toasted sesame oil
2 tablespoons rice wine vinegar
1 tablespoon dry sherry or mirin
Salt, to taste
Soy Ginger Dipping Sauce
1/2 cup low sodium soy sauce
1/4 cup rice wine vinegar
2 tablespoons water
2 teaspoons toasted sesame oil
1 tablespoon grated ginger
I teaspoon sugar
1/3 cup thinly sliced scallions
Directions
Combine fish sauce, lime juice and sugar in a small bowl.
Combine carrot, peanuts (if using) and jalapeño in small bowl. Add the remaining 1 tablespoon fish sauce mixture; toss to combine.
Bring 1/2 gallon of water to a boil in a large pot set over high heat. Add 1 tablespoon soy sauce. Add the shrimp and cook until just firm, 2-3 minutes. Transfer the shrimp to a cutting board and when cool enough to handle, peel, and cut them in half lengthwise. Set aside.
Return the water-soy sauce to a boil. Add rice stick noodles to the hot soy-water. Cook until tender, approximately 3 minutes. Drain noodles and rinse under cold running water until cool. Drain again and transfer to a bowl; add the remaining fish sauce mixture and toss gently. Use kitchen shears to cut the noodles into 2-inch pieces; set aside.
Spread clean, damp kitchen towel on work surface. Fill 9-inch pie plate with 1-inch room-temperature water. Working one at a time, immerse each wrapper in water until just pliable, about 5 seconds; lay softened wrapper on towel. Place a lettuce leaf on lower half of wrapper, one half inch from edge. (Fold lettuce if needed.) Arrange 5 cucumber sticks horizontally on wrapper, top with 1 tablespoon carrot mixture, then arrange a scant 1/4 cup noodles on top of carrot mixture. Scatter 6 basil or mint leaves and 6 cilantro leaves over wrapper.
Bring the bottom edge of the wrapper tightly over the filling, and then fold in the 2 sides. Place shrimp halves cut-side up directly on remaining section of wrapper, so that the shrimp will be visible when filling is rolled up. Finish rolling from bottom to top until the entire wrapper is rolled. Be careful not to tear the rice paper. Place on a parchment-lined half sheet pan and cover with a damp towel. Repeat with the remaining wrappers until the filling is gone. Serve with Dipping Sauce.
To make the sauces: Combine all ingredients for each sauce in a small bowl and whisk until combined. Serve at room temperature. Refrigerate leftover sauce.
Recommended Tools