Sheet Pan Pancakes With Strawberries And Blueberries
346 days ago
Skip to recipe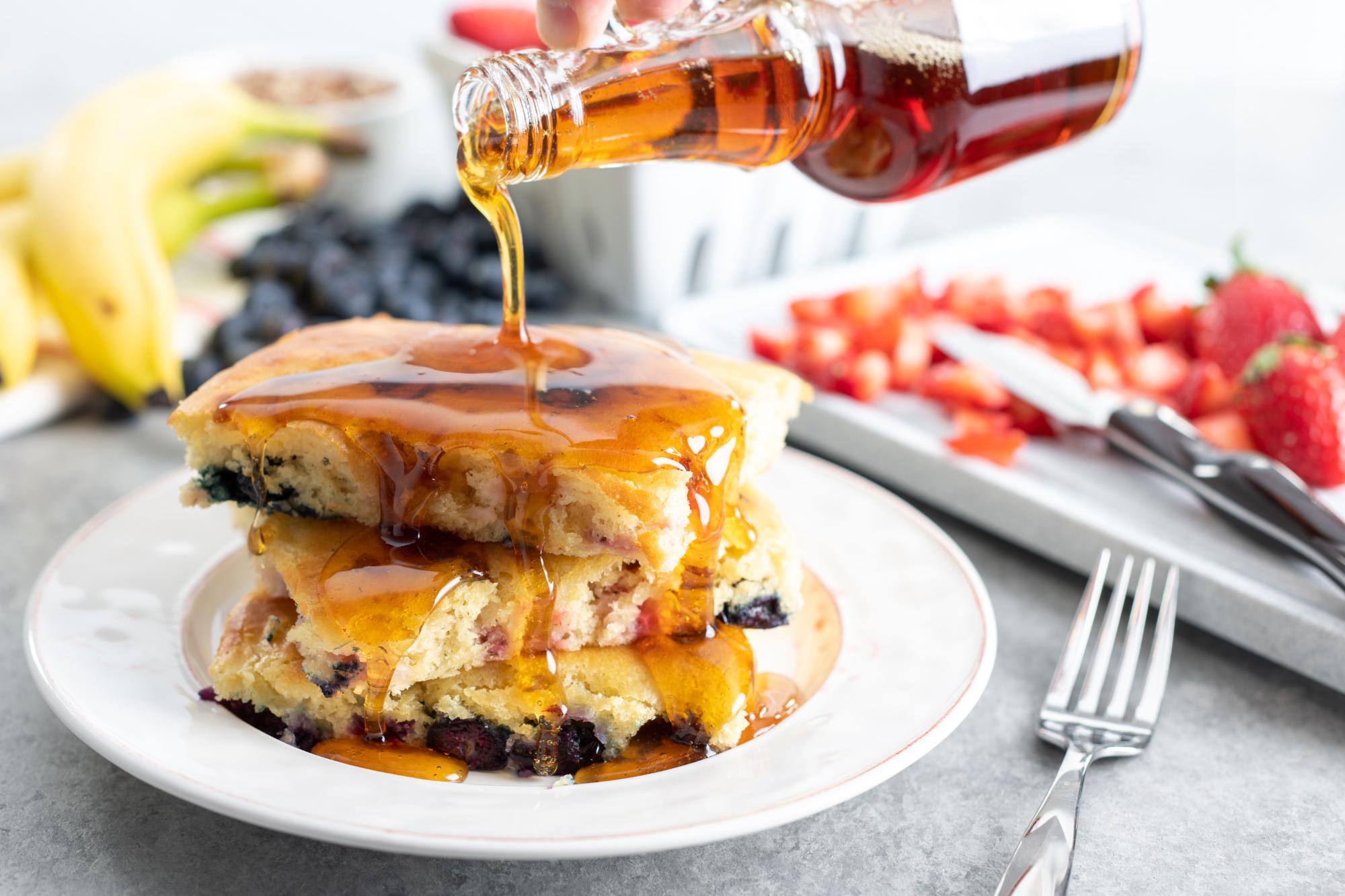 On the weekends during the warmer months, I like to create breakfast spreads and invite some friends over to enjoy. It's something a little different and dining outside is a nice change after our typically cold winters here in New York. One staple for any breakfast spread is pancakes but, quite honestly, cooking these for a crowd means you're hovering over the stove or griddle. Even when I make pancakes just for my husband and me, we can never eat at the same time because you really need to eat them as you cook so they are still warm.
We've come up with the perfect solution to the dilemma of how you serve pancakes for everyone at the same time. Sheet Pan Pancakes With Strawberries And Blueberries allow you to have wonderfully fluffy and warm pancakes that are ready to serve, while allowing you to get other items on the table. The best part of this is you can do multiple sheet pans of pancakes with different ingredients – yum!
Preparing Your Pancake Ingredients
Prepping your add-in ingredients in advance is key to making this recipe super easy and it also allows you to create different batters for each sheet pan. For this recipe, we went with the basics of blueberries and strawberries and then also chopped some pecans for a topping. But you can choose any combination you like, such as chocolate chips, other berries or bananas – the list is endless.
To dice the strawberries, we used the Santoku-Style 3" Paring Knife to cut off the tops, sliced them lengthwise and then cut the slices into a large dice.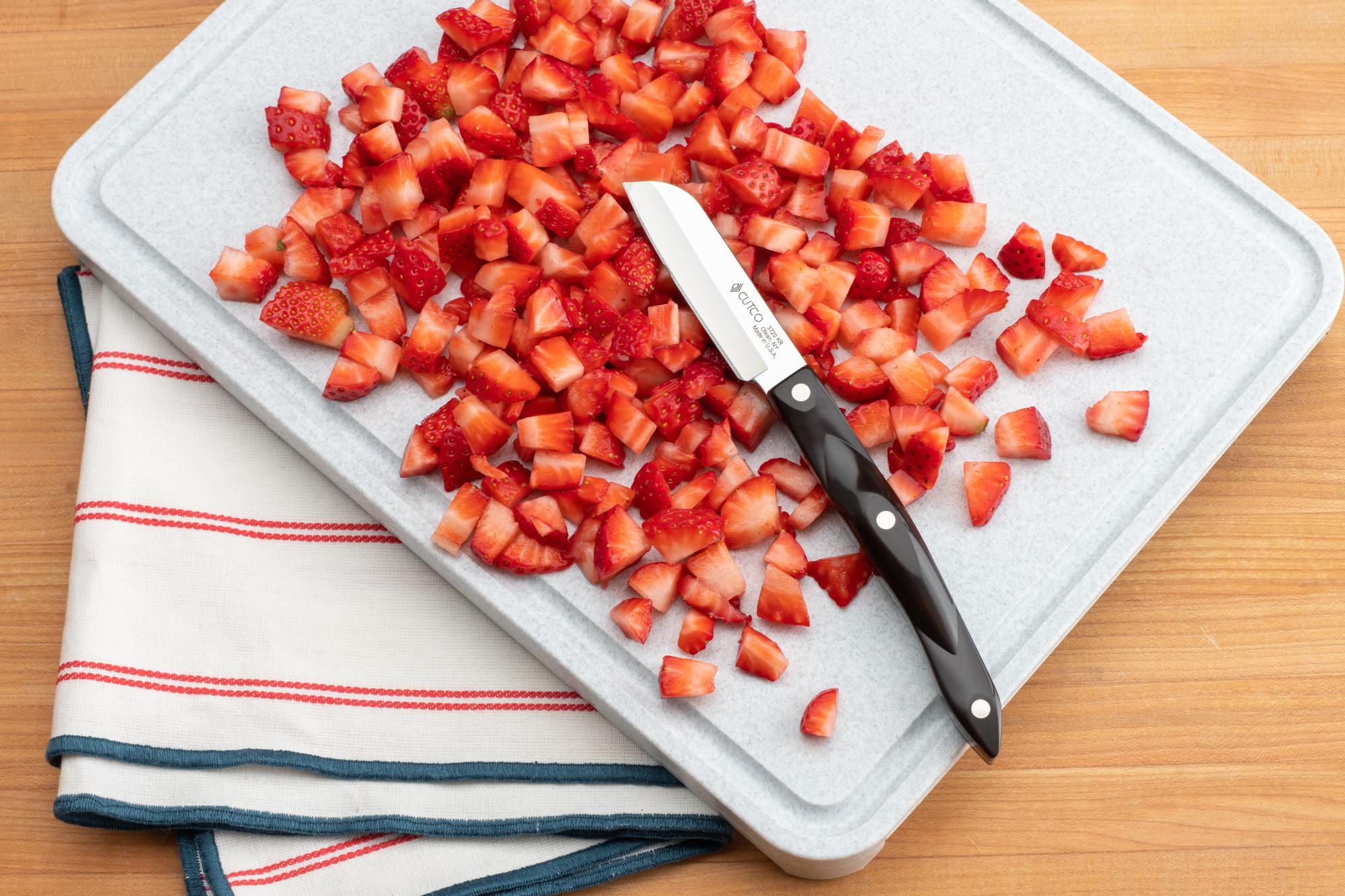 The blueberries we left whole, so no prep work there.
We rough-chopped the pecans using the 7-5/8" Petite Chef knife, first slicing them in a pile and then using a rocking motion to get the size we wanted.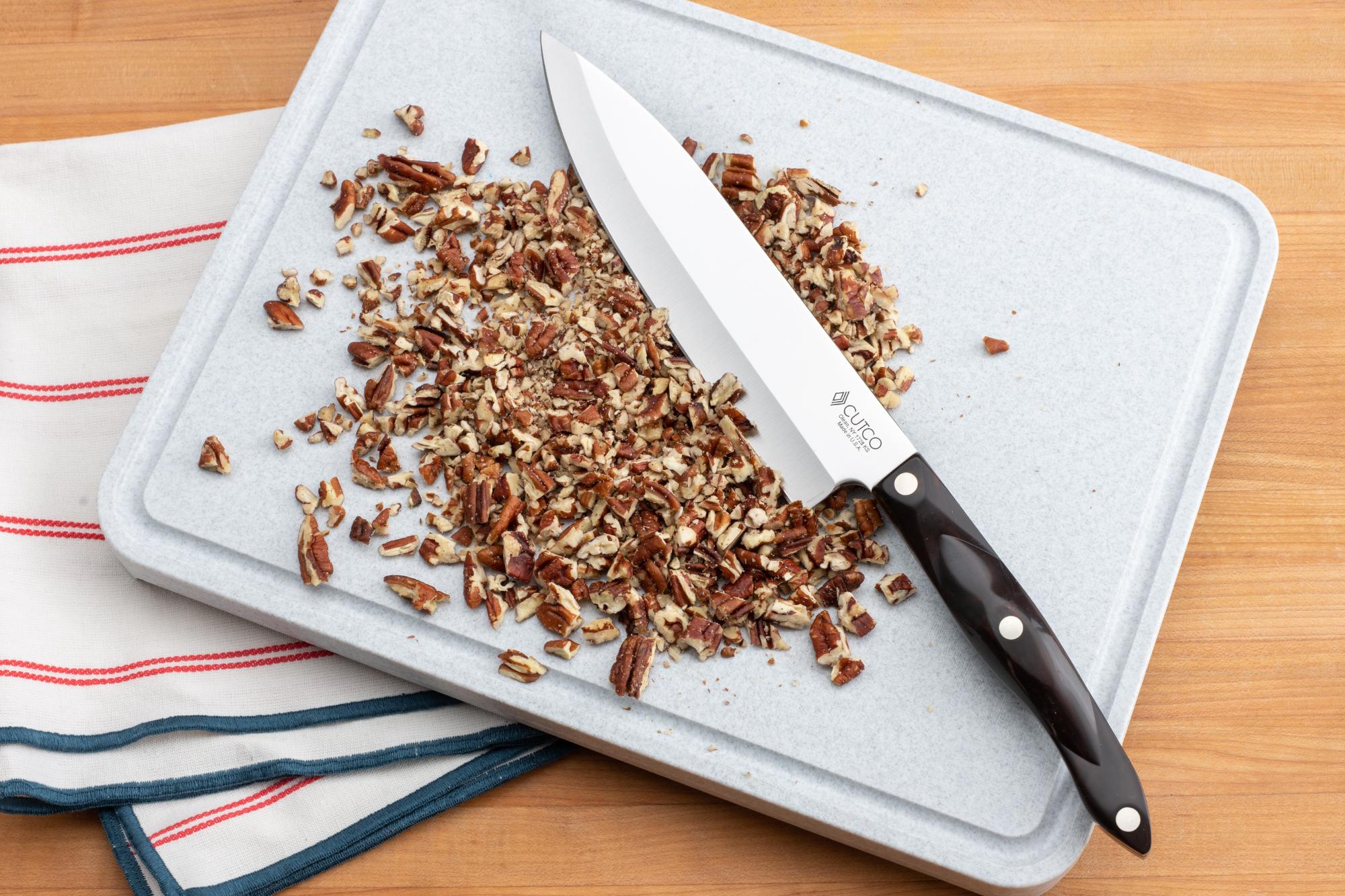 If you need further instruction on the best way to chop pecans, you can view our How To Chop Pecans video here.
Prepare the Sheet Pan
Before you start mixing all of your ingredients together, here is a quick tip on the sheet pan preparation. You will definitely want to line the pan with parchment paper. We also recommend melting one tablespoon of butter to brush onto the parchment paper as well as the sides of the baking sheet. This is vital to ensure your pancakes do not stick and come out golden brown.
Once your ingredients and sheet pans are prepped, it's simply putting everything together. In baking, you typically mix together wet ingredients, then dry ingredients separately to ensure everything is well-blended. Then the wet ingredients are gently added to the dry to fully combine. So is the case with these sheet pan pancakes. Mix together the buttermilk and eggs (making sure they are room temperature as you are adding them to melted butter), vanilla and melted butter and whisk until thoroughly combined. In a separate bowl, thoroughly combine the flour, powdered sugar, baking powder, baking soda and salt. Then add the wet ingredients to the dry and stir until the batter is combined.
Gently add your fruits, nuts or chocolate chips to the prepared batter and gently mix until everything is combined. Pour the batter onto the sheet pan and bake. Once the pancakes are springy to the touch, brush the additional melted butter on top of the pancakes and broil them until the top is golden brown. A quick tip – don't walk away from the oven during the broiling process – you'll end up with burnt pancakes.
Serving the Sheet Pan Pancakes
Once the pancakes are done, quickly cut them into squares with the Pizza Cutter.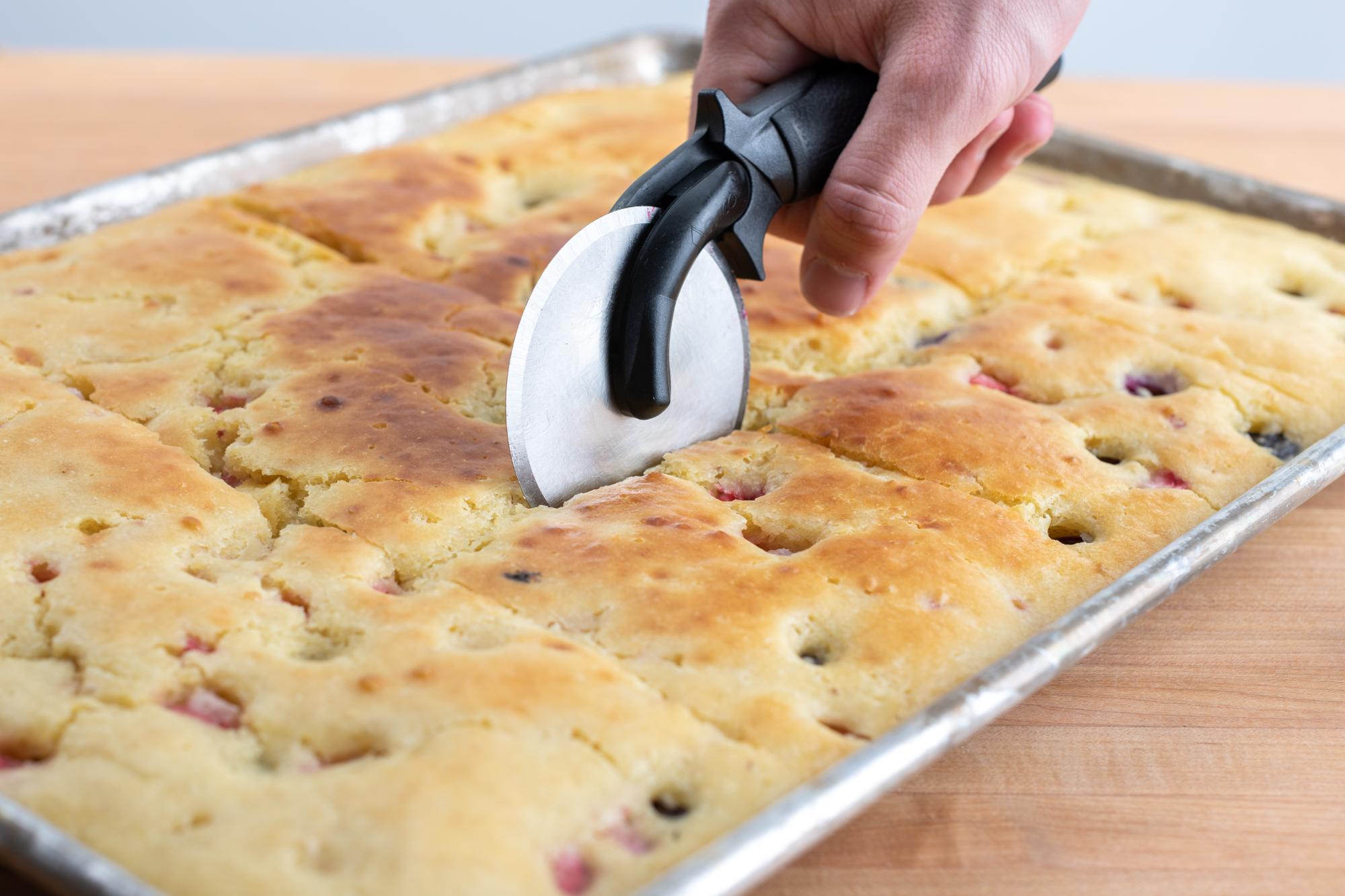 Make sure you have your serving dish ready and, using the Slotted Turner, lift out each square to stack on a platter so they are ready to serve.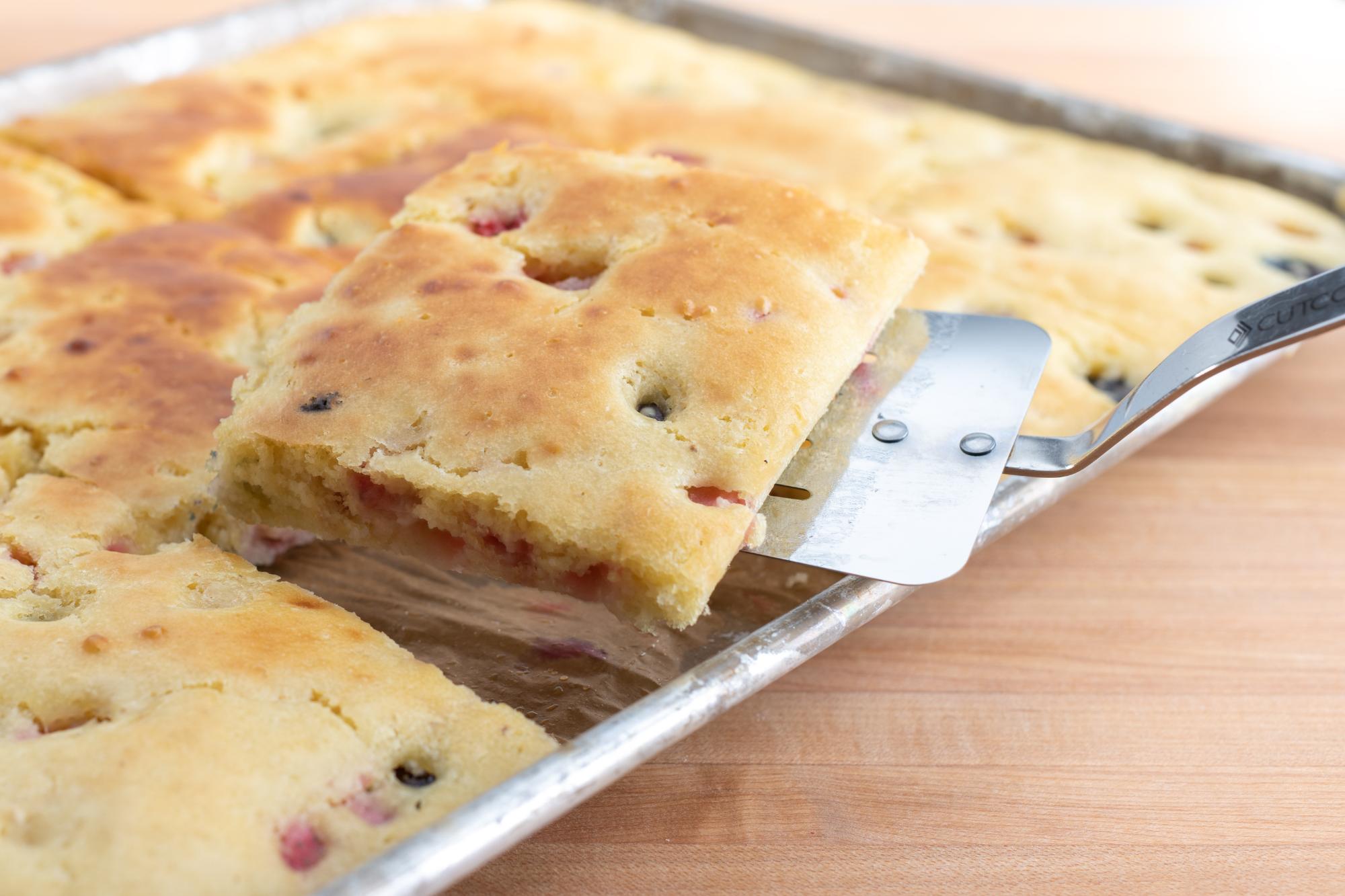 If you have cooked multiple sheet pans, just repeat the process until your platter is full.
Now for the best part! Serve the pancakes and drizzle them with good maple syrup.
Remember that you already brushed them with butter so it's now just a matter of adding your toppings and some maple syrup and you're good to go!
We loved these pancakes. They were light and fluffy and the strawberry and blueberry combination was fresh and delicious. We also enjoyed the idea of different flavor combinations and toppings. The next time you want pancakes, try these Sheet Pan Pancakes With Strawberries And Blueberries. You may never go back to the traditional way of cooking pancakes!
Sheet Pan Pancakes With Strawberries And Blueberries
Print Recipe
Ingredients
8 tablespoons unsalted butter (1 stick), divided
2 cups buttermilk, room temperature
2 large eggs, room temperature
1 1/2 teaspoons vanilla extract
2 cups all-purpose flour
1/3 cup powdered sugar
3 teaspoons baking powder
1 teaspoon baking soda
1/2 teaspoon kosher salt
1 1/2 cups chopped or diced fruit, nuts, or chocolate chips (optional)
Powdered sugar or maple syrup, for serving
Fruit topping suggestions: sliced strawberries, blueberries, sliced bananas, diced apples
Directions
Heat oven to 400 F. Line a rimmed baking sheet (approximately 13x18 inches) with parchment paper.
Melt 1 tablespoon of butter and coat the parchment paper and the sides of the baking sheet with the butter.
Melt 4 tablespoons of butter and mix together with the buttermilk, eggs and vanilla extract. Whisk together until thoroughly combined.
In a separate bowl, whisk together the flour, powdered sugar, baking powder, baking soda and salt.
Pour the wet ingredients into the dry ingredients and mix until just combined. Do not over-mix.
Fold in 1 1/2 cups chopped fruit, nuts, or chocolate chips, if desired.
Pour the batter into the prepared baking sheet and smooth into an even layer. Gently shake the pan to ensure the batter is evenly spread.
Bake for 12 to 15 minutes, until the pancake is lightly golden, cracked, and springs back when touched.
While the pancakes are baking, melt the remaining 3 tablespoons of butter.
Remove the pancake from the oven and heat the broiler to high. Brush the 3 tablespoons of melted butter onto the top of the pancake. Broil until golden brown, 2 to 3 minutes, rotating the baking sheet halfway through the cooking process to evenly brown the pancakes. Do not walk away from the broiler as the pancakes can burn easily.
Cut the pancakes while they are still hot into 12 pieces.
Serve warm with powdered sugar and maple syrup and/or mixed fruit and additional nuts.
Recommended Tools