Saturdays With Barb: Sheet Pan Lemon Chicken With Vegetables
1438 days ago
Skip to recipe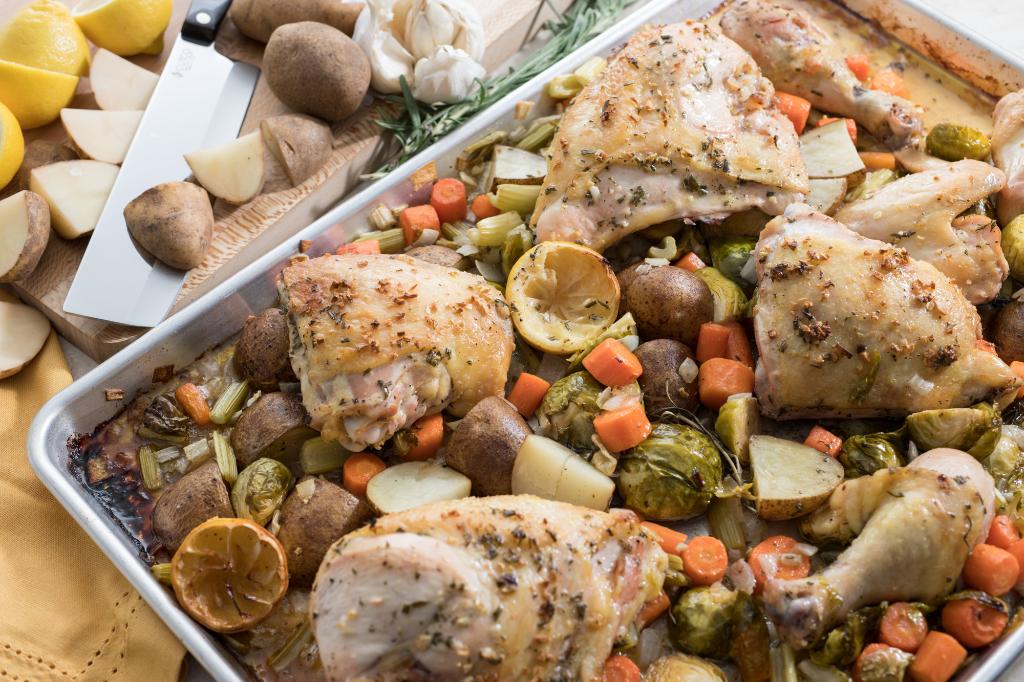 Running out of ideas for dinner? Me, too. It's been a long winter in western New York and it's time to add some brightness and a little tang to dinner.
This one-sheet meal has chicken pieces that are tossed in a lemon marinade and baked with good-for-you vegetables. Prep time is relatively short. You don't have to peel the potatoes and peeling the carrots is a cinch using the Cutco Vegetable Peeler. As for the other vegetables, just make sure they're cut into bite-size pieces for easy eating. A solid prep knife, like a chef or santoku, would work great.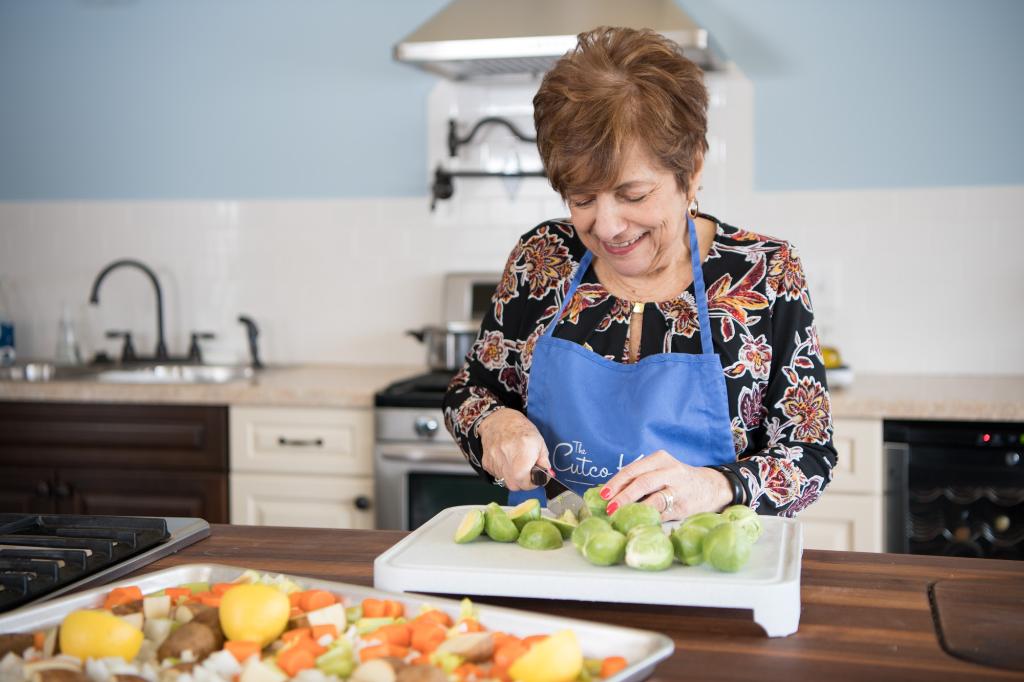 After everything is cut up, it's all tossed into a hot oven.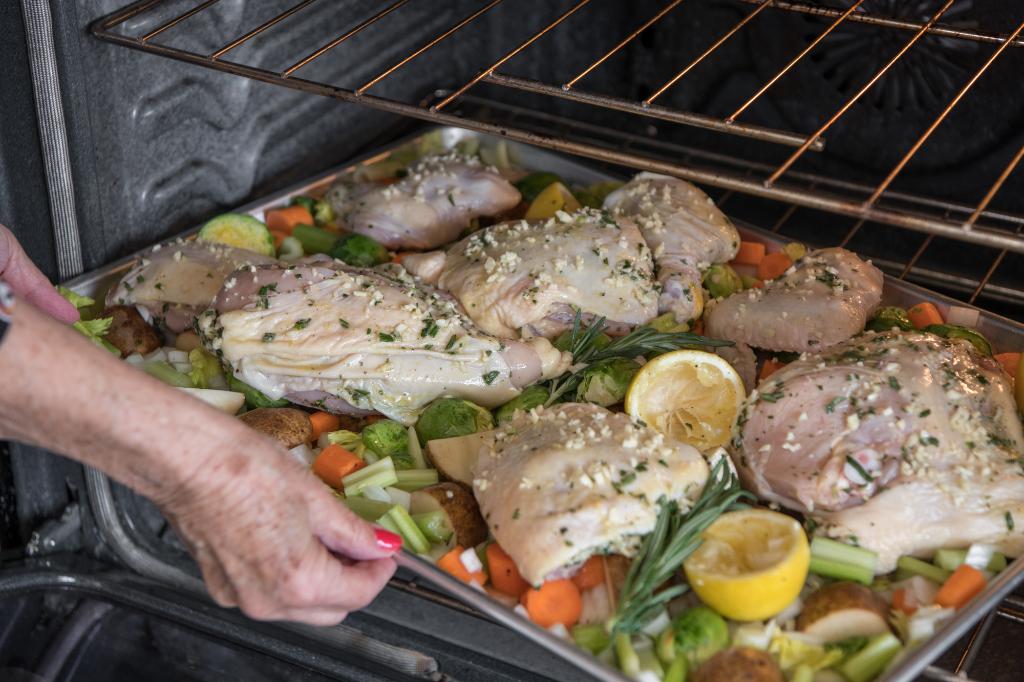 The chicken cooks up nicely with the skin lightly browned. It's moist and has a nice lemon flavor but is not too tangy.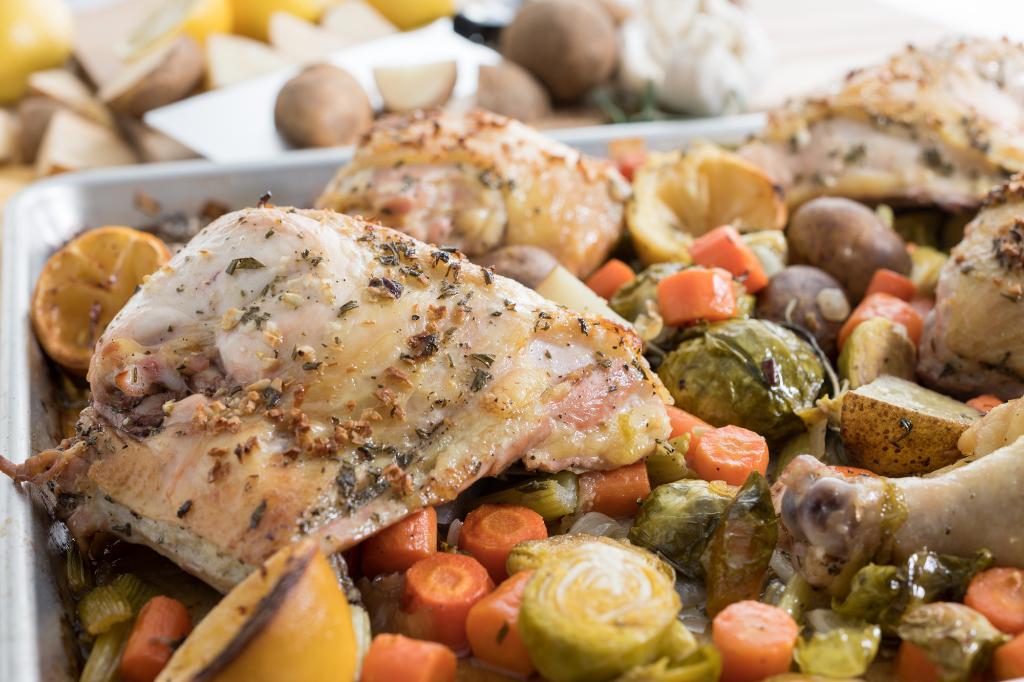 The roasted vegetables are so good, especially the carrots and Brussels sprouts which take on some sweetness.
Serve this dinner right from the pan to save time while cleaning up.
Everyone liked this with most commenting on the moistness of the chicken. I hope you'll give this one a try.
Ingredients
Non-stick cooking spray
1 pound new potatoes, halved or quartered
1 large onion, rough chopped
1 pound Brussels sprouts, trimmed and halved
1 pound carrots, peeled and cut into bite-sized chunks
6 to 7 stalks of celery, cut into bite-sized pieces
1/2 cup olive oil, divided
1/2 teaspoon salt, divided
1/2 teaspoon pepper, divided
2 tablespoons fresh minced rosemary, plus 2 whole sprigs
2 lemons, halved
4 cloves garlic, finely minced
1 3-4 pound chicken, cut up
Directions
Heat oven to 425 degrees F.
Liberally spray a baking sheet with non-stick cooking spray. Spread the potatoes, onion, Brussels sprouts, carrots and celery in one layer on the baking sheet. Drizzle with half of the olive oil and sprinkle with half the salt and pepper.
Whisk the rest of the olive oil, salt and pepper, minced rosemary, juice from the lemons and garlic in a large mixing bowl. Reserve the juiced lemon halves. Add the chicken pieces and toss to coat.
Place the chicken skin side up on the sheet pan with the vegetables. Add the lemon halves and the sprigs of rosemary. Bake 1 to 1 ½ hours or until vegetables are tender and chicken is lightly browned.
Remove from oven and let rest 5 to 10 minutes before serving. Season with additional salt and pepper if necessary.
Recommended Tools