Sheet Pan Chicken With Roasted Spring Vegetables and Lemon Vinaigrette
31 days ago
Skip to recipe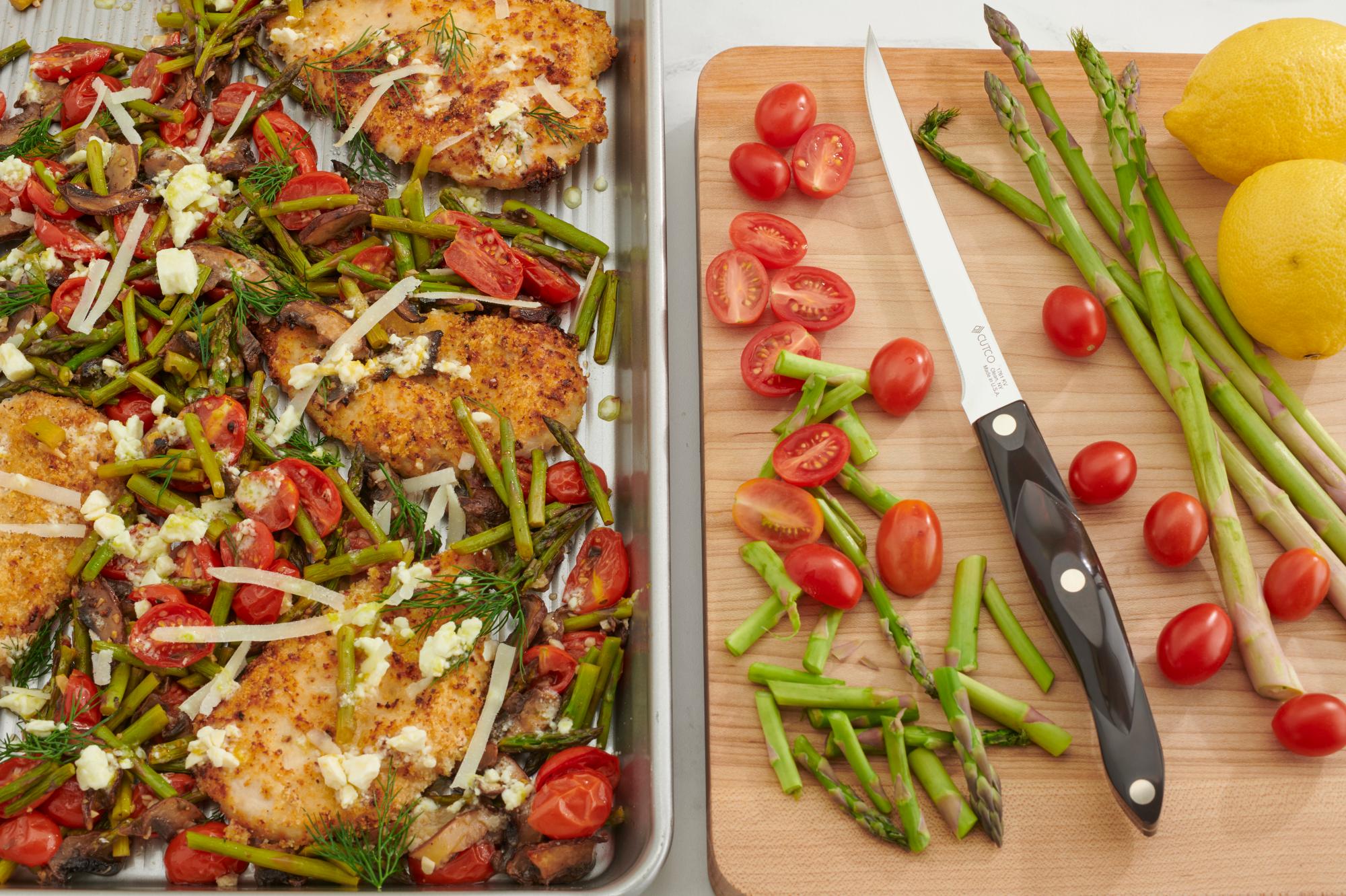 I love the idea of sheet pan dinners. They are easy, delicious and the after-dinner clean-up is a breeze. This recipe is an all-in-one dinner that is finished off with a bright and tangy lemon vinaigrette.
When making these types of dinners, use a good quality pan. A half-sheet pan (18-by-13-inches) is what most four-person households use, but you could easily halve the recipe for a smaller household and use a quarter-sheet pan (9-by-13-inches).
Prepare the Chicken
For this recipe, cut the chicken breasts horizontally into two equal pieces, so you have thinner cutlets. This will allow them to cook more quickly. A Boning Knife is great for this purpose because of its sharp blade and pointed tip, which makes it easy to maneuver.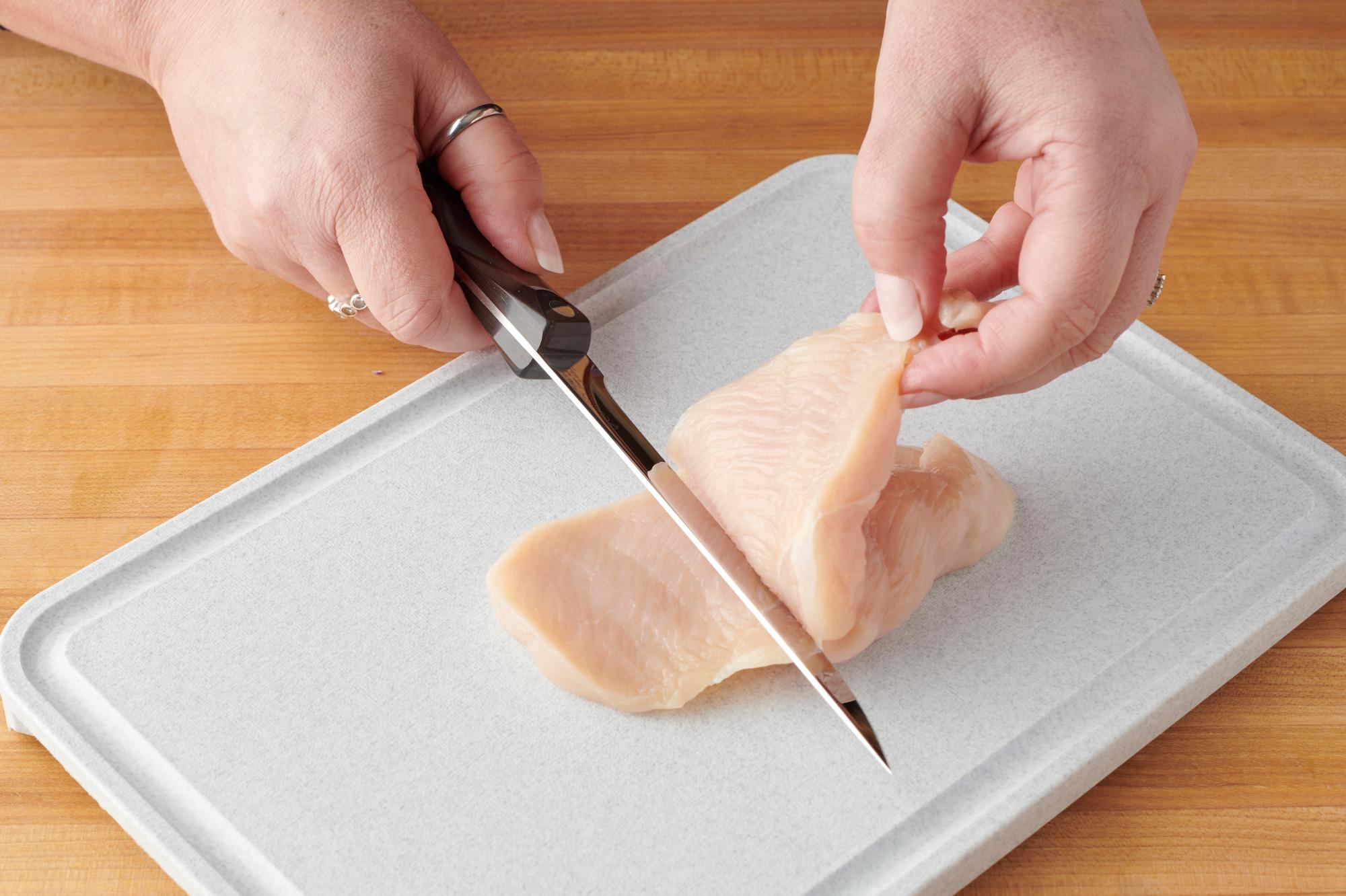 Once cut, pat the chicken dry and put it in a plastic re-sealable bag with mayonnaise and garlic, and place it in the refrigerator for a bit.
This recipe calls for six cloves of garlic, but feel free to adjust that amount to your taste. The chicken marinade uses two minced cloves, while the other four cloves are minced and combined with the vegetables before cooking. To mince the garlic use the 7-5/8" Petite Chef knife.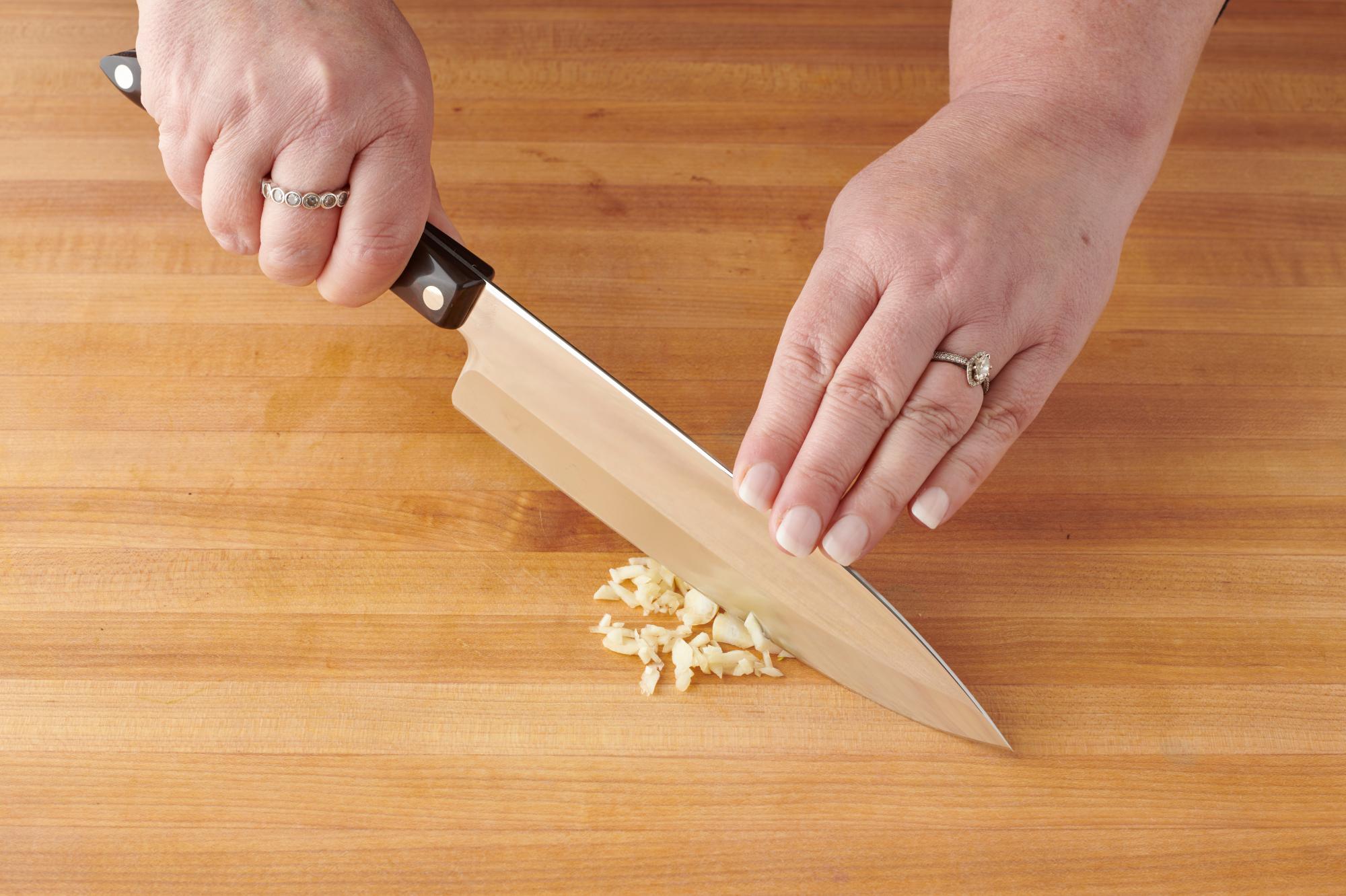 Before the chicken is cooked, it is dredged in a mixture of panko bread crumbs, Parmesan cheese, salt and pepper, which gives the cutlets a nice light crust.
Is your mouth watering yet?
The Vegetables
Preparing the vegetables for the sheet pan is easy, but as you cut, make sure to keep the pieces as uniform in size as possible. It will allow everything to cook more evenly.
A good sharp utility knife, like the Cutco Trimmer, will make fast work of cutting the vegetables. Use it to cut the asparagus into bite-sized pieces.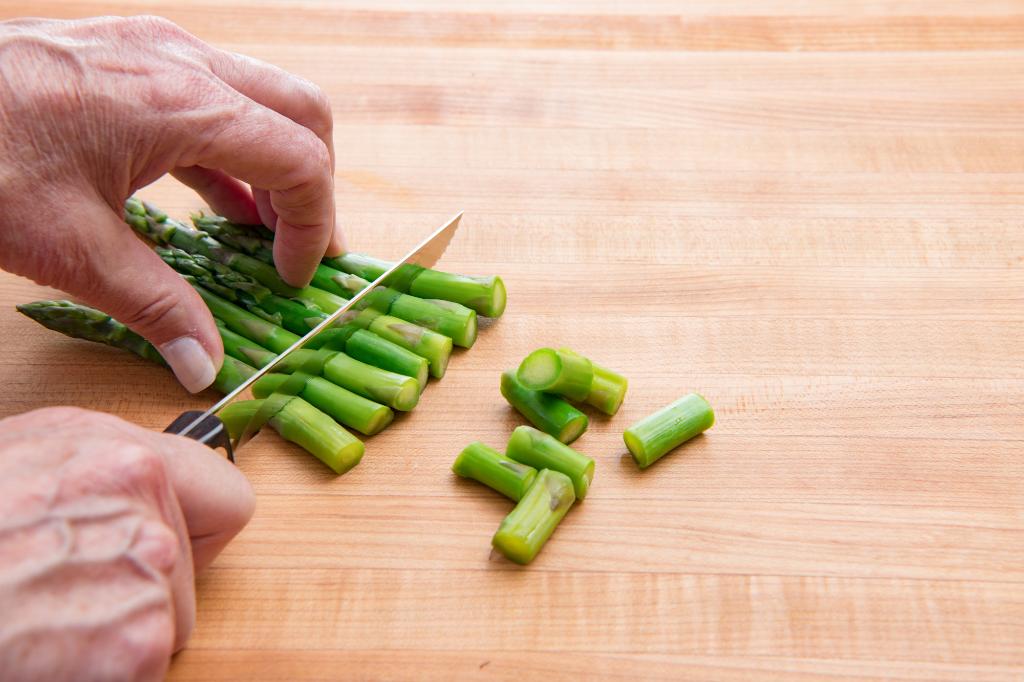 Then, use the same knife to halve the grape tomatoes and slice the mushrooms.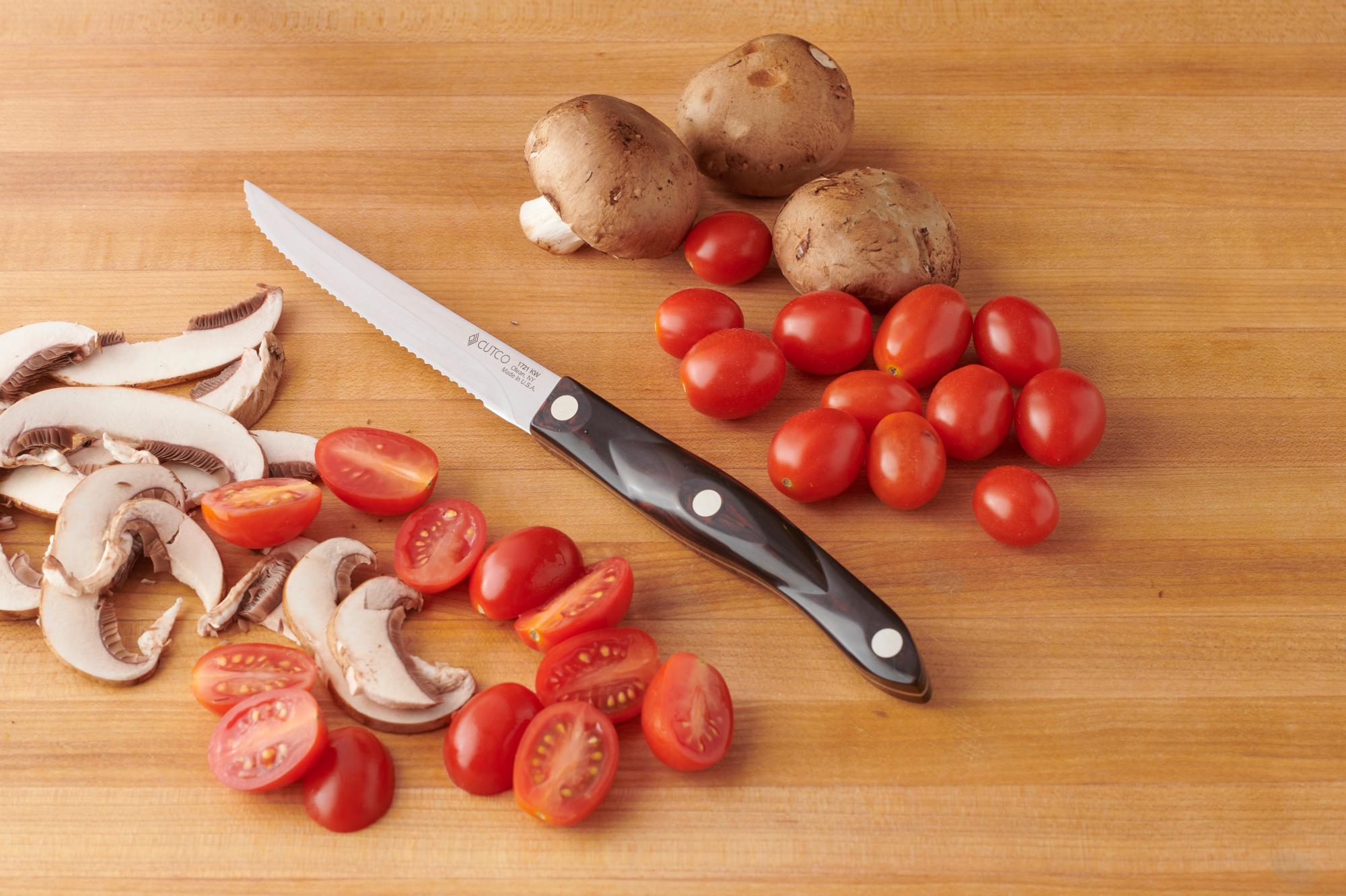 Once the veggies are prepped and the chicken dredged, it all goes on to a sheet pan in a hot 475 F oven for about 20 minutes (or until the chicken reaches an internal temperature of 165 F).
The Finishing Touch
The vinaigrette is a simple one featuring the zest and juice of a lemon, olive oil, crumbled feta cheese and some honey. Those all combine for a tangy, sweet dressing that adds a nice touch to the finished chicken and vegetables.
If you want more of a lemon flavor, top the finished meal with a sprinkling of more lemon zest.
While this recipe has a Mediterranean influence because of the dressing, if you change it, you change the final dish. Replace the lemon vinaigrette with a drizzle of Italian dressing, use mozzarella shreds rather than the feta, and use oregano or thyme leaves instead of the dill and this dish comes to the table with an Italian influence.
Once you have the understanding of sheet pan cooking techniques it is easy to switch out the proteins or vegetables.
Sheet Pan Chicken With Roasted Spring Vegetables
Print Recipe
Ingredients
For the lemon vinaigrette:
1 lemon, zest and juice
2 tablespoons olive oil
2 tablespoons crumbled feta cheese
1 teaspoon honey
For the sheet-pan chicken:
2 (8-ounce) skinless, boneless chicken breast halves, cut in half horizontally
1/4 cup light mayonnaise
6 garlic cloves, minced, divided
2 cups asparagus, cut into 1-inch pieces
1 1/2 cups fresh cremini mushrooms, sliced
1 1/2 cups grape tomatoes, halved
1 tablespoon olive oil
1/2 teaspoon kosher salt, divided
1/2 teaspoon black pepper, divided
1/2 cup panko bread crumbs
3 tablespoons grated Parmesan cheese
Nonstick olive oil cooking spray
Snipped fresh dill
Directions
Heat oven to 475 F.
Place a 15-by-10-inch baking pan in oven.
To prepare vinaigrette, zest and juice the lemon. Place 1 teaspoon of zest and 2 tablespoons of juice into a small jar (with lid). Add remaining vinaigrette ingredients, cover jar and shake until blended. Set aside.
Pat chicken dry with paper towel.
In a freezer bag, add mayonnaise, 2 garlic cloves (minced) and cut chicken, seal and shake until chicken is coated. Place in refrigerator.
Combine asparagus, mushrooms, tomatoes, oil, 4 minced garlic cloves and 1/4 teaspoon each of salt and pepper in a large bowl. Toss to coat and set aside.
In a pie plate, mix bread crumbs, cheese and remaining salt and pepper.
Remove chicken from refrigerator and dredge chicken in crumb mixture, turning to coat.
Remove pan from oven, carefully place chicken on one end of hot pan and place asparagus mixture on other end. Lightly coat the top of the chicken with cooking spray.
Roast 18 to 20 minutes or until chicken is done (when internal temperature reaches 165 degrees F) and vegetables are tender.
Remove from oven, drizzle chicken and vegetables with lemon vinaigrette and sprinkle with dill.
Recommended Tools