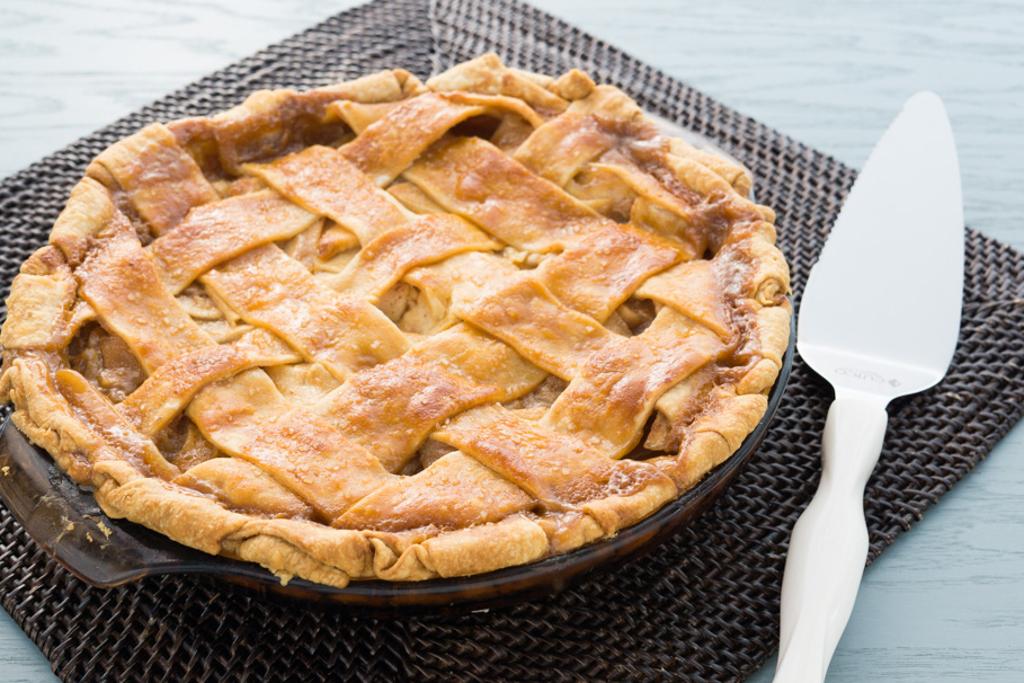 March 14 is National Pi Day so what better way to mark the occasion than to bake a pie? Not just any pie, a Salted Caramel Apple Pie.
I've made a lot of apple pies but never one that called for layering caramel sauce between layers of apples. Instead of preparing the pie in the Cutco Kitchen, I thought I would try it at home first.
With all ingredients in-hand, I began. I peeled and sliced the apples, added the rest of the ingredients and gave it a taste. Yum!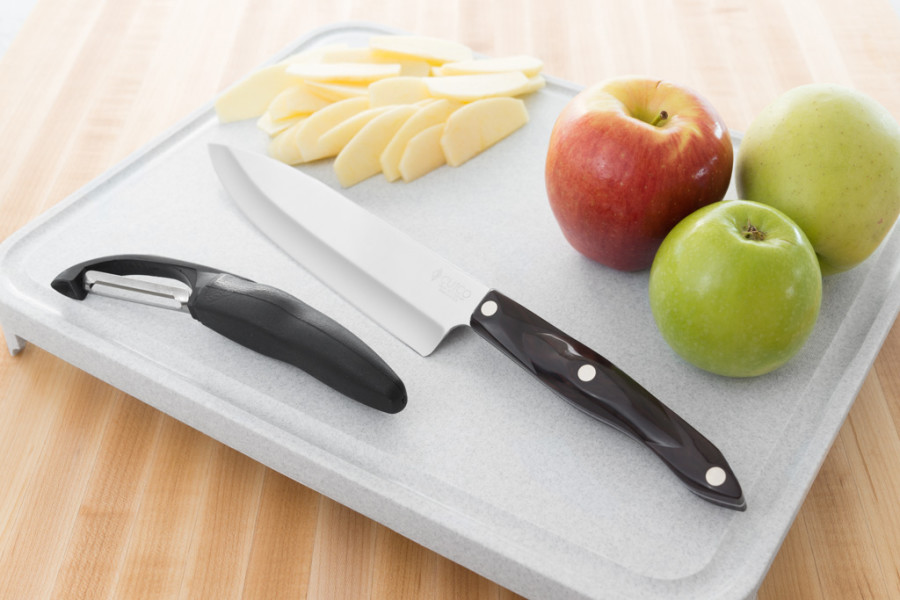 On to the caramel sauce. From everything I read, it's a good idea to have everything measured and ready because once the sugar melts and starts to brown, you have to work quickly or it can burn in a matter of seconds.
My husband, who's been retired for years, sat at the counter watching me stir the sugar for what seemed like forever. It finally looked like the right color, but, I could tell it was starting to burn and was starting to smoke ever so slightly – a bad sign according to all the recipes I read. I removed it from the heat, added the other ingredients and hoped for the best. Once it cooled down, I gave it a taste. I have to admit, it did taste a bit burned but I thought once it was layered with the apples and baked, it would be okay. As it baked, the house was filled with the smell of spices, sugar and apples. Finally it was done and the lattice top was browned to perfection.
You can probably guess where this is heading.
We had dinner and it was finally time to cut the pie. My husband of well over 40 years, who eats almost anything I put in front of him, took a bite. I can't even describe the look on his face and I can't repeat what he said, but suffice to say the pie was terrible. The apples had absorbed the burnt taste from the caramel. I tried a couple of bites and agreed this was not one of my finer moments.
Not to be defeated, I tried it making the sauce again a few days later. Perfect, no burnt taste and the pie was delicious.
I hope this doesn't deter you from trying this recipe. If the caramel doesn't turn out the first time, please try it again. It's definitely worth the effort.
I managed to save a piece to take home to my husband and believe me he enjoyed this version much better than the first.
Ingredients
Salted Caramel Sauce (Makes 2 cups)
2 cups sugar
12 tablespoons unsalted butter (1 1/2 sticks)
1 cup heavy cream
1 tablespoon flaked sea salt
Pie Crust
Using your favorite recipe, prepare crust for a double crust pie. Shape into 2 balls, flatten each into a disk, wrap in plastic wrap and chill for 30 minutes.
Pie Filling
3/4 cup granulated sugar
1/3 cup cornstarch
1 teaspoon ground cinnamon
1/4 teaspoon ground nutmeg
1/4 teaspoon ground all spice
1/4 teaspoon salt
3 1/2 pounds of apples, cored and thinly sliced (We recommend Granny Smith, Golden Delicious, Braeburn, Crispin or a combination of 2 or 3 kinds.)
Juice of half a lemon
2 tablespoons butter, cut up
Caramel sauce
2 teaspoons granulated sugar
1 – 2 teaspoons flaked sea salt or to taste
Directions
To make the sauce, add the sugar in an even layer over the bottom of a heavy 4 quart sauce pan. Cook sugar over low heat, whisking as it begins to melt using a Mix-Stir. Stop whisking once all the sugar has melted. Swirl the pan occasionally as the sugar cooks. Cook until the sugar turns a deep golden amber color. Watch carefully as the sugar can quickly go from perfect to burned. Using an instant read thermometer, cook the sugar until it reaches 350°F. Add the butter and stir until butter is completely melted. REMOVE FROM HEAT and carefully add the cream. Be sure to protect your hands and arms as the mixture will bubble and steam. Whisk until the cream is incorporated and the caramel is smooth.
Add the sea salt. Set aside.
Preheat oven to 400°F. Place a cookie sheet in lower third of preheating oven to bake pie on.
To make the filling, combine the first 6 filling ingredients in a large bowl. Add apples and lemon juice and toss to coat evenly.
Using a floured rolling pin, roll out one dough disk on a lightly floured surface into a 12-inch round. Place dough in a 9- to 9 1/2-inch deep dish glass or ceramic pie pan. Press dough against bottom and up sides of pan without stretching. Leave a 1 inch overhang, trim dough edge.
Layer 1/3 of apples on bottom of crust. Pour 1/3 cup caramel sauce over apples. Add 1/3 apples and 1/3 cup caramel sauce. Add third layer of apples and 1/3 cup caramel sauce. Dot with butter.
Roll remaining dough disk into a 12-inch round and cut into 1 inch lattice strips (a Pizza Cutter works great for this). Attach the lattice crust to the pie, fluting the edges. Brush some caramel sauce on top, sprinkle with sugar and sea salt.
Place pie on baking sheet and bake for 20 - 25 minutes. Lower heat to 350°F and bake an additional 35 – 40 minutes or until apples are soft. To test for doneness, pierce apples with a knife.
Cool on wire rack 3 hours to serve warm or cool completely.
To serve, drizzle with warmed caramel sauce.
Recommended Tools