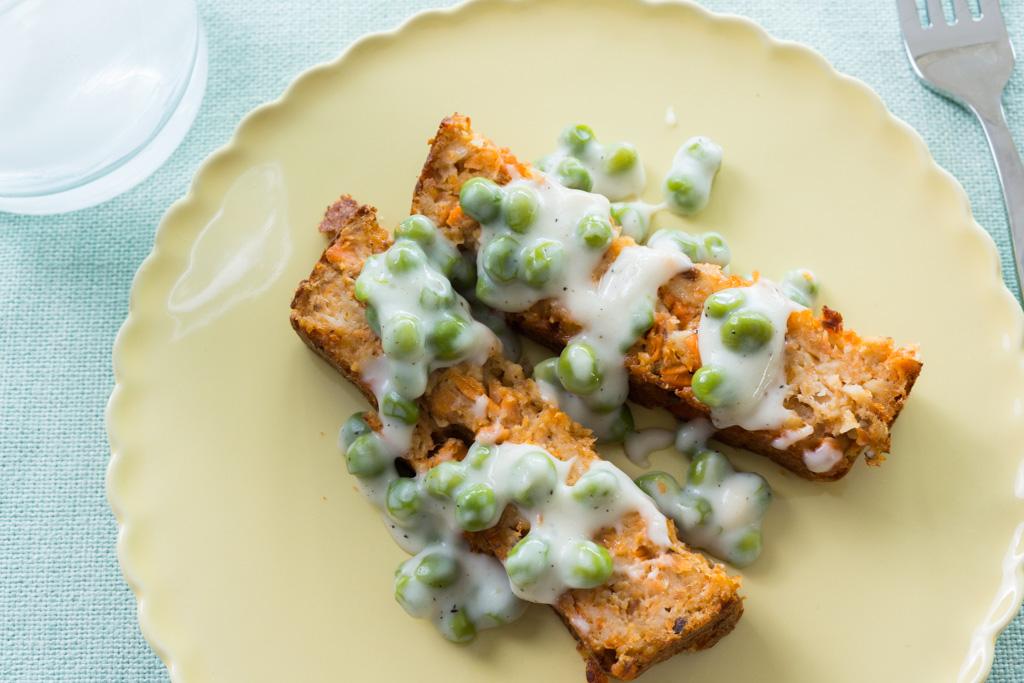 For those of us who observe Lent and the practice of not eating meat on Fridays, preparing meatless meals can be a little difficult sometimes. Macaroni and cheese, tuna noodle casserole, vegetable frittatas are good options and I like all of them and have made all of them. Also, there are countless restaurants that serve wonderful fish fries on Fridays with most of the fish being deep fried. It's delicious, but not the best for us.
So my answer to same old, same old is salmon loaf. I have a recipe I've made for years that is simple, quick and delicious. The original recipe calls for using red salmon, but I've made it with pink salmon and it turns out just as good. There is a more pronounced flavor in the red versus the pink but, frankly, I think the pink is just as good. I like it served with the creamed peas while my husband likes it plain. Add a baked potato and vegetable or some homemade coleslaw and you have a delicious meal that is good for you, too. Salmon is an excellent source of high-quality protein, vitamins and minerals and contains omega-3 fatty acids that contribute to healthy brain function and may reduce the risk of heart disease.
Ingredients
Salmon Loaf
1 can red or pink salmon (15 1/2 ounce)
1 cup saltine cracker crumbs
2 tablespoons minced onion
1 tablespoon lemon juice
1 tablespoons melted butter
1/2 teaspoon salt
Dash of black pepper
1 egg, beaten
2/3 cup milk
Creamed Peas
1 10-ounce package frozen peas
2 tablespoon butter
2 tablespoons all-purpose flour
1/2 teaspoon salt
1/4 teaspoon pepper
1 cup milk
2 teaspoons sugar
Directions
Preheat oven to 375°F.
Drain and flake salmon. Add other ingredients and mix lightly. Pack mix into a well buttered 8 x 4 inch loaf pan.
Bake for about 40 minutes.
Let stand for a few minutes. Loosen edges, turn out onto serving platter. Let stand about 2 minutes before slicing.
Serve with creamed peas. (optional)
Cook peas according to package directions.
Melt butter in a small saucepan. Whisk in flour, salt and pepper until blended. Gradually add milk and sugar. Bring to a boil; cook and stir for 1-2 minutes or until thickened. Drain peas, stir into sauce and heat through. If sauce is too thick, add a little more milk.
Recommended Tools