Roasted Stilton Pear Salad With Bacon Vinaigrette
969 days ago
Skip to recipe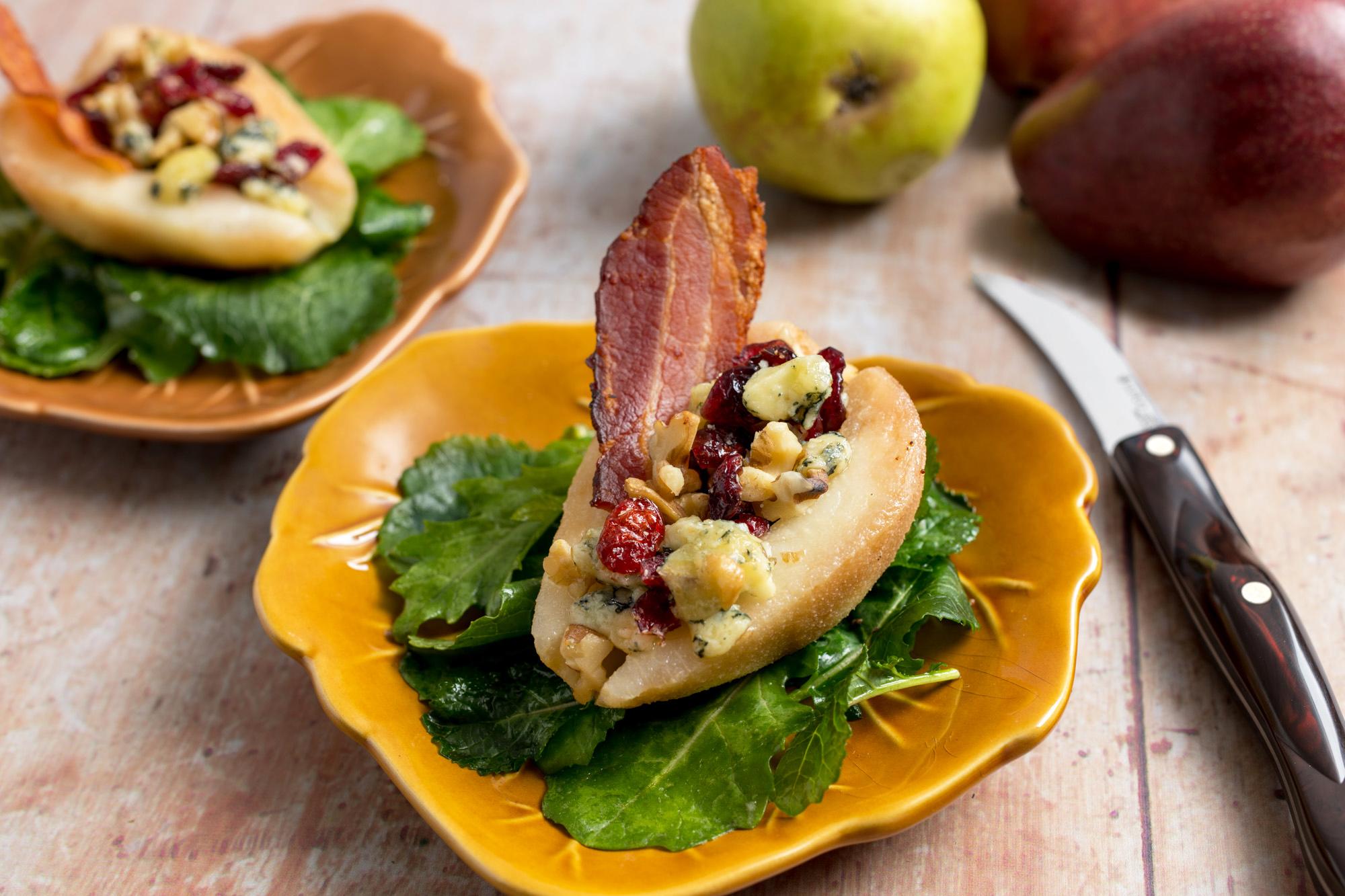 Sometimes you want a recipe for a show-stopping first course and this recipe delivers. It looks impressive, and it tastes even better with its sweet, sour and salty flavors. Besides, it has bacon!
Pears, Stilton cheese and port are a classic dessert combination. But in this savory recipe, I top a salad with roasted pears brushed with butter and port and stuffed with blue cheese, walnuts and cranberries. Crispy bacon is the garnish.
I was thinking of my mother's German Potato Salad when I developed the salad dressing. I wanted that salty-sour flavor you get when you make a dressing with bacon and vinegar. But I needed a lighter dressing for the greens in this recipe. So I stuck with a classic olive oil and vinegar dressing and added just one tablespoon of bacon drippings to get the salty kick the recipe needed.
A Bird's Beak Paring Knife is invaluable for prepping the pears. Use it to peel the skin and to remove the core from the pear halves.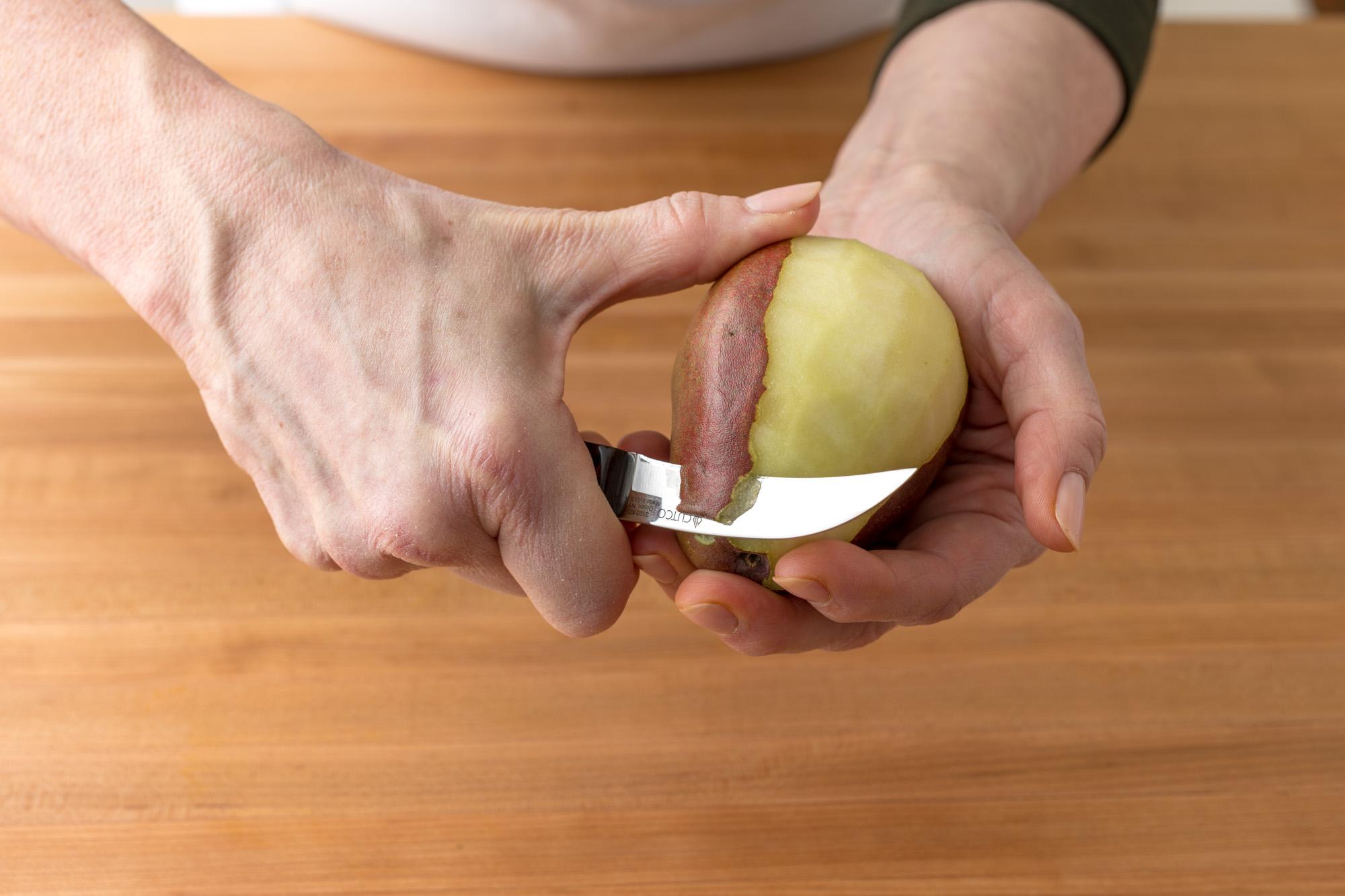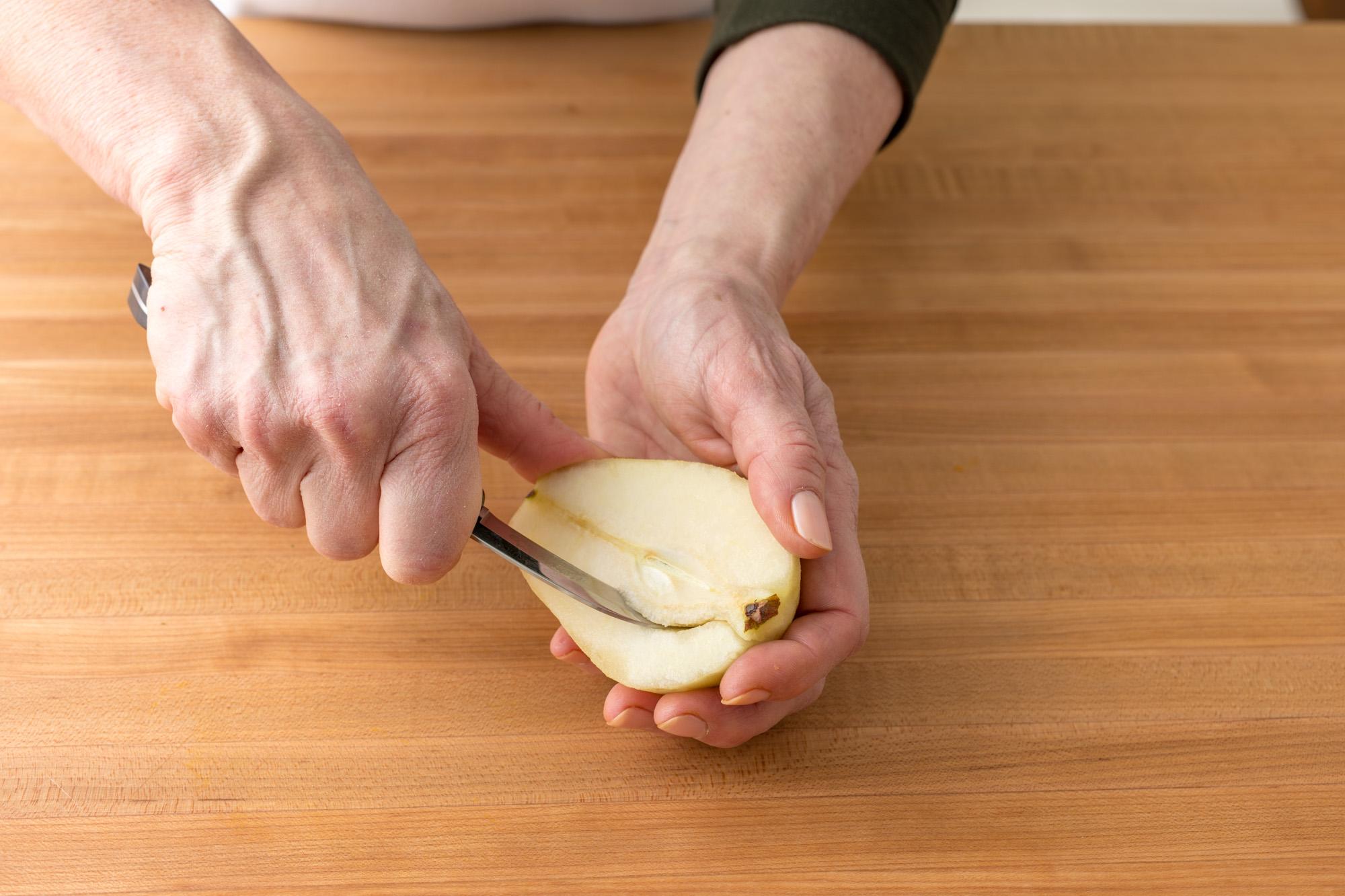 Before roasting the pears, be sure to make a leveling cut on the rounded side of the pear halves so that they sit level on the plate when serving.
Roasted Stilton Pear Salad with Bacon Vinaigrette
Print Recipe
Ingredients
For the dressing and salad:
2 slices of thick bacon, cut in half
1 tablespoon bacon grease reserved from cooking
1 tablespoon minced shallot
1 teaspoon Dijon mustard
1 tablespoon sherry or wine vinegar
Kosher salt and freshly cracked pepper to taste
3 tablespoons mild flavored olive oil
4 ounces baby kale or spinach
For the pears:
1 tablespoon unsalted butter, melted
2 teaspoon brandy or port
2 firm but ripe red pears, peeled, halved lengthwise and cored
Kosher salt
For the filling:
2 tablespoons dried cranberries, plumped in 1 tablespoon warm water or brandy
1/4 cup walnut halves, toasted
1/4 cup crumbled blue cheese such as Stilton or gorgonzola
Directions
Make the dressing: In a cold frying pan, cook the bacon over low heat until crispy. Remove bacon to paper towels to drain. Pour off all but 1 tablespoon of bacon grease from pan. Add shallots and cook over low heat until shallot softens, about 1 minute. Remove from heat and pour into a small heat-proof bowl. Add mustard, vinegar, ½ teaspoon salt and freshly ground pepper to taste. Whisk in olive oil until emulsified. (Dressing and cooked bacon can be made up to 3 days ahead; wrap bacon, cover dressing and refrigerate both. Return to room temperature when ready to serve.)
Heat oven to 375 degrees F. Combine butter and, if using, brandy in a small bowl. Brush mixture all over the pears and sprinkle with salt. Place pears on a rimmed baking sheet and roast until tender when pierced with a knife, about 15 minutes.
Meanwhile, make the filling: Drain cranberries and pat dry on paper towel. In a small bowl, combine cranberries, chopped walnuts and blue cheese. Mix together gently to combine. When pears have roasted 15 minutes, remove from oven and divide the cranberry mixture among the pear cavities. Return to oven and continue roasting another 10-15 minutes until cheese melts and mixture is golden.
To serve: Whisk salad dressing to combine. Toss greens with just enough dressing to coat lightly. Divide mixture among 4 salad plates. Place a roasted pear half on each salad and garnish with a bacon slice.