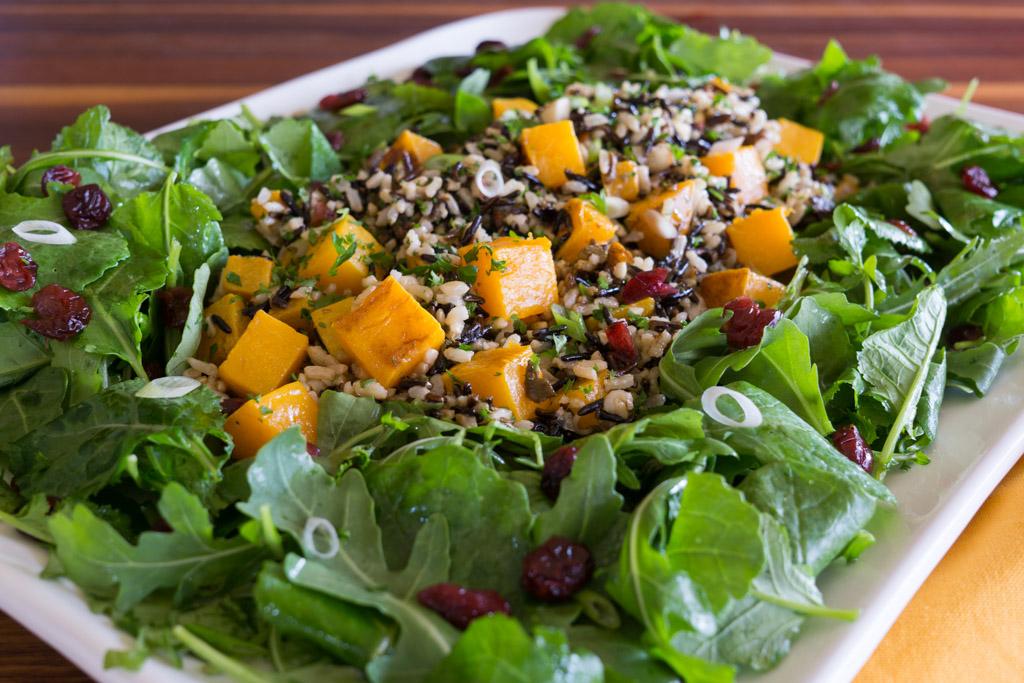 If you are looking for a hearty salad for your Thanksgiving dinner or holiday buffet, this recipe has it all. With wild rice and roasted butternut squash, it is substantial enough to serve as an entrée for your vegan and vegetarian guests. The salad greens are kale and arugula with assertive flavor and the sturdiness to hold up under the heft of the squash. Dried cranberries and chopped almonds lend the crunch and sweet and tangy balsamic vinaigrette dresses it all. This is one salad that has something for everyone.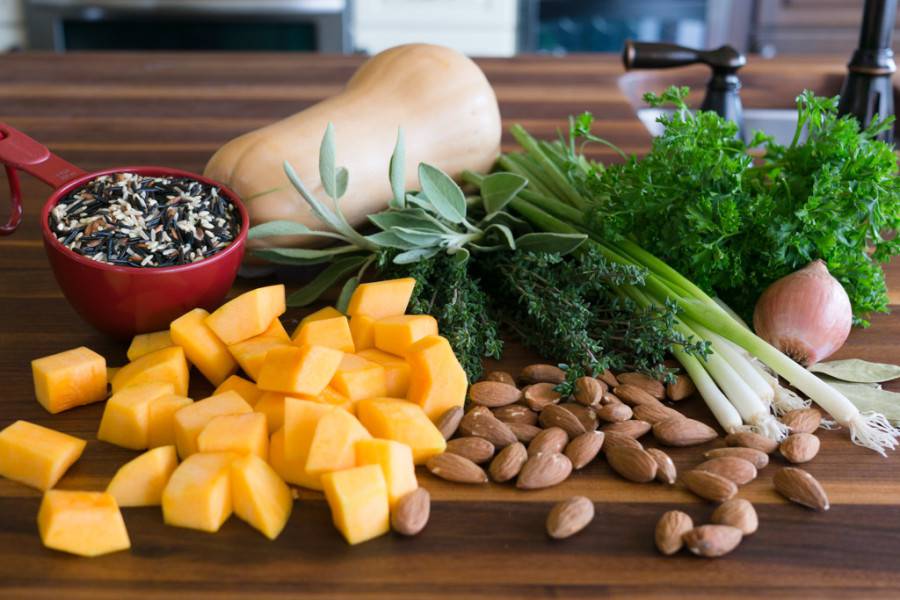 If all those contrasting flavors and textures aren't enough to make this salad a winner, there are three reasons busy cooks and hosts will be thankful for this recipe: 1) this salad can be made ahead, 2) it can be served cold or at room temperature, and 3) it does not wilt by the time your guests are ready for seconds. Who could ask for more?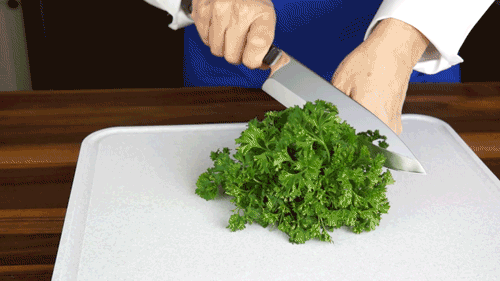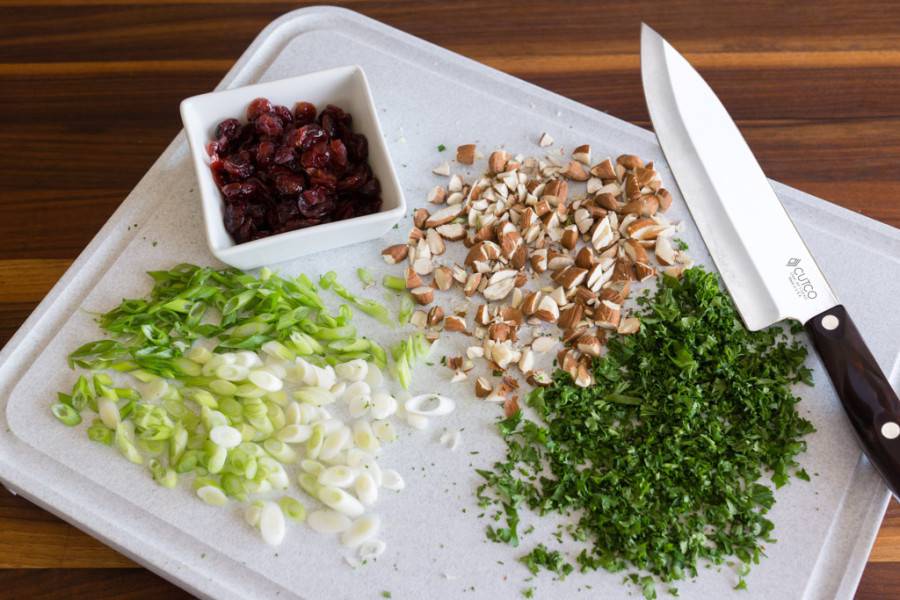 If you are a fan of the popular long grain and wild rice mix that comes in a box, you'll love the wild rice preparation in Step One of this recipe. Chicken or vegetable stock infused with fresh herbs, shallot and garlic give the rice blend tons of flavor with no preservatives and less salt than the packaged kind.
The hardest part of roasting the butternut squash is cutting it. Check out this how-to video and you'll get your squash prepped for the roasting pan in no time.
To make the salad ahead, up to four days ahead, prepare the rice and squash and place in separate containers, covered, in the fridge. Chop almonds and store at room temperature. One day ahead, slice scallions and parsley and place in plastic zip-top bags in the fridge. When ready to serve, combine ingredients and assemble salad following the last step of the recipe.
Ingredients
2 1/2 cups low sodium or homemade chicken or vegetable stock
1 whole shallot, peeled and cut in half
2 cloves garlic, peeled but left whole
2 sprigs fresh thyme
1 3 to 4 inch stem of fresh rosemary
1 tablespoon chopped fresh sage
2 bay leaves
1/2 teaspoon salt
1/2 teaspoon pepper
1 cup wild rice blend or 1/2 cup wild rice plus 1/2 cup brown rice
1 3-pound butternut squash, peeled, seeded and cut into 1-inch pieces
3/4 cup (approximately) balsamic vinaigrette, divided
2 tablespoons extra-virgin olive oil
1/2 cup whole almonds, roughly chopped
6 scallions, thinly sliced on the diagonal
1 10-ounce package baby kale
1 5-ounce package arugula
1/2 cup dried cranberries
1/4 cup finely chopped fresh parsley
Directions
In a large saucepan over medium high heat, bring chicken stock, shallot, garlic, thyme, rosemary, sage, bay leaves and salt and pepper to a boil. Reduce heat to medium and simmer for 5 minutes.
Add wild rice, raise heat to medium high, return to a boil, then cover pan, reduce heat and cook for 45-50 minutes. Cook until rice is tender; all the liquid does not need to be absorbed. Remove from heat and let pan rest, covered, for 5 minutes.
Remove and discard shallot, garlic, thyme, rosemary, and bay leaves. Fluff rice with a fork, then pour off any excess liquid and spread rice onto a rimmed sheet tray. Pour about 1/4 cup of balsamic vinaigrette over rice; stir to combine. Let cool.
Preheat oven to 425°F. Place squash on a rimmed baking sheet, drizzle with oil and sprinkle with 1/2 teaspoon salt. Toss to combine, then roast for about 20 minutes or until squash is fork-tender. Cool.
To assemble the salad: In a large bowl, lightly mix the cooled rice, cooled squash, almonds, and scallions. In another large bowl, toss kale and arugula with about 1/4 cup balsamic dressing, or enough to coat greens lightly. Arrange greens on a platter. Pile rice and squash mixture in center of platter. Sprinkle with dried cranberries and parsley and drizzle with remaining balsamic dressing.
Recommended Tools