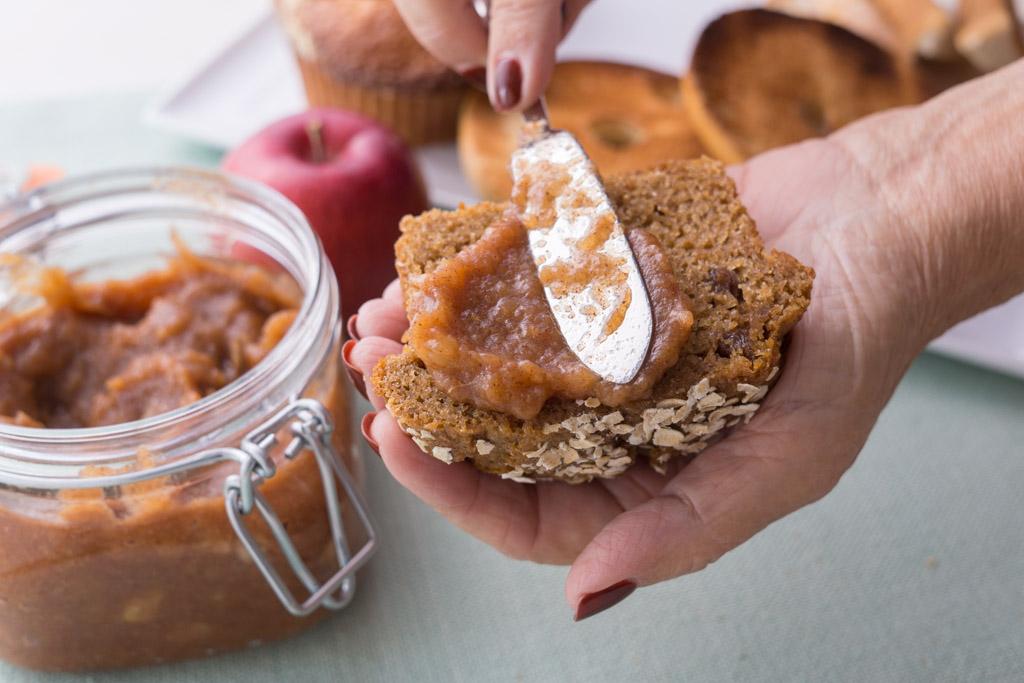 Why buy apple butter when you can make it at home in just a couple of hours? Making your own is a healthy alternative to store-bought varieties which usually contain added sugars and other additives we can't even pronounce. This recipe has no added sugar and gets all its sweetness from the apples.
My husband loved apple butter as a child, slathering on warm toast for a quick breakfast before school. He will be a happy man when I make this for him at home.
Apple butter can be used as a spread on toast, muffins, biscuits or bagels. Use it as a stir-in for oatmeal, yogurt or cottage cheese. Also try it dolloped on pancakes, waffles or pork chops. For a healthy after school snack, spoon some into a small bowl and serve with cinnamon-sugar or gingerbread pita chips.
This recipe calls for quartered apples. Watch our How to Easily Core and Slice an Apple video to learn more about cutting apples into quarters.
Ingredients
8 medium McIntosh apples (about 2-3/4 pounds), peeled, cored and quartered
2 cups unsweetened apple juice
1 tablespoon ground cinnamon or less if you prefer a lighter cinnamon taste
1/4 teaspoon ground cloves
Directions
Preheat oven to 450°F.
Place apples in a large roasting pan, Pour apple juice over the apples. Bake until tender and lightly browned, about 30 minutes.
Using a potato masher, thoroughly mash the apples in the pan.
Add cinnamon and cloves. Reduce oven to 350°F and bake the apple puree, stirring occasionally until very thick and deeply browned, about 1-1/2 to 1-3/4 hours. Spoon into a bowl and cool.
Store in refrigerator.
Recommended Tools