Rhubarb Barbecue Sauce For Basting and Dipping
2089 days ago
Skip to recipe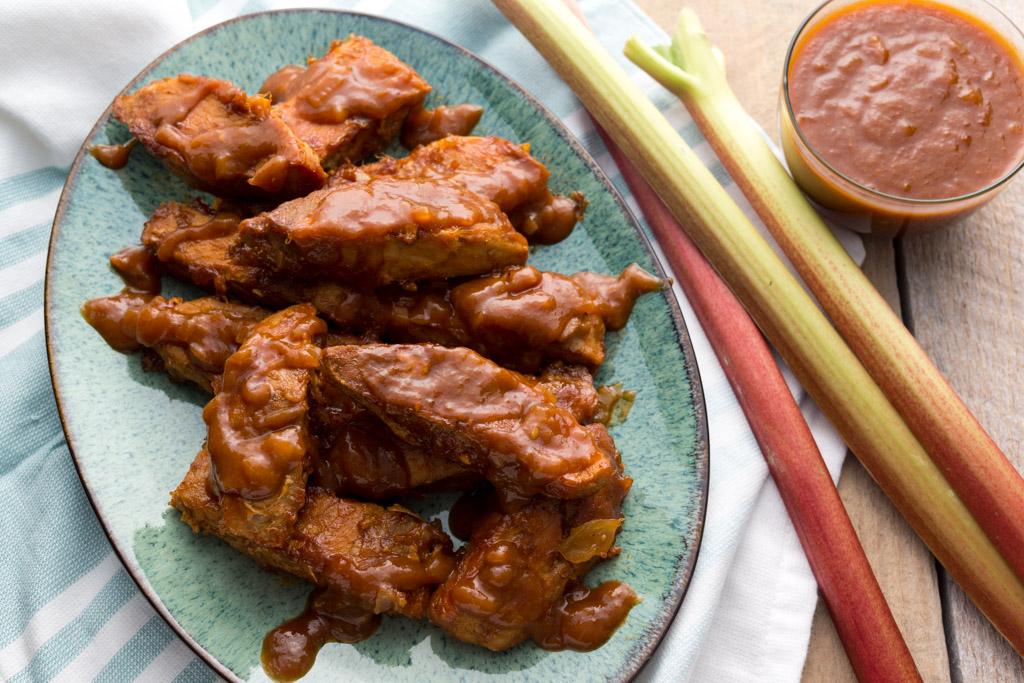 It's rhubarb season and I've got a couple of recipes for you this week that are a pleasant departure from the usual pies, crisps and cobblers.
Rhubarb is often times cooked with other ingredients. It can be paired with strawberries, apples, cherries or pineapple and used to make a number of things from sauces to desserts.
How to cut rhubarb
Use a sharp prep knife, like a Chef Knife, to trim off the ends of the rhubarb stalk.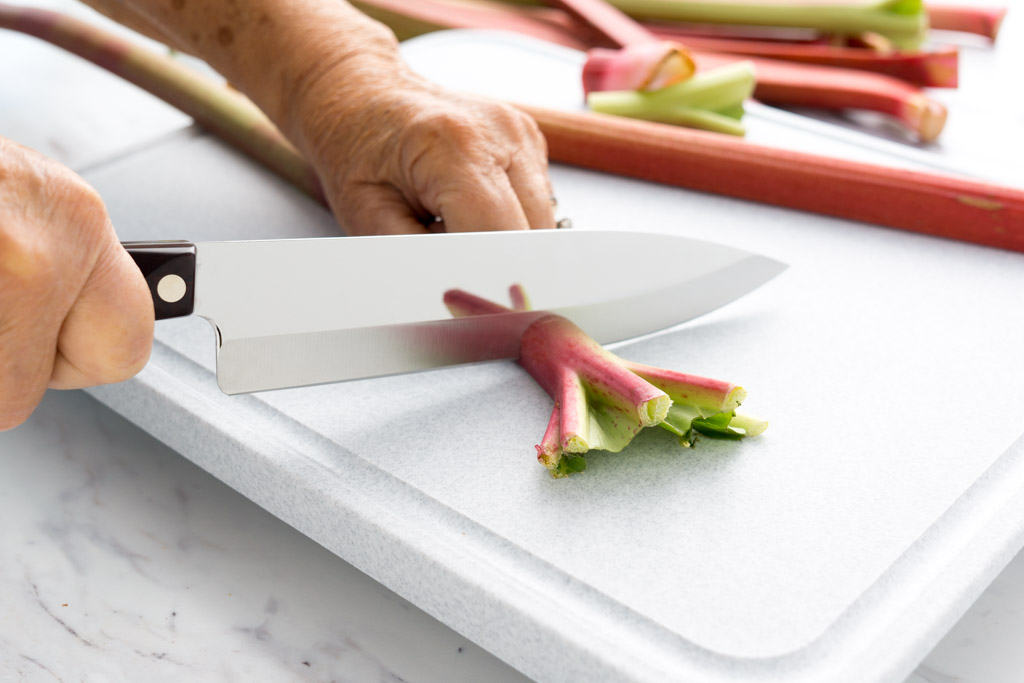 It is not necessary to peel rhubarb before cooking, although some think peeling gives cooked rhubarb a better consistency.

Use a Paring Knife to cut a small slit under the outer edge of the rhubarb skin at one of the stalk ends.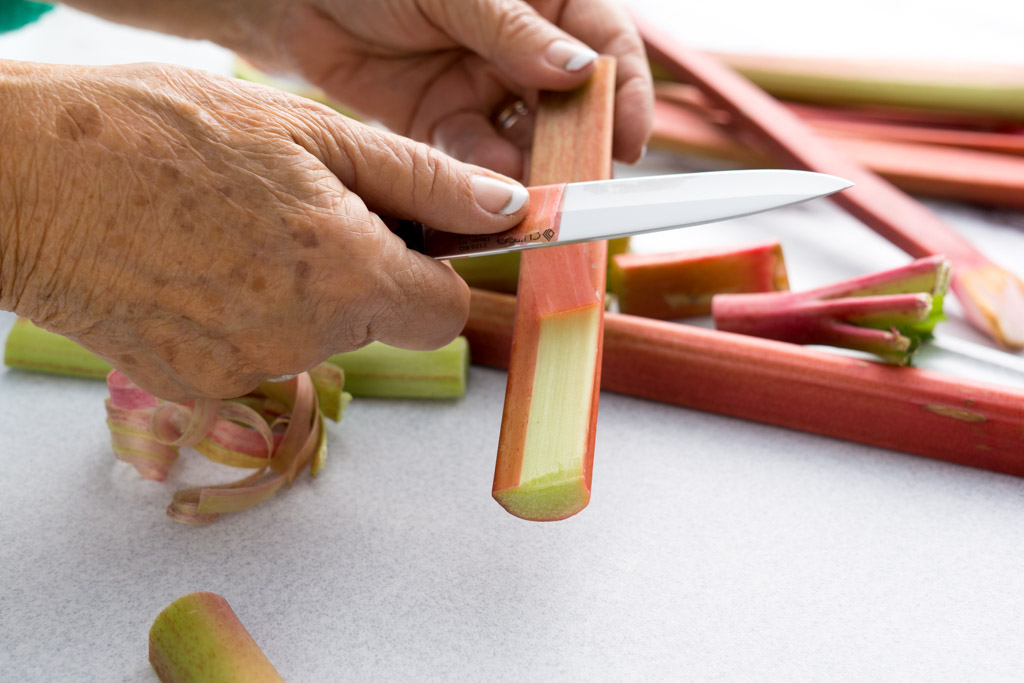 Grasp the edge of the slit and pull down, peeling a strip of stringy fibers off of the surface of the rhubarb.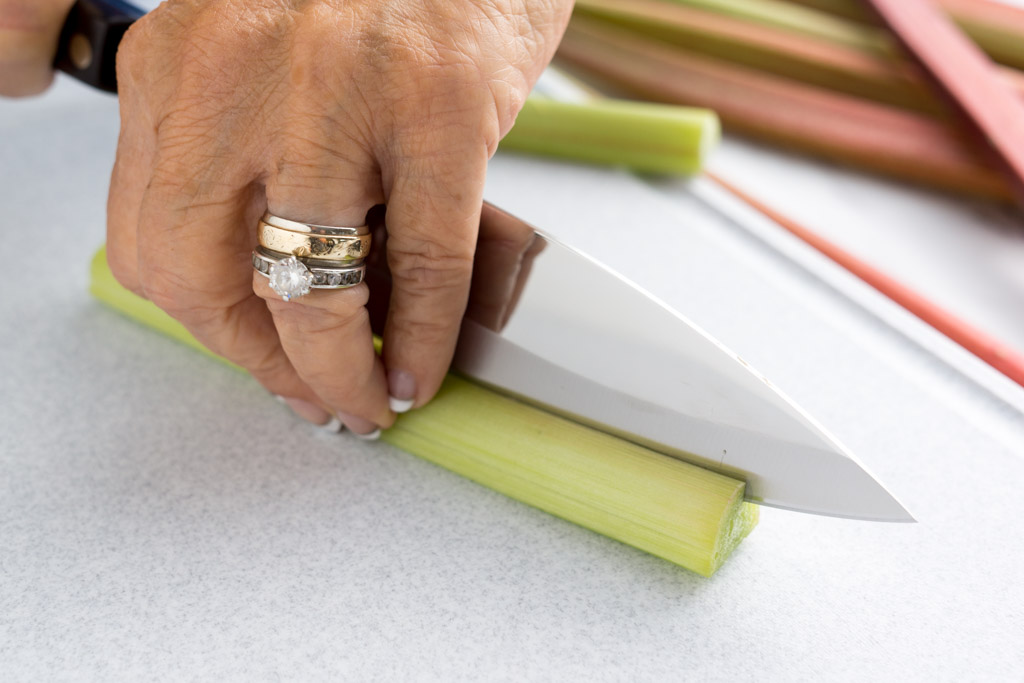 Cut the stalks into strips. The wide, sharp blade of the Chef Knife moves easily through fibrous foods like rhubarb.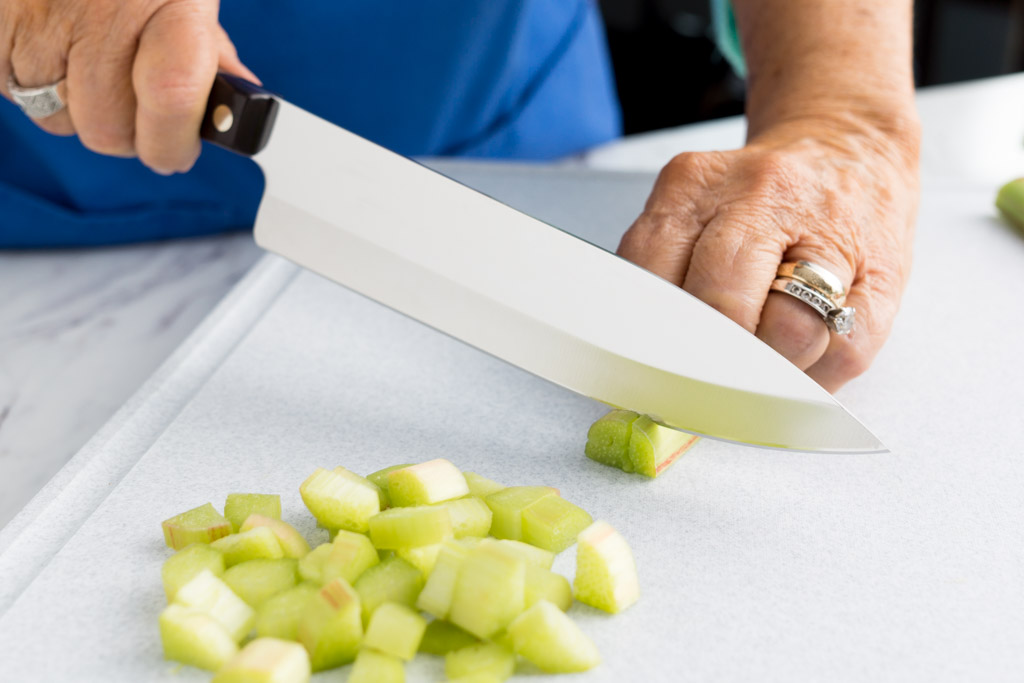 Cut across the strips to dice to the desired size.
Using the Rhubarb Barbecue Sauce
The first rhubarb recipe this week is a tangy Rhubarb Barbecue Sauce that tastes great on beef, chicken or pork. Our local roadside produce stand, Miller's Farm Market, had a basket full of large, crisp, colorful stalks that I couldn't pass up.
Rhubarb sauce can be served used to baste meats and fish or as a dipping sauce. For this recipe, I used it as both.
I cooked some boneless country style ribs in a 300° oven for 2 1/2 hours. After removing them from the oven I put them in large bowl, added some of the Rhubarb Barbecue sauce and tossed them until they were coated. I put them back in the pan and baked them another 30 minutes, basting occasionally with more sauce. I then used the leftover sauce for dipping.
How to cook, buy and store rhubarb
Rhubarb is a perennial plant with celery-like stalks that are greenish pink to dark red in color. Although it is a vegetable, it is generally prepared and served as a fruit. The leaves contain toxic levels of oxalic acid and, therefore, cannot be eaten. Although the stalks can be eaten raw, they are very tart and really needs to be sweetened with sugar, honey, corn syrup or maple syrup before eating.
Color variation has no bearing on the ripeness of the rhubarb. When buying, choose stalks that are fresh looking, crisp and blemish free. Mature stalks are generally 1 to 2 inches in diameter. Smaller diameter stalks are younger and usually more tender. Avoid limp stalks and those with split ends, which are indications that the rhubarb is not fresh or has not been stored properly.
To store, remove any leaves from the stalks and discard. Rhubarb stalks can be stored, unwashed, tightly wrapped in plastic wrap or in an air tight plastic bag in the refrigerator 1-2 weeks and in the freezer for up to 6 months.
Ingredients
1 1/2 cups fresh or frozen rhubarb, chopped
1 cup water
1 teaspoon canola or vegetable oil
1 medium onion, finely chopped
1 garlic clove, minced
1 cup ketchup
3 tablespoons dark corn syrup
3/4 cup brown sugar
2 tablespoons cider vinegar
2 tablespoons Worcestershire sauce
2 tablespoon Dijon mustard
1 1/2 teaspoons hot pepper sauce
1 /4 teaspoon salt
Directions
Bring the rhubarb and water to a boil in a small sauce pan. Reduce heat and simmer uncovered for 5-6 minutes or until tender. Remove from heat and cool slightly. Place in a blender or food processor; cover and process until smooth. Set aside.
Put oil in the same sauce pan, add onion and sauté until tender. Add the garlic, sauté another minute. Add the remaining ingredients.
Whisk in the rhubarb until blended. Bring to a boil, reduce the heat and simmer uncovered for 5 minutes.
Use as a basting or dipping sauce for grilled meats.
Recommended Tools