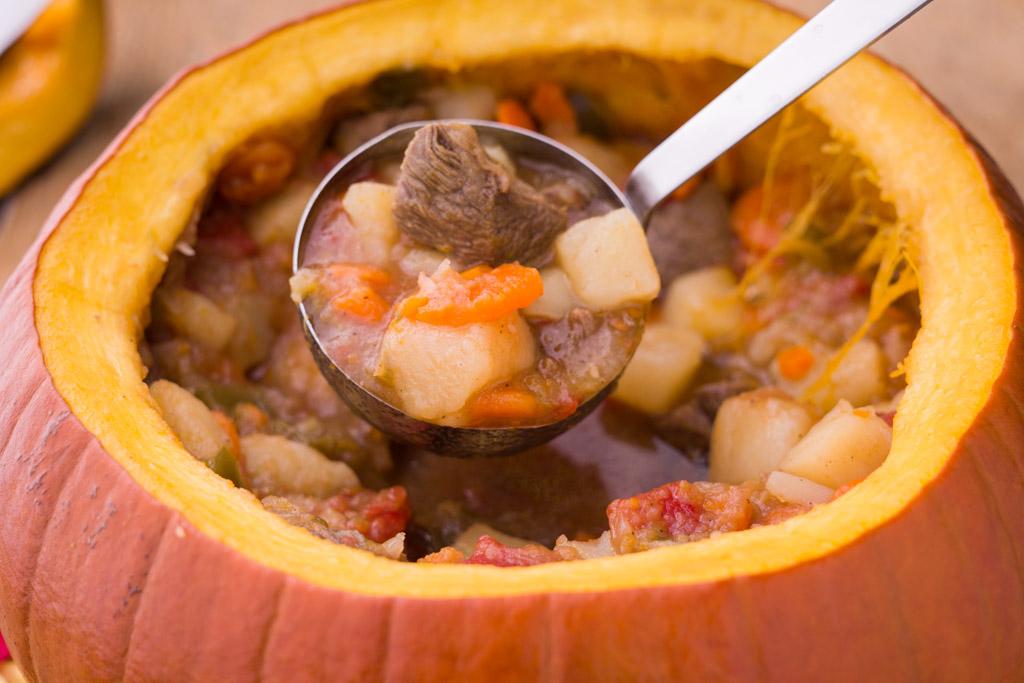 Grocery stores, farmers markets and roadside stands are filled with pumpkins. So, I made another trip down the road to Miller's Farm Market to get a pumpkin and some fresh fruits and vegetables for a Pumpkin Stew.
Shopping at the local roadside stand has its benefits. Kathy, one of the helpful clerks, helped me get everything I needed. She picked out the perfect pumpkin for the stew and even helped me carry my goods to the car.
Back in the kitchen, I browned the meat and then peeled, sliced and chopped everything else before throwing it in to the Dutch oven and let it simmer. It smelled so good while it was cooking.
Finishing the stew inside the hollowed out pumpkin in the oven resulted in an awesome presentation of this tasty dish.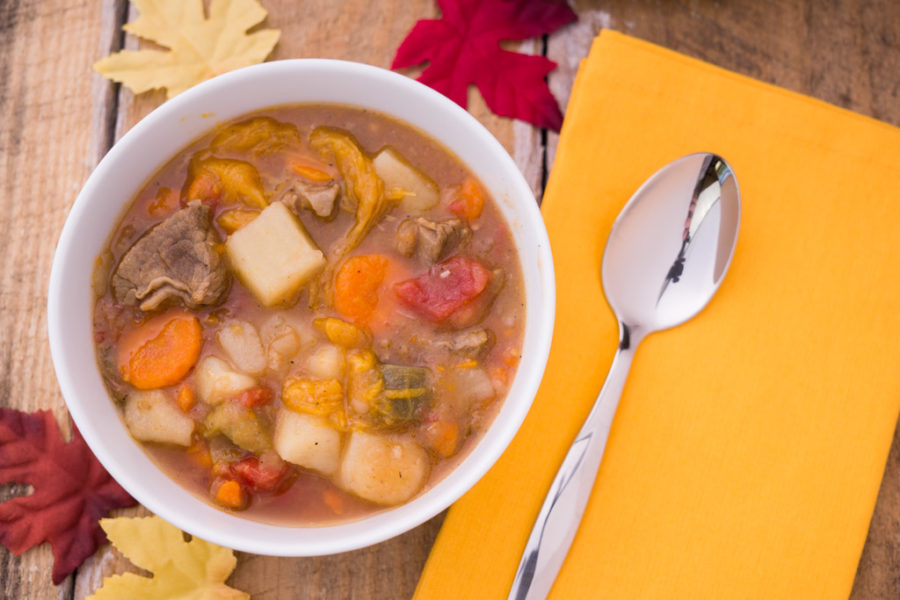 Some suggestions are to bake the stew in small pumpkins for individual servings or use pumpkins (baked or unbaked) as serving dishes for dips, chili, thick soups or side dishes.
Ingredients
3 tablespoons canola or vegetable oil, divided
2 pounds beef stew meat, cut into 1-inch pieces
1 cup water
3 large potatoes, peeled and cut into 1-inch cubes
4 medium carrots, sliced
1 large green pepper, cut into 1/2-inch pieces
4 garlic cloves, minced
1 medium onion, chopped
2 teaspoons salt
1/2 teaspoon pepper
2 tablespoons beef bouillon granules
1 can (14.5 ounces) diced tomatoes, undrained
1 large pumpkin (10 – 12 pounds)
Directions
Heat 2 tablespoons of oil in a Dutch oven over medium heat. Add the meat and brown.
Add the water, potatoes, carrots, green pepper, garlic, onion, salt and pepper. Cover and simmer for 2 hours.
Stir in bouillon granules and tomatoes. Taste for seasoning and add more salt and pepper if necessary.
Preheat oven to 325°F.
Wash pumpkin and cut a 6 to 8 inch circle around top stem. Remove top and set aside. Scrape seeds and loose fibers from the inside (if you wish you can save the seeds to roast later).
Place the pumpkin in a large, shallow, sturdy baking pan. Brush the outside of the pumpkin and the top with the remaining 1 tablespoon of oil. Ladle the stew into the pumpkin and replace the top.
Bake for 2 hours or until the pumpkin is tender. Serve the stew from the pumpkin, scooping out a little pumpkin with each serving.
Recommended Tools