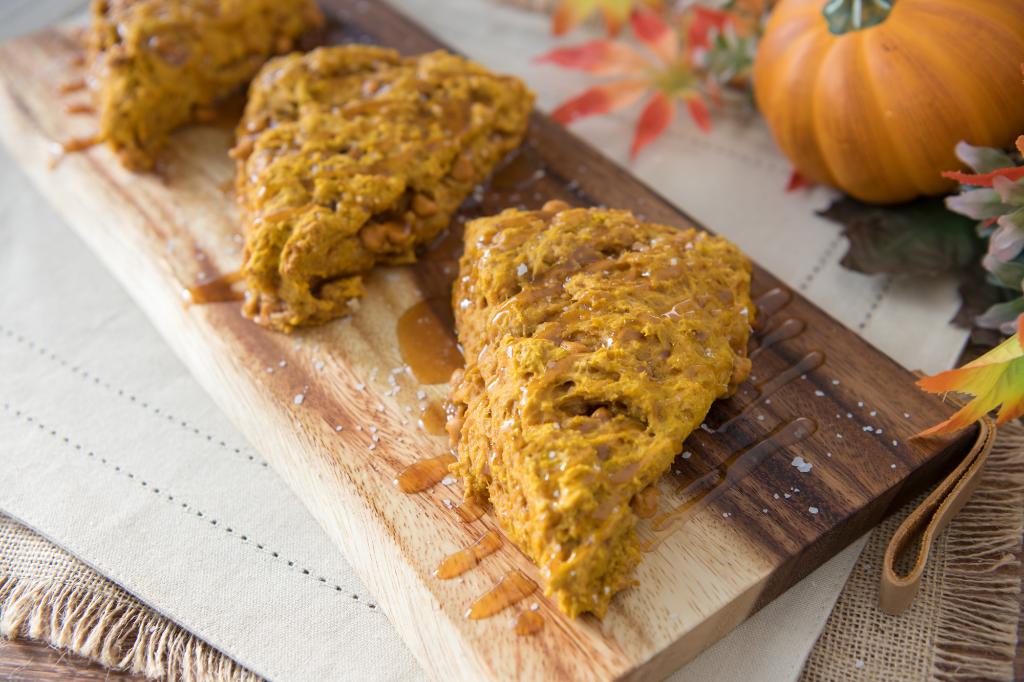 I am a pumpkin junkie: Pumpkin bread, muffins, cookies, cheesecake, coffee, lattes, pie, soup. You name it, I'll give it a try. One of my other loves is scones, so this recipe is a match made in heaven.
Warm, spicy pumpkin scones filled with butterscotch chips, drizzled with caramel and sprinkled with salt. Is there anything better? I think not.
Don't let the thought of making scones intimate you. They are actually pretty easy. They're kind of like making pie crust. Handle the dough too much and you end up with a dense dough. Mix the ingredients just until everything comes together and the result is a lighter dough that bakes up fluffy and tender.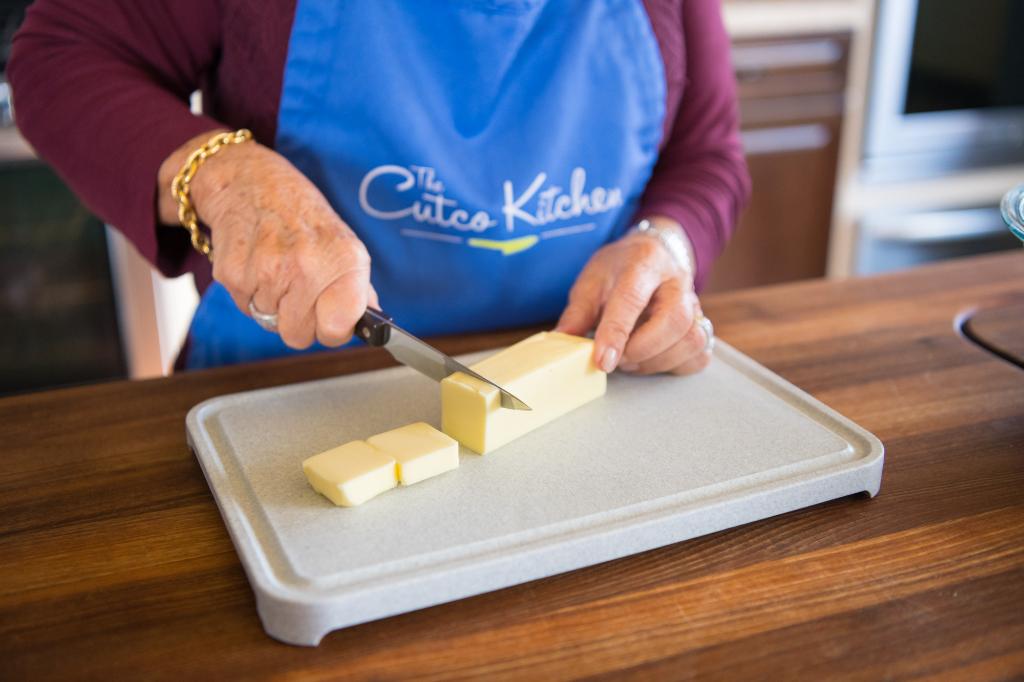 This is a good opportunity to use the Pizza Cutter for more than cutting pizza. Its sharp edge cuts the circles of dough cleanly into wedges.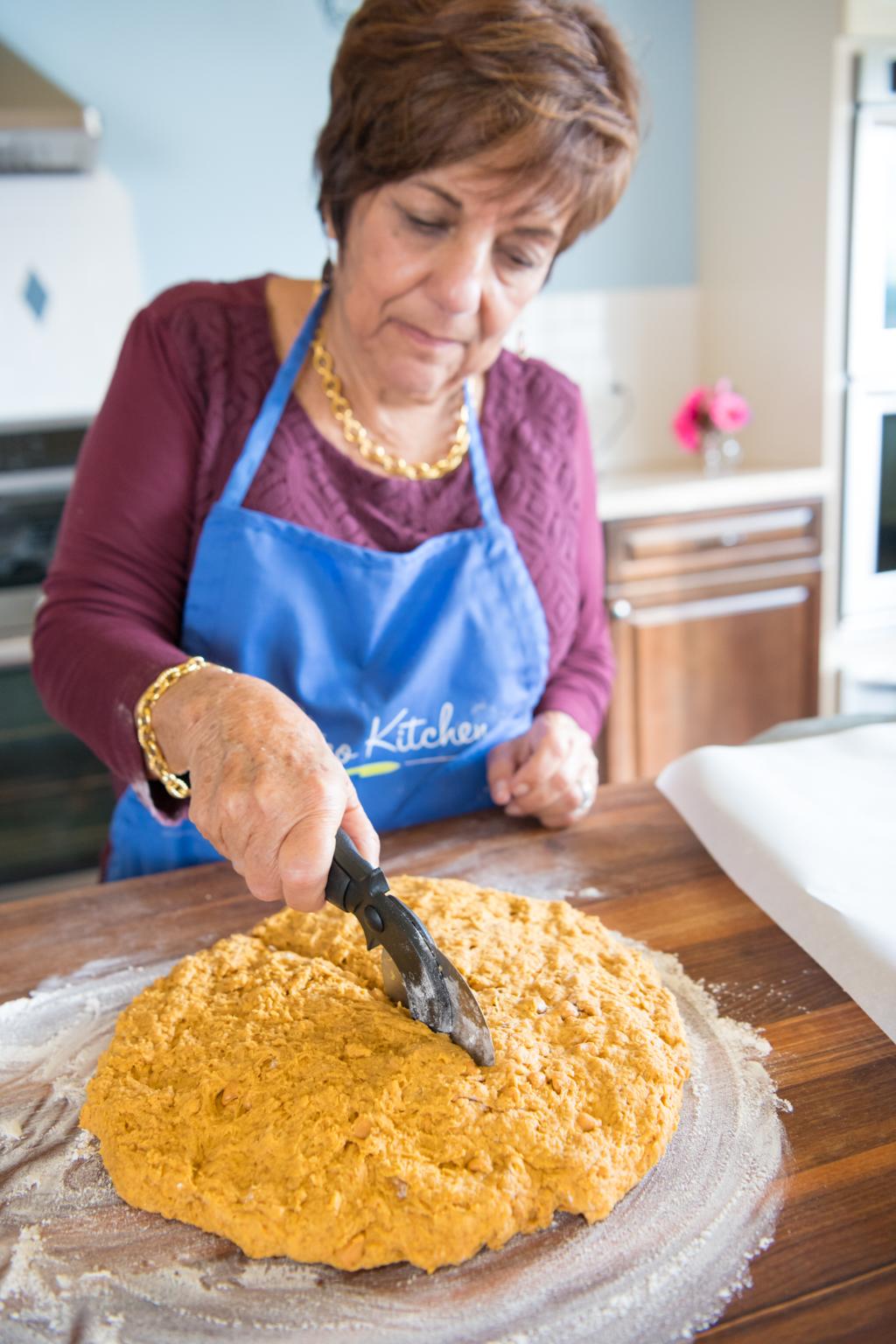 Sprinkle a Turn n' Serve with just a touch of flour to easily transfer each wedge to the baking sheet. I found separating the wedges results in a scone that bakes up nicely on all sides.
No need to make your own caramel sauce. There are lots of good brands on the market and for the small amount you need, it's easier to buy it than to make it. The salt is a must. The scones are quite sweet and the salt helps balance that sweetness so it's not overwhelming. These are perfect to add to a brunch, have as a snack or serve to guests with a steaming, hot cup of coffee.
Most everyone who tasted it has a sweet tooth so these scones were a hit with them.
Pumpkin-Butterscotch Scones Topped with Salted Caramel
Print Recipe
Ingredients
3 1/4 cups flour
3/4 cup brown sugar
1 tablespoon baking powder
1/4 teaspoon baking soda
1 teaspoon cinnamon
1/2 teaspoon allspice
1/4 teaspoon ground ginger
1/4 teaspoon fresh grated nutmeg
1/2 cup cold butter
1 cup pumpkin puree
1 teaspoon vanilla
1/3 cup buttermilk
1 cup butterscotch chips
1/2 cup caramel sauce
1 tablespoon coarse salt
Directions
Preheat oven to 400 degrees F. Line 2 baking sheets with parchment paper and lightly grease.
Sift flour, sugar, baking powder, baking soda and spices into a bowl.
Chop cold butter into small slices and add to dry ingredients. Mix dry ingredients and butter on low speed of electric mixer until coarse crumbs form.
In another bowl, whisk the pumpkin puree, vanilla and buttermilk together. Slowly add to the flour mixture while still mixing on low speed. Add the butterscotch chips, mixing until just incorporated.
Turn the dough out on a lightly floured surface. Knead a few times until smooth. Divide the dough in half. Pat each piece into an 8-inch circle that is thicker in the center but thinner on the outer edge. Using a Pizza Cutter or Paring Knife, cut each circle like a pie, into 6 pieces. Place on baking sheets and, if desired, brush scones lightly with some melted butter.
Bake until golden brown, 20 – 25 minutes.
Remove from pan and cool on wire rack. Drizzle with caramel and sprinkle with coarse salt.
Scones are best served warm.
Recommended Tools