Saturdays With Barb: Pumpkin and Black Bean Chili
1613 days ago
Skip to recipe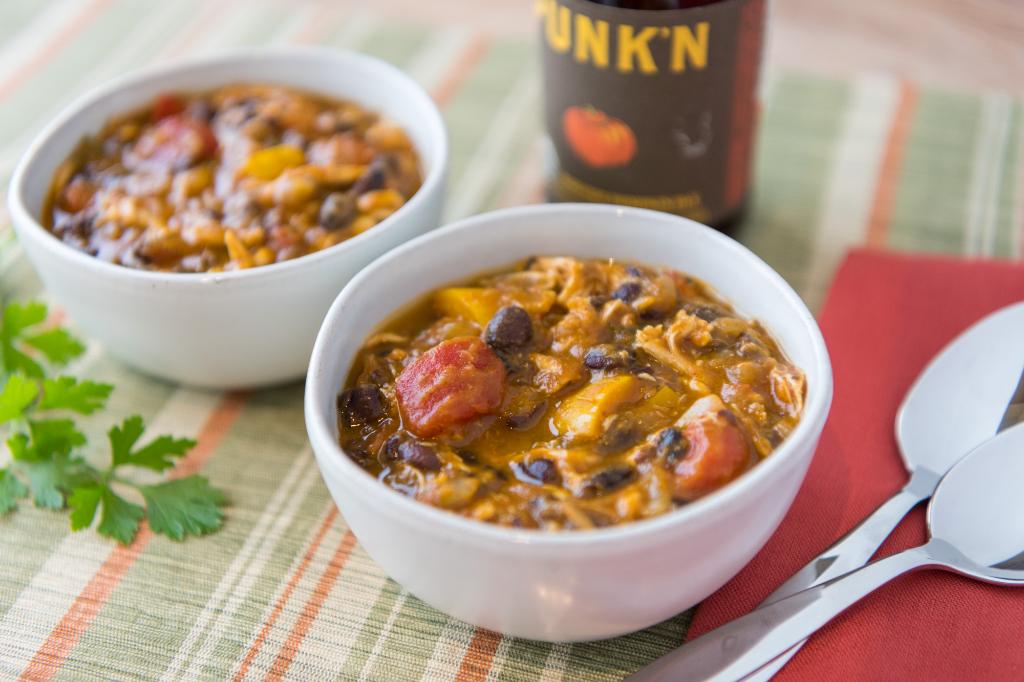 Cooler days turn our thoughts to heartier, stick-to-your-ribs eating. Chili fills that bill nicely. I really enjoy a bowl of hot, thick, tasty chili. This recipe is perfect for Saturday night supper, a potluck or tailgating party.
What makes this chili different is the addition of pumpkin puree and a generous portion of shredded chicken rather than beef.
I used red, yellow and orange bell peppers simply because I like the color they add but you could certainly use whatever color of sweet pepper you like and that is readily available.
The 5" Petite Santoku was my knife of choice to chop the peppers, onion and mince the garlic. The Potato Masher worked great to mash the beans. If you don't have one, think about adding the Cutco Can Opener to your Cutco accessories. Its sharp blade makes opening cans quick and easy, and the magnetic lid lifter allows you to remove the lid without even touching it.
While the chili simmers and fills the kitchen with a wonderful aroma, head for the yard to rake up some leaves or store the last of the summer furniture away until next year. You'll be ready to sit down to a hot, steamy bowl of this goodness when you come back in.
This chili was a huge hit within our group with a few going back for a second helping. The pumpkin flavor is so subtle you can barely taste it, but it certainly adds to the overall flavor of the dish.
Here's a little tip for easier prep. I bought a still-hot rotisserie chicken, brought it home and while it was still hot, shredded the amount I needed for the chili, put it in a zip bag and stuck it in the fridge since I wasn't going to make the chili until the next day. It was so much easier than trying to shred it once it was cold.
Even if pumpkin is not one of your favorite flavors, give this chili a try. I think you'll be pleasantly surprised. Bon Appétit!
Ingredients
1 tablespoon olive oil
3 baby bell sweet peppers (red, yellow and orange), chopped
1 medium onion, chopped
3 cloves of garlic, minced
3 cups reduced sodium chicken broth
1 15-ounce can solid pack pumpkin
1 14 1/2-ounce can diced tomatoes, undrained
2 teaspoons chili powder
1 1/2 teaspoons ground cumin
1 1/2 teaspoons dried oregano
1/2 teaspoon salt
1/2 teaspoon smoked paprika
2 15-ounce cans black beans, rinsed and drained
2 cups shredded cooked chicken (rotisserie chicken can be used)
1/4 cup chopped fresh parsley
Directions
Heat oil over medium heat in a stockpot. Add the peppers and onion, cook and stir 6 – 8 minutes or until tender. Stir in garlic and cook 1 minute longer.
Stir in the broth, pumpkin, tomatoes and seasonings.
Mash one can of beans.
Add the mashed beans and can of whole beans to the pot. Bring to a boil, reduce heat; simmer, covered, 45 minutes to allow flavors to blend. Stir occasionally. Stir in shredded chicken and parsley; heat through.
Ladle into bowls and serve.
Chili can be served as is or over quinoa, barley or rice.
Recommended Tools