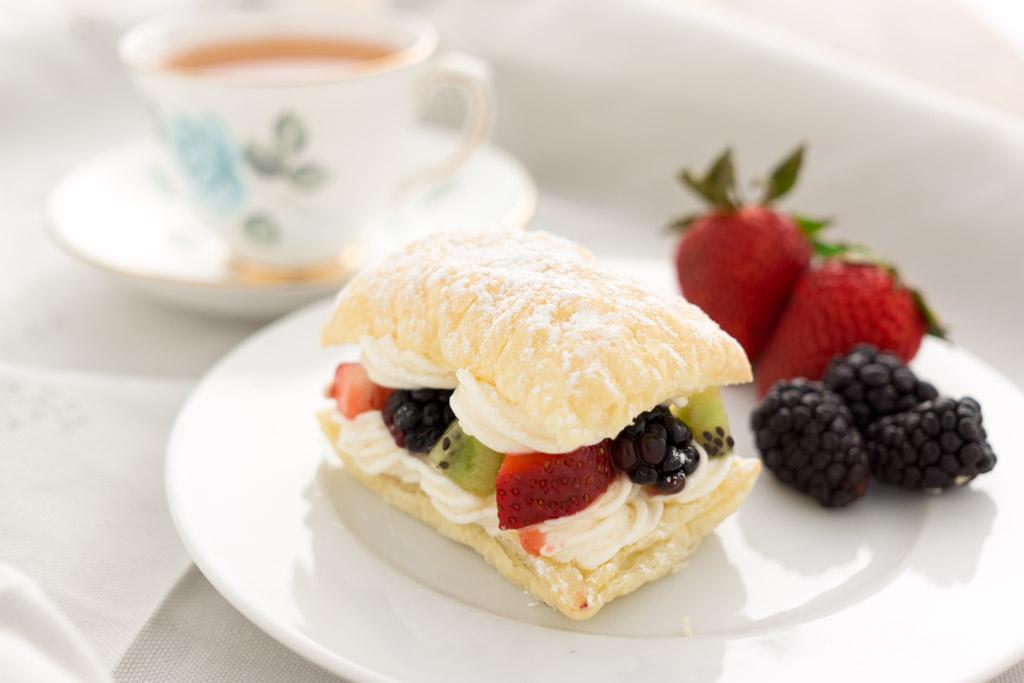 Want to impress Mom on her special day or any day? Are you planning a wedding or baby shower, or are you just looking for a light dessert to serve to dinner guests? Whatever the occasion, these light and airy puff pastries filled with a lemon-kissed whipped filling and fresh fruit are sure to impress. This recipe for Puff Pastries with Lemon Cream and Fruit is so elegant that no one will guess they're simple to make.
For the fruit, I chose two combinations. I made one with kiwi, strawberries and blueberries, and another one with raspberries and blackberries. Use whatever fruit combination you would like to make it your own.
Of course, Cutco tools make preparation even easier. To easily cut the puff pastry into uniform squares, use a Pizza Cutter. To slice the delicate pastries open after they are baked, the Trimmer with its sharp recessed edge will easily cut the pastry without crushing it. For dicing the fruit, the 4" Paring Knife is just the right size for slicing the kiwi and strawberries.
Everything can be prepared several hours ahead of time and then assembled up to 2 hours before serving.
Helpful hint – be sure to whip the cream, powdered sugar and vanilla until stiff peaks form before adding the lemon curd. You want the filling to be thick enough to pipe into the shells.
Ingredients
1 sheet of puff pastry
1 1/2 cups heavy whipping cream
1 teaspoon vanilla extract
6 tablespoons powdered sugar, plus additional for sprinkling
3 tablespoons lemon curd
Fresh fruit – strawberries, blueberries, raspberries, kiwi, mango
Powdered sugar
Directions
Preheat oven to 400°F. Thaw puff pastry according to package directions.
Unfold the pastry on a lightly floured surface. Using the Pizza Cutter, cut the pastry into 12 small rectangles.
Bake on a parchment lined baking sheet for 12 – 14 minutes until puffy and medium golden brown. Let Cool.
Whip the heavy cream with an electric mixer until thick. Add vanilla and powdered sugar and continue to beat until thick and fluffy. Add the lemon curd, one tablespoon at a time and stir with the Mix-Stir until just incorporated.
Using the 4" Paring Knife, cut the fruit into small pieces and mix together in a bowl.
Using the Trimmer cut each baked pastry in half horizontally. Fill a piping bag or a plastic zip bag with a corner cut off with the lemon cream. Pipe some on both the top and bottom pieces of pastry. Add fruit to the bottom piece and add the top piece. Sift a little powdered sugar on top.
Serve immediately or refrigerate for up to 2 hours.
Recommended Tools