Pork Medallions With Apples and Maple-Balsamic Glaze
1693 days ago
Skip to recipe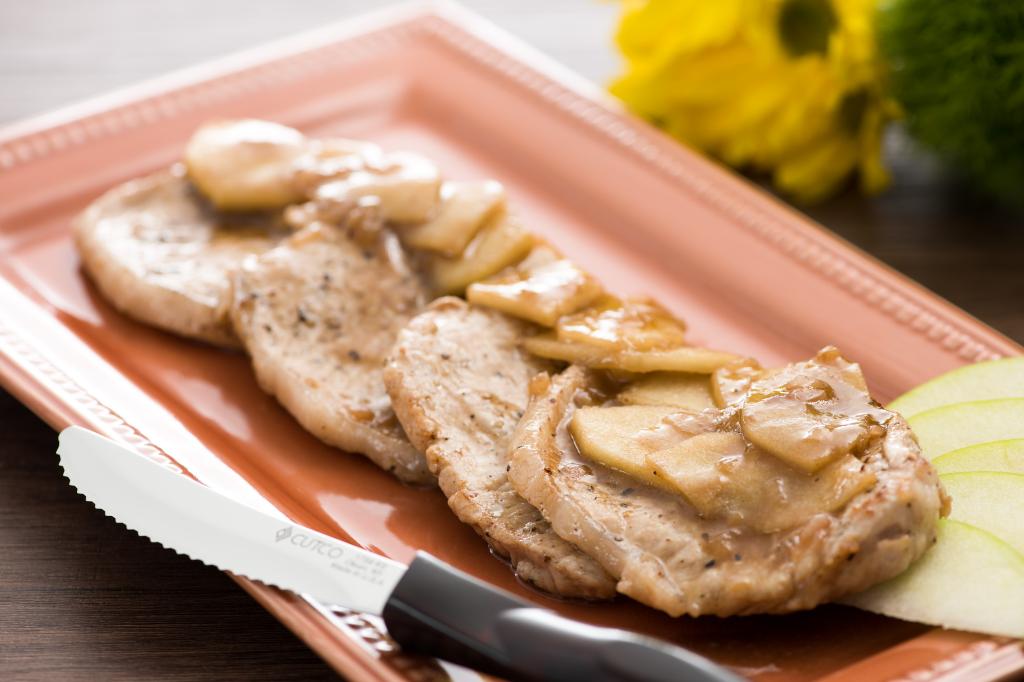 To get dinner on the table fast, thin-cut boneless pork chops are an ideal option. For this recipe, the pork medallions need just a quick sauté and then a flavorful sauce is made in the same pan. Complete the meal with mashed or baked sweet potatoes and steamed green beans.
For cost savings, try buying a whole pork loin and breaking it down into different cuts, including some thin chops. Follow my easy step-by-step instructions for How to Deconstruct a Pork Loin to learn how, using a 6-3/4" Petite Carver.
If the pork medallions are frozen individually, they will thaw quickly when set on an aluminum sheet pan while you prep the ingredients for this easy recipe.
Pork Medallions with Apples and Maple-Balsamic Glaze
Print Recipe
Ingredients
8 thin boneless pork loin chops, about 3/8" thick
Salt and pepper
4 tablespoons butter, divided
1/4 cup minced shallots or onion
1 small apple, peeled, cored, and sliced thinly
1 teaspoon flour
1/2 cup chicken stock
1 teaspoon Dijon mustard
2 tablespoons pure maple syrup
2 tablespoons balsamic vinegar
Directions
Season pork with salt and pepper. Melt 2 tablespoons butter in a large skillet over medium-high heat. Add pork chops, working in batches if necessary, and sauté until cooked through, about 2 minutes per side. Remove pork from pan and tent to keep warm.
Reduce heat to medium and add 2 tablespoons butter and shallots to same skillet. Sauté until fragrant, about 30 seconds. Add sliced apple and sauté until softened, about 5 minutes, stirring frequently. Sprinkle with flour, stirring constantly. Whisk in chicken stock and simmer for about 5 minutes. Then stir in Dijon mustard, maple syrup and vinegar. Simmer until thick and reduced about 5 minutes longer.
Return pork and accumulated juices to pan and heat through, about a minute longer. Serve immediately with pan sauce spooned over pork.
Recommended Tools