Polenta, Sausage, Roots and Fruits Bake
Published 1828 days ago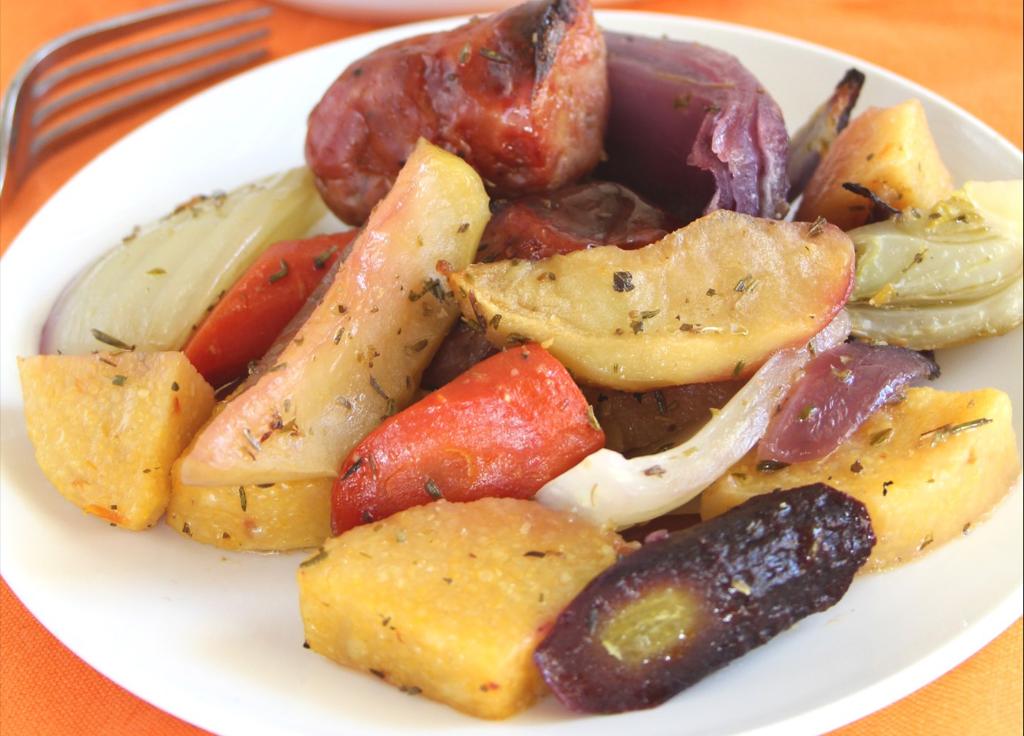 From Dorothy Reinhold, Shockingly Delicious, www.shockinglydelicious.com
Here is a one-dish dinner that warms your soul with sweetness from apples, onions and carrots, intrigue from fennel and Italian herbs, a savory bite from sausage and just enough chewy heft from polenta.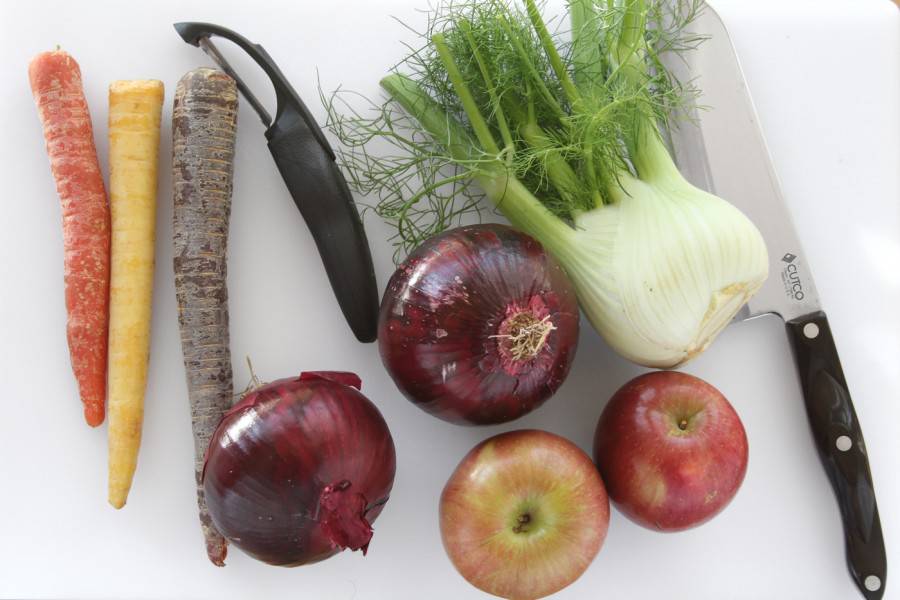 Ingredients
2 red onions, peeled and cut into 8ths or 10ths
1 fennel bulb, stem and fronds removed, cut into 10-12 pieces
2 large Fuji apples, stemmed and cored (peel or not, your choice), each cut into 8-12 slices
3 colored carrots (use regular carrots if you can't find colored heirloom carrots), peeled and cut into diagonally sliced chunks
4 chicken and apple sausages (about 12-16 ounces), cut into chunks (or use Italian sausages)
1 (16-ounce) tube prepared polenta (sundried tomato and garlic, or mushroom and basil flavor if you can find it)
2 teaspoons finely minced fresh rosemary
1 teaspoon dried oregano
1/4 teaspoon kosher salt
3 tablespoons extra-virgin olive oil
1 tablespoon pure maple syrup
At table: Sriracha sauce or other hot sauce of your choosing
Directions
Turn oven on to 350 degrees.
Add all ingredients except hot sauce to a large mixing bowl. Using two scrapers or large wooden spoons gently toss and mix all ingredients until herbs are distributed. (You want the onion chunks to remain largely intact, so be gentle.) Transfer to a large roasting pan.
Roast for 45 minutes and check for doneness by poking a fork tine or cake tester into the carrots. If done, remove from oven. If carrots still seem too firm, roast for another 5-15 minutes, so 45-60 minutes total.
Serve in wide shallow bowls or on plates. Pass the Sriracha or your favorite hot sauce at the table for those who like to make dinner zippy.