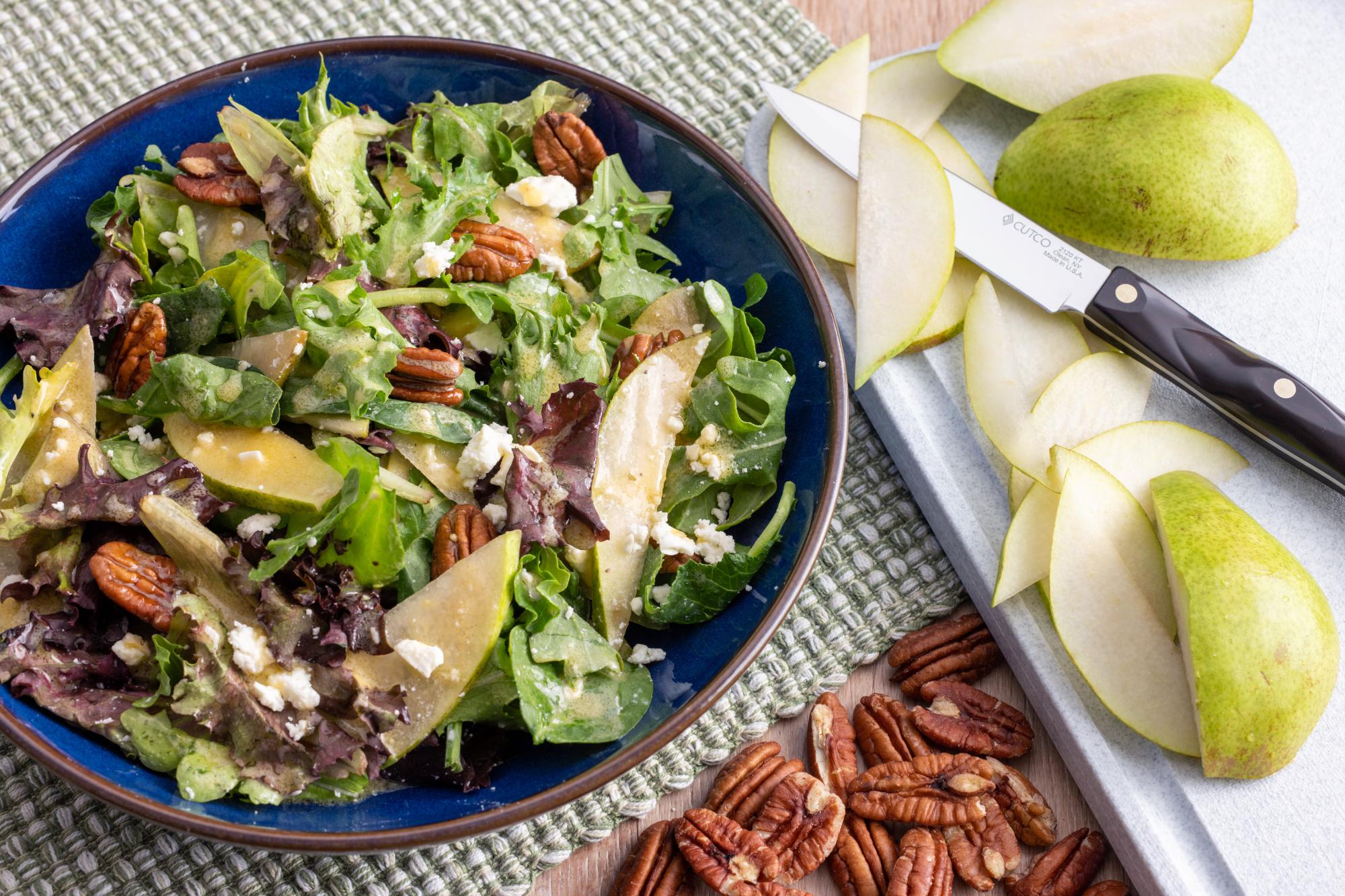 This pear, arugula and feta cheese salad uses Dijon mustard as the base for its dressing and is an easy fall salad that you can share with friends and family.
I like pears, I'm just never sure what to do with them other than eating them as a snack. I don't really think to bake with them or add them to other recipes and I certainly was unaware of the different varieties of pears that become available in the fall. Yet I really do like their flavor and they are an excellent source of fiber and have vitamin C.
In thinking of what we could do with this lovely fruit, my mind immediately went to an easy fall salad. I'm partial to salads – especially for my lunches and I thought the sweet juiciness of a pear would change things up a bit. This time of year I tend to fall back on using apples in my salads, simply because we have such a selection to choose from, but why not put the pear in the spotlight for this particular recipe.
This Pear, Arugula and Feta Cheese Salad uses a Dijon mustard as the base for the dressing so you're combining sweet, creamy and tangy flavors all in one bite. For me, the key to this particular salad are the greens you use. We combined spring greens with some arugula, which gave it a nice peppery flavor without overpowering the mild taste of the pear.
The dressing is super easy. Just combine white wine vinegar, Dijon mustard and some salt and pepper and then gradually add the olive oil so you have a thicker dressing that really clings to the greens and pears.
To thinly slice my pears, I used the 4" Paring Knife, cutting them into quarters and removing the core before slicing. To keep the fruit from browning, place them in a bowl after they have been cut with a mix of 50 percent water and 50 percent lemon juice.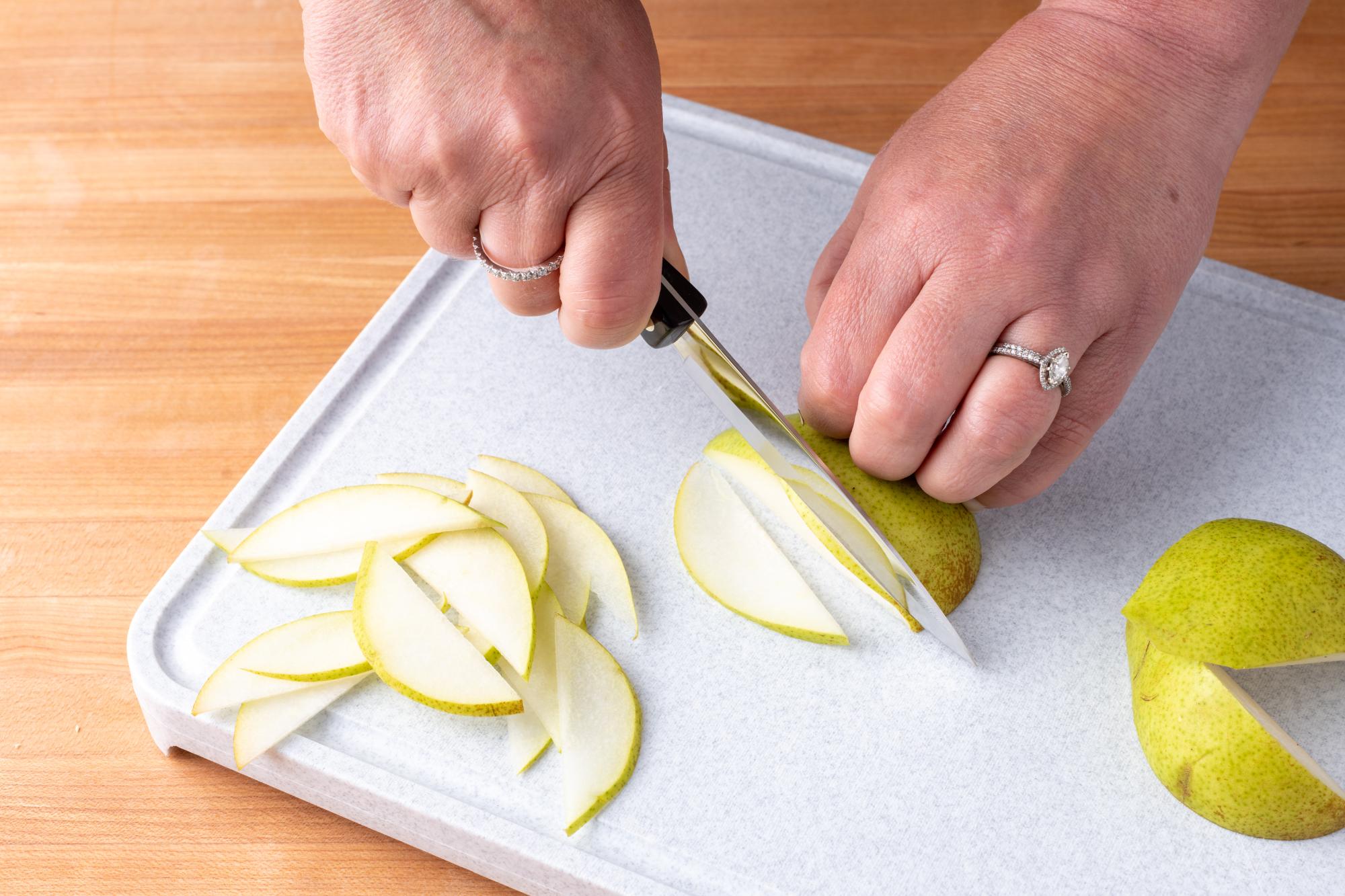 I chose to purchase Feta cheese that was in a block and not pre-crumbled because the block cheese is packaged in a brine that leaves the cheese moister with way more flavor. We simply cut the block into planks with the Traditional Cheese Knife and crumbled the planks with our fingers.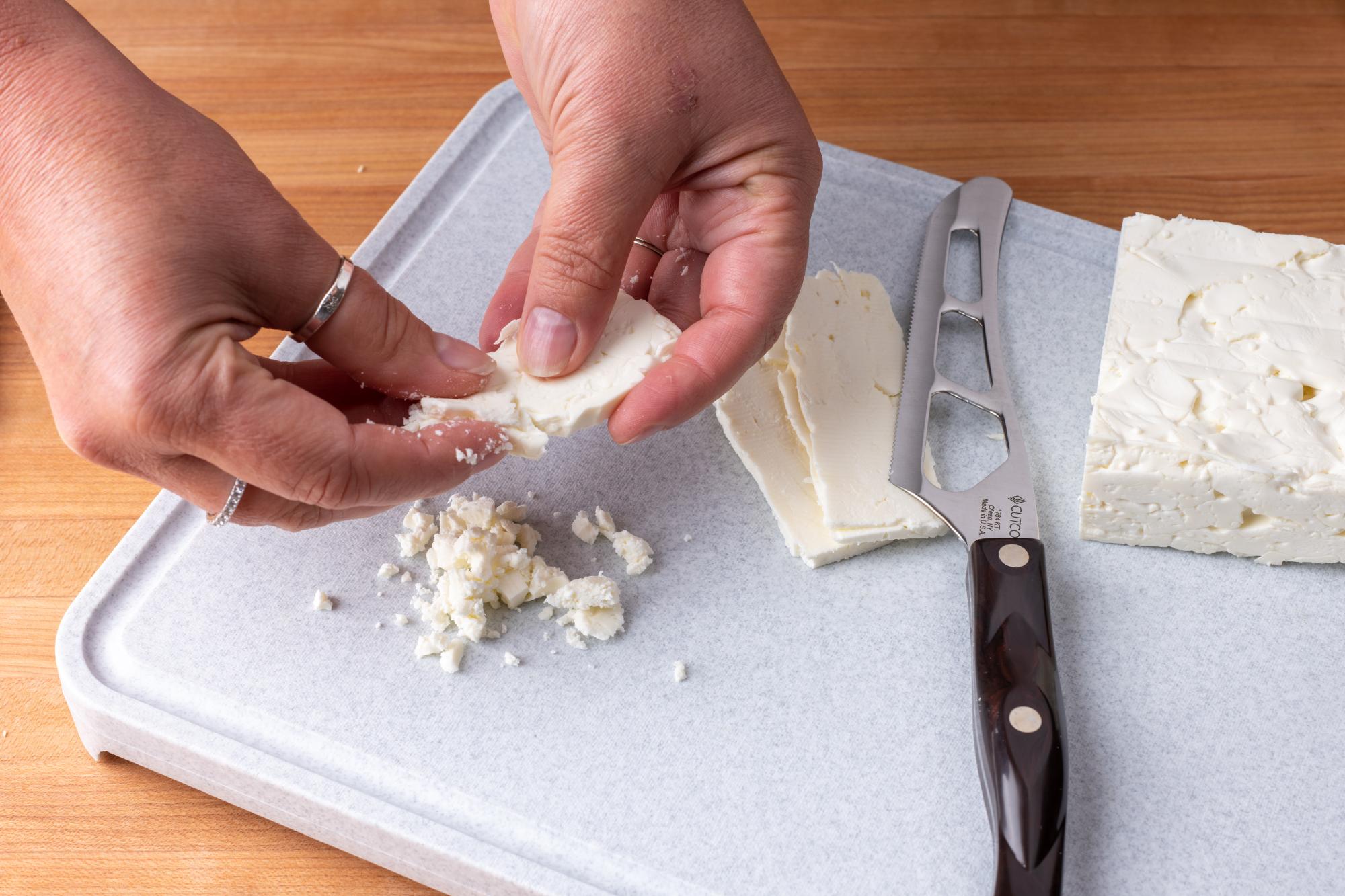 Once you have these basic steps completed, this salad comes together in no time. You just add all of the salad fixings together and drizzle the dressing over the salad. Take care to not use all of the dressing, keeping some in reserve if you need to refresh it later.
The sweetness of the pear, along with the creaminess of the feta cheese, nuttiness of the toasted pecans, tanginess of the dressing and the peppery flavor of the arugula makes for an easy fall salad you'll enjoy every time. Pear, Arugula and Feta Cheese Salad may just become a new favorite.
Ingredients
5 cups spring greens mixture
1 cup arugula
2 tablespoons white wine vinegar
4 teaspoons Dijon mustard
1/2 teaspoon kosher salt
Freshly ground black pepper
3 tablespoons extra-virgin olive oil
2 ripe pears, unpeeled, cored and thinly sliced
2 ounces feta cheese, crumbled
2/3 cup pecans, halved and toasted
Directions
Rinse the spring greens and arugula and dry, placing in a serving bowl.
In a small bowl, whisk the vinegar, mustard, salt and pepper to taste. Gradually whisk in the olive oil to make a smooth and thick dressing.
Add the pears, cheese and pecans to the salad mixture.
Drizzle the dressing over the salad mixture, tossing gently and serve immediately.
Recommended Tools