Pasta Primavera With Asparagus, Sugar Snap Peas and Spinach
719 days ago
Skip to recipe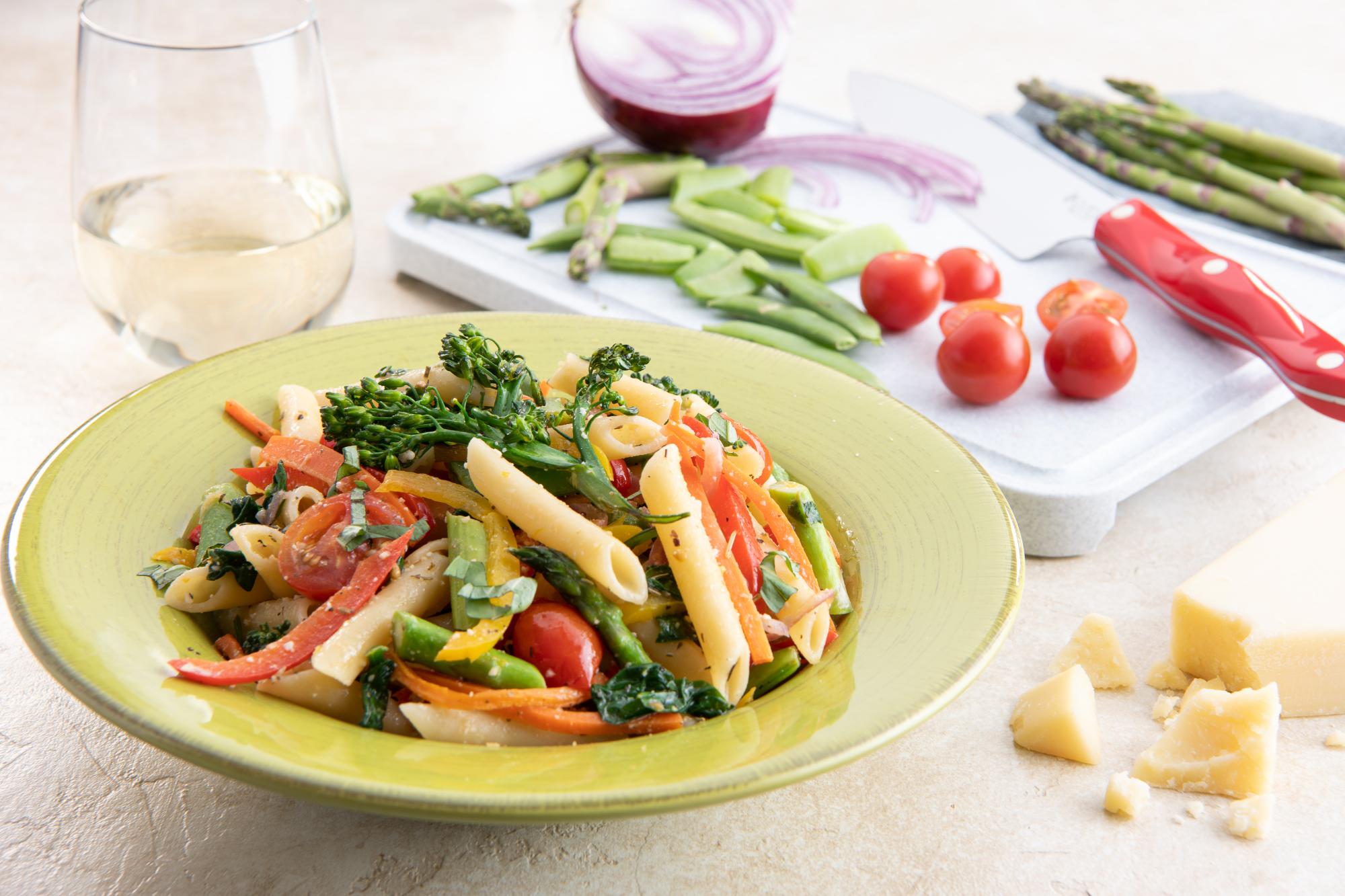 Like many people, I've moved away from traditional pasta dishes and have at times substituted zoodles or zucchini noodles. That said, there comes a point where I crave an actual pasta dish that won't weigh me down or make me feel sluggish. How can you do that? By going heavy on the vegetables and light on the pasta to create the perfect easy dinner.
Pasta Primavera with Asparagus, Sugar Snap Peas and Spinach is my absolute go-to when I'm craving a pasta dish. What I like about this recipe is that the sauce really isn't a sauce at all, rather, it is lemon zest and juice combined with some fresh basil and, of course, Parmesan cheese. Flavors that complement the vegetables. In fact, the word Primavera means spring in Italian, so you do want your spring vegetables to be the star.
This recipe really is all about the preparation of your vegetables and if you see a vegetable you don't like on the list of ingredients, change it. I look at this recipe as more of a guideline, so feel free to add zucchini or yellow squash, different colored peppers or broccoli. The choice is really yours as you can't go wrong.
Before I started preparing my vegetables, I started to cook my pasta. One thing to note here is that you don't want your pasta to be over-cooked. You still want a little bite to the noodle. While you can use spaghetti for this recipe, I prefer penne pasta as the size and consistency of the noodle worked well with all of vegetables when it came to tossing everything together. Additionally, you'll want to reserve some of the pasta cooking liquid to add to the end of the dish, if needed.
To prep most of these vegetables, I used the 7-5/8" Petite Chef knife. It easily cut the onion, peppers, carrots, asparagus and sugar snap peas.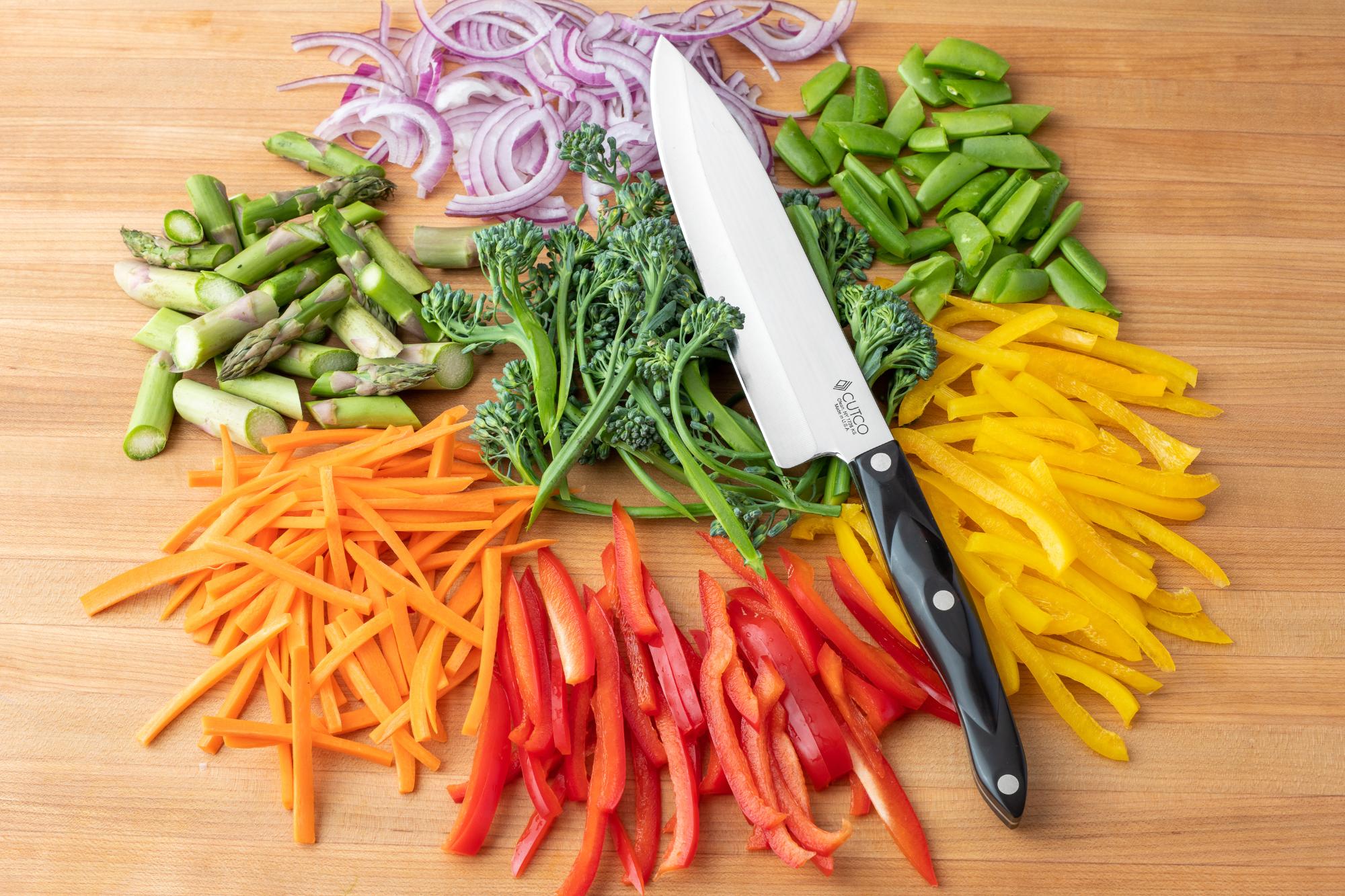 For the Broccolini, the key is to remove the tough ends of the stalk and cut the pieces into bite-size stalks.
For the spinach, I chose to rough chop the leaves also using the Petite Chef. Spinach wilts down as you cook it, so you don't want the pieces too small. A quick rough chop of the leaves is really all you need.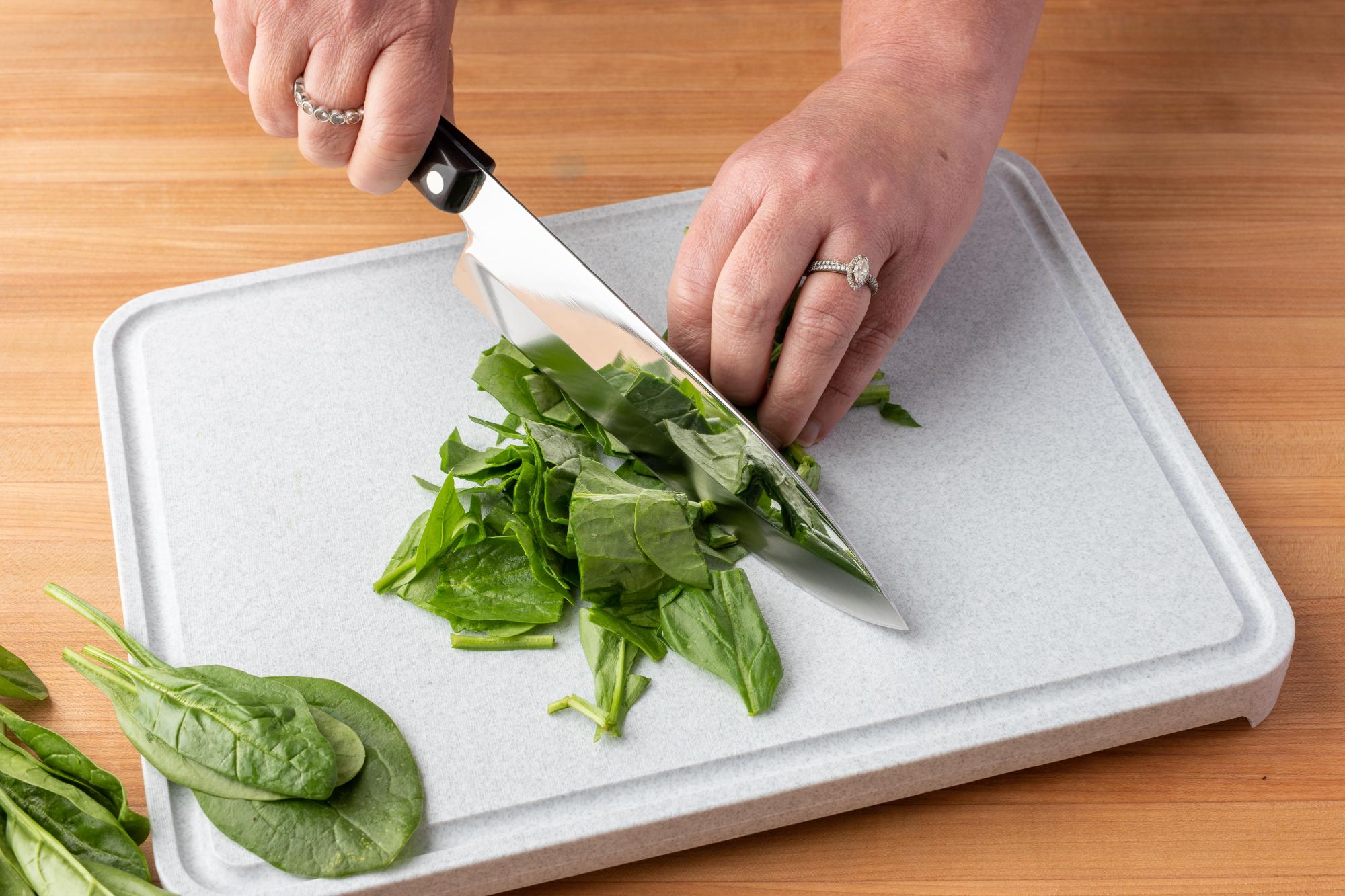 This is a recipe where you add the vegetables in stages based on how long it will take to cook them. I started with the red onion and carrots and then added the Broccolini and peppers. From there I added the asparagus and sugar snap peas, followed by the cherry tomatoes, spinach, garlic and dried herbs. You still want your vegetables to have some crunch so make sure not to overcook the mixture. Then you toss your pasta and vegetables together and add the lemon zest and juice, basil and Parmesan. If you find that your mixture is sticking together, ladle on some of the reserved pasta liquid to break things up. Test your seasoning and then add some additional cheese for serving, of course.
Pasta Primavera with Asparagus, Sugar Snap Peas and Spinach is an easy dinner with light flavors, perfect for any night of the week. I kept some in the refrigerator and had it the next night with some additional liquid and Parmesan cheese added, and it held up well. If you want to add a protein, grilled chicken would pair nicely with the pasta and vegetables. It's a fail-proof recipe that you can definitely make your own, so enjoy.
Ingredients
10 ounces penne pasta
1/4 cup olive oil
1/2 red onion, sliced
1 large carrot, peeled and cut into matchsticks
1 bunch Broccolini
1 medium red bell pepper, sliced
1 medium yellow bell pepper, sliced
1/2 pound (1/2 bunch) asparagus, cut into one-inch pieces
1/2 cup sugar snap peas, strings removed and halved on the diagonal (about 2 ounces)
1 cup cherry tomatoes, halved
3 cups spinach leaves, roughly chopped
3 garlic cloves, minced
1/2 teaspoon dried basil
1/2 teaspoon dried oregano
1/2 teaspoon dried rosemary
1/2 teaspoon dried thyme
1/2 cup pasta water
1 lemon, zested and juiced
3/4 cup grated Parmesan cheese, plus more for serving
2 tablespoons fresh basil, thinly sliced
Kosher salt, to taste
Directions
Bring a large pot of water to a boil. Cook penne pasta in salted water according to package directions and reserve 1/2 cup pasta water before draining.
Heat olive oil in a large skillet over medium-high heat.
Add the red onion and carrot and sauté for 2 minutes.
Add the Broccolini, red and yellow bell peppers and sauté for 2 minutes.
Add the asparagus and sugar snap peas and sauté for an additional 2 minutes.
Add the cherry tomatoes, spinach leaves, garlic, basil, oregano, rosemary and thyme and sauté another 2-3 minutes until all of the vegetables are tender and heated through.
Pour all of your vegetables into a large serving bowl, add the pasta and drizzle with the lemon zest and juice. If the mixture is sticking, add the reserved pasta water as needed.
Toss the Parmesan cheese and basil into your vegetables and pasta, making sure to coat everything evenly.
Test for seasoning and add salt if needed, tossing again.
Serve with additional Parmesan cheese sprinkled on top of the pasta mixture.
Recommended Tools