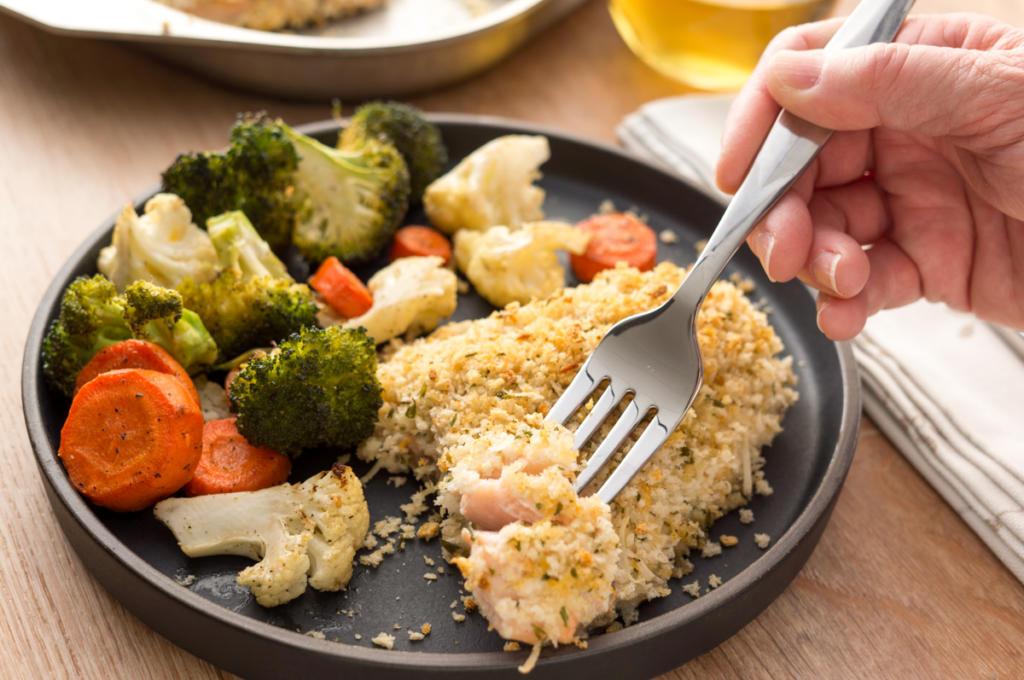 Making a decision to eat healthier often times brings to mind eating more fish and veggies. This Parmesan Crusted Salmon and Vegetables recipe delivers on both counts. Better yet, it is an all-in-one meal
The recipe is filled with yummy roasted vegetables and salmon fillets that are topped with a delicious panko bread crumb mixture that includes Parmesan cheese, minced garlic and a sprinkling of grated lemon peel. Salmon is high in protein, omega 3 fatty acids and vitamin D, which are all good for you.
I've become a fan of roasted vegetables. Roasting them in a little olive oil brings out their sweetness and they need just a sprinkling of salt and pepper to spice them up. For this recipe, since everything is baked in the oven on a large sheet pan, it's easy prep and easy clean-up.
I purchased frozen, individually vacuum-sealed salmon fillets at one of our local grocery stores. There were 8 fillets in the package. I know those of you who eat salmon on a regular basis prefer fresh but since it was not available I went with frozen.
Easily slice the carrots and mince the garlic with the 7" Santouku. Maybe you've never thought about using kitchen shears, like Cutco's Super Shears, while you cook, but they work great for snipping the broccoli and cauliflower florets.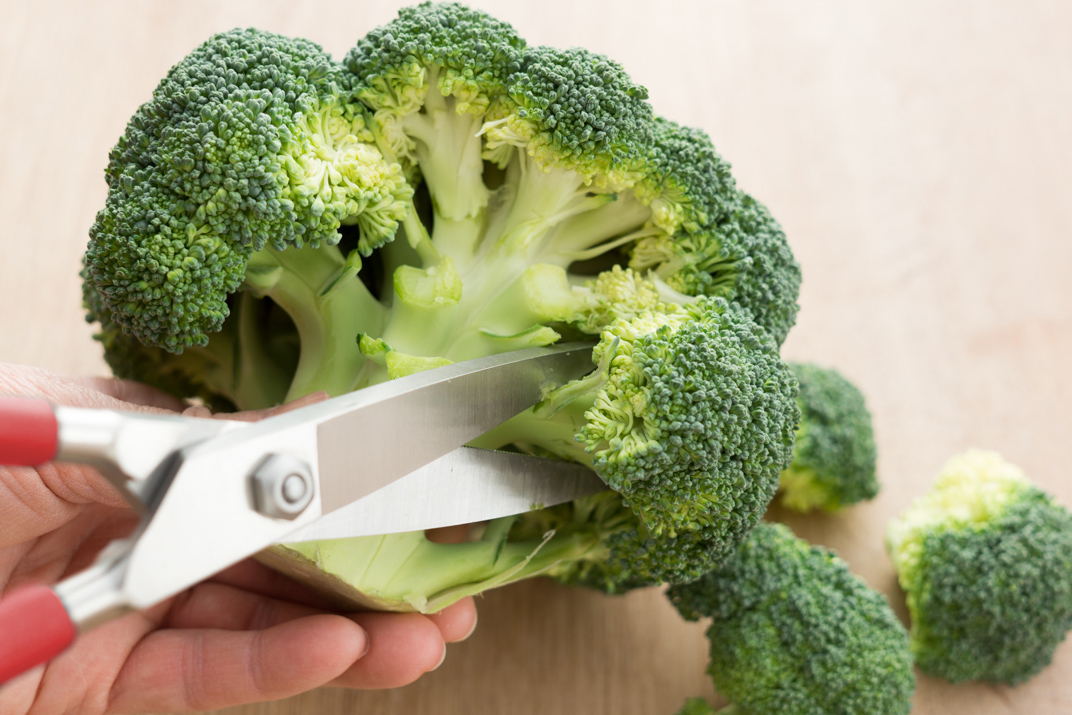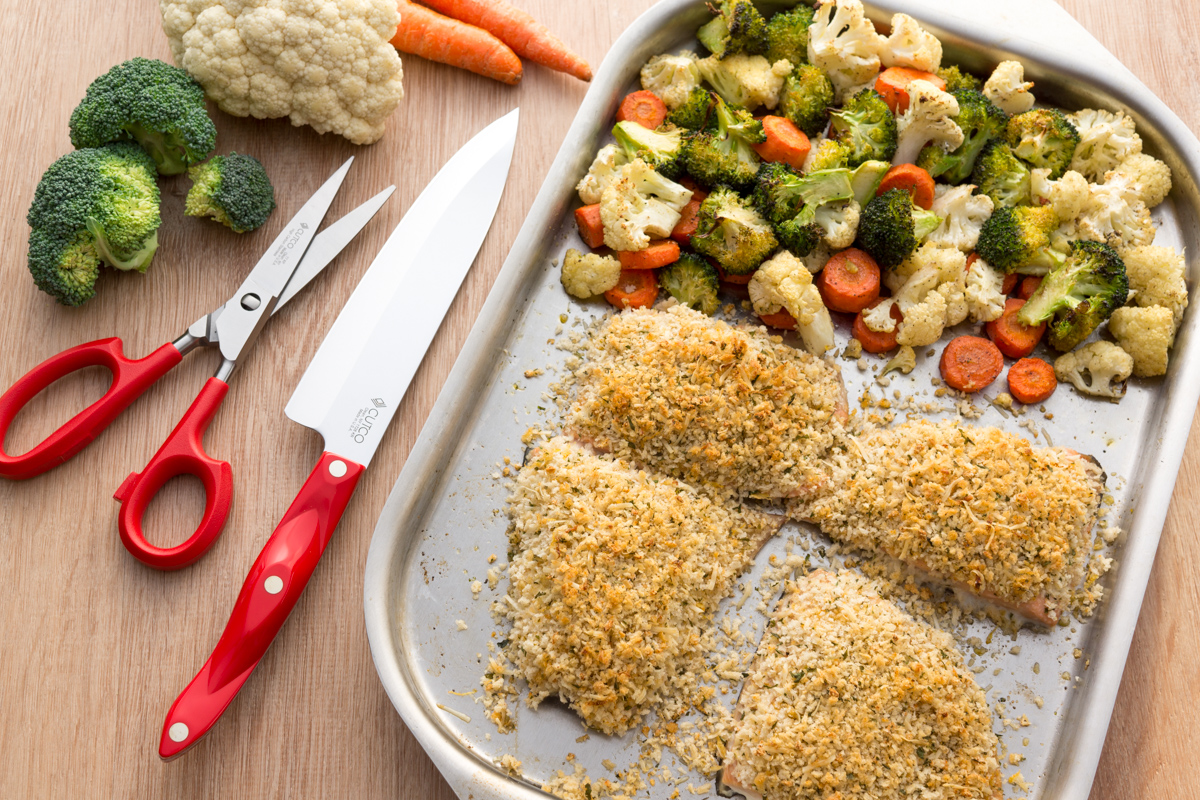 Everyone who tasted it was surprised at the mild taste of the salmon and they loved the topping, especially the added zip of the lemon peel. This is a dish that is family and guest friendly.
Ingredients
For the vegetables
1 cup carrots, peeled and sliced
2 tablespoons olive oil, divided
1 teaspoon salt, divided
1/2 teaspoon freshly ground pepper
2 cups broccoli florets
2 cups cauliflower florets
For the salmon
1 1/2 cups Italian panko bread crumbs
1/4 cup grated Parmesan cheese
1 teaspoon dried parsley
4 cloves garlic, minced
1 teaspoon grated lemon peel
1/2 teaspoon salt
1/2 teaspoon lemon-pepper seasoning
1/2 teaspoon smoked paprika
2 tablespoons butter, melted and divided
4 (6-ounce) salmon fillets
Directions
Preheat oven to 400ºF.

Place carrots on a large sheet pan. Drizzle with 1 tablespoon olive oil and season with 1/2 teaspoon salt and 1/4 teaspoon pepper. Stir to evenly coat. Bake for 15 minutes. Remove from oven; add the broccoli and cauliflower to the pan, drizzle with the remaining tablespoon of olive oil and remaining 1/2 teaspoon salt and 1/4 teaspoon pepper. Stir to coat.

In a medium bowl, combine the panko crumbs, Parmesan cheese, parsley, garlic, lemon peel, salt, lemon- pepper seasoning, paprika and 1 tablespoon melted butter.

Make room on the pan for the salmon fillets. Place each fillet, skin side down and brush each with remaining melted butter. Top with the crumb mixture, patting down gently and carefully place on the pan.

Place pan back in the oven and bake until crumb mixture is golden brown and salmon begins to flake easily with a fork, about 12-15 minutes.
Recommended Tools