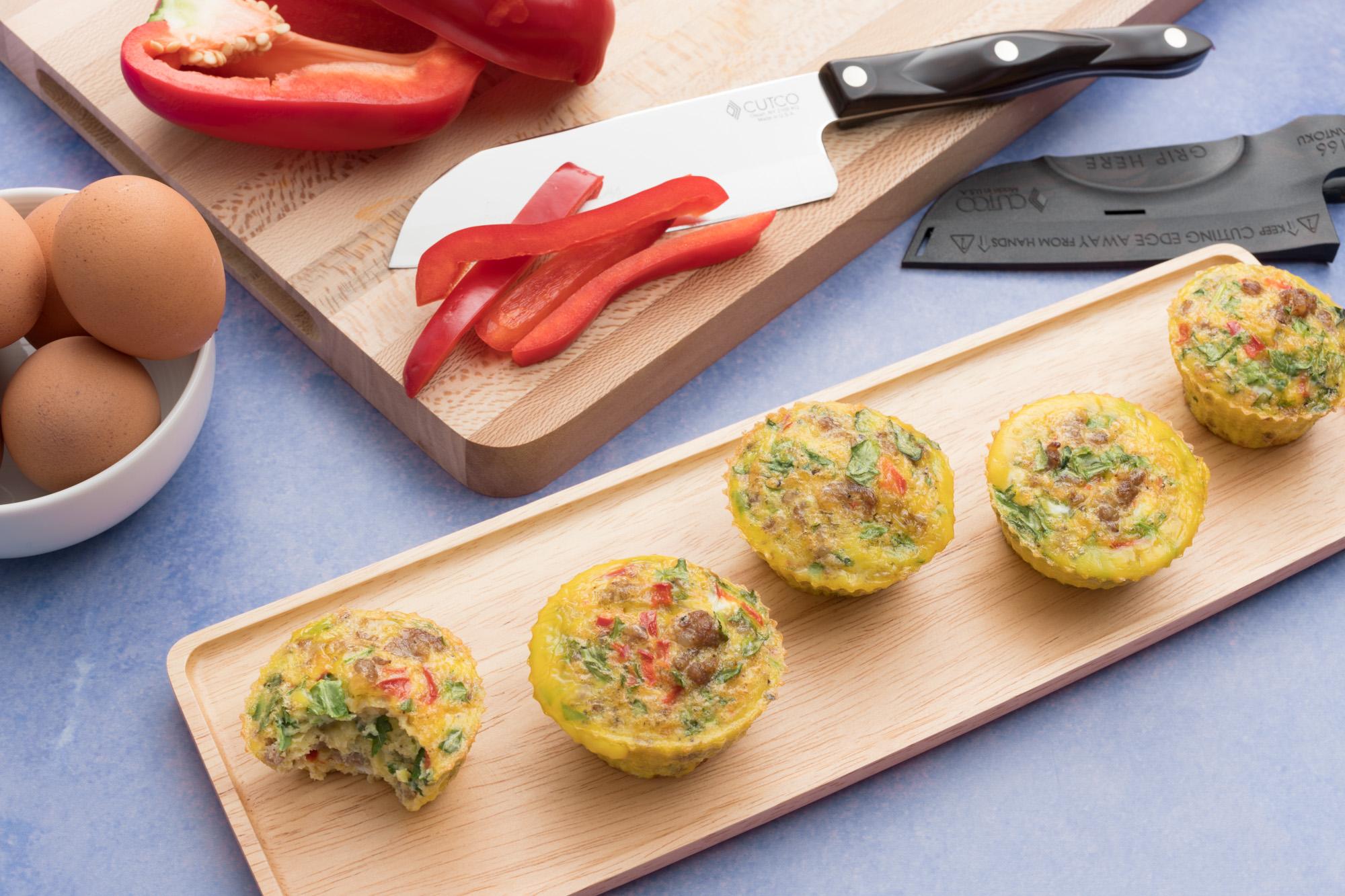 If hurry-up and get out the door is your usual morning routine, it is easy to make the wrong choices for something to eat. Why not have your fridge or freezer stocked with a nutritious, protein-rich option? These Grab-n-Go Paleo Breakfast Muffins are easy to grab from the refrigerator or freezer as you're heading out the door. You can re-heat them in the microwave or eat them at room temperature.
This recipe is friendly for a paleo diet, but if you'd like to add cheese, mix in about a half a cup (or more) of your favorite shredded cheese before filling the muffin tins. These egg muffins can stick to muffin tins and to paper muffin tin liners, so I recommend silicone muffin cups. But don't forget to grease even the silicone cups so your muffins are easy to remove.
Eggs can overcook easily and will continue to cook when you remove them from the oven, so be sure to preheat your oven and set the timer for 5 minutes less than the recommended baking time to check them. Egg muffins should be removed from the oven when they are firm at the edges but just beginning to set in the center since they continue to set as they cool.
For dicing the onion, use a sharp prep knife, like the 5" Petite Santoku. Its size is perfect for maneuvering around the onion to make uniform cuts. When chopping the arugula, the sharp, slightly rounded belly of 7-5/8" Petite Chef allows you to make smooth, fluid cuts without bruising the tender leaves.
Ingredients
1/2 pound ground breakfast pork sausage
1/2 red bell pepper, diced
1/2 onion, diced
1 cup arugula, chopped
9 large eggs
1/2 teaspoon kosher salt
1/4 teaspoon freshly ground pepper
Directions
Heat oven to 375 degrees F. Lightly grease a 12-cup non-stick muffin tin or silicone muffin pan with oil or cooking spray or grease 12 individual silicone baking cups and place on a baking sheet.
In a large skillet over medium heat, sauté breakfast sausage until cooked through and no pink remains. Remove from pan with Slotted Spoon and place in a bowl to cool slightly. Discard grease remaining in pan, leaving just a thin coating, then return pan to heat and add bell pepper and onion. Sauté just until beginning to soften, about 2 minutes. Add sautéed vegetables to bowl with sausage, stir in arugula and let cool slightly.
In a separate large bowl, whisk together eggs with salt and pepper until thoroughly combined. Stir in vegetables and cooked sausage. Fill muffin tins ¾ full and bake until centers are just beginning to set and are firm to the touch, about 20 minutes. Cool on wire rack for 5 minutes, then remove from pan or cups and let cool. Serve warm or at room temperature.
If not serving immediately, cool completely, then pack in an airtight container. Refrigerate for up to 4 days or freeze for 3 months. To reheat, place on plate and microwave for 30 seconds or until warm.
Recommended Tools