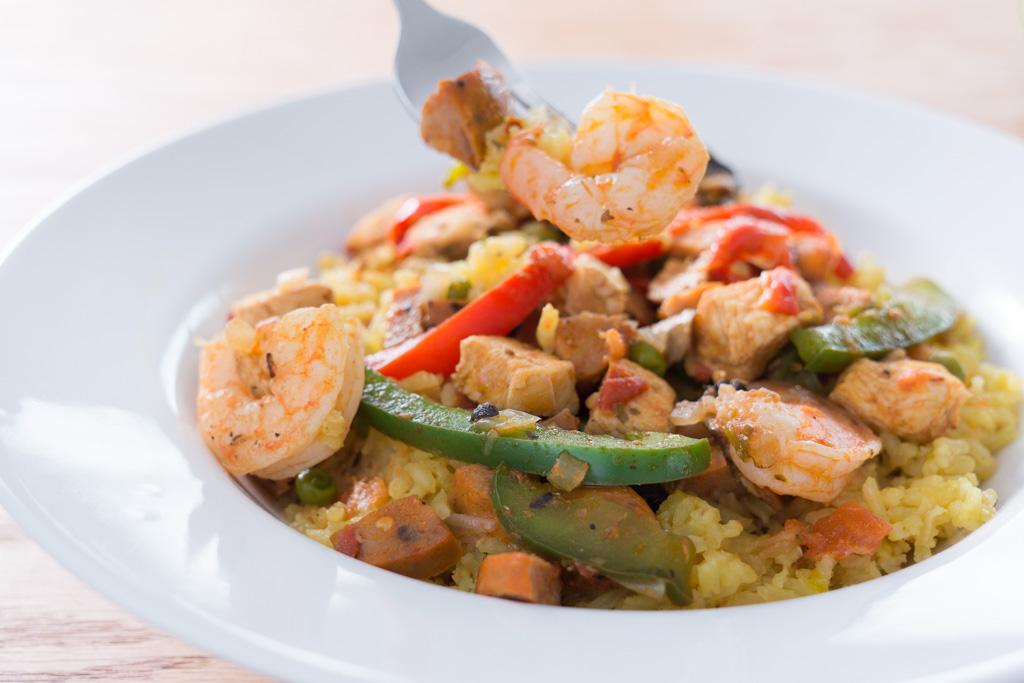 At the Cutco Kitchen we try to choose recipes that appeal to home cooks. We hope to offer something you may never have considered making and like to share recipes you can tweak to make your own and, of course, a something that tastes good. This Spanish Paella does just that.
The recipe is full of flavor from the chicken, pork, seafood and the variety of vegetables and spices. Served over saffron infused rice, it is a satisfying, tasty dish. Like any recipe that includes a lot of ingredients, it is very flexible. Substitute ingredients depending on what you have on hand and what you and your family like. Some recipes use boneless, skinless chicken thighs instead of chicken breasts and some include mussels and clams along with the shrimp. This is an impressive, colorful dish that has a spicy kick that you can tone down by reducing the amount of red pepper flakes in the rice.
It takes some time to cut up the chicken and chop the onions and peppers so it might be something you want to make on the weekend when, hopefully, you have a little more time. I purchased a bag of easy peel deveined shrimp and it took just a few minutes to remove the shells.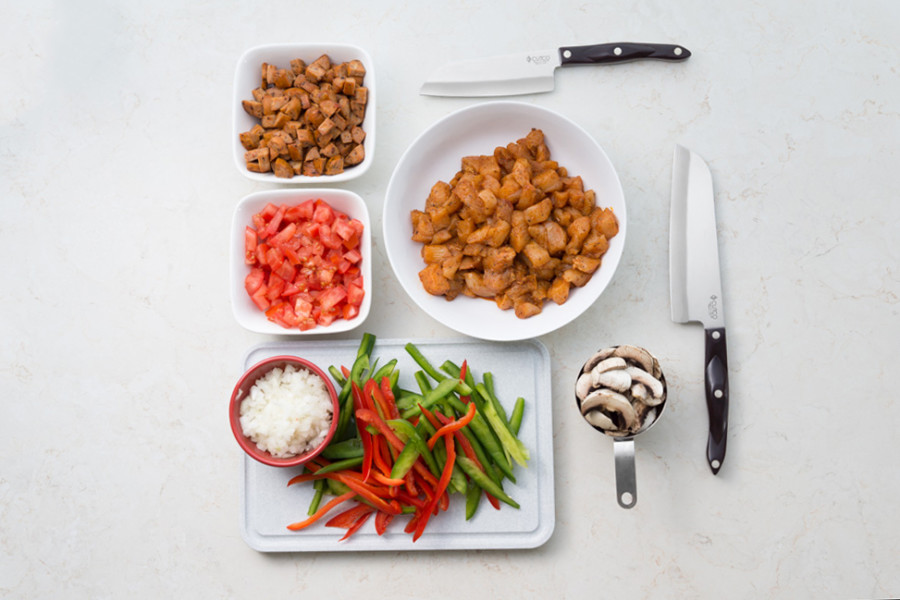 The Spanish Paella got high marks in the Cutco Kitchen and our taste-testers thought the spices were just right.
Ingredients
Meat and seafood
2 tablespoons olive oil
1 tablespoon paprika
1/4 teaspoon chipotle chili pepper
2 teaspoons dried oregano
A little salt and pepper
2 pounds skinless, boneless chicken breasts, cut into 1/2" pieces
1 large yellow onion, diced
1 pound chorizo, removed from casings and crumbled
1 medium red pepper, julienned
1 medium green pepper, julienned
1/2 cup fresh or frozen peas
1 cup sliced fresh mushrooms
2 medium tomatoes, chopped
1 pound medium to large shrimp, peeled and deveined
Rice
2 tablespoons olive oil
2 cloves garlic, minced
2 cups uncooked white rice
1 teaspoon crushed red pepper flakes
A pinch of saffron (about 1/4 teaspoon)
Zest from two lemons
1/2 bunch Italian flat leaf parsley, chopped
1 bay leaf
1 quart chicken stock
Directions
Mix the olive oil, paprika, chipotle chili pepper, oregano and salt and pepper together. Add the chicken, stir well to coat, cover and refrigerate.
Prepare the rice: Heat olive oil in a large skillet over medium heat. Add the garlic, rice and crushed red pepper flakes. Cook 3 minutes, stirring constantly. Add the saffron, lemon zest, parsley, bay leaf and chicken stock. Bring to a boil, reduce to a simmer, cover and cook for 20 – 30 minutes or until the liquid is absorbed and the rice is cooked. Watch the rice closely and add more stock if necessary.
Prepare meat and seafood: In another large skillet, heat 2 tablespoons of olive oil over medium-high heat. Once the oil is hot, add the chicken and onion, cook for 5 – 7 minutes. Add the chorizo and red and green peppers. Cook 5 minutes or until the peppers are tender but still crisp. Add the peas, mushrooms and tomatoes. Cook 5 minutes. Add the shrimp last, cooking until done.
To serve: Place the rice on a large serving platter and top with the chicken, sausage, shrimp mixture. Garnish with lemon wedges.
NOTE: We couldn't find regular chorizo so we used chicken chorizo which did not have casings and cut the links into small pieces.
Recommended Tools