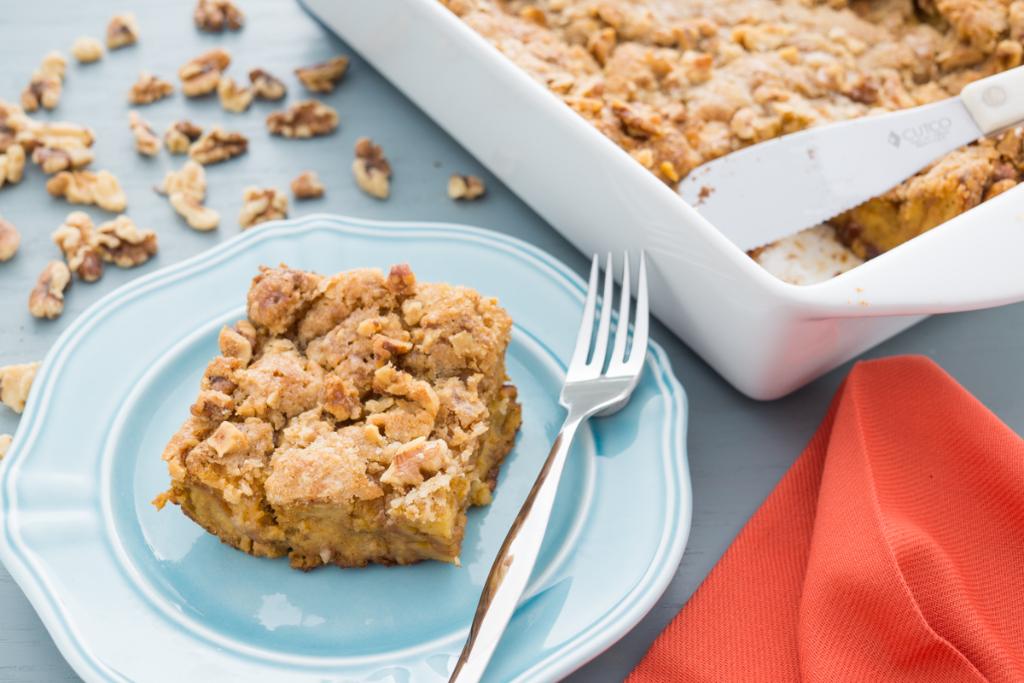 I am a pumpkin fanatic. I love anything with pumpkin – muffins, bread, donuts, soup, coffee creamer, ice cream and, of course, pie. I recently bought a box of pumpkin spice cereal and, yes, it was good. I even have a recipe for pumpkin cannoli which I plan on making soon.
Overnight Pumpkin French Toast Casserole is a perfect choice to serve to weekend guests or your family on a lazy Sunday morning. It's an easy breakfast bake recipe that you prepare the night before, and then pop it in the oven the next morning while you sit back and enjoy the sweet smells of pumpkin, vanilla custard and cinnamon as it bakes. The pumpkin flavor is subtle and even people who aren't fans of pumpkin will probably enjoy it, too.
Prep time for this recipe is minimal. I used the 9-3/4" Slicer with its long, sharp Double-D® edge to slice and then cube the bread into uniform pieces. I also used the Cutco's Mix-Stir with its coiled whisk design to incorporate the milk, cream, eggs, sugars, pumpkin and spices. Once the mixture was poured over the bread cubes, a gentle press with the Slotted Turner coated all the cubes with the custardy mix. Refrigerate overnight, top with the streusel in the morning and bake.
Delicious just as it is, it can also be sprinkled with some confectioner's sugar or a drizzle of maple syrup.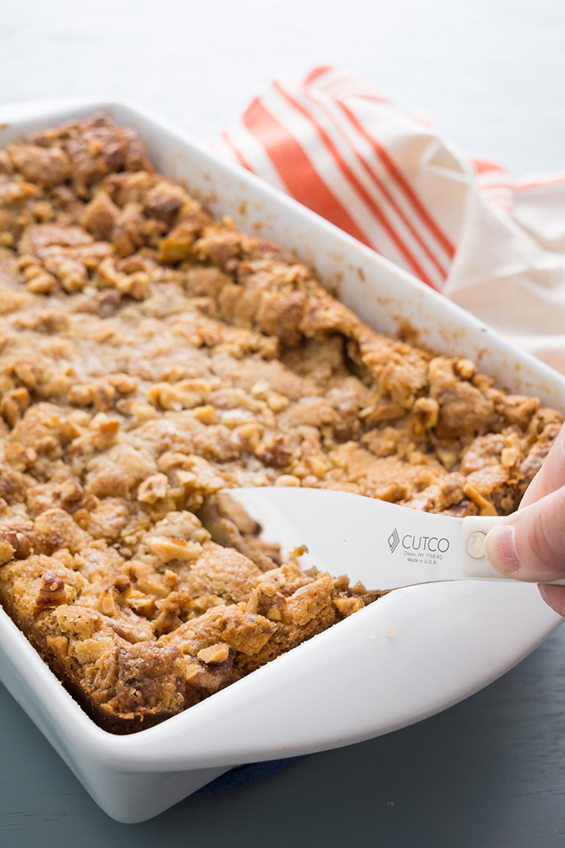 This would also make a great breakfast casserole recipe for serve for a holiday breakfast.
Ingredients
Casserole
Butter for the casserole dish
1 loaf of challah, brioche or Hawaiian sweet bread, cut into cubes
2 cups whole milk
3/4 cup heavy cream
5 large eggs
1/4 cup granulated sugar
3/4 cup packed brown sugar
1 cup canned pumpkin puree
1 tablespoon vanilla extract
1 tablespoon pumpkin pie spice
1 teaspoon orange zest
Topping
1/4 cup flour
1/4 cup granulated sugar
1/4 cup packed brown sugar
6 tablespoons cold butter cut into small cubes
3/4 cup chopped walnuts
Directions
Butter a 9 x 13 casserole dish. Scatter the bread cubes evenly in the dish.
Whisk the milk, cream, eggs, granulated sugar, brown sugar, pumpkin puree, vanilla, pumpkin pie spice and orange zest together in a large bowl until well combined.
Pour over the bread cubes and gently press down on bread with a Slotted Turner or spatula.
Cover with plastic wrap and refrigerate at least 3 hours or overnight.
Preheat oven to 350°F.
Make the topping. Mix granulated sugar, brown sugar and flour together. Add the butter and use a fork to cut in the butter until resembles the size of peas. Fold in the walnuts.
Sprinkle the topping evenly over the French toast, cover with foil and bake for 30 minutes, remove foil and bake for another 45 minutes or until the center is set and the top is golden brown.
Cool slightly before serving.
Recommended Tools