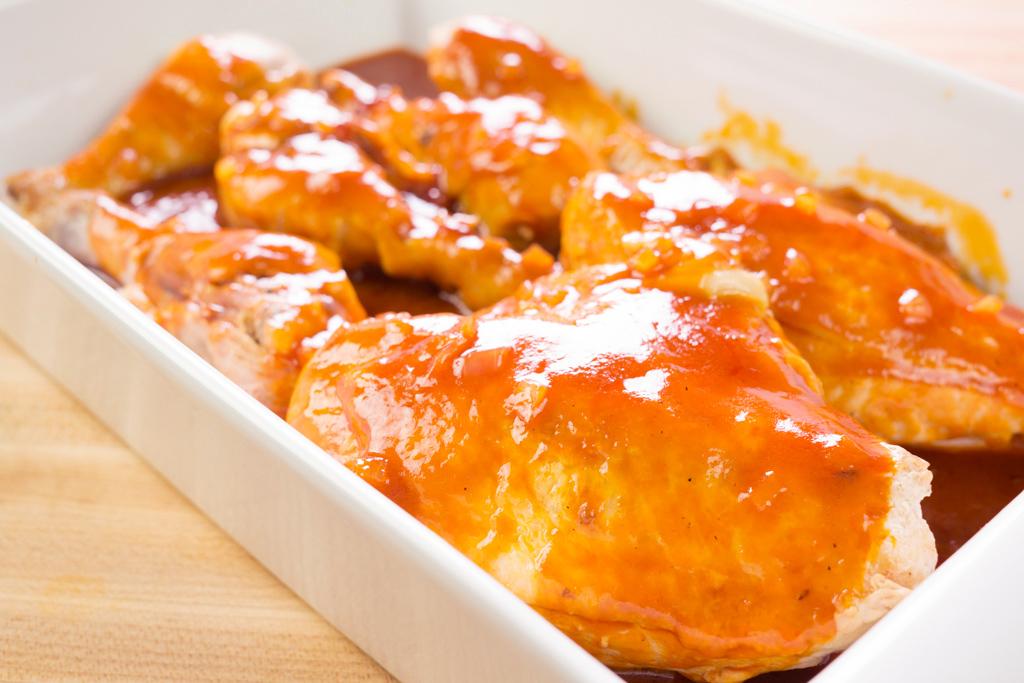 Now that the weather is nicer, we can't wait to get outdoors and fire up the grill. In our area, we're never quite sure if the weather will cooperate. So if you can't get outdoors, here's plan B. Bring the outdoors in by barbecuing in the oven. Although not quite the same, it's a good alternative for when you have a craving for some spicy, sticky, finger-licking chicken. One good thing is you don't have to worry about flare-ups on the grill from mopping all that sauce on the chicken.
Believe it or not, I had a little trouble finding a cut-up chicken. Everything seemed to be in packages of just drumsticks, thighs, breast and wings. I ended up purchasing a small package (about 6) drumsticks and a package containing two chicken breasts. I skipped getting wings, since I wanted meatier pieces. However, a larger package of just wings, browned then baked in this sauce would be delicious.
If you can't find the Buffalo tomato ketchup, simply add some hot sauce to the ketchup. You might want to double the sauce recipe using half of it for basting then heating up the rest to use as a dipping sauce when serving the chicken.
Ingredients
Recipe
2 tablespoons canola or vegetable oil
1 broiler/fryer chicken (3 to 4 pounds),
cut up
Barbecue Sauce
3 tablespoons butter
1/3 cup chopped onion
3/4 cup Buffalo tomato ketchup
1/3 cup cider vinegar
3 tablespoons brown sugar
1 tablespoon Worcestershire sauce
2 teaspoons prepared mustard
1/4 teaspoon salt
1/8 teaspoon ground pepper
Directions
Preheat oven to 350°F.
Heat oil in a large skillet over medium heat. Pat the chicken dry with paper towels so it doesn't splatter when placed in the hot oil. Brown chicken on both sides. Drain on paper towels.
Melt butter in a small sauce pan over medium heat. Add onion, cook and stir until tender. Stir in the rest of the ingredients. Bring to a boil, reduce heat and simmer for 15 minutes.
Place chicken in an ungreased 13 x 9 pan. Pour barbecue sauce over chicken, turning to coat evenly. Bake uncovered, 45 – 60 minutes or until juices run clear, basting occasionally.
Recommended Tools