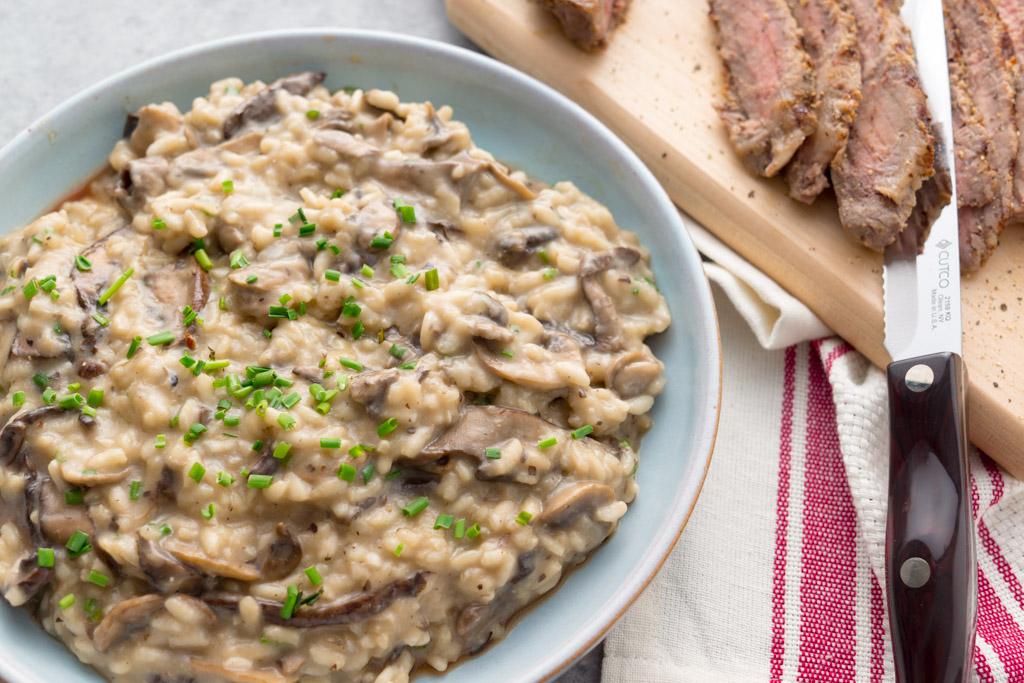 For many of us, the only thing we know about making risotto is that you have to stand at the stove and stir it constantly for about an hour. But it is so worth it and honestly it's not that difficult. It turns out so rich, creamy and full of flavor, if you've never made risotto before, you'll wonder why you waited so long.
This Mushroom Risotto recipe adds a great depth of earthy flavor to the rice. If you love mushrooms, you'll really taste them in this dish.
I chose to thinly slice the mushrooms using the Vegetable Knife but if you prefer, cut thicker slices and chop them into smaller pieces.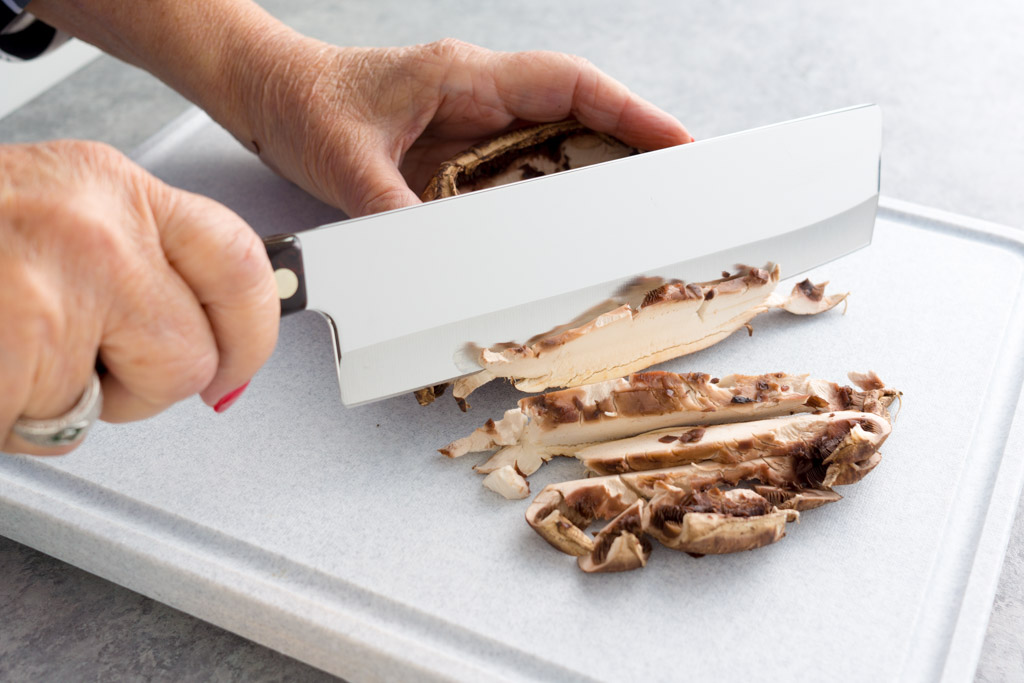 Be sure to use what I call good ingredients to get the best results. Use a wine you would drink, use butter not margarine and grate your own cheese.
For mincing the shallots be sure to check out our easy 3-step tutorial.
Cook and Taste
After cooking the risotto for 15 to 20 minutes, start tasting it. The rice should be slightly al dente when it's done. Don't overcook it because you don't want it to be mushy. Don't be concerned if you have broth left, it's not necessary to ladle it all in.

This Mushroom Risotto recipe is the perfect complement to grilled steak or chicken, or you can just eat it on its own. One thing is for sure, it was a big hit in the Cutco Kitchen and I'm confident it will be a hit in your kitchen, too.
An Easy Shortcut to Risotto
While risotto isn't difficult, we sometimes just don't have the time. A quick shortcut is to prepare the risotto up to the point of adding the broth. Put the ingredients you've prepared in the Dutch Oven directly into the crockpot, add the broth and stir. Cover and cook on low-heat for approximately 2 hours and 45 minutes or on high-heat for about 1 hour 15 minutes (rice should be tender). Once the rice is al dente, add the parmesan cheese and serve immediately.
Ingredients
6 cups chicken broth
1 pound Portobello mushrooms
3 tablespoons olive oil, divided
1 pound white mushrooms, thinly sliced
2 shallots, diced
2 cloves garlic, minced
1 1/2 cups Arborio rice
1/2 cup dry white wine
Salt and freshly ground pepper to taste
3 tablespoons finely snipped chives
4 tablespoons butter
1/3 - 1/2 cup freshly grated Parmesan cheese
Directions
Warm the broth in a saucepan over low heat.
Using a spoon, scrape the gills from the Portobello mushrooms and thinly slice.
Warm 2 tablespoons olive oil in a Dutch Oven over medium-high heat. Stir in the mushrooms and cook until soft. Remove the mushrooms and their liquid. Set aside.
Add 1 tablespoon olive oil to the pan. Stir in the shallots and garlic. Cook for 1 minute. Add the rice, stirring to coat with oil. Cook until the rice is a pale, golden color. Pour in the wine and stir constantly until the wine is fully absorbed. Add 1/2 cup warmed chicken broth to the rice and stir until absorbed. Continue adding the broth 1/2 cup at a time, stirring constantly until the liquid is absorbed and the rice is al dente. This should take 15-20 minutes. Note that you may not need to add all the broth.
Remove the rice from the heat, stir in the mushrooms with their liquid, butter, chives and Parmesan cheese. Season with salt and pepper to taste.
Serve immediately.
To reheat: Do not reheat in the microwave. Instead, put in a pan on the stove, add water or broth and slowly warm over a low heat.
Recommended Tools