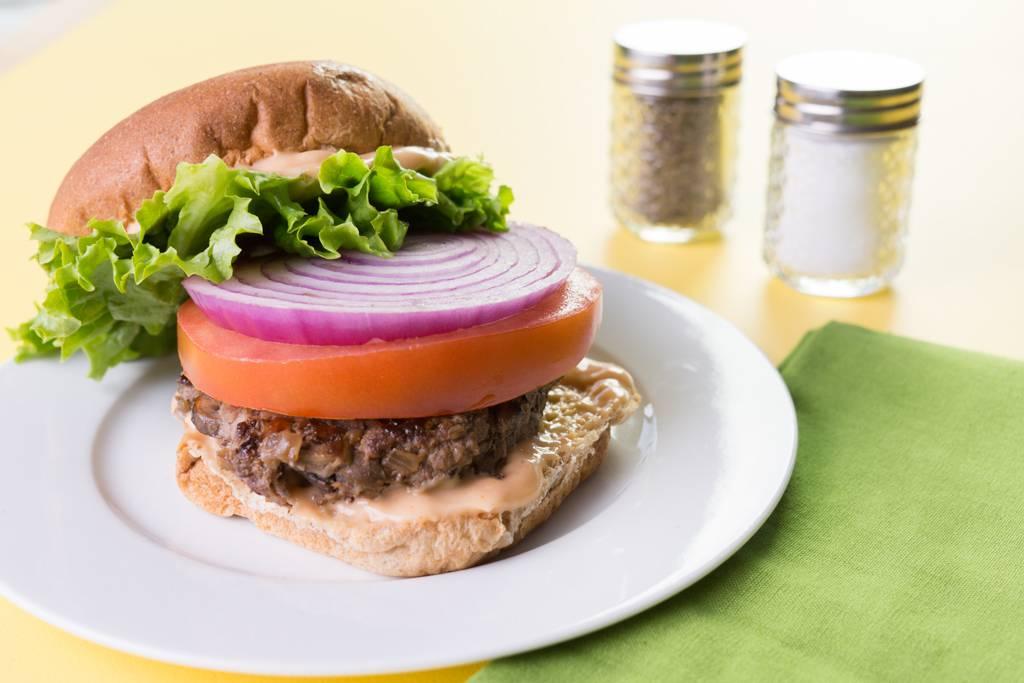 Ingredients
Mayonnaise Spread
1/4 cup canola mayonnaise
4 teaspoons unsalted ketchup
2 teaspoons Dijon mustard
Burgers
8 ounces cremini mushrooms, stems removed
4 ounces white button mushrooms, stems removed
1 tablespoon canola oil
1 cup finely chopped onion
3 cloves of garlic, minced
1/2 teaspoon kosher salt, divided
1/4 teaspoon fresh ground black pepper, divided
8 ounces 90% lean ground sirloin
Non-stick cooking spray
4 whole-wheat hamburger buns, toasted
4 Bibb lettuce leaves
4 1/4" thick slices tomato
4 1/4" thick slices red onion
Directions
Whisk mayonnaise spread together and set aside. Coarsely chop cremini and button mushrooms.
Heat a large skillet over medium-high heat. Add oil; swirl to coat. Add onion and garlic; cook 3 minutes. Add mushrooms, 1/4 teaspoon salt and 1/8 teaspoon pepper. Cook 7 – 10 minutes or until liquid evaporates, stirring occasionally. Remove pan from heat and let mixture cool completely.
Place beef in a bowl; add mushroom mixture and stir just until combined. Refrigerate 10 minutes. Shape mixture into 4 patties. Sprinkle with remaining salt and pepper.
Heat a large cast iron skillet over medium-high heat. Coat pan with non-stick spray. Add patties and cook on each side to desired doneness.
To assemble: Spread mayonnaise mix over top and bottom halves of each bun. For each burger, place patty on bottom half of bun; top with lettuce, tomato, onion and top half of bun.
Recommended Tools