Multi-Cooker French New Potato and Green Bean Salad
1144 days ago
Skip to recipe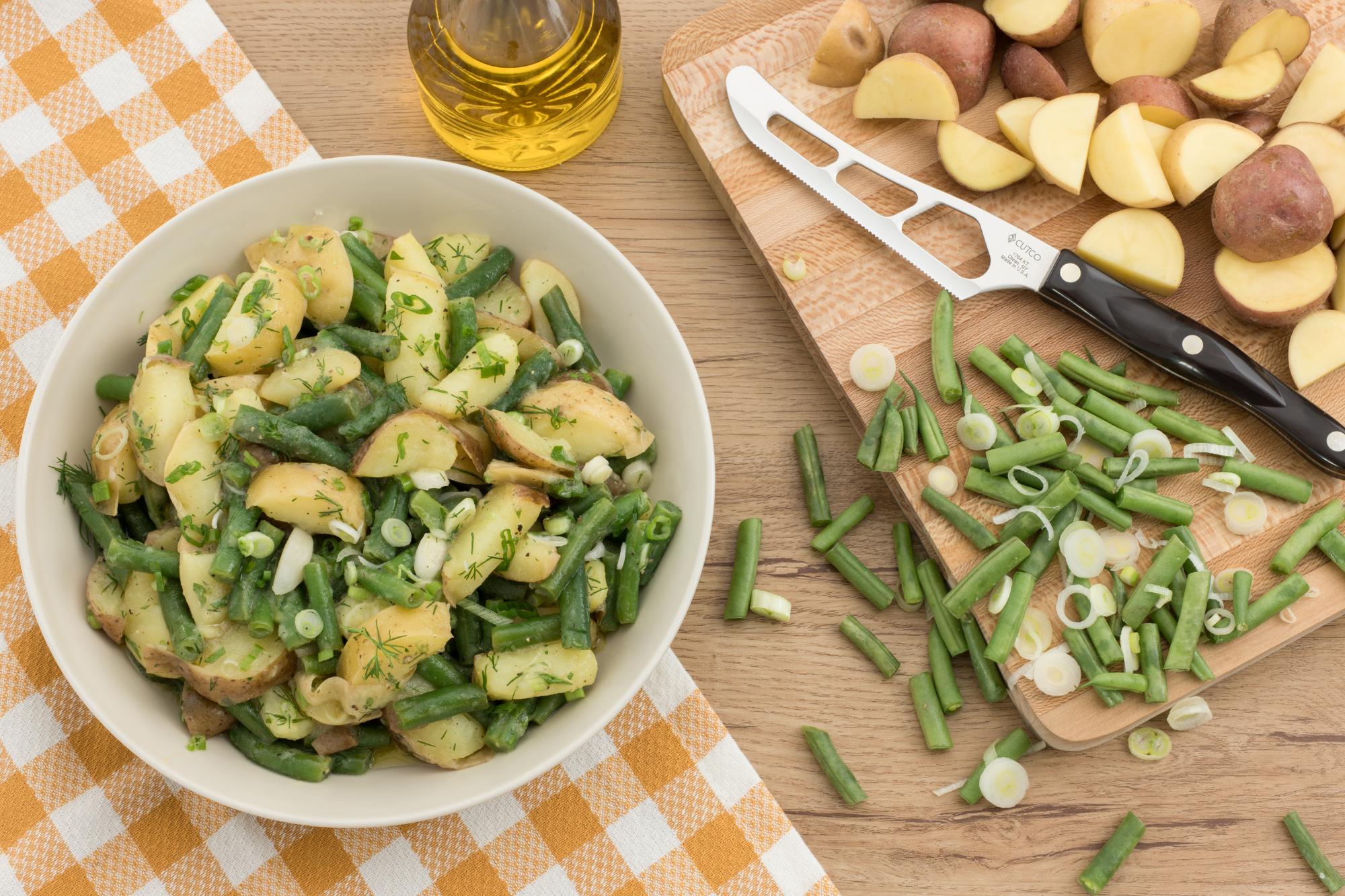 If you think all potato salads are cold and have a mayonnaise dressing, think again. This French New Potato and Green Bean Salad can be served warm, at room temperature or cold, and is dressed with a simple vinaigrette and plenty of fresh herbs.
Haricot vert is the name for the thin green beans used in this recipe. They are often available in the produce section, but any fresh green beans can be substituted. If you can find small new potatoes, halve or quarter them depending on size.
To cook the potatoes quickly (and in the same pot as the beans) this recipe uses a multi-cooker which cooks them in just three minutes.
An important feature of this recipe is adding wine and chicken stock to the hot potatoes to flavor them.
The Traditional Cheese Knife, with its Micro Double-D™ edge, makes slicing the potatoes into even pieces a breeze and the 7-5/8" Petite Chef is the tool for slicing scallions and trimming the beans.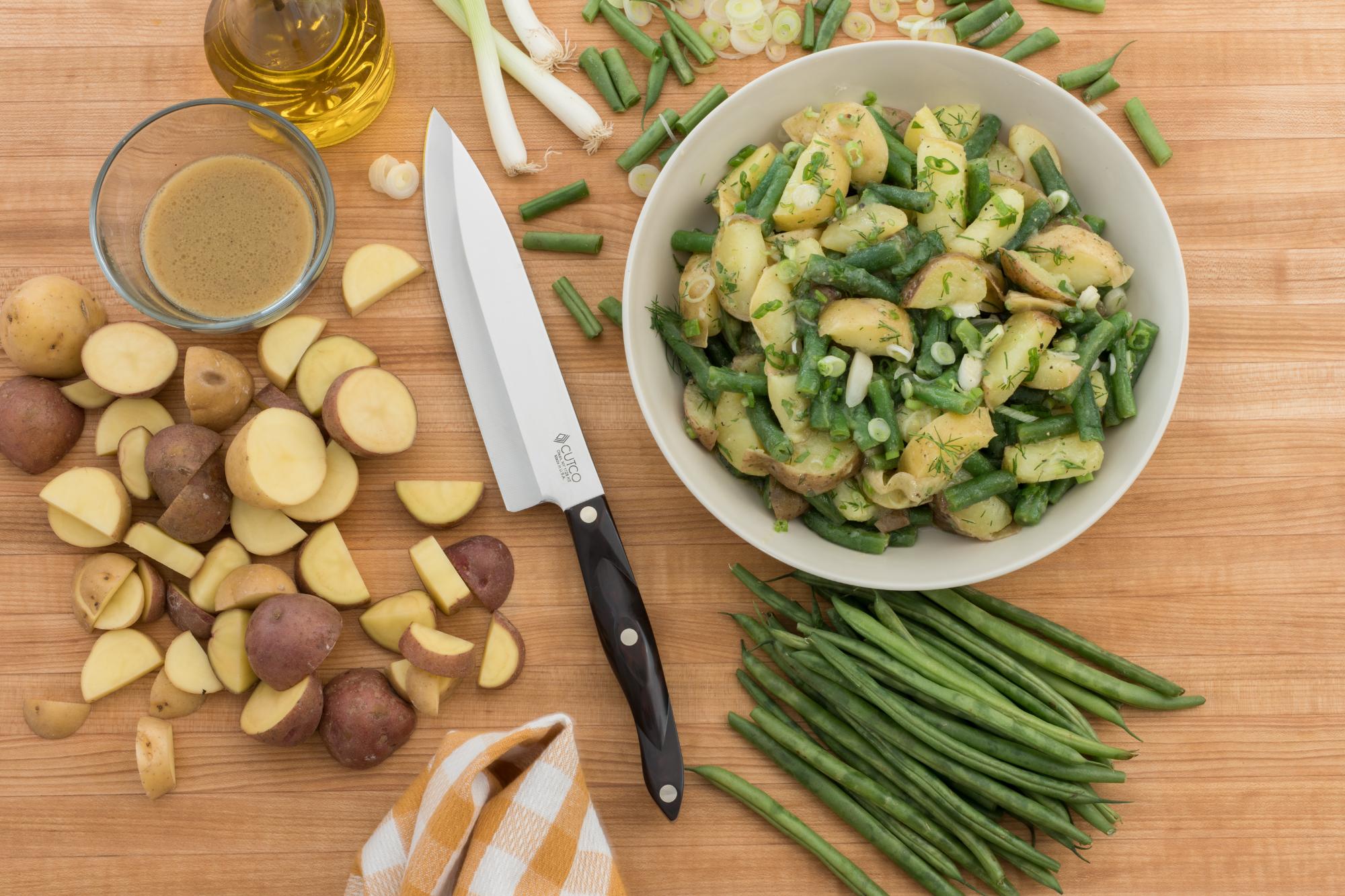 Multi-Cooker French New Potato and Green Bean Salad
Print Recipe
Ingredients
Salad
1 1/2 pounds small red or white potatoes, scrubbed, halved and cut into 1/2-inch slices
1/2 pound haricot vert (French green beans), halved, or green beans cut in one-inch pieces
5 cloves of garlic, peeled
3 tablespoons chicken stock
3 tablespoons dry white wine
Vinaigrette:
3 tablespoons champagne vinegar
1 teaspoon Dijon mustard
1/2 teaspoon kosher salt
1/4 teaspoon freshly ground black pepper
1/4 cup extra virgin olive oil
6 scallions, white and green parts thinly sliced
6 tablespoons minced fresh herbs such as dill, parsley, and basil
Salt and pepper to taste
Directions
Pour 1 cup water in bottom of a 6-quart multi-cooker. On a steamer basket set on the bottom of the pan, layer the potatoes, then green beans and garlic cloves. Lock the lid in place, set to manual pressure cook and set timer to 3 minutes. When finished, unplug multi-cooker and quick release pressure. Carefully remove lid, tilting it away from you.
Drain potatoes in a colander and then gently pour into a large bowl. (Discard garlic if desired.) Pour chicken stock and wine over warm potatoes and gently toss. Allow potatoes to absorb liquid while preparing rest of ingredients.
Make vinaigrette by combining vinegar, mustard, salt and pepper in a small bowl. Whisk in olive oil gradually until emulsified. Add the scallions and fresh herbs to the bowl with the potatoes. Pour the vinaigrette over mixture and toss gently. Season with salt and pepper. Serve warm or at room temperature.
Recommended Tools