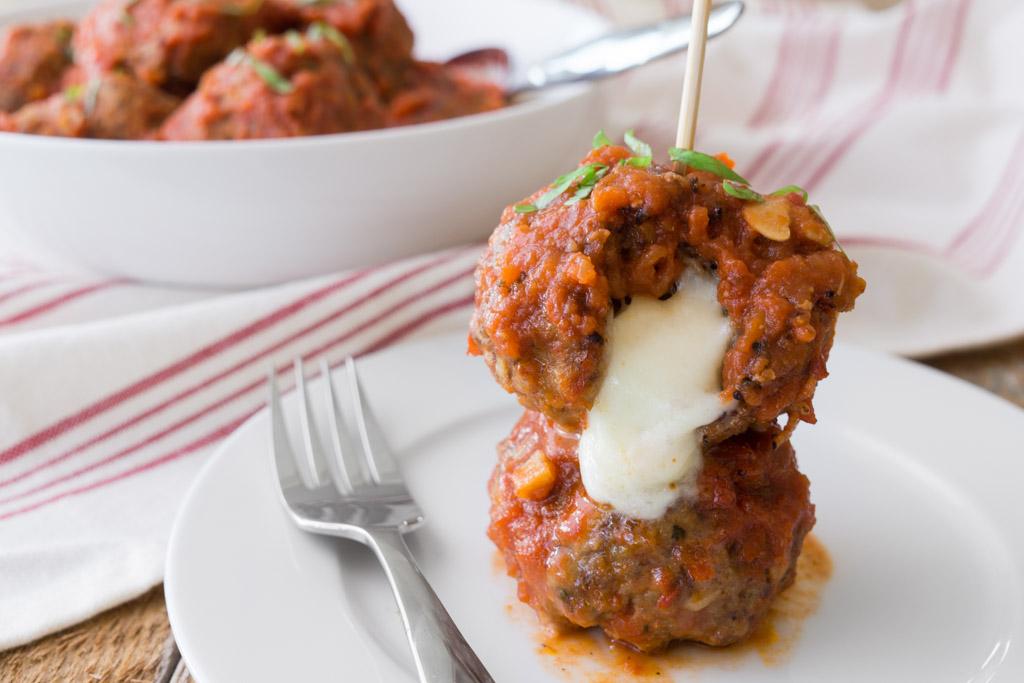 Take your meatball game to the next level with these Mozzarella Stuffed Meatballs. It's got all the traditional Italian meatball flavors with a surprise melted cheese center.
Everyone has their own recipe for making meatballs. I've tried other recipes but I usually revert back to the way my Mom made hers, which wasn't a written recipe with measurements, but a "watch and learn" recipe.
The recipe for these stuffed meatballs, which has no onions in it, caught my eye because of the mozzarella cheese inside. I've been using fresh mozzarella more and more recently. I really like the creaminess of it and it melts beautifully. So I took some of the ingredients from my mother's recipe, combined it with some of the ingredients in this recipe and came up with my own version of stuffed meatballs. I recommend using 85/15 beef chuck. You need that bit of fat to keep them moist.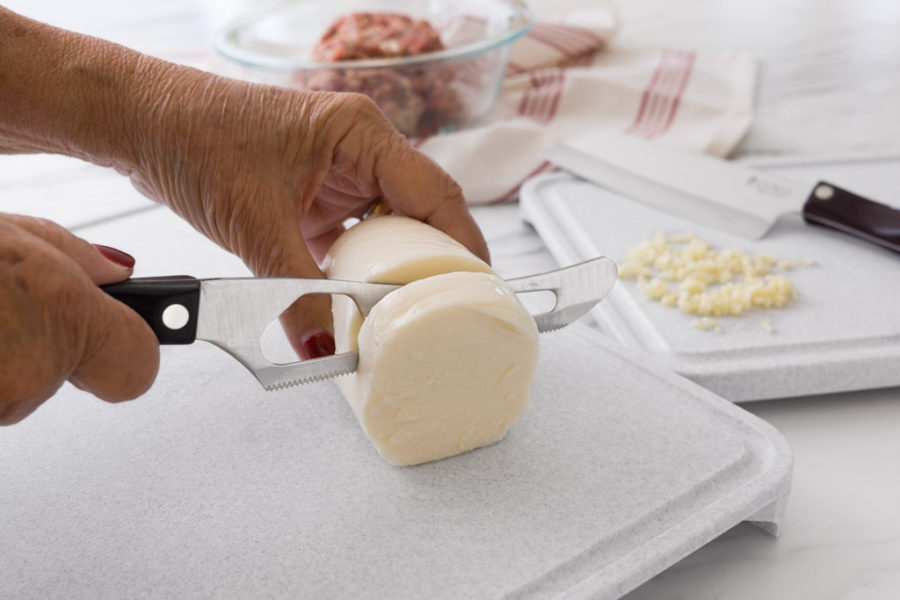 Biting into one of these stuffed meatballs is pure heaven with its gooey inside paired with a bit of heat in the meat from the red pepper flakes. As far as the sauce, it's very simple, but tasty. I did add a pinch of sugar to sweeten it up just a bit, but it really is not necessary. I just prefer a little sweeter sauce.
These stuffed meatballs can be served in a variety of ways. If you don't want to go the sandwich route, spoon a couple of them with sauce over a plate of pasta. Mangia!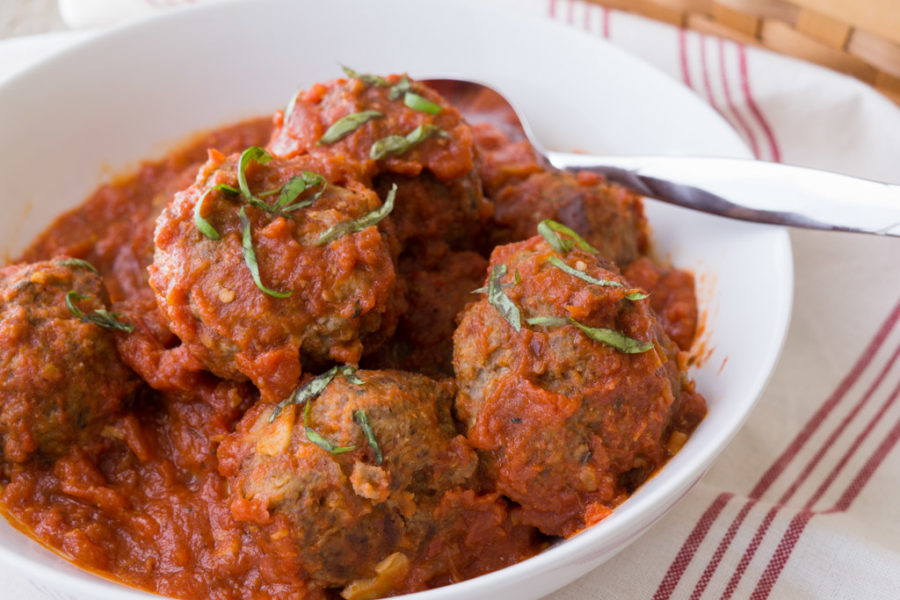 Ingredients
Meatballs
Extra-virgin olive oil for brushing pan
1 cup seasoned breadcrumbs
3/4 cup whole milk
2 large eggs
2 pounds ground beef chuck
3 teaspoons dried parsley
1 teaspoon dried Italian seasoning
1/2 cup grated Parmesan cheese
1 clove garlic, minced
1 teaspoon kosher salt
1/2 teaspoon red pepper flakes
1 8-ounce package fresh mozzarella, cut into 18 1-inch cubes
Italian sub rolls, optional
Sauce
2 tablespoons extra-virgin olive oil
3 cloves of garlic, thinly sliced
1/2 to 1 teaspoon red pepper flakes
2 28-ounce cans crushed tomatoes
2 cups water
4 - 6 sprigs fresh basil, plus more for sprinkling
1 teaspoon kosher salt
Pepper
Directions
Preheat oven to 400°F. Brush a baking pan with olive oil.
Place the breadcrumbs in a small bowl, add the milk and mix.
In a large bowl, lightly beat the eggs then add the beef, dried parsley, Italian seasoning, Parmesan, garlic, kosher salt and red pepper flakes. Mix together with your hands. Add the breadcrumb-milk mixture and mix until just combined. With damp hands, shape the meat into 18 meatballs.
Make an indentation in the center of each and stuff with a cube of mozzarella. Arrange on baking sheet and bake until browned, 25 to 30 minutes.
Prepare the sauce by heating the olive oil in a large pan over medium-high heat. Add the garlic and red pepper flakes and cook, stirring until the garlic softens, about 1 minute. Add the tomatoes, water, basil and salt. Bring to a boil, reduce heat to low and simmer until thickened, about 30 minutes. Taste and add more salt if needed.
Add baked meatballs and spoon the sauce on top. Simmer the meatballs and sauce together 6 to 8 minutes stirring gently occasionally until meatballs are cooked through.
Serving suggestions: 1. Place 2 meatballs on an Italian sub roll or garlic roll, spoon sauce on top, sprinkle with Parmesan cheese and fresh basil. 2. Skewer 2 or 3 meatballs together, spoon sauce over the top and sprinkle with Parmesan cheese. 3. Put 2 or 3 in a bowl, top with sauce and cheese and serve with thick slices of Italian bread to sop up all the tomato goodness from the sauce.
Recommended Tools