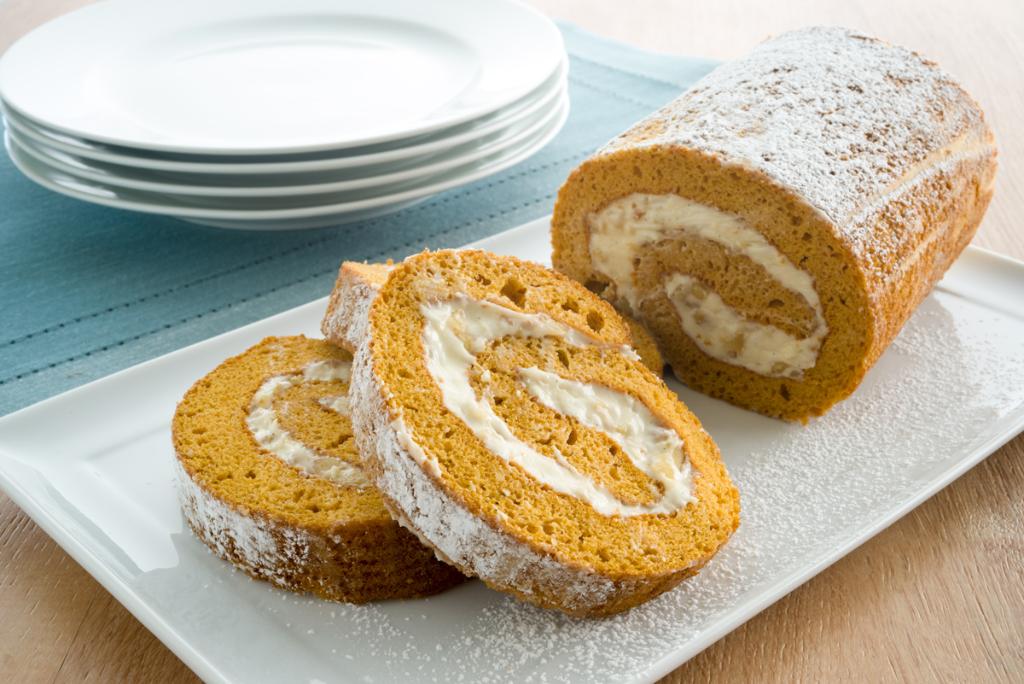 Thanksgiving is a holiday full of traditions. It's not uncommon for recipes to be passed on from one generation to the next, and there are certain dishes that must be made year after year. For Kerry Collins and her family, that go-to recipe is mom's pumpkin roll cake. Kerry is a long-time Cutco customer who recently shared with us her Thanksgiving traditions and thankfully, the recipe for her family's pumpkin roll.
There is something about pumpkin and Thanksgiving – they simply go together. I'm not much of a pie person so this pumpkin roll cake is a great alternative to traditional pumpkin pie. Added bonus – it can be made ahead so it saves you time in the kitchen the day of Thanksgiving.
Preparing the Pumpkin Roll
The keys to rolling the cake and having it stay together is making sure you thoroughly mix your ingredients together and lining the cookie sheet with parchment paper before pouring and spreading the batter. For mixing, Cutco's Mix-Stir, with its coiled design, works wonders to incorporate all the ingredients.
Another secret? Don't flip the pumpkin cake off the cookie sheet – lift it out and place it on a clean towel, then sprinkle it with powdered sugar and roll while the cake is still warm.
When we made this recipe in the Cutco Kitchen, we used walnuts and chopped them with the 5" Petite Santoku. However, as Kerry mentioned in the recipe, feel free to use whatever type of nuts you prefer.
Once the pumpkin cake is cool, then the fun begins. You unroll it and spread the cream cheese mixture evenly over the cake. The flexible blades of the Cutco's Spatula Spreader or Professional Spatula work well for this.
Then you roll up the cake and chill.
Now you have the perfect pumpkin roll dessert for Thanksgiving. Thanks to Kerry and her mom, Jackie, for sharing this family tradition with us.
Ingredients
3 eggs
1 cup sugar
2/3 cup pumpkin
1 teaspoon baking soda
3/4 cup flour
1 teaspoon cinnamon
8 ounces cream cheese
1 cup powdered sugar
4 tablespoons butter (room temperature)
1/2 teaspoon vanilla
1/2 cup nuts (optional)
Directions
Preheat the oven to 375°F
Beat together eggs and sugar.
Add the pumpkin, baking soda, flour and cinnamon to the egg/sugar mixture and combine thoroughly.
Place a piece of parchment paper on a cookie sheet with sides. Pour the above mixture in, spread evenly and bake at 375 for 15 minutes.
Let cool a few minutes in the pan, and then lift out onto a towel. (Do not flip over.) Sprinkle with powdered sugar and roll up in a clean towel short end to short end. Let cool.
Beat cream cheese, powdered sugar, butter, vanilla and nuts until mixed well.
Unroll the towel and spread the cream cheese filling over the entire cake – roll the cake up again, off the towel, and chill. Before serving the pumpkin roll, sprinkle with powdered sugar.
This freezes very well. I suggest you cut the roll in half to freeze.
Recommended Tools