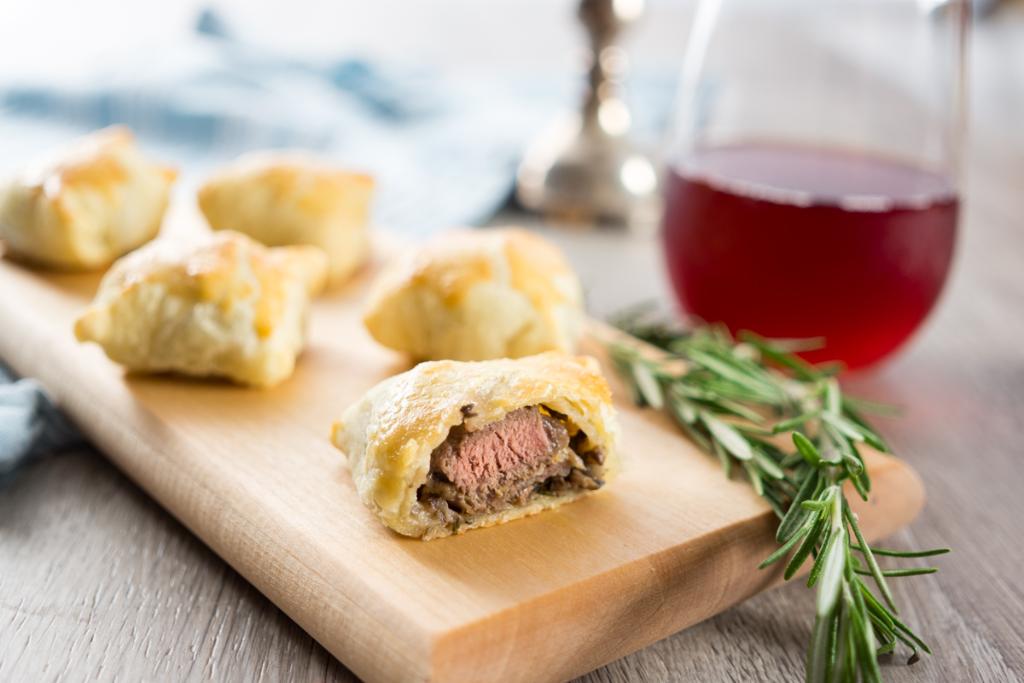 I'll never forget my first official dinner party when we invited a group of friends over for a sit-down dinner. This was a big deal – we were cooking for a group of people, not just two. So I set about making an impressive meal of Beef Wellington using a recipe that was four pages long – seriously, what was I thinking? Luckily everything turned out great, but it was a lot of work for one meal.
Nowadays, I look for small bites with great flavor rather than one big meal. These Mini Beef Wellingtons hit the spot and are the perfect easy holiday appetizer to bring to your next gathering. Not as time consuming as the big meal but equally impressive, they were a hit in our kitchen. Warning – you can't eat just one so it's probably a good thing that this recipe makes 32 servings.
Tips for Preparing the Mini Beef Wellingtons
Beef tenderloin is a very tender piece of meat but you still need to trim the excess fat since you want every bite of this recipe to be all beef. I used the 6-3/4" Petite Carver, which made short work of trimming and cutting the meat into 1-inch cubes.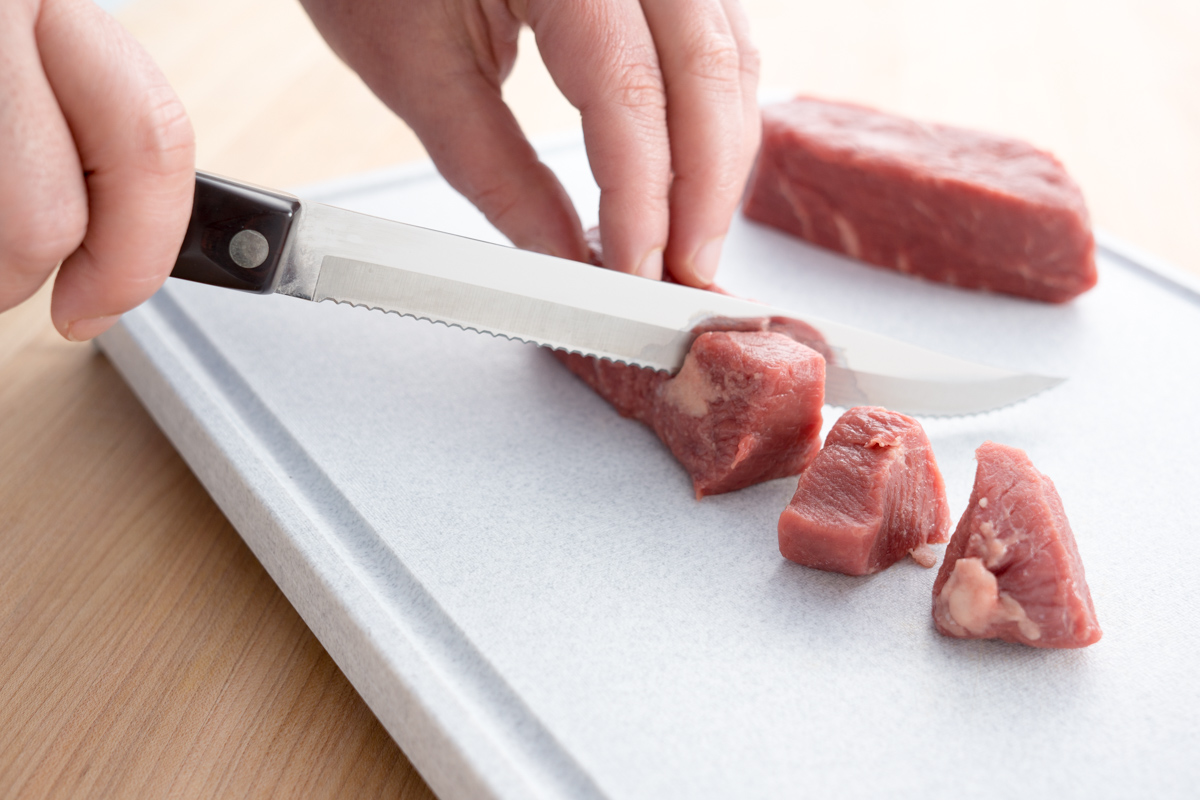 Make sure your mushrooms, shallots and garlic are finely minced. I found the 7-5/8" Petite Chef to be the perfect tool to cut these vegetables.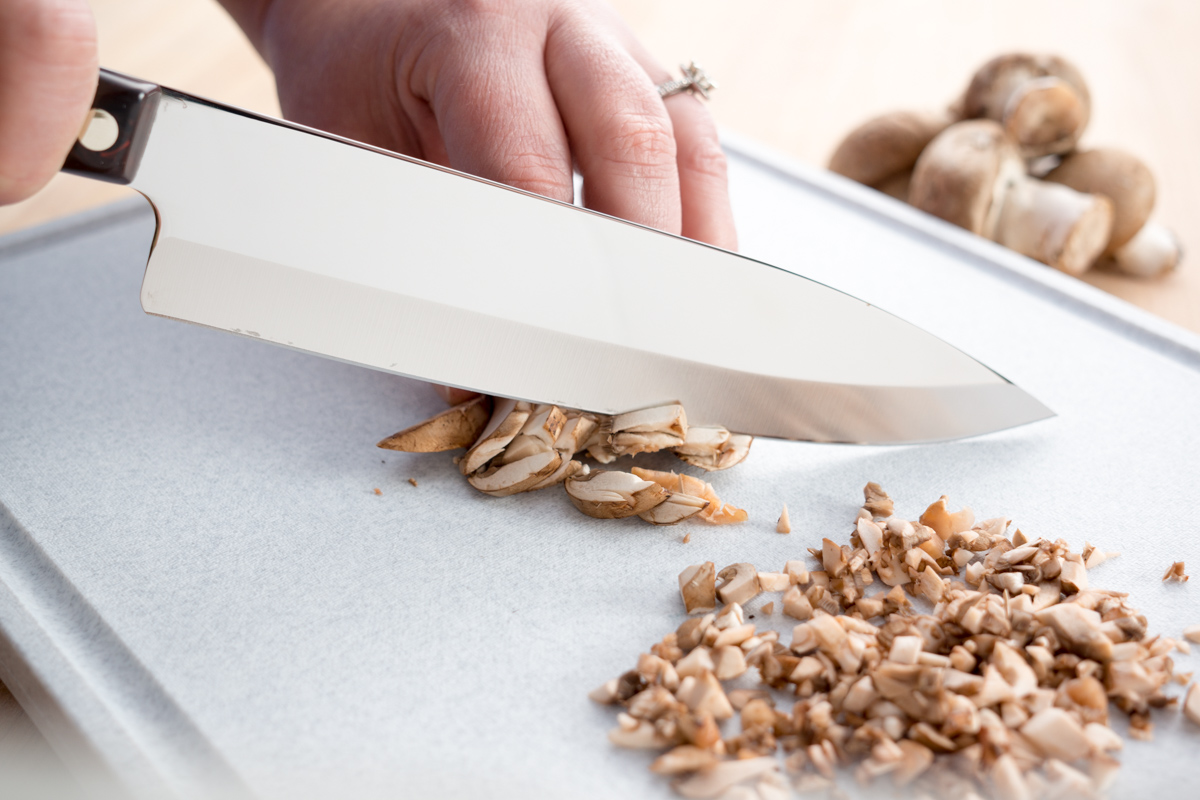 Once you've done all the prep work and you're ready to assemble, then it is time to tackle the puff pastry. Puff pastry can be tricky. Take it out too soon and you'll have a sticky mess. Take it out too late and you can't roll it out. I took ours out of the freezer an hour before we needed it and it thawed perfectly. You'll want to generously flour your cutting surface, place the puff pastry on the flour and work quickly to put together the Mini Beef Wellingtons. Cutting the pastry into sixteen squares was easy with the Pizza Cutter but you could also use the 7-5/8"Petite Chef or 4" Paring Knife.
The final step is assembling the actual Mini Beef Wellingtons. If you have any problem sealing the pastry edges, use a little water to stick the seams together. Then put the Wellingtons seam side down on the baking sheet, brush on the egg wash and bake until golden.
You'll be the hit of the party when you bring this easy appetizer to your next party. That is, if it makes it to the party...enjoy.
Ingredients
1 tablespoon vegetable oil
1 1/2 pound beef tenderloin, trimmed and cut into 1-inch cubes
Kosher salt
Freshly ground black pepper
1 tablespoon butter
6 ounces cremini mushrooms, minced
2 shallots, minced
1 clove garlic, minced
1 tablespoon fresh rosemary, chopped
2 sheets frozen puff pastry, defrosted
1/4 cup Dijon mustard
1 pack of prosciutto (7 - 10 slices) - cut into 1-inch squares
1 egg, slightly beaten
Directions
Preheat oven to 400°F. Line two large baking sheets with parchment paper.
Heat oil in a large skillet over medium-high heat. Pat the meat dry with paper towels and then season all over with salt and pepper. Add the meat to the skillet (do this in two batches) and sear all over, until browned (2-3 minutes). Remove from the heat. Once all of the meat is seared, clean the skillet.
Melt butter in the same skillet over medium heat. Add the mushrooms, shallots and garlic and sauté until tender. Season with salt and pepper, stir in rosemary and remove from heat.
On a lightly floured surface, unfold the puff pastry. Roll each sheet into a large square – approximately 1/8 inch thick (you'll want it rolled out enough to have 16 even squares per puff pastry). Evenly place 16 pieces of meat on the pastry (4 across, 4 down). Dollop each piece of meat with the Dijon mustard, and top each with a square piece of prosciutto. Top the meat with about one tablespoon of the mushroom mixture.
Using the Pizza Cutter, cut each puff pastry into 16 squares (the meat should be in the center). Fold pastry edges over the meat and pinch to seal (seal all seams). Place the bundles on the baking sheets (seam side down) and brush with the egg wash. Bake 14-16 minutes or until golden-brown.
Recommended Tools