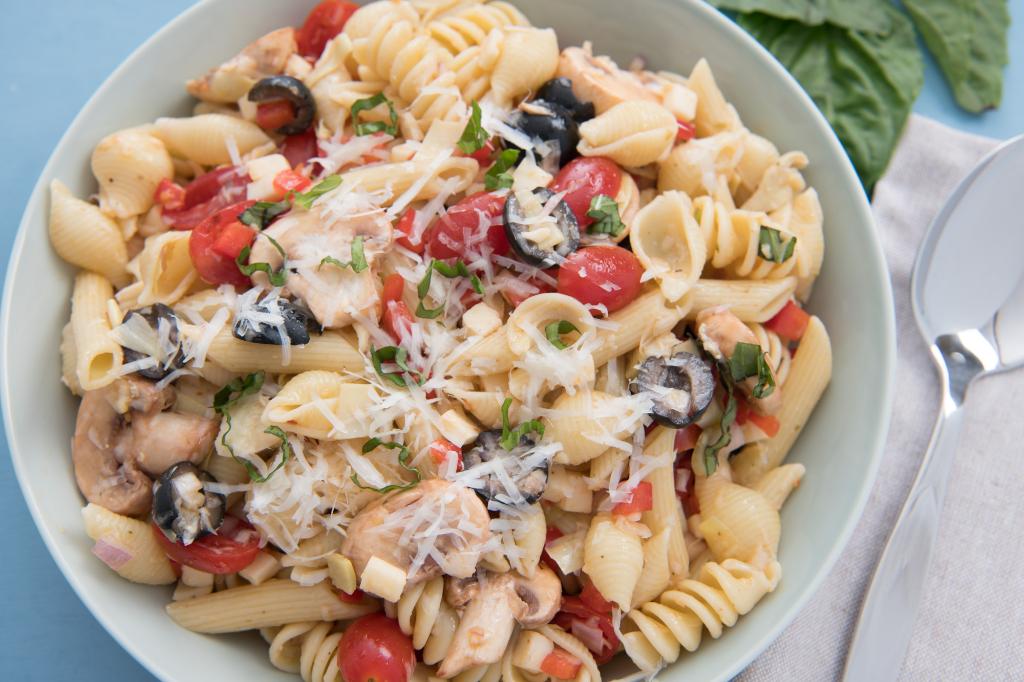 Potlucks, picnics, family reunions, and vacation guests could have you in the kitchen cooking large quantities of food to feed the masses. Sound familiar? We might complain, but the truth is we love it.
There is something so satisfying about serving a dish to a crowd that you are pretty sure they're going to love. The only problem is sometimes we have to double or even triple the recipe ingredients. It's not a big deal, but it's certainly easier if we have a recipe where all of that's figured out for us. So, here's a Mediterranean Pasta Salad that makes enough for 18 servings. Yep, you heard me right -18!
Slicing the smaller ingredients like the mushrooms, grape tomatoes, olives and artichoke hearts was easy using the Trimmer.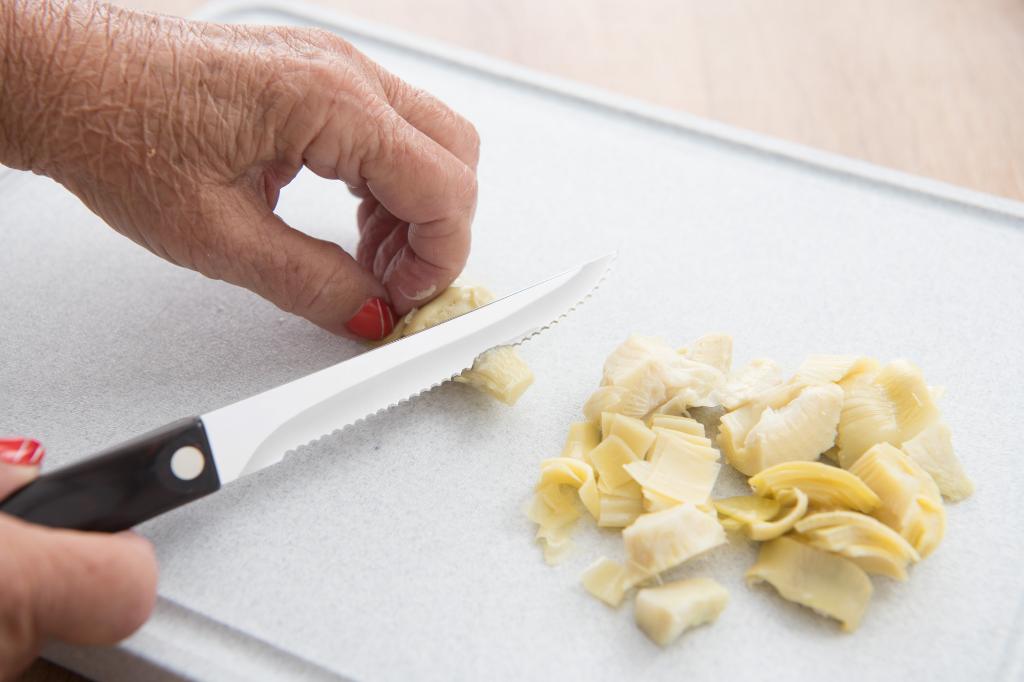 The Traditional Cheese Knife with its Micro Double-D® edge cuts perfect tiny cubes of mozzarella so quickly and easily, I was done in no time.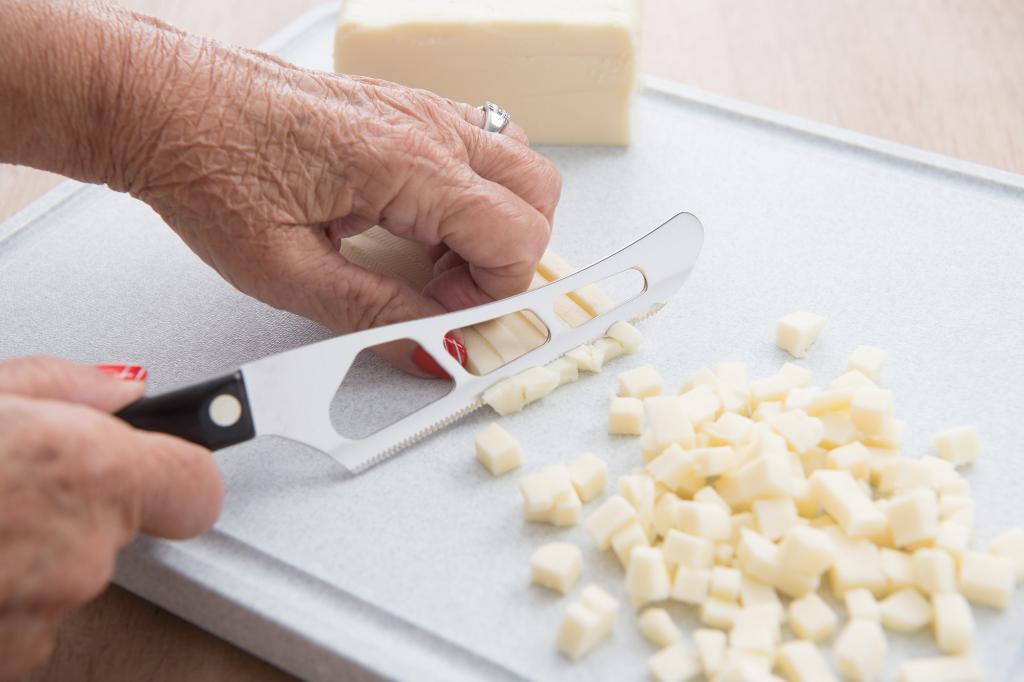 For ingredients like the red pepper and onion, a larger knife like the 7-5/8" Petite Chef was required for dicing and mincing. It's also perfect for chopping the fresh basil.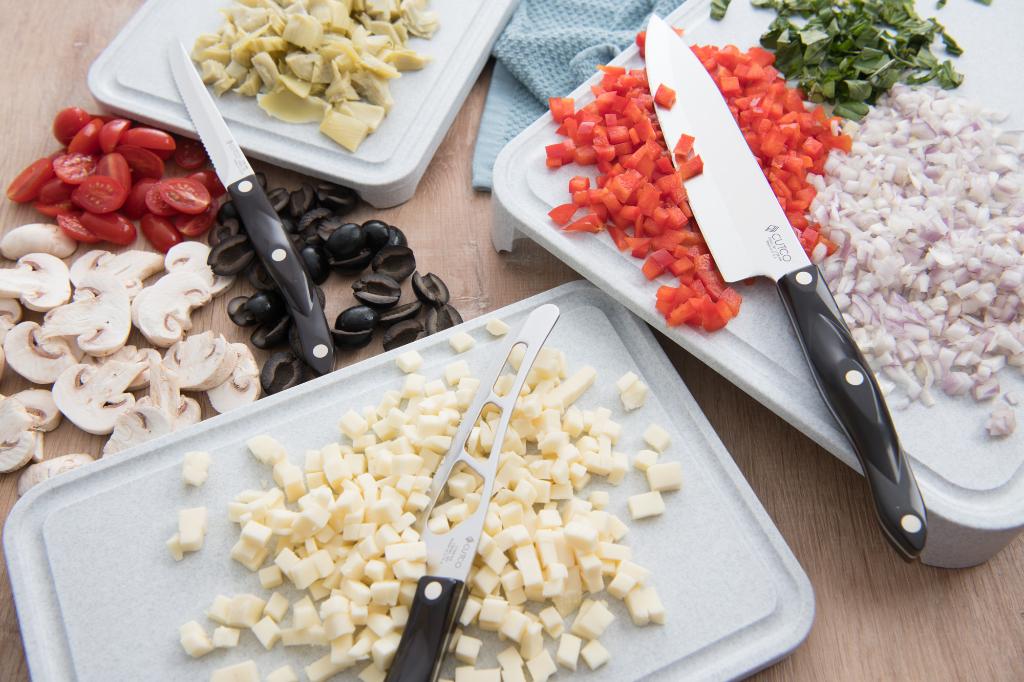 I prefer making my own dressing but if you have a favorite bottled Italian, by all means, use it.
This is a great summer side salad that goes good with grilled chicken, burgers and dogs, Italian sausage and even pulled pork.
Mediterranean Pasta Salad with Italian Dressing
Print Recipe
Ingredients
Dressing
3/4 cup olive oil
1/2 cup red wine vinegar
1 tablespoon grated Parmesan or Romano cheese
1 clove garlic, minced
1/2 teaspoon salt
1/2 teaspoon sugar
1/2 teaspoon dried oregano
Pinch of black pepper
Salad
1 box (16-ounce) Italian trio pasta or pasta of your choice
1 red bell pepper, seeded and finely chopped
2 cups fresh mushrooms, chopped
2 cups grape tomatoes, cut in half (pint container)
1 can (14-15 ounces) large black olives, cut in half
1 cup finely chopped red onion
1 can (14-15 ounces) quartered artichoke hearts, chopped
1 8-ounce block mozzarella cheese, diced into ¼-inch pieces
1/2 cup grated Parmesan cheese
1/4 teaspoon crushed red pepper or to taste
1/4 cup chopped fresh basil
Salt and pepper to taste
Directions
For the Dressing, place all ingredients in a jar with a tight-fitting lid and shake well. Refrigerate until serving. Shake well before pouring on salad.
Cook pasta according to package directions. Drain. Place in an extra-large bowl. Lightly stir in all the vegetables, plus the diced mozzarella, Parmesan, crushed red pepper and chopped basil.
Pour about 1 cup of dressing over all and toss lightly. Refrigerate in a covered container until serving.
Recommended Tools