Marinade and Sauce for Meats and Vegetables
2145 days ago
Skip to recipe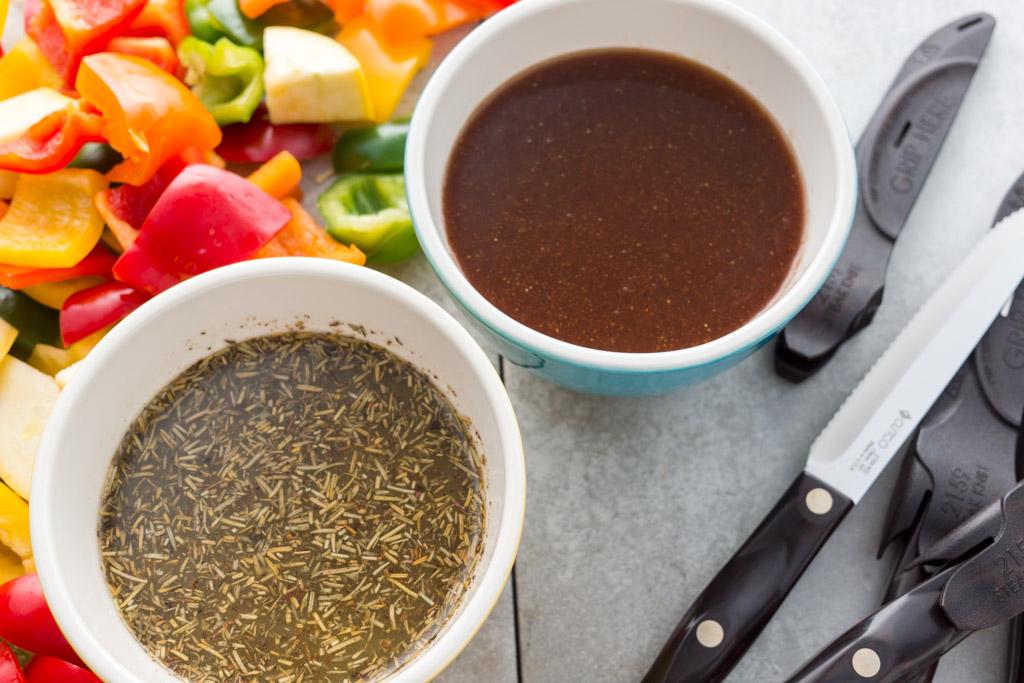 Let's face it, the shelves and shelves of marinades and barbecue sauces available in grocery stores are overwhelming. I've spent a good deal of time reading labels and trying to decipher the list of ingredients on the bottles. I've bought one or two, brought them home and in the end not liked them. I stick them in the fridge and months later end up throwing them away. Sound familiar? Why go through all that when it's so easy to make your own?
Just reading through a marinade or sauce recipe gives you a good idea of whether or not you'll like it. Also, most make just enough to use one time which means no more half-empty bottles taking up valuable space in the fridge.
Garlic and Herb Marinade for Meats and Vegetables
Our recipe for garlic and herb marinade is very versatile. Using different oils and vinegars changes the taste of the marinade and gives you the opportunity to experiment with flavors you may not have tried before.

It is great for when you're grilling meats, but it's also great for chopped vegetables.
Barbecue Sauce for Ribs and Steaks
Our barbecue sauce recipe is very multi-purpose. It can be used as a marinade, basting sauce or dipping sauce. Since I like a sweeter taste, I thought this was especially good. Don't leave out the cinnamon. Even though it's only a half teaspoon, it's important to the taste of the sauce.
We used this sauce as a steak dipping sauce. For a large steak, choose a Steak Knife that's big enough and sharp enough to make a full slice through the meat without dragging. After all, it's cooked to perfection, so you don't want to waste time struggling to cut it.
Ingredients
Garlic and Herb Marinade
1/3 cup lemon juice or water
1/3 cup vinegar (suggest white vinegar for chicken, red wine vinegar for beef or pork and balsamic for vegetables)
1/3 cup vegetable or olive oil
3 cloves of garlic, minced
1 teaspoon dried thyme
1 teaspoon dried Italian seasoning
1 teaspoon poultry seasoning (omit if using to marinade vegetables)
1 teaspoon dried rosemary, crushed
1 teaspoon salt
1 teaspoon ground black pepper
Barbecue Sauce
1/2 cup applesauce
1/2 cup ketchup
2 cups packed brown sugar
6 tablespoons lemon juice
1/2 teaspoon salt
1/2 teaspoon black pepper
1/2 teaspoon paprika
1/2 teaspoon garlic salt
1/2 teaspoon ground cinnamon
Directions
Whisk all ingredients in a medium bowl with the Mix-Stir. Marinade chicken for 4 hours. Marinade beef or pork overnight. Marinade vegetables an hour or longer.
For ribs: Reserve some of the sauce for basting and dipping. Use the rest to marinade ribs in the refrigerator for at least 30 minutes. Grill or bake, using the reserved sauce for basting.
For steak: Grill steak, using the sauce for basting while cooking.
For dipping sauce: Simmer any leftover sauce until the brown sugar is completely dissolved and serve it with the ribs or steak.
Recommended Tools