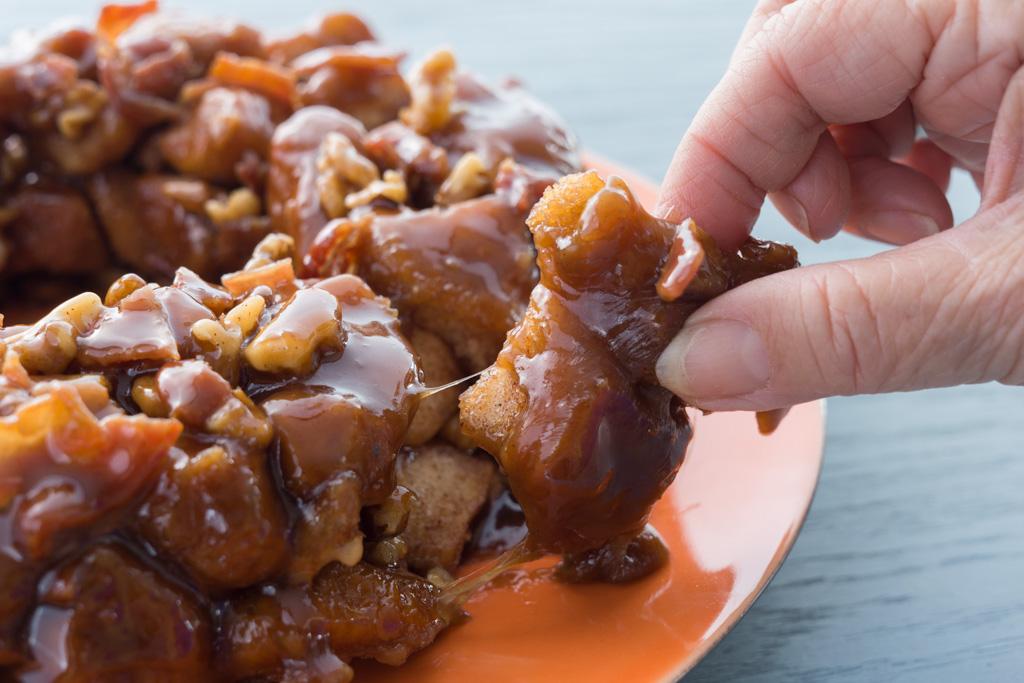 It's maple season in western New York and there are many maple farms throughout the state and in our area. Every spring, maple producers sponsor maple events to educate the public about New York's maple farming processes and traditions and to offer a chance for people to taste pure maple syrup in its many forms, right from the source. From maple syrup there's maple candy, maple cream, maple custard, granulated maple sugar and, of course, pure maple syrup to pour over pancakes and waffles. It can glaze chicken or fish, be added to baked beans, used in a vinaigrette dressing, poured over ice cream and used in baking, which is what we did for this week's recipe, Maple Walnut and Bacon Monkey Bread.
There are dozens and dozens of recipes for monkey bread, from sweet to savory to cheesy to saucy. You can pretty much layer whatever combinations you like using refrigerated biscuits for the base.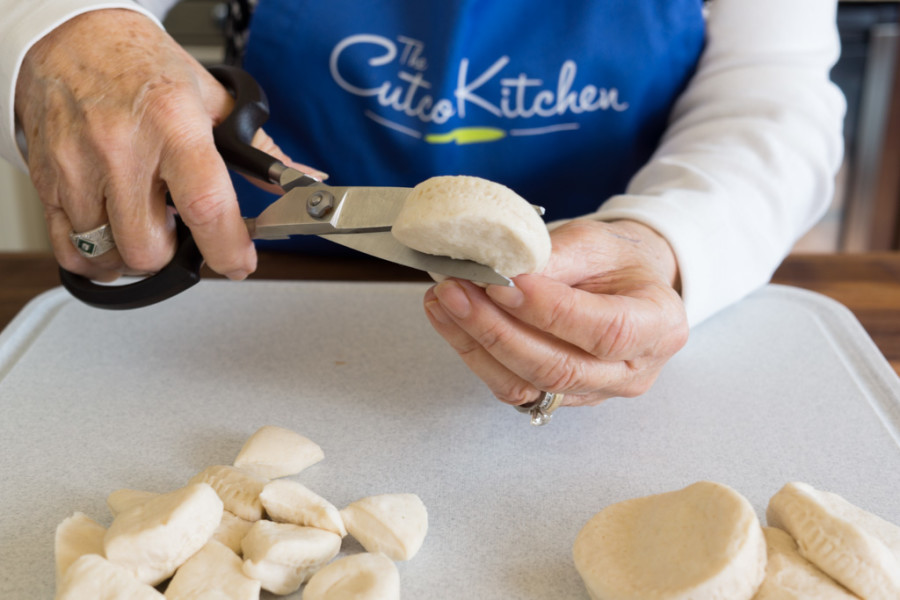 I decided to make a pretty basic monkey bread but with the addition of pure maple syrup. When I went to the Cutco Kitchen to see what other ingredients we had on hand, I spotted a package of bacon and noticed we had some chopped walnuts. It didn't take long to pull everything together, get it into the pan and into the oven. I grabbed a couple packages of refrigerated biscuits and used Cutco Super Shears to cut each biscuit into quarters.
The smell of it baking was fantastic. It was pure dessert heaven, but it's not for the faint of heart when it comes to calories.
Ingredients
Non-stick cooking spray
1 12-ounce package bacon
1/2 cup (1 stick) butter or margarine
3/4 cup packed dark brown sugar
1/2 cup pure maple syrup
1/2 cup chopped walnuts
3/4 cup granulated sugar
2 teaspoons cinnamon
1/4 teaspoon nutmeg
2 16.3-ounce packages or 4 7.5-ounce packages refrigerated biscuit dough (we used buttermilk biscuit dough)
Directions
Preheat oven to 350°F. Coat a 9-inch Bundt pan with non-stick cooking spray.
Cook the bacon in a large skillet over medium-high heat, turning occasionally until browned and crisp, about 10 minutes. Drain slices on paper towels, allow to cool, then crumble. Set aside.
Melt the butter or margarine in a small sauce pan over medium heat, stir in the brown sugar until dissolved then add the maple syrup and the walnuts. Bring mixture to a boil, cook and stir until mixture starts to foam, about 1 minute. Remove from heat.
Mix granulated sugar, cinnamon and nutmeg in a re-sealable plastic bag. Add quartered pieces of biscuit dough a few at a time and shake until well coated.
Sprinkle about 1/4 of the bacon in the bottom of the Bundt pan; pour or spoon about 1/4 of the brown sugar mixture over the bacon. Add a layer of the coated biscuits*. Repeat the layers 3 more times, ending with a drizzle of the brown sugar mixture. *If using 16.3 ounce packages of dough, use about 16 pieces in each layer. If using the 7.5 ounce packages of dough, use about 30 pieces in each layer.
Bake until biscuits are cooked through, 30 – 35 minutes. Allow to cool 10 – 20 minutes; invert onto a serving platter and serve warm.
Recommended Tools