Mango, Cream Cheese and Pepper Jelly Crostini
838 days ago
Skip to recipe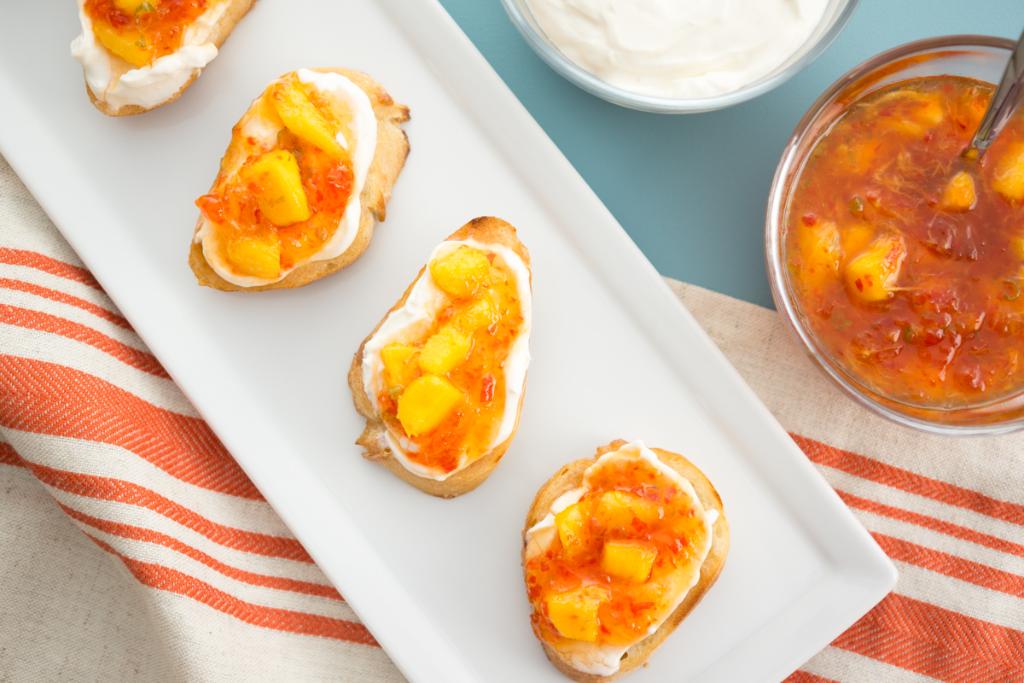 As we're gearing up for the holidays and spending time with friends and family, I want to spend less time in the kitchen. But as we all know, that is difficult to do. Every get-together requires bringing a dish to pass, which is great because no one person has to take care of all the food. That still means I have to think of something to prepare.
This Mango, Cream Cheese and Pepper Jelly Crostini recipe not only looks pretty, but it is out-of-this-world delicious. It's an easy appetizer that has a touch of sweetness from the mango and a little heat from the pepper jelly. Mixing the cream cheese with some plain yogurt gave it a bit of tanginess and all of the flavors blended perfectly on lightly toasted baguette slices. This was a big hit in the kitchen. All we had left over were crumbs.
How to Cut a Mango
The most difficult part of this recipe could be cutting the mango, but it's made super easy using the Cutco Trimmer (utility knife). Stand the mango on your cutting board with the stem end up. Place the Trimmer about 1/4 inch from the stem on the widest part of the fruit and cut all the way down. Repeat this same cut on the other side.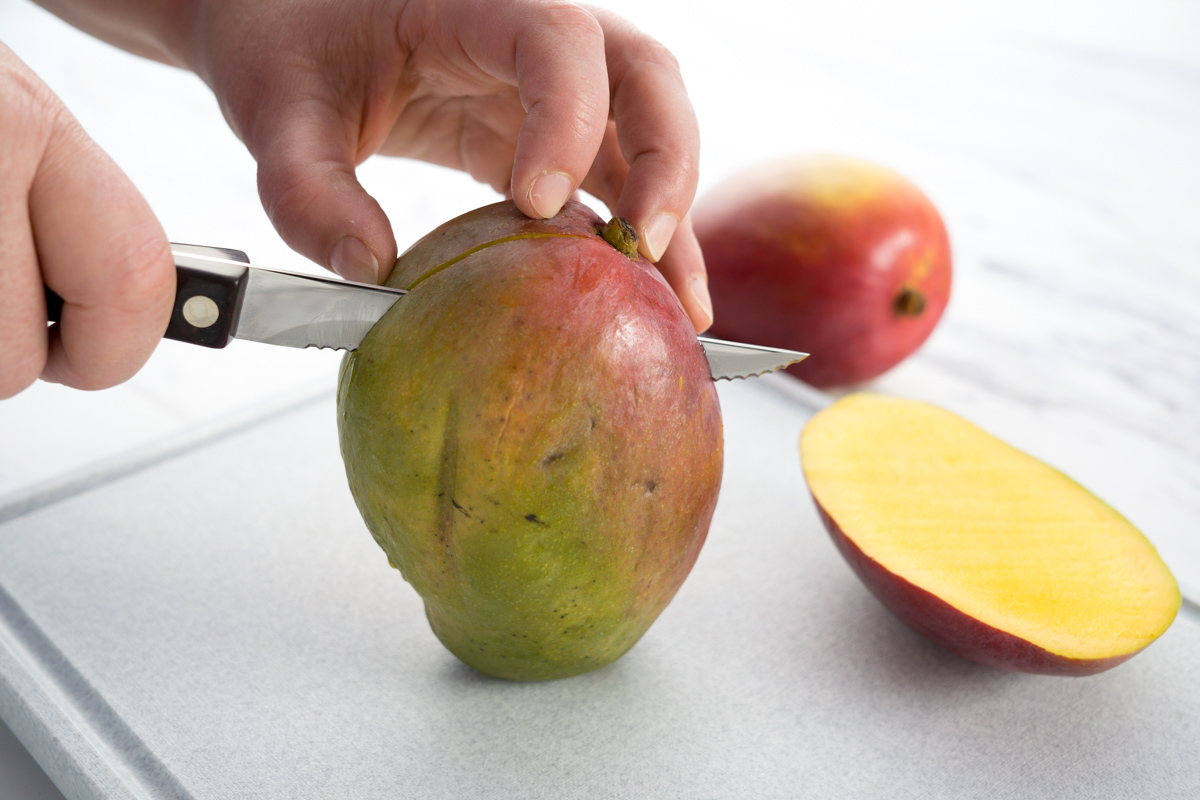 The middle part of the mango is the seed so you can discard this piece. Holding the one half of the mango in your hand (I used a dish towel underneath to protect my hand), cut parallel slices into, but not through the mango, and then turn it to make another series of parallel cuts so you have a checkerboard pattern.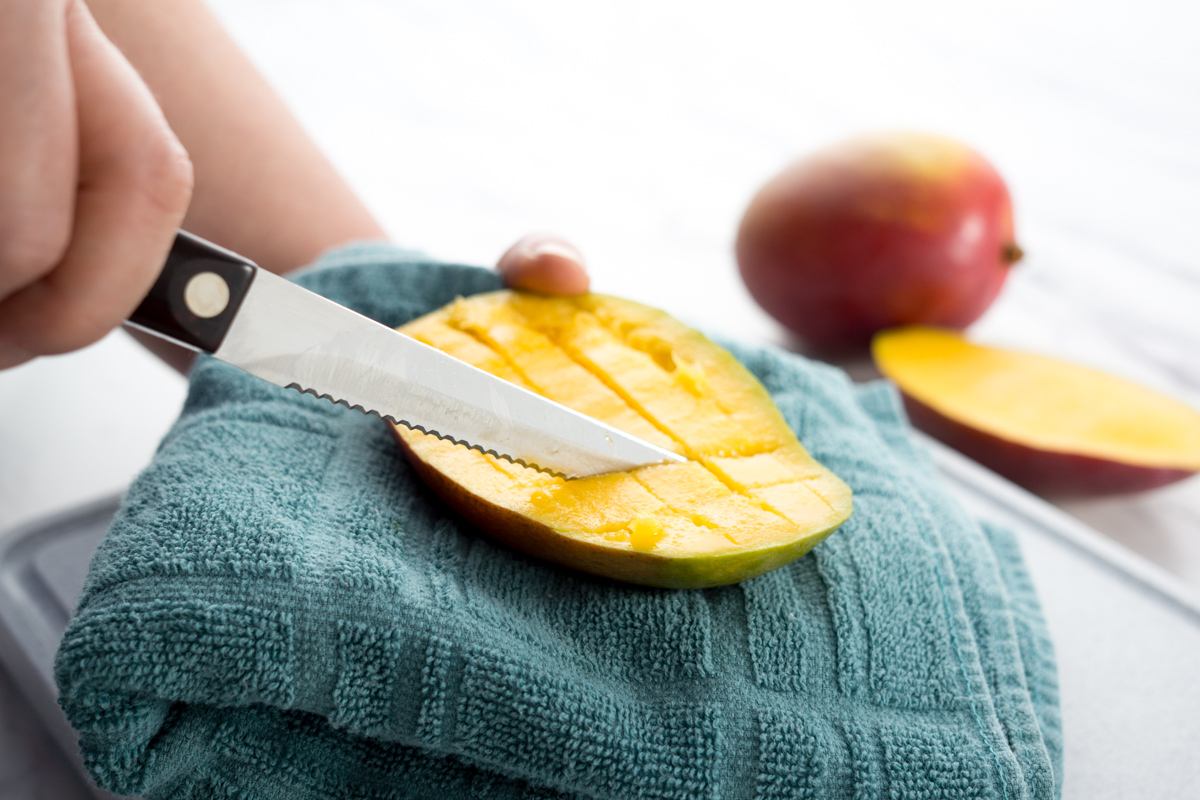 Then simply scoop out with a spoon for perfectly diced mango every time.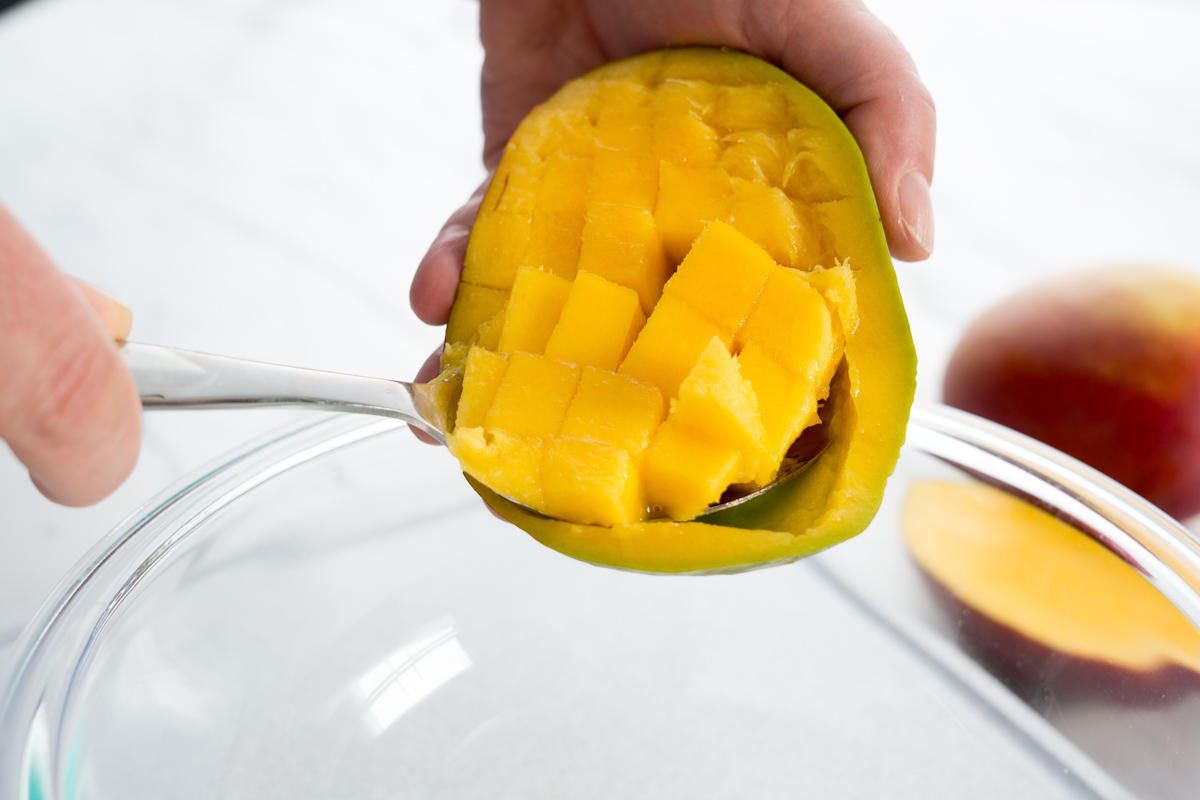 Watch our video on How to Cut a Mango
Slicing the Baguette
I cut the baguette using a Cutco's 7-3/4" Petite Slicer, which is a great bread knife. Its sharp, recessed cutting edge allowed me more control when cutting at a bit of an angle for consistent slices. I brushed the slices with a small amount of olive oil and toasted them on a grill plate on the top of the oven. You can also toast them in the broiler, but keep an eye on the bread so it doesn't burn.
Originally published Dec. 14, 2017
Ingredients
1 chopped mango
2/3 cup red pepper jelly
2 teaspoon lime zest
2 teaspoon lime juice
8 ounces cream cheese (room temperature)
6 ounces plain yogurt (Greek or traditional)
32 baguette slices, brushed with olive oil and lightly toasted
Directions
Combine mango, pepper jelly, lime zest and juice. In a separate bowl, mix together the cream cheese and yogurt until smooth. Top each toasted bread slice with the cream cheese and yogurt mixture. Then top with the mango mixture. Best served fresh.
Recommended Tools