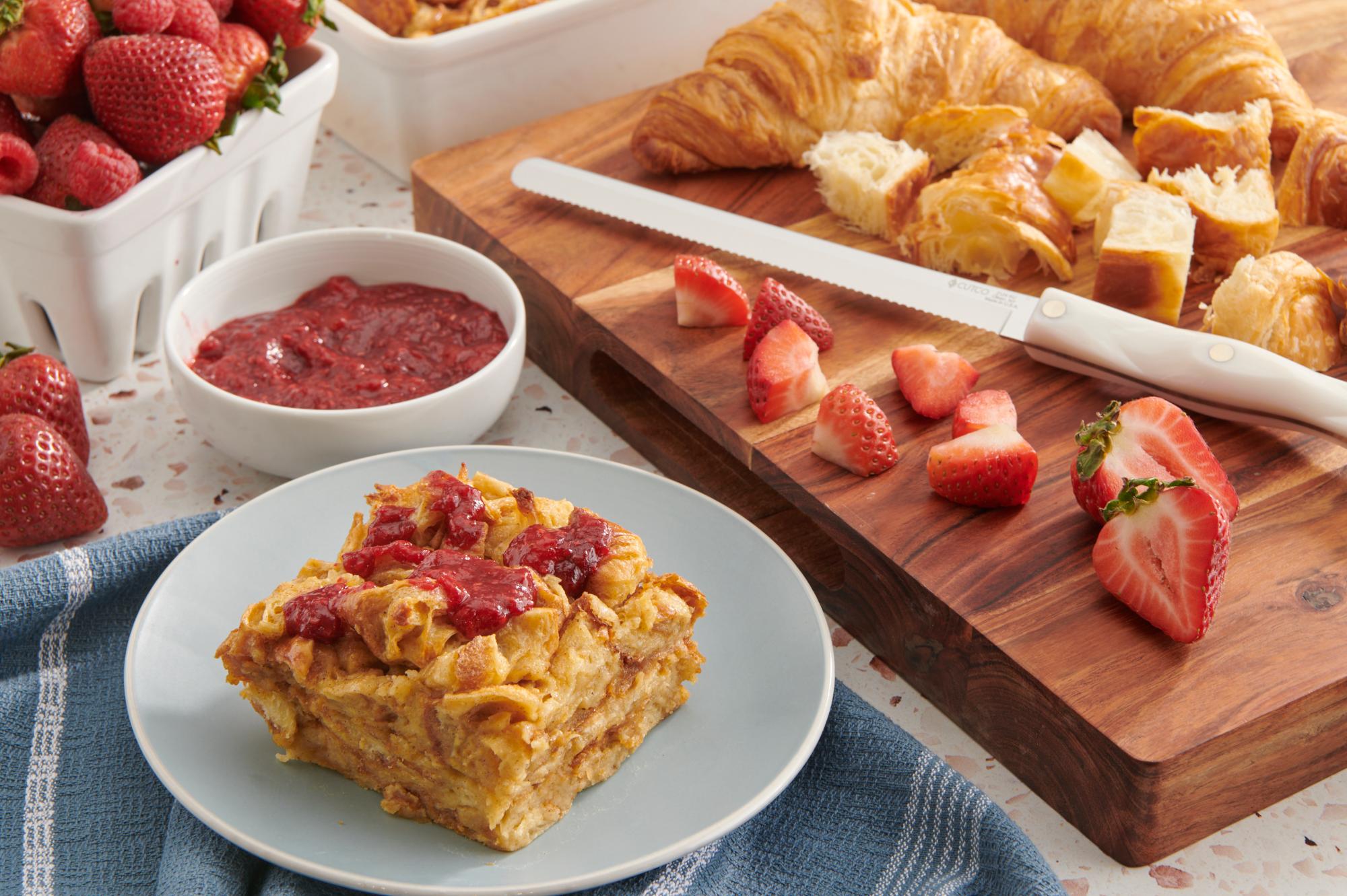 If you had asked me to try bread pudding when I was a child, I never would have said yes. It didn't appeal to me, but my mother adored it. When I became a mom myself, I had some old bread to use up and decided to give it a try.
This recipe proves that mother knows best, because the first time I made it, it was literally life-changing. I couldn't believe how good it was. So, with her memory in mind, I call my version, Mama's Bread Pudding.
Preparing the Bread Pudding
Croissants are what I use for the base of this recipe. Using day-old or slightly stale croissants work best. Their buttery flavor and light, fluffy texture make this bread pudding even more delicious.
To cube them, I recommend the 7-3/4″ Petite Slicer (bread knife). Its Double-D® edge glides through the delicate croissants with ease.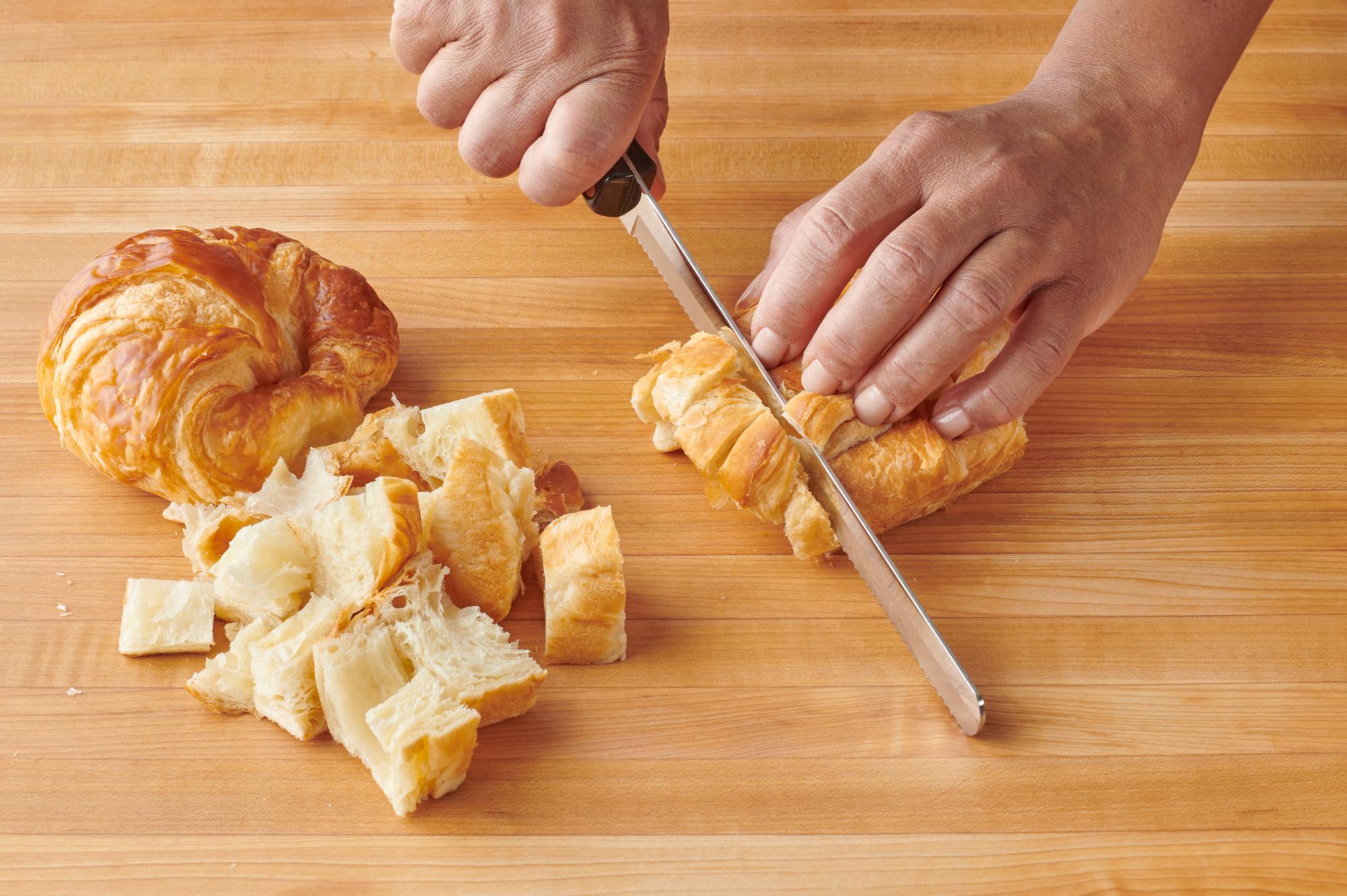 What makes this bread pudding so amazing is the creamy mixture that's poured over the cubed croissants, coating them before baking.
To make the mixture, brown sugar, water and unsalted butter are heated in a saucepan. Once boiling it is quickly removed from the stove and room-temperature heavy cream and whole milk are added. Whisk them in using the Mix-Stir to make sure everything is well incorporated.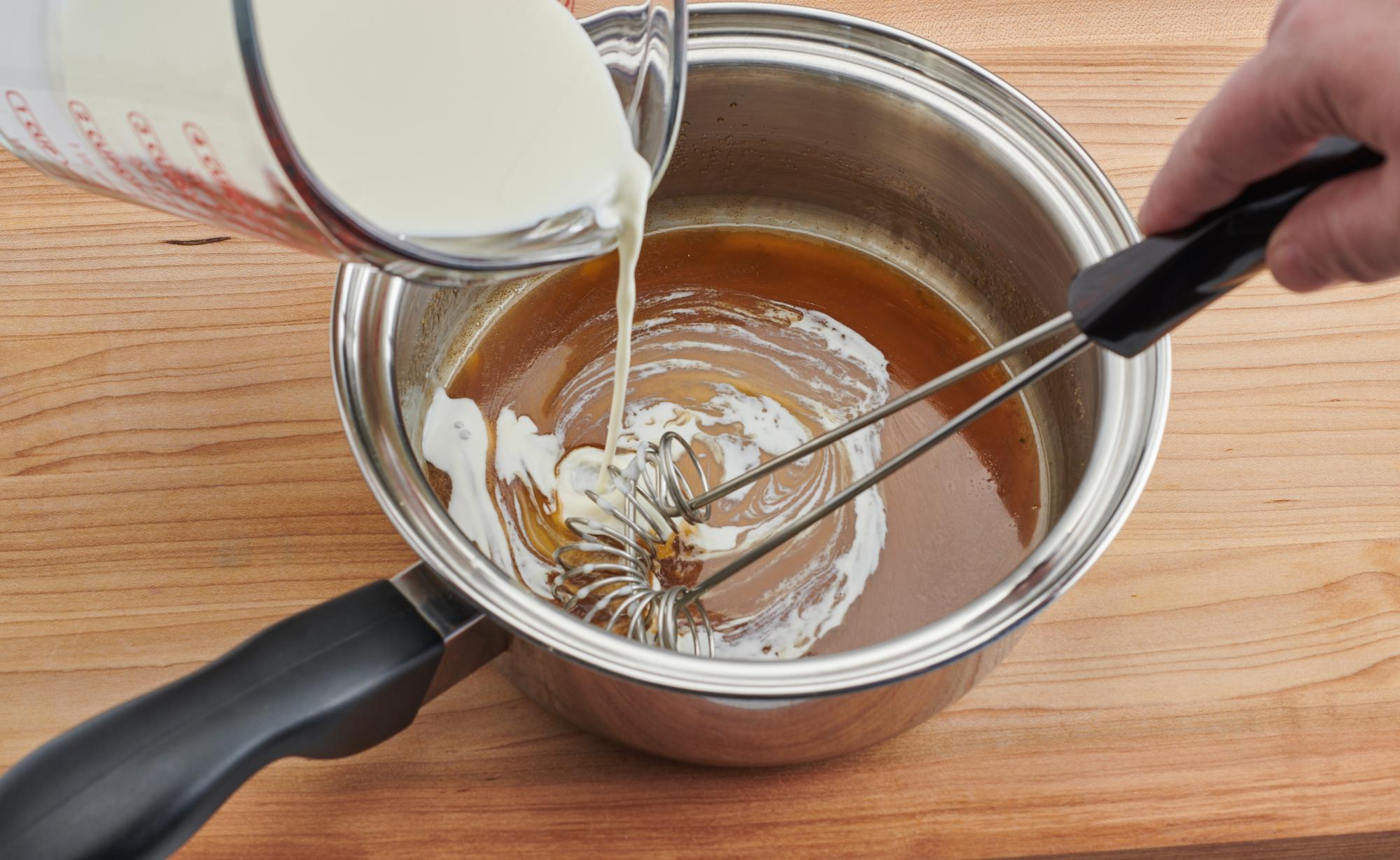 Some vanilla extract, cinnamon and eggs are added then the mixture is ready to be poured onto the bread. Use a Basting Spoon or your hands to press the croissant cubes down to make sure all the bread is covered and fully moistened.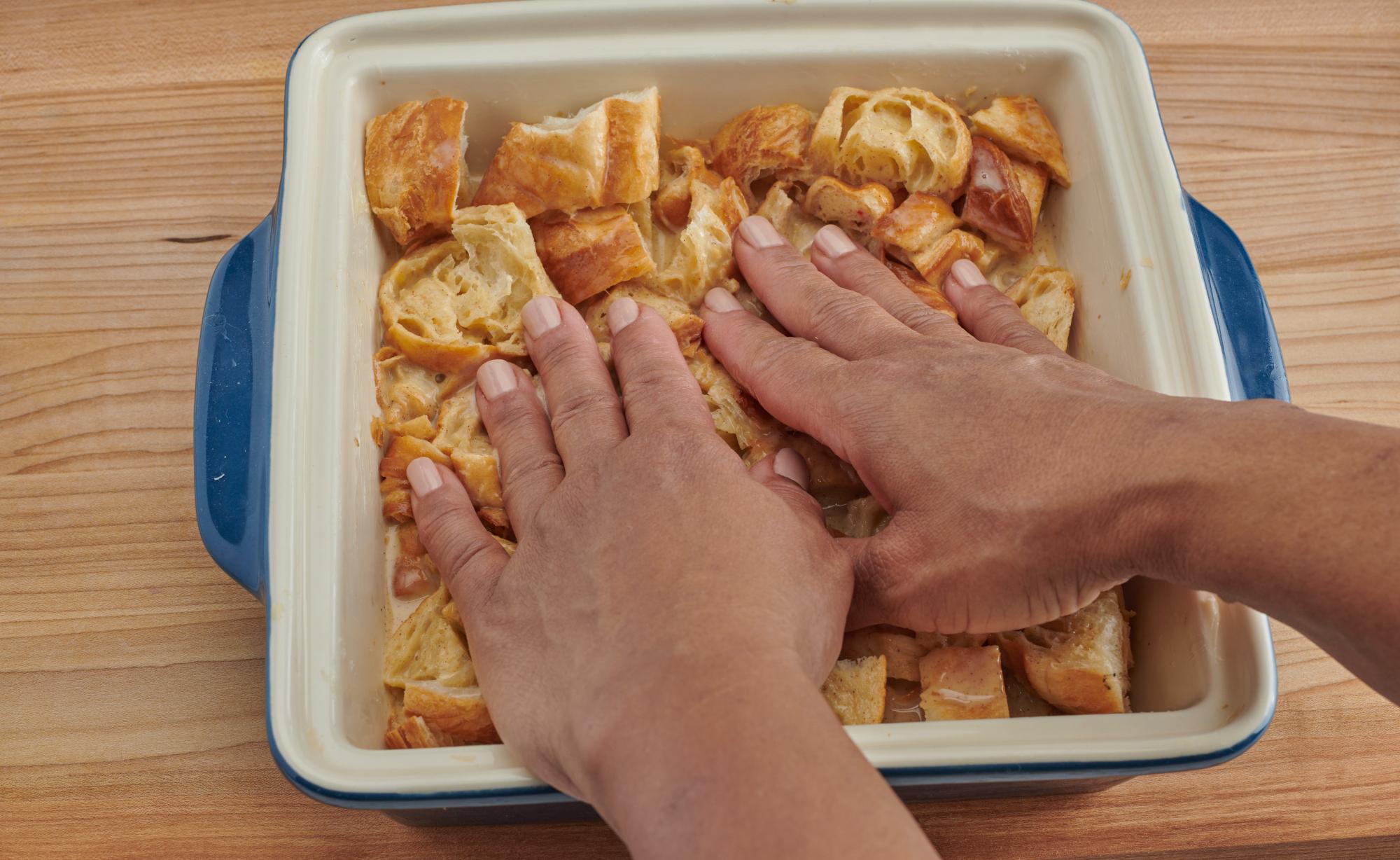 Make the Fruit Compote
A fresh fruit compote complements this bread pudding. I used strawberries, but you can use whatever berry you want. To cut them into quarters, the Santoku-Style 3″ Paring Knife works great.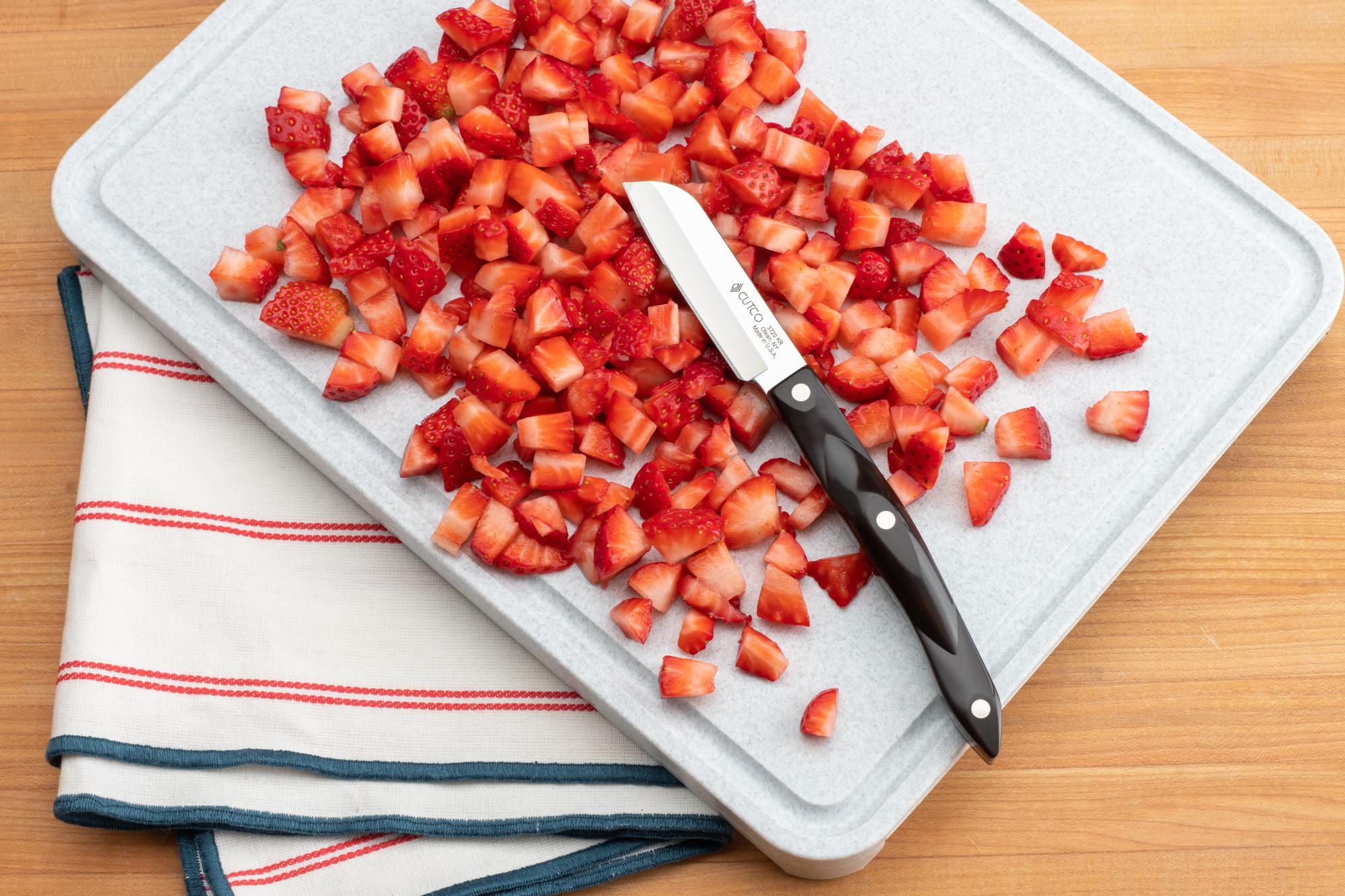 The fruit is cooked in a saucepan over medium heat, along with sugar, lemon zest, lemon juice and a pinch of salt until the berries break down and the juices are released. Serve the compote warm over the bread pudding and be prepared to experience dessert bliss.
Mama's Bread Pudding is a great opportunity for having little ones participate in the kitchen. They can stand on a stool side-by-side with you and rip the croissants into bite-sized pieces, taking pride in the fact that when this rustic-like dish comes out of the oven, they had a hand in it...literally!
Ingredients
For the bread pudding:
4 large croissants, cubed
1/4 cup light brown sugar
2 tablespoons water
1 tablespoon unsalted butter
1/2 cup heavy cream (at room temperature)
1/2 cup whole milk (at room temperature)
1/2 teaspoon vanilla extract
1/2 teaspoon cinnamon
2 large eggs
For the fresh berry compote:
2 cups fresh strawberries (or raspberries)
2 tablespoons granulated sugar
Zest of one lemon (about 2 teaspoons)
1 teaspoon lemon juice
Pinch of salt
Directions
Preheat oven to 350 F.
Place cubed croissant pieces in a greased casserole dish, covering the bottom completely.
In a saucepan over medium-heat, add the sugar and water.
Stir until the sugar is dissolved.
Add the butter and bring to a boil.
Remove from the heat immediately and carefully pour in the room-temperature cream and milk. Continue to stir until completely combined.
Add the vanilla and cinnamon then whisk in the eggs.
Pour the mixture over the croissants and press down each piece with a spoon to make sure all of the bread is covered.
Bake for about 20 minutes or until a knife can be inserted in the middle (like a cake) and comes out clean.
Make the compote:
Wash and then slice strawberries in half or quarters if large.
Place all ingredients in a saucepan.
Cook slowly over medium low heat until the fruit breaks down and juices are released.
Taste and adjust sugar to your palate.
Serve warm over bread pudding.
Recommended Tools