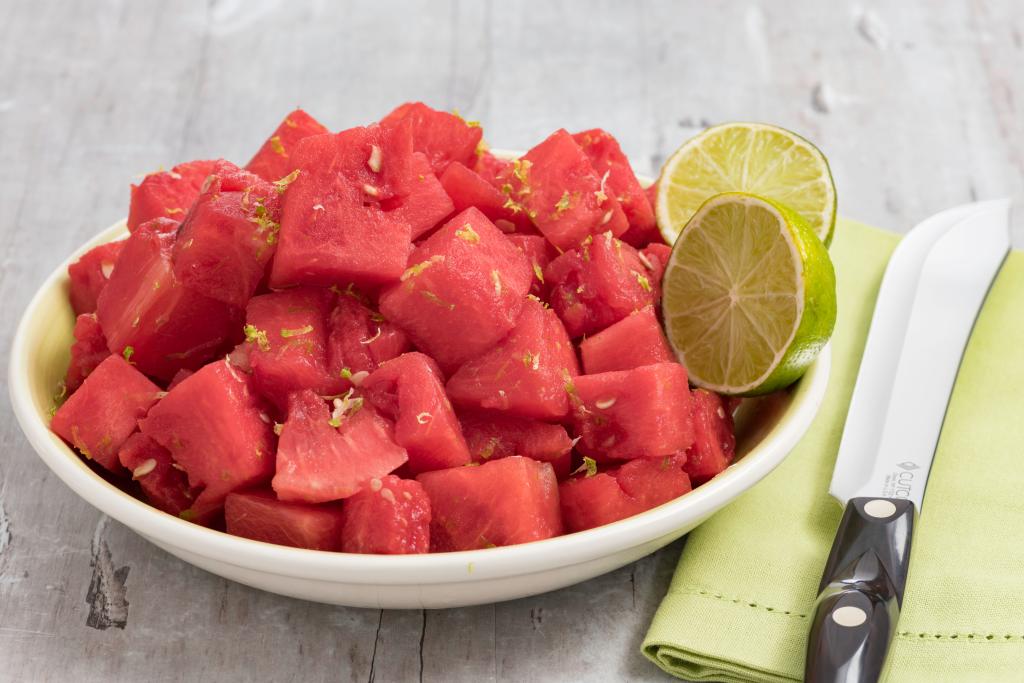 What better way to show off your knife skills and flavor prowess than by bringing a simple watermelon side dish to a neighborhood barbecue? With only two main ingredients, this fruit dessert is not only simple to make and transport, it is delicious.
Finding a sweet, ripe watermelon can sometimes be a challenge. While I look for a melon that is heavy for its size, I also look for the creamy yellow spot where it sat on the soil. While this creamy yellow spot means ripeness, I still give it a thump and listen for that hollow sound.
For this watermelon recipe, you'll need to cube the fruit. Use a Butcher Knife to quarter the watermelon and a smaller knife, like the 6-3/4" Petite Carver, to cube it. For step-by-step instructions, take a look at Cutco's How to Cube Watermelon step-by-step infographic.
Friends will be asking you for this recipe, but we won't care if you try to keep it a secret. Watermelon and lime, who knew?
Directions
Cube watermelon.
Zest one lime.
Cut and juice limes and mix with zest.
Toss the watermelon with half of the juice and lime mixture. Taste and add more juice if desired.
Option: Cut the watermelon in wedges as a side dish and brush with juice, or try grilling the watermelon before brushing with juice.
Recommended Tools