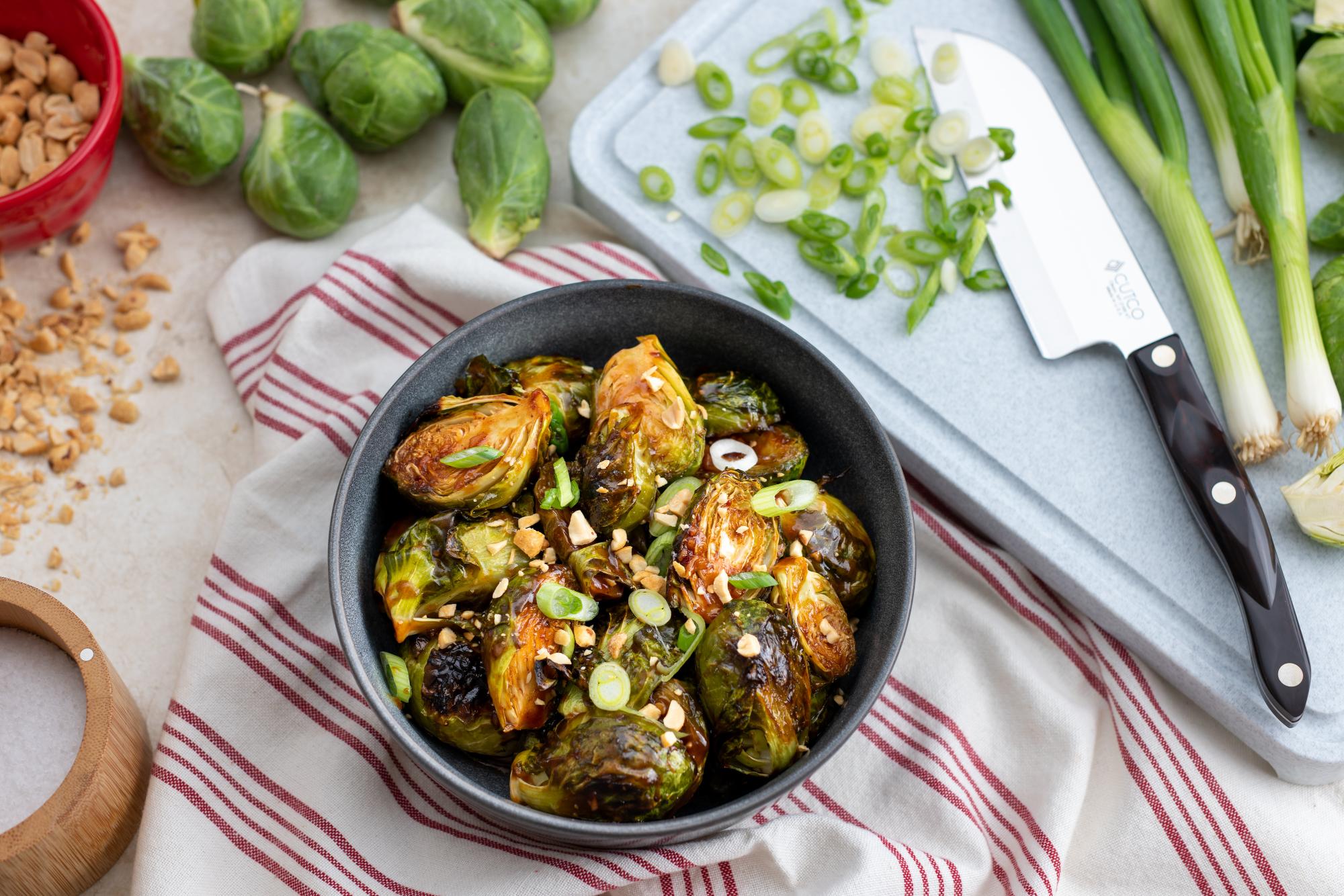 Have you ever ordered something at a restaurant that was so good, you just had to find a way to recreate it at home? Enter this recipe for Kung Pao Brussels Sprouts With Peanuts. I can't even express to you how delicious these are.
I first tried them after ordering them at a Boston restaurant while on a business trip. My coworker and I took one bite and were both forever changed. In fact, he was the first to make his own version at home.
What is Kung Pao?
I always associated kung pao with Chinese takeout, specifically kung pao chicken. If you think about that dish, it's easy to understand that a tangy, slightly spicy sauce pairs well with roasted Brussels sprouts.
The flavor comes from a mixture of garlic, soy sauce, apple cider vinegar, hoisin sauce, honey and garlic chili sauce. Is your mouth watering yet?
Preparing the Ingredients
The prep work for Kung Pao Brussels Sprouts isn't hard since it's just a matter of halving the sprouts, slicing the green onion and chopping the peanuts.
To cut the Brussels sprouts I like to use the 5" Petite Santoku. The knife's length is perfect for working with smaller vegetables. Trim off the bottom of the sprout, remove any loose leaves and then halve lengthwise.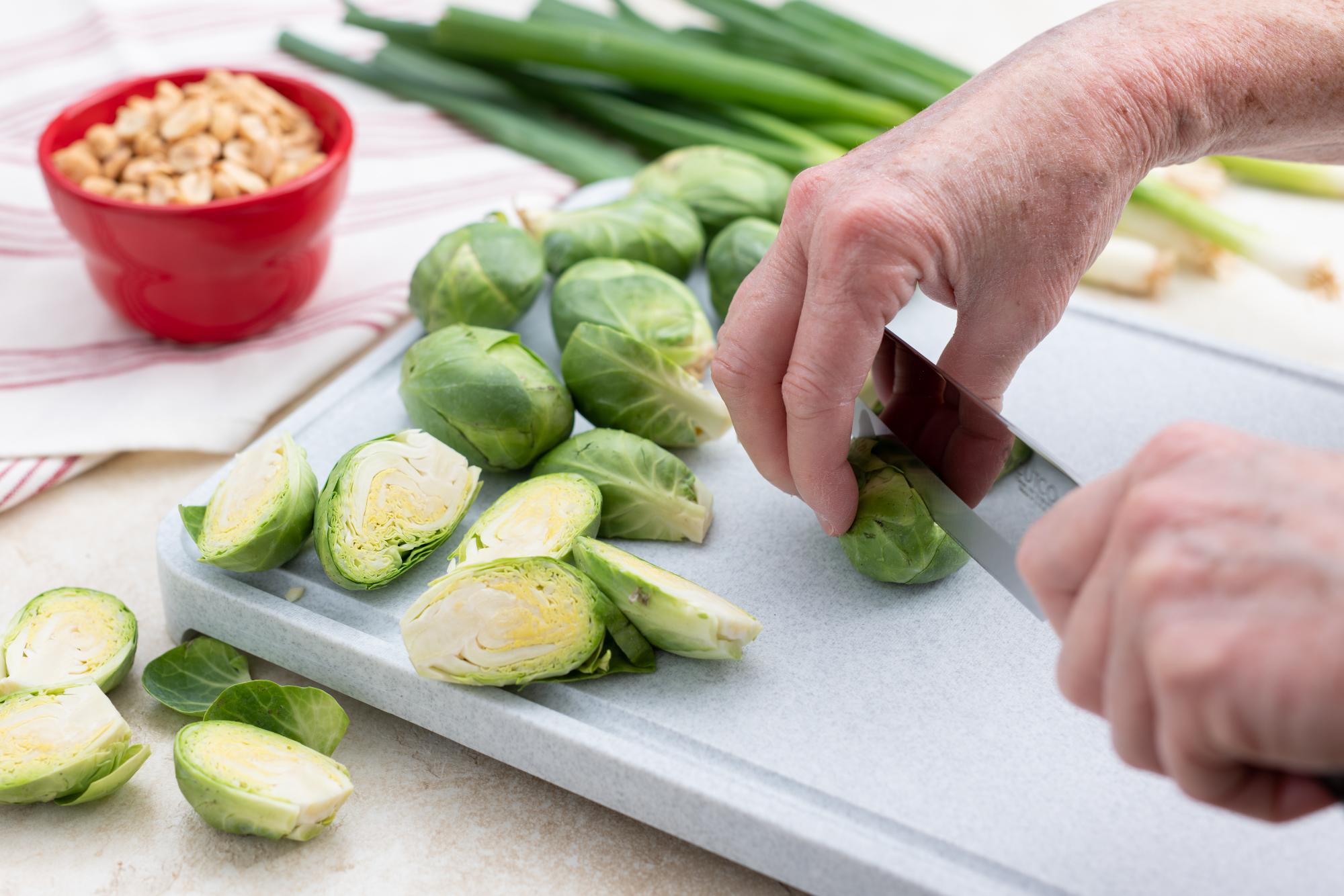 Use the same knife to slice the green onions. I like to thinly slice them on the bias for a more decorative look, but that's up to you.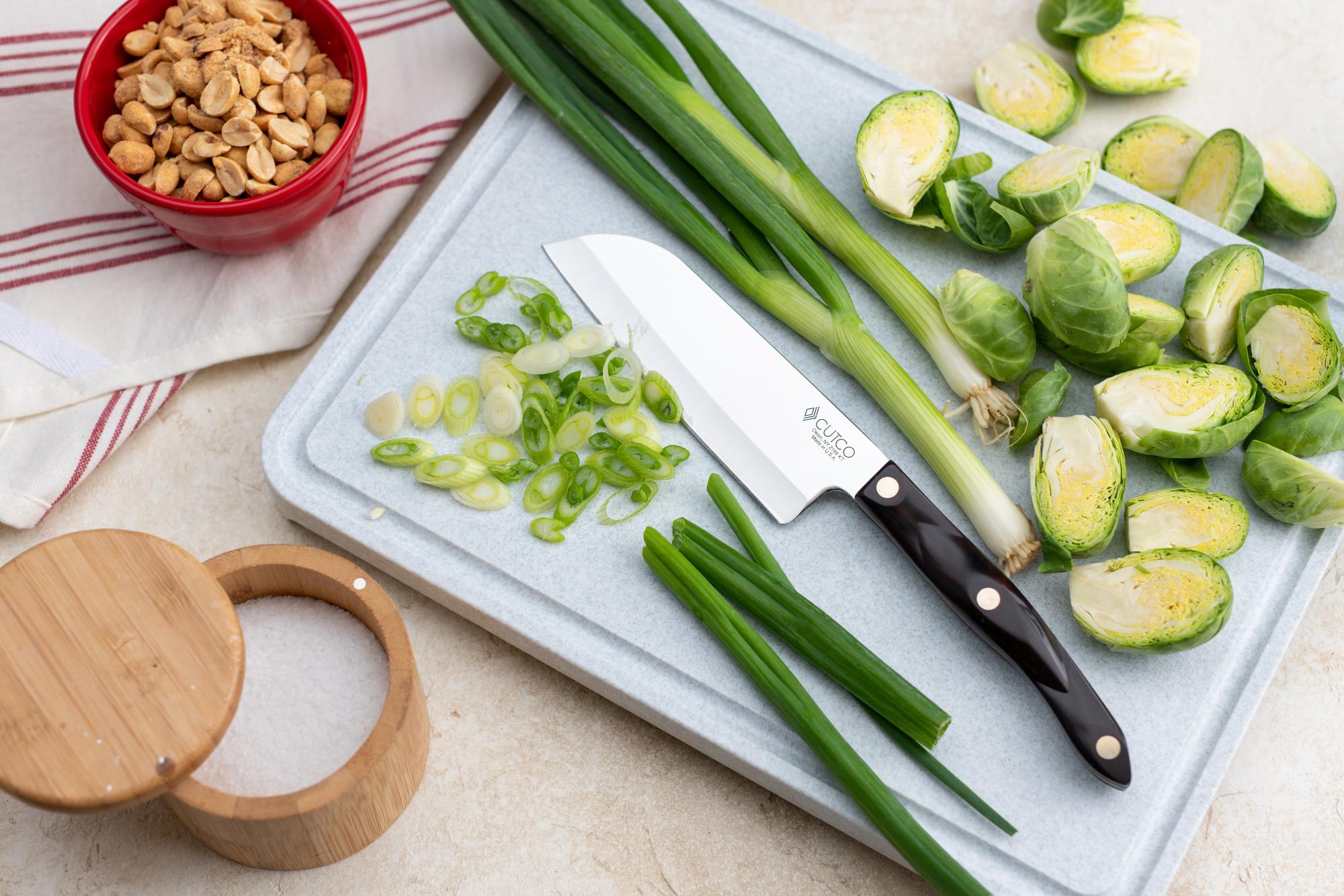 For chopping the peanuts, use a knife with a longer blade, like the 7-5/8" Petite Chef knife. The longer blade will allow you to rock chop over the nuts. Also be sure to use a Large Cutting Board for chopping the nuts because as you chop the nuts will spread out.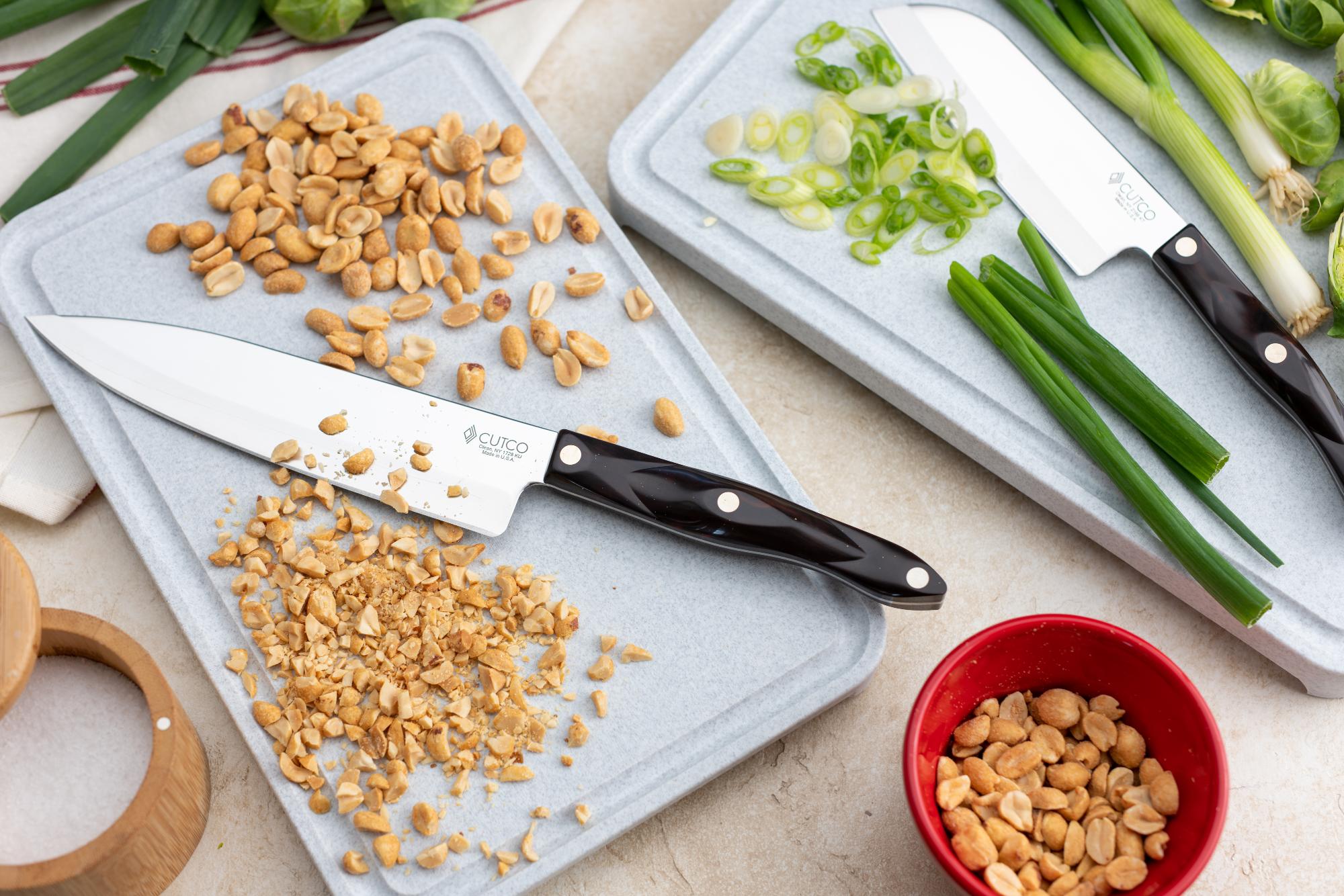 For ease of preparation, use the mise en place method. Have everything cut and measured out so you just have to add the ingredients as you cook. It's a much more organized and seamless way to make the dish.
Serve these Kung Pao Brussels Sprouts With Peanuts with grilled chicken or pork. I also like having rice on the side to mix into the kung pao sauce that coats the plate.
Enjoy!
Ingredients
2 pounds Brussels sprouts, halved
2 tablespoons extra-virgin olive oil
Kosher salt
Freshly ground black pepper
1 tablespoon sesame oil
2 cloves garlic, minced
1 tablespoon cornstarch
1/2 cup low-sodium soy sauce
1/2 cup water
2 teaspoons apple cider vinegar
2 teaspoons hoisin sauce
1 1/2 teaspoons honey
2 teaspoon garlic chili sauce
Pinch crushed red pepper flakes
Green onions, thinly sliced, for garnish
Chopped roasted peanuts, for garnish
Directions
Place a large rimmed sheet pan in the oven and heat oven to 425 F.
Toss Brussels sprouts with olive oil and season with salt and pepper.
Roast until Brussels sprouts are tender and slightly crispy, about 20 minutes.
Heat oven broiler.
In a small skillet over medium heat, heat sesame oil. Add garlic and cook, until fragrant, about 1 minute. Stir in cornstarch. Add soy sauce, water, apple cider vinegar, hoisin sauce, honey and garlic chili sauce. Season with salt, pepper and red pepper flakes. Bring mixture to a boil, then reduce heat and simmer until thickened, about 3 minutes.
Place the Brussels sprouts into the pan to coat.
Return the sprouts to the sheet pan and broil until sprouts are sticky.
Garnish with green onions and chopped peanuts and serve.
Recommended Tools