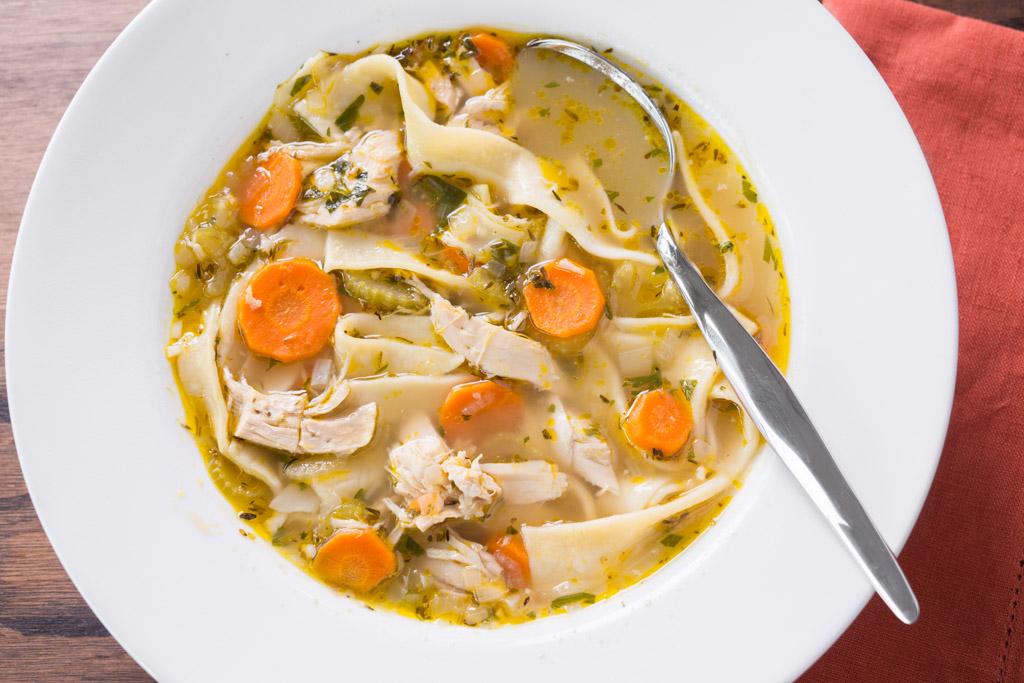 It's comfort food season and that means more soup is on the menu. This Homemade Chicken Noodle Soup recipe uses the convenience of rotisserie chicken added to fresh vegetables to cut down on the start to finish time.
The homemade noodles add to the heartiness of the soup. They are not hard to make and really add to the homemade taste of the soup. The recipe makes enough so you can freeze some to use in another soup or cook quickly and serve topped with a marinara sauce and some Parmesan cheese.
Ingredients
2 tablespoons olive oil
1 cup carrots, peeled and sliced thin
1 cup celery, sliced thin
1 cup sweet yellow or Vidalia onion, diced small
2 garlic cloves, minced
64 ounces chicken broth
2 bay leaves
1 teaspoon fresh thyme or 1/2 teaspoon dried
1/2 teaspoon dried oregano
1 teaspoon freshly ground black pepper or to taste
2-3 cups shredded cooked rotisserie chicken
3-4 tablespoons fresh flat leaf parsley, finely chopped
Salt to taste
2 cups homemade noodles (get the recipe)
Directions
Heat oil over medium-high heat in a large Dutch oven or stock pot. Add carrots, celery and onion and sauté for about 7 minutes or until vegetables begin to soften, stirring occasionally.
Add the garlic and sauté another 1 to 2 minutes.
Add the broth, bay leaves, thyme, oregano and pepper and bring to a boil. Boil gently about 5 minutes or until vegetables are tender.
Add the chicken and parsley and taste for seasonings, adding more salt and pepper if necessary. Bring to a boil, add the noodles and boil about 3 to 5 minutes or until noodles are soft and cooked through. Homemade noodles cook very quickly so taste them every minute so they don't overcook and become mushy.
Remove bay leaves and serve immediately.
Recommended Tools