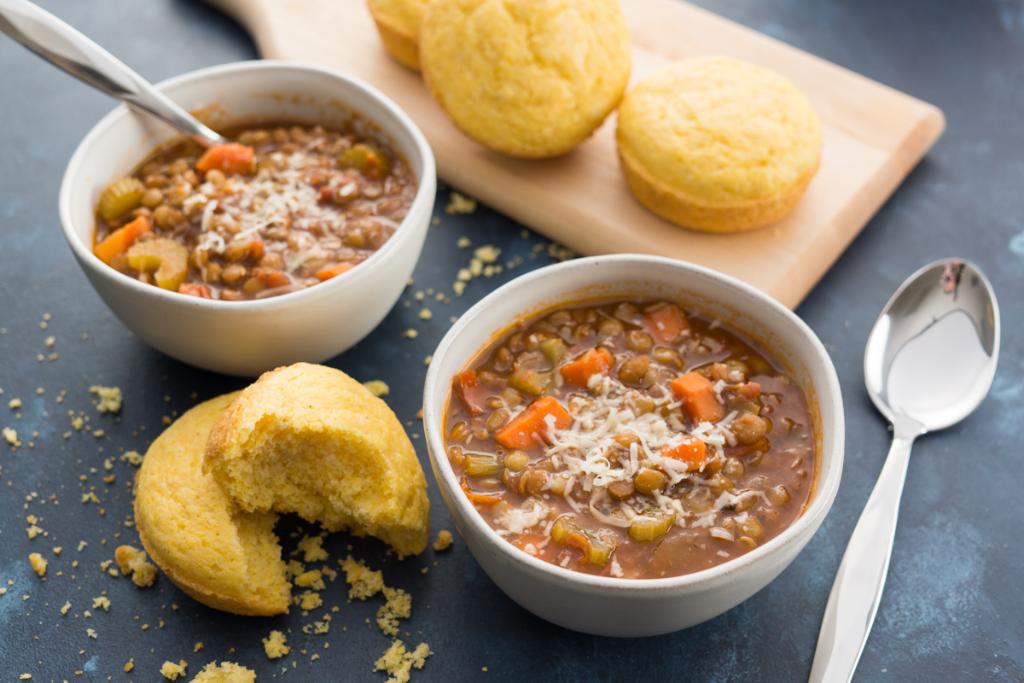 Lentils seem to be popping up in more recipes lately, which can probably be attributed to their health benefits. I can remember my mom preparing lentil soup for my dad. The soup base was a beef gravy-like sauce and besides the lentils, there was small macaroni, like ditali, in it as well. I'm sure there were other ingredients too. I don't know where she got the recipe or if it was something she came up with herself. All I know was that I didn't like it.
Fast forward to 2018 and I'm revisiting lentil soup. Could I come up with something I would actually eat? I think I have.
This Hearty Lentil Soup is chock full of veggies in a base of crushed tomatoes and beef broth. Served with some warm cornbread, it is a satisfying, tasty soup you can serve for dinner. If you prefer a meat soup, add some cooked ground beef or sausage.
I used one of my favorite knives, the 7" Santoku for chopping, dicing and mincing. Easy, peasy and ready for the soup pot in a matter of minutes.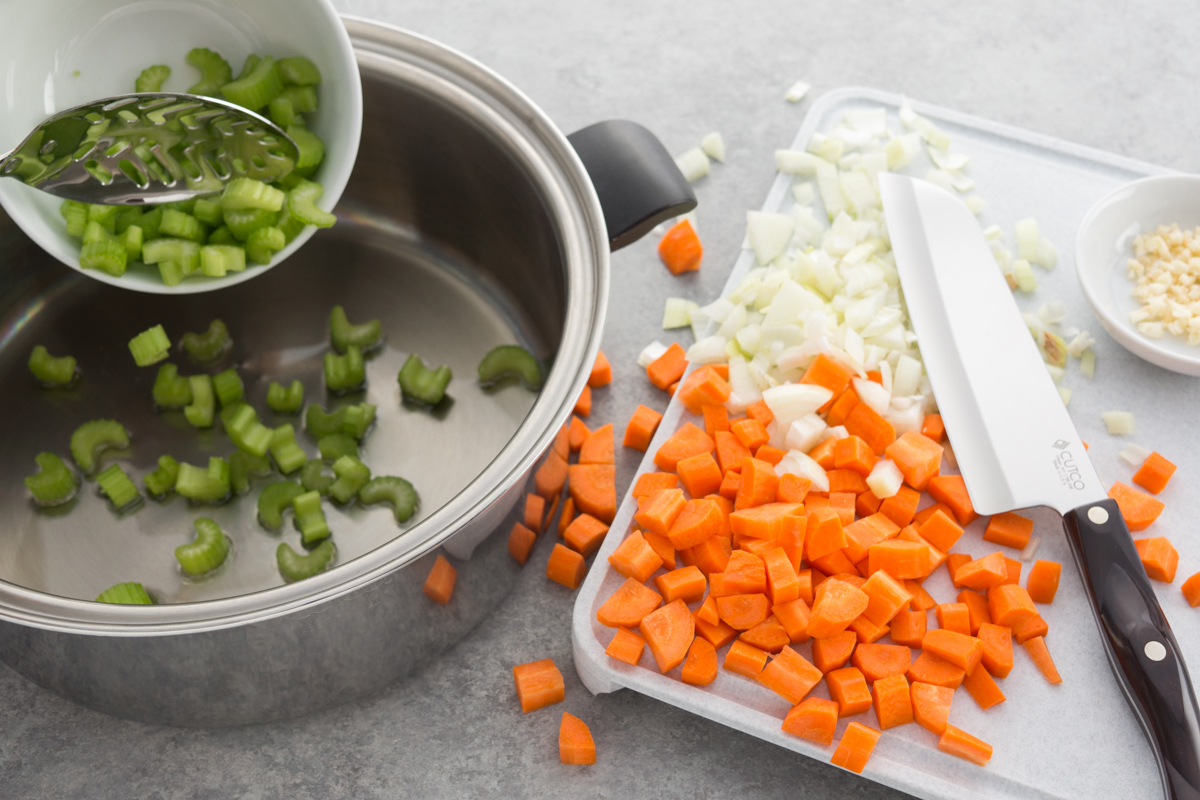 As noted in the recipe, you can prepare the soup in a slow-cooker. I recommend cooking the onions in oil before adding them to the cooker. Cooking raw onions in the cooker will give the soup a different taste.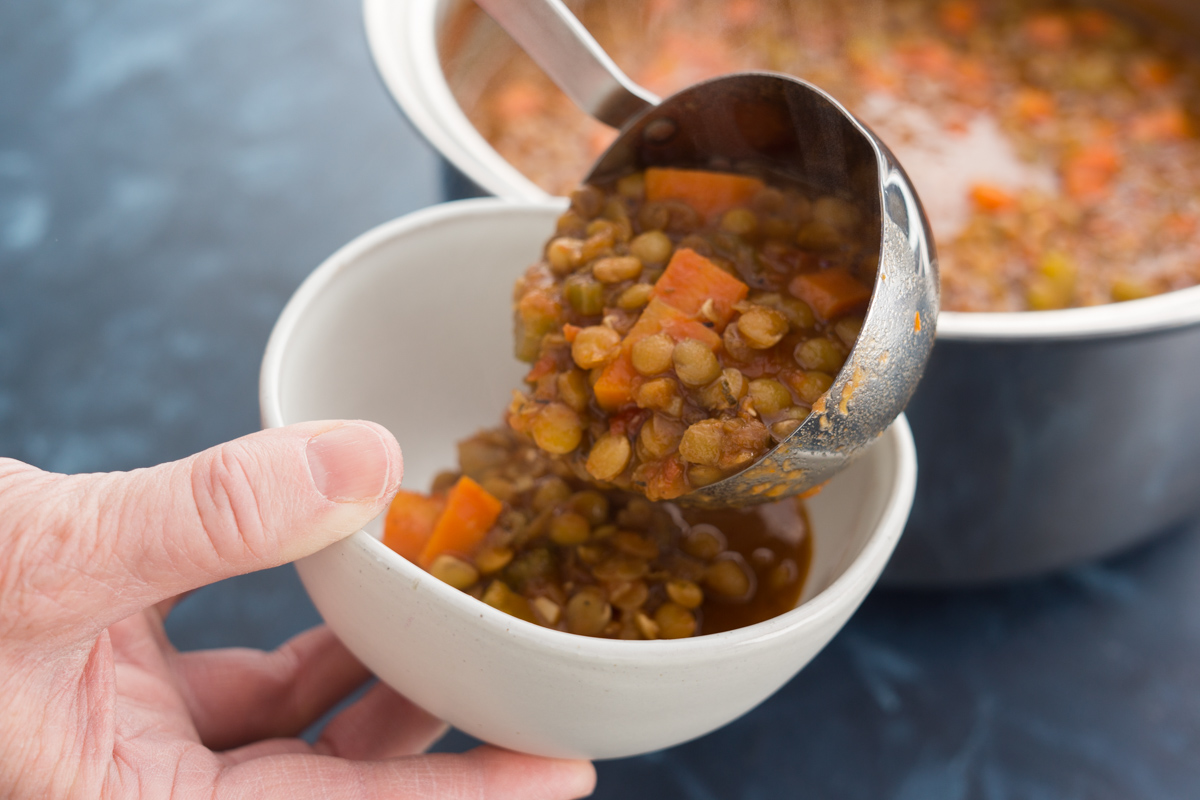 Ingredients
1/4 cup olive oil
1 onion, chopped
2 cups diced carrots
1 cup chopped celery
2 cloves garlic, minced
2 bay leaves
1 teaspoon dried basil
1 teaspoon dried oregano
4 cups water
1 28-ounce can crushed or diced tomatoes
32 ounces beef broth
Salt and ground black pepper to taste
2 cups dried lentils
Directions
Heat oil in a large soup pot over medium heat. Add the onions, carrots and celery and cook until onion is tender. Stir in garlic, bay leaves, basil and oregano and cook for 2 minutes.
Add the water, tomatoes, beef broth and salt and pepper. Stir in the lentils. Bring to a boil, reduce heat and simmer for a least 1 hour. Taste and add more salt and pepper if needed.
NOTE: This soup can also be made in a slow-cooker. Omit the oil. Place the ingredients in a 5-6 quart slow-cooker and cook on low for 7-8 hours or until vegetables are tender.
Recommended Tools