Healthy and Satisfying Guacamole Deviled Eggs
2392 days ago
Skip to recipe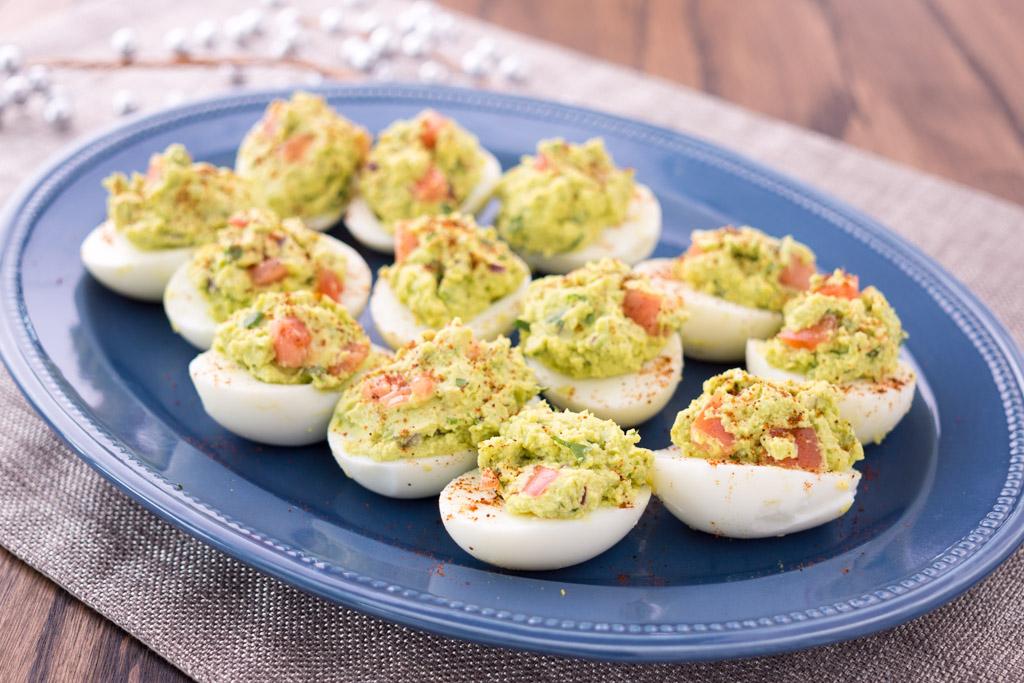 Here's another great recipe from Registered/Certified Dietitian Nutritionist Erin Burch of Erin Burch Nutrition. Erin is sharing some healthy alternatives for the holidays. These Guacamole Deviled Eggs will make a great appetizer or accompaniment to your holiday dinner.
Here's a recipe with two of my favorite foods – guacamole and eggs – packed into one delicious appetizer. These devilishly delish eggs, are super easy to make, nutritious, and will easily be a crowd favorite. Swapping out the mayonnaise with the creamy texture of avocados not only adds a delicious twist, but it also packs in heart healthy fats and fiber. Serve them at your next holiday brunch, as a side dish, or even a football tailgate.
Nutrition info: Per serving (1 piece) : 44 calories, 3g total fat, 2 carbs, 30g mg sodium, 4mg cholesterol, 1g fiber, 3g protein
Ingredients
12 large eggs, hard boiled
2 medium avocadoes
Juice from one lime (about 2 tablespoons)
2 teaspoon red onion, minced
2 tablespoons minced jalapeno
2 tablespoons fresh cilantro, chopped
Salt and pepper, to taste
2 tablespoon diced tomato
Directions
Peel the cooled hard boiled eggs. Use a Trimmer to cut the eggs in half horizontally, and set the yolks aside.
Peel the avocado by cutting around the entire fruit from top to bottom. Rotate one quarter turn and make another full cut around the avocado. Peel skin off and remove flesh in from the seed.
In a bowl, use a fork to mash the avocado and 2 whole egg yolks; discard the rest. Mix in lime juice, red onion, jalapeño, cilantro, salt and pepper and adjust to taste.
Fold in tomato.
Scoop heaping spoonfuls of the guacamole into the 24 halved eggs. Sprinkle with a little chili powder for color and arrange on a platter.
Recommended Tools