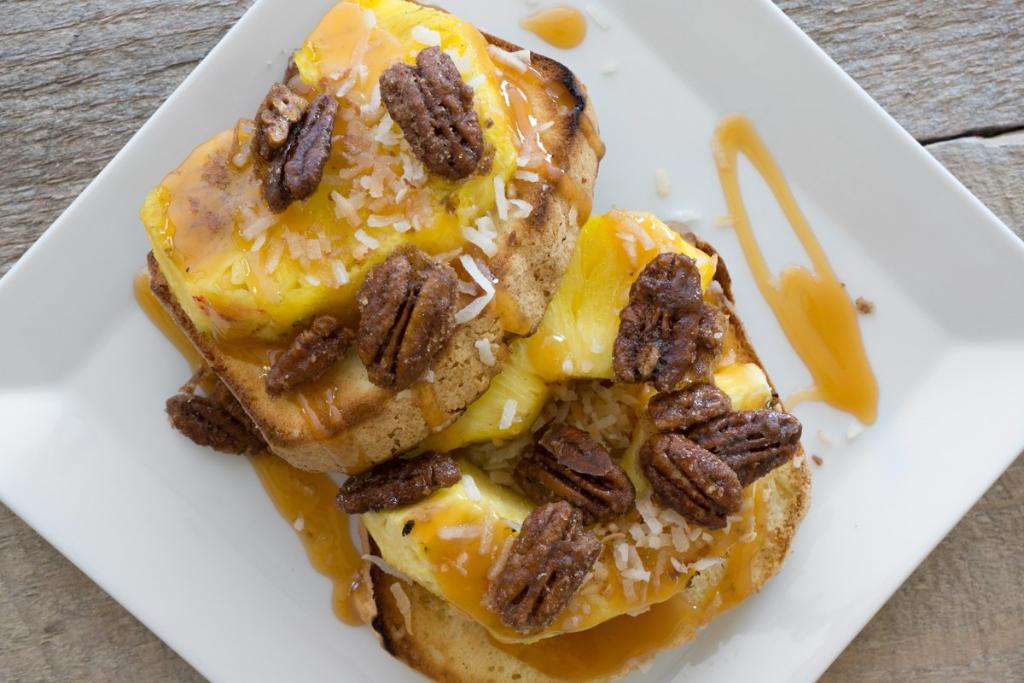 I'm pretty sure everyone is familiar with grilling vegetables but have you thought about grilling fruit? Almost any fruit can be grilled – from stone fruits like peaches, plums, nectarines and apricots to pineapples, bananas, watermelon and strawberries to name a few. Grilling caramelizes the sugars in the fruits and concentrates the flavors.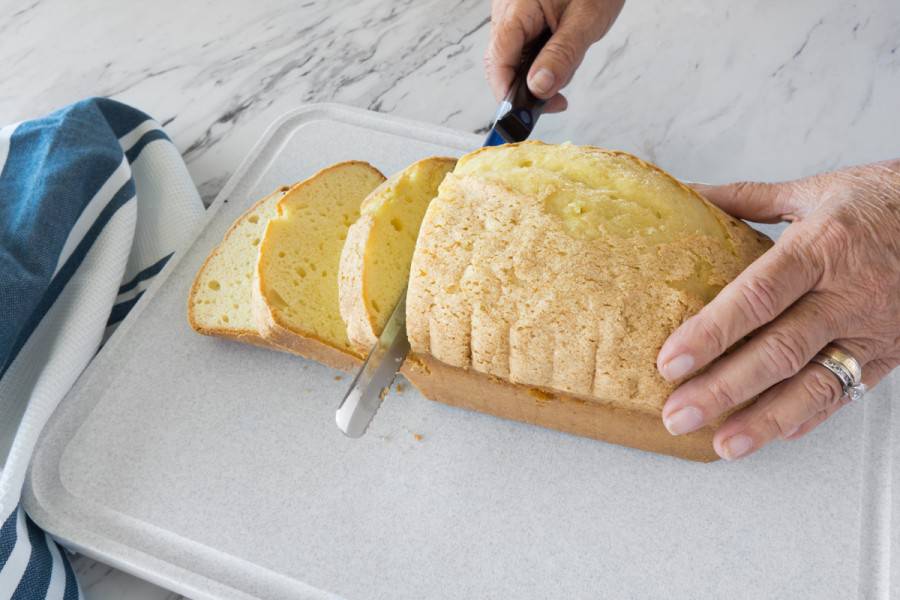 We pulled out the grill here at the Cutco Kitchen and tried a few recipes. The desserts we tried were prepared using the grill, the stovetop and the oven. All were fairly easy to do and the results were tasty.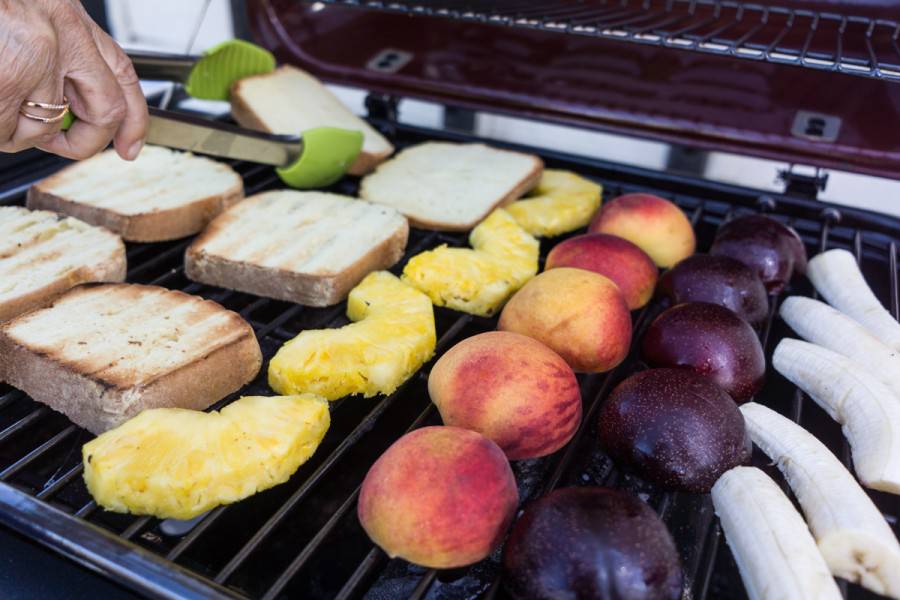 The favorite was the Grilled Caramel Pineapple Dessert. There are a lot of delicious flavors going on here. The grilled pineapple has a sweet and slightly charred taste. The ooey, gooey caramel topping with the crunch of toasted coconut and the spiciness of toasted pecans add up to a fabulous dessert. Although the ice cream is optional, I would definitely recommend it. The combination of the cold ice cream and the warm pineapple adds another dimension of flavor.

I hope you try this and our other recipes as well: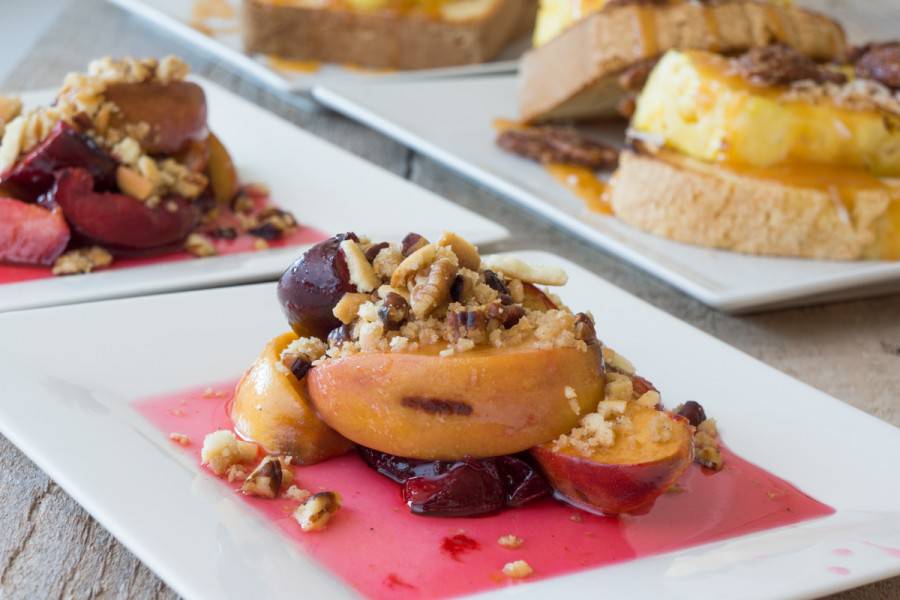 Grilled Fruit Crumble made with grilled peaches and plums and topped with a crumb topping.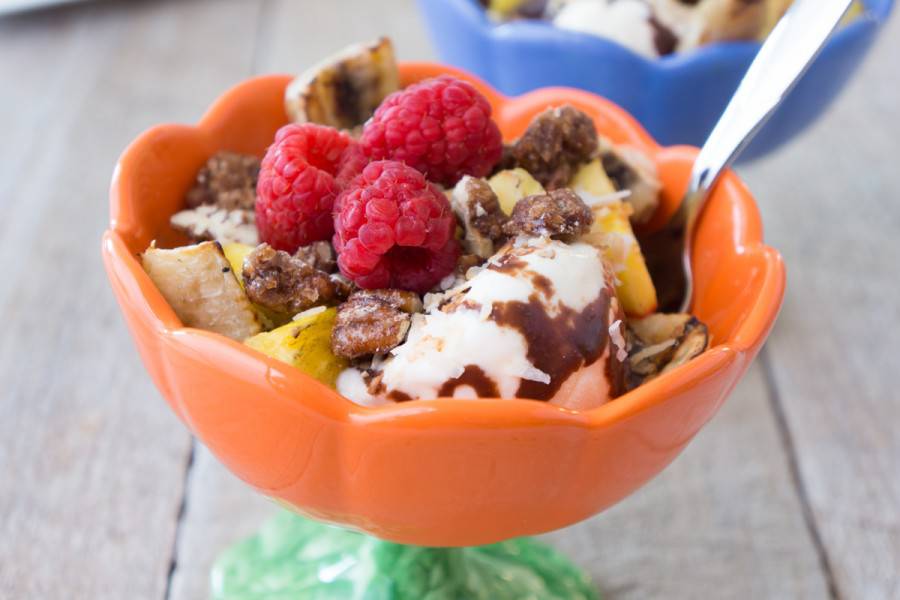 Grilled Banana Splits with grilled pineapple, ice cream and frozen yogurt and drizzled with a homemade chocolate sauce.
Ingredients
1/2 cup sugar
3/4 teaspoon ground cinnamon
3/4 teaspoon salt
1/4 teaspoon ground cloves
1/4 teaspoon ground nutmeg
1 large egg, white only, beaten
1 tablespoon water
1/4 teaspoon vanilla extract
6 ounces pecan halves
Cooking spray
1/4 cup sweetened coconut, toasted
1 pineapple, peeled, cored and sliced into 12 slices
Butter
1 pound cake, fresh or frozen, sliced into 12 slices
Caramel flavored ice cream topping
Vanilla ice cream, optional
Directions
Preheat oven to 350°F.
Put sugar, cinnamon, salt, cloves and nutmeg in a plastic bag. Shake to mix.
In a medium bowl, beat the egg white, water and vanilla until frothy. Add the pecans and coat well. Remove the pecans from the bowl and place in the bag of sugar and spices. Shake the pecans in the bag until well coated.
Spray a large rimmed baking sheet with nonstick cooking spray. Spread pecan mixture on sheet, bake 30 minutes, stirring after 15 minutes. Allow to cool.
Toast coconut by placing it in a skillet. Cook over medium heat, stirring frequently, until the flakes are golden brown.
Coat grill with nonstick cooking spray. Preheat grill to medium heat.
Grill pineapple slices 1-2 minutes per side; remove from heat.
Lightly butter both sides of the cake slices. Grill 1 minute per side.
To assemble: Place a slice of grilled pound cake on a plate and alternate with grilled pineapple, using 2 slices of each for an individual portion. Drizzle with caramel topping, sprinkle with toasted coconut and top with sugared pecans.
If desired, serve with vanilla ice cream.
Recommended Tools