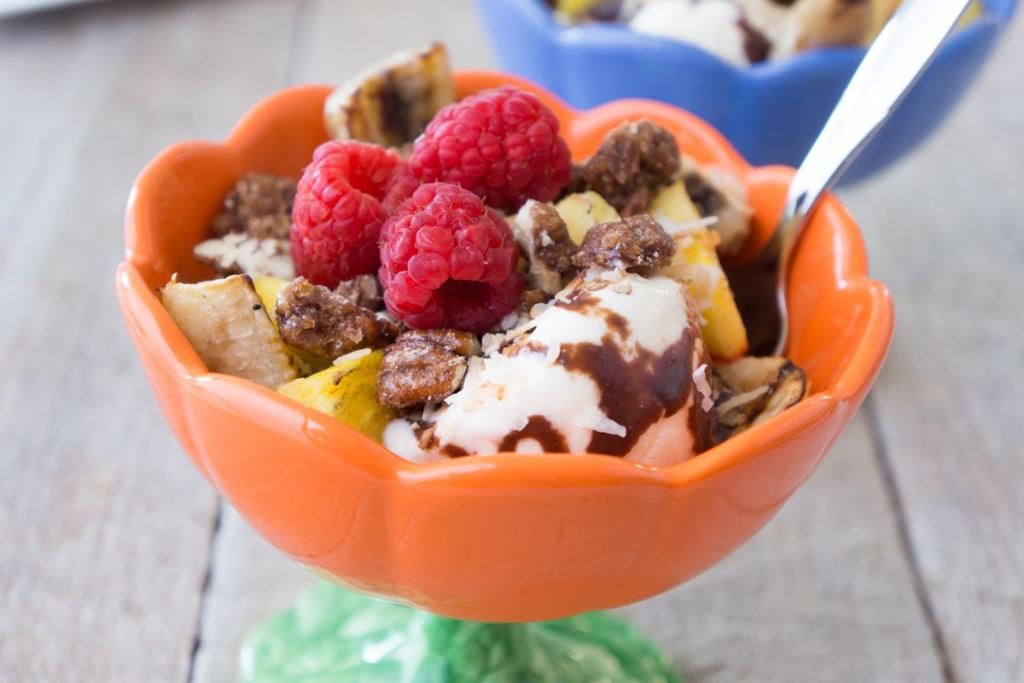 Notes:
• Three regular bananas, peeled and quartered, may be substituted. Increase grilling time to 4 minutes on each side.
• Canned pineapple slices in juice, drained, may be substituted.
• If using a charcoal grill, place banana slices around the outer edge of grill to prevent burning. Watch them carefully as they will cook fast.
Ingredients
Grilled Banana Splits
Non-stick cooking spray
1/4 cup chopped pecans
1/4 cup sweetened flaked coconut
6 unpeeled baby or small bananas with green tips*
6 fresh pineapple slices**
1 pint fat-free vanilla ice cream
1 pint low-fat chocolate frozen yogurt
Chocolate sauce (see recipe below)
Maraschino cherries for garnish
Chocolate Sauce
3/4 cup semisweet chocolate pieces
1/4 cup butter or margarine
2/3 cup sugar
1 5 ounce can evaporated milk
Directions
Coat cold cooking grate of grill with cooking spray. Preheat grill to 300°F to 350°F (medium) heat.
Preheat oven to 350°F.Place pecans in a single layer in a shallow pan. Place coconut in a single layer in another shallow pan. Bake pecans and coconut 7 to 8 minutes or until toasted and pecans are fragrant, stirring occasionally.
Peel bananas and cut in half lengthwise. Coat bananas with cooking spray. Grill pineapple slices, covered with grill lid, over 300°F to 350°F (medium) heat 4 minutes on each side or until lightly caramelized. Grill banana halves 1 to 2 minutes on each side or until lightly caramelized.
Chop grilled pineapple. Arrange 2 grilled banana halves in each of 6 (8 ounce) banana-split dishes or other serving bowls. Scoop 1/4 cup vanilla ice cream and 1/4 cup chocolate frozen yogurt into each dish between banana slices. Top each with 1 tablespoon warm chocolate sauce, 1 chopped pineapple slice, 2 teaspoons pecans, and 2 teaspoons coconut. Garnish, if desired. Serve immediately.
For the Chocolate Sauce, melt chocolate pieces and butter in a small saucepan over low heat.
Add the sugar.
Gradually stir in evaporated milk. Bring to a boil, reduce heat, cook and stir over low heat for 8 minutes. Remove from heat and set aside.
Recommended Tools