Green Sandwich With Cucumber, Avocado, Sprouts and Chickpea Spread
672 days ago
Skip to recipe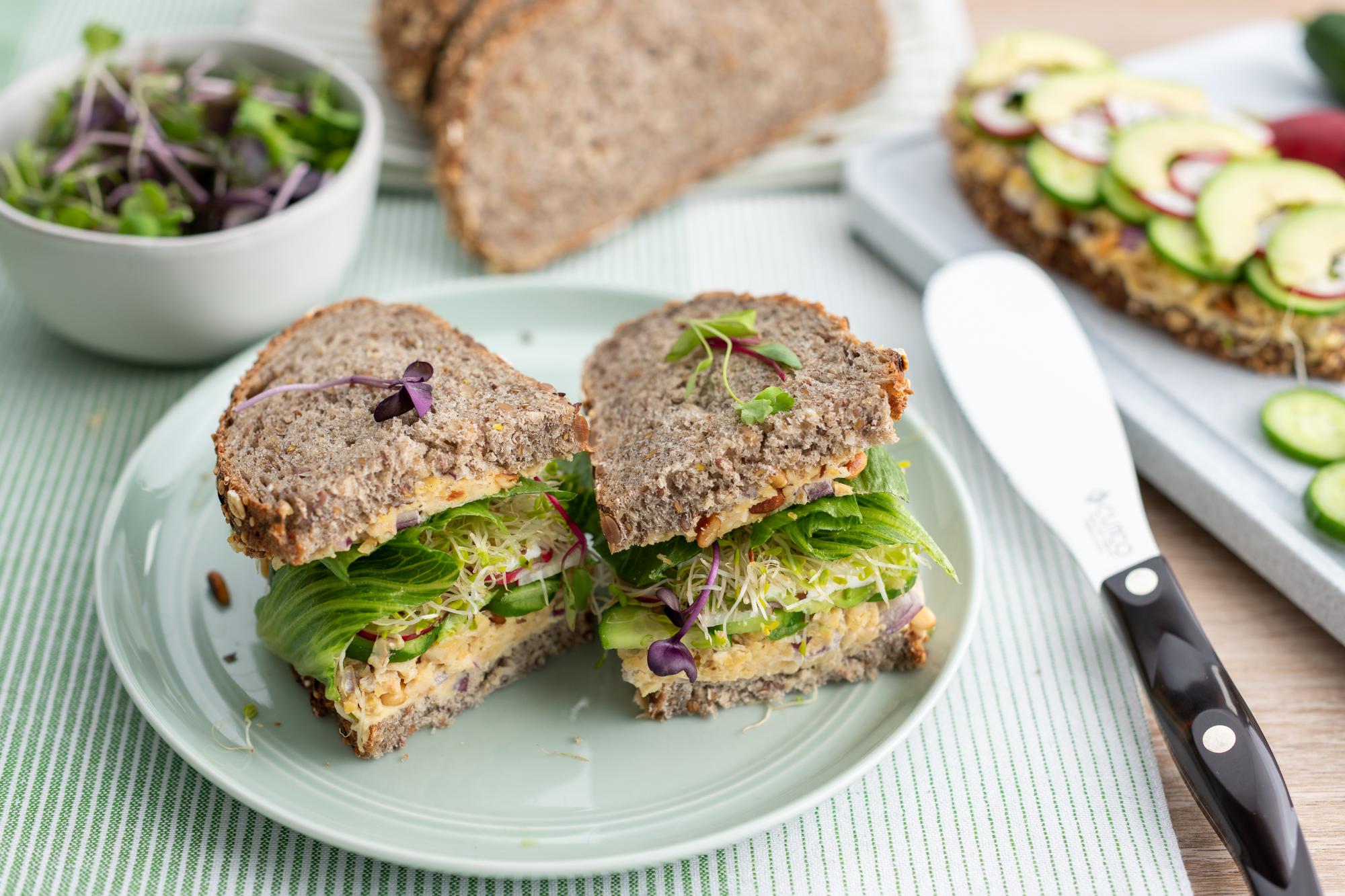 For some reason, I always struggle with lunch and what I should make. Cold cuts get boring and I can only eat so many salads within a week. Plus, I want something that is easy to put together before I head out to work. So yes, I'm asking for a lot with my lunch.
Green Sandwich with Cucumber, Avocado, Sprouts and Chickpea Spread is actually a refreshing change from your normal sandwich and is packed with everything that is green and good for you. Finding the right bread is key for this, you want something that can hold up to all that you're putting on it that also offers some crunch of its own. We went with a seeded bread, but you could also choose a sprouted or whole-grain bread option. If you want to avoid bread altogether, use a large piece of lettuce as a wrap.
The other wonderful element of this sandwich is the chickpea spread. I know it doesn't sound exciting, but this spread is a flavor explosion in your mouth so it's a good thing that you'll have leftover spread after you've made your sandwiches.
Prepare the Chickpea Spread
To prepare the spread, smash the chickpeas with a fork and then add finely diced onion, roasted pine nuts, tahini, Dijon mustard, honey, salt and pepper. Mix everything together until you have a spreadable mixture. Roasting the pine nuts really adds a nutty flavor that makes this spread something special.
Preparing the Vegetables
The rest of the prep work is preparing your vegetables for the sandwich. Using the Cheese Knife, I thinly sliced the cucumber. I used Persian cucumbers because they have a thin skin and are practically seedless, but you can also use an English cucumber.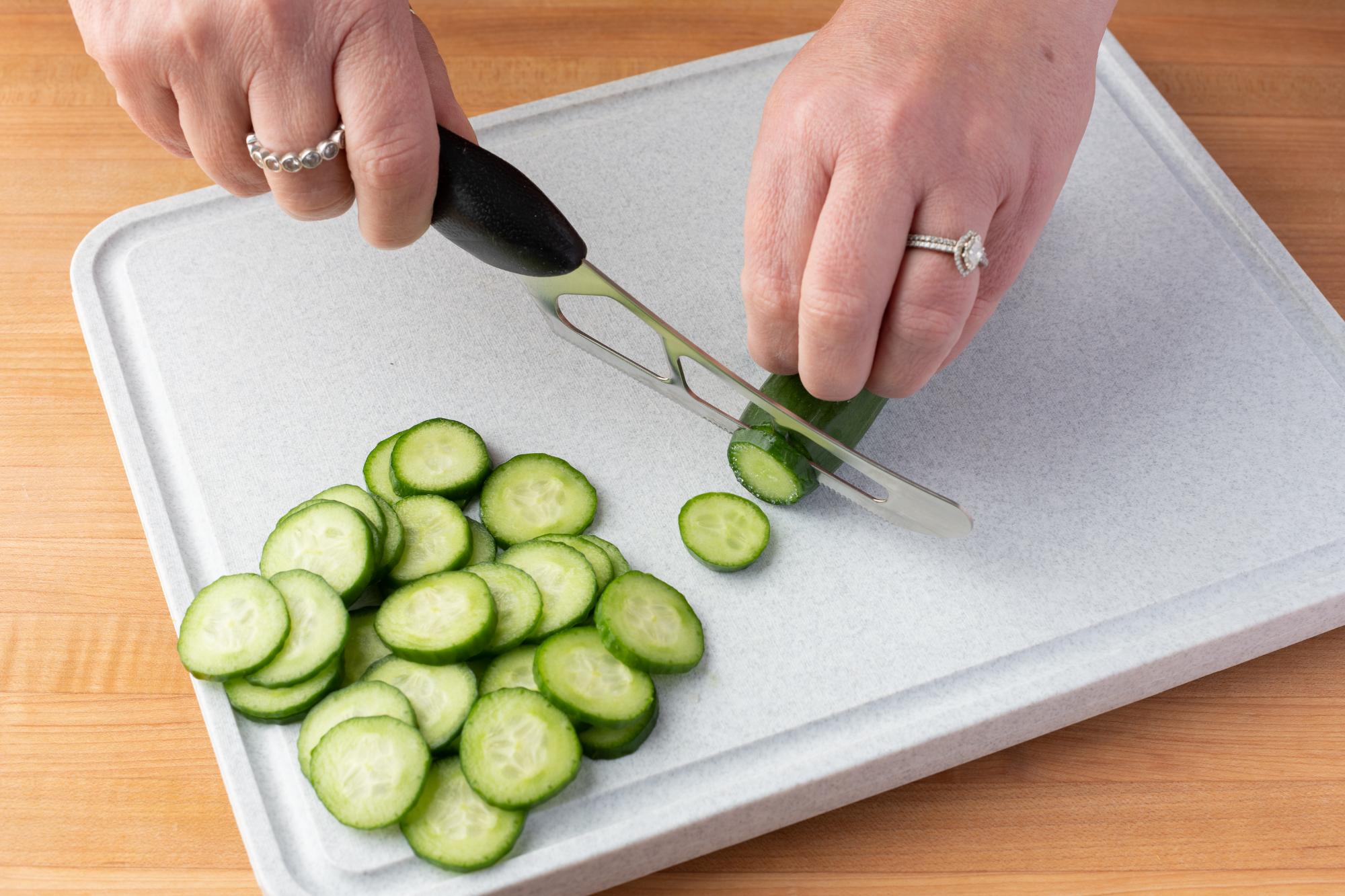 The avocado is the last thing I cut so it wouldn't brown. I cut the avocado in half with the Spatula Spreader and peeled the skin off (make sure you have a ripe avocado) and, using the same knife, cut it into slices.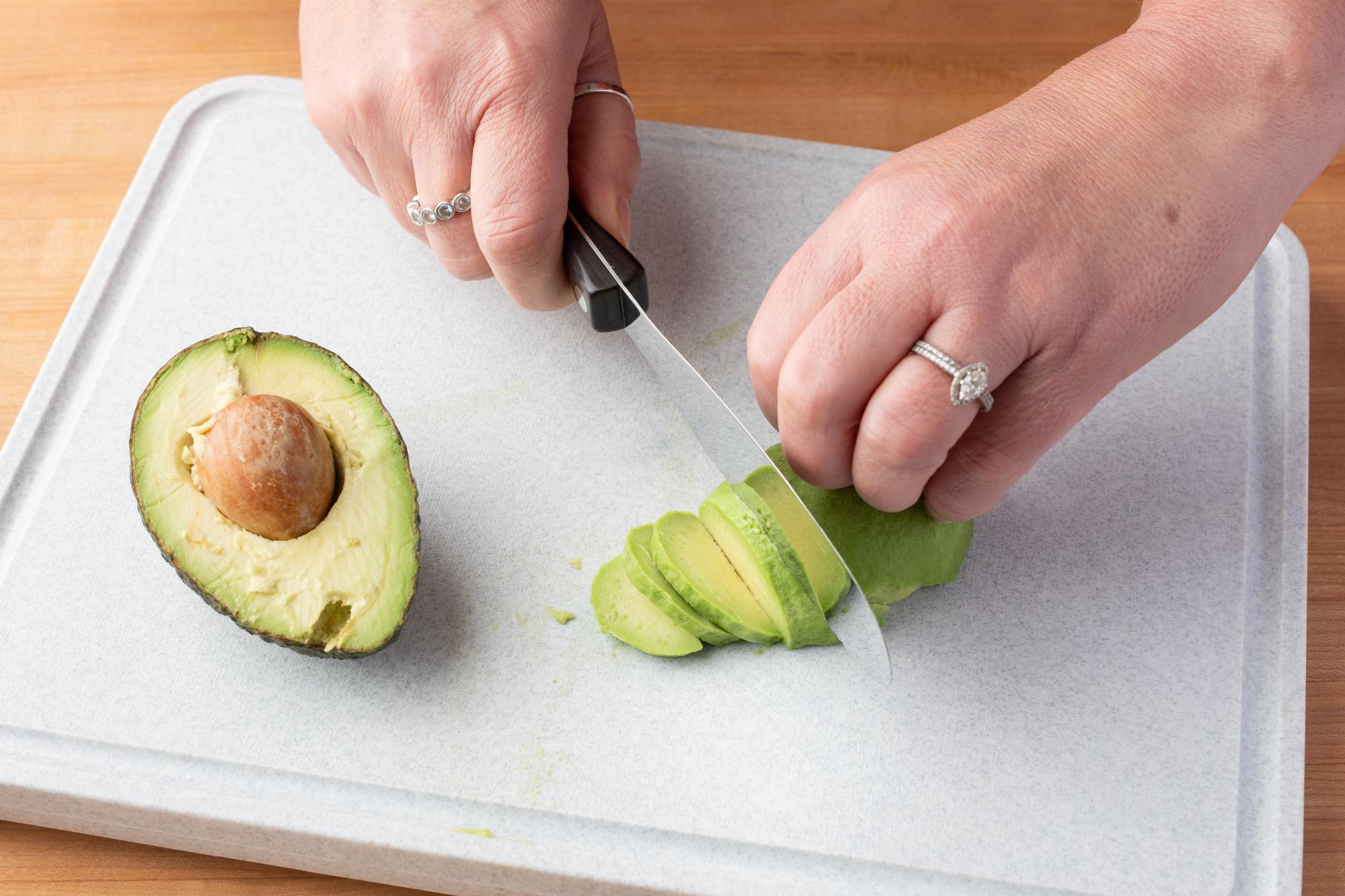 You can delay the browning process by brushing some lemon or lime juice over the flesh of the avocado.
Assembling the Green Sandwich
To put the sandwich together, use the Spatula Spreader to apply a generous layer of the chickpea spread on a slice of bread. On the other slice, spread the hummus evenly.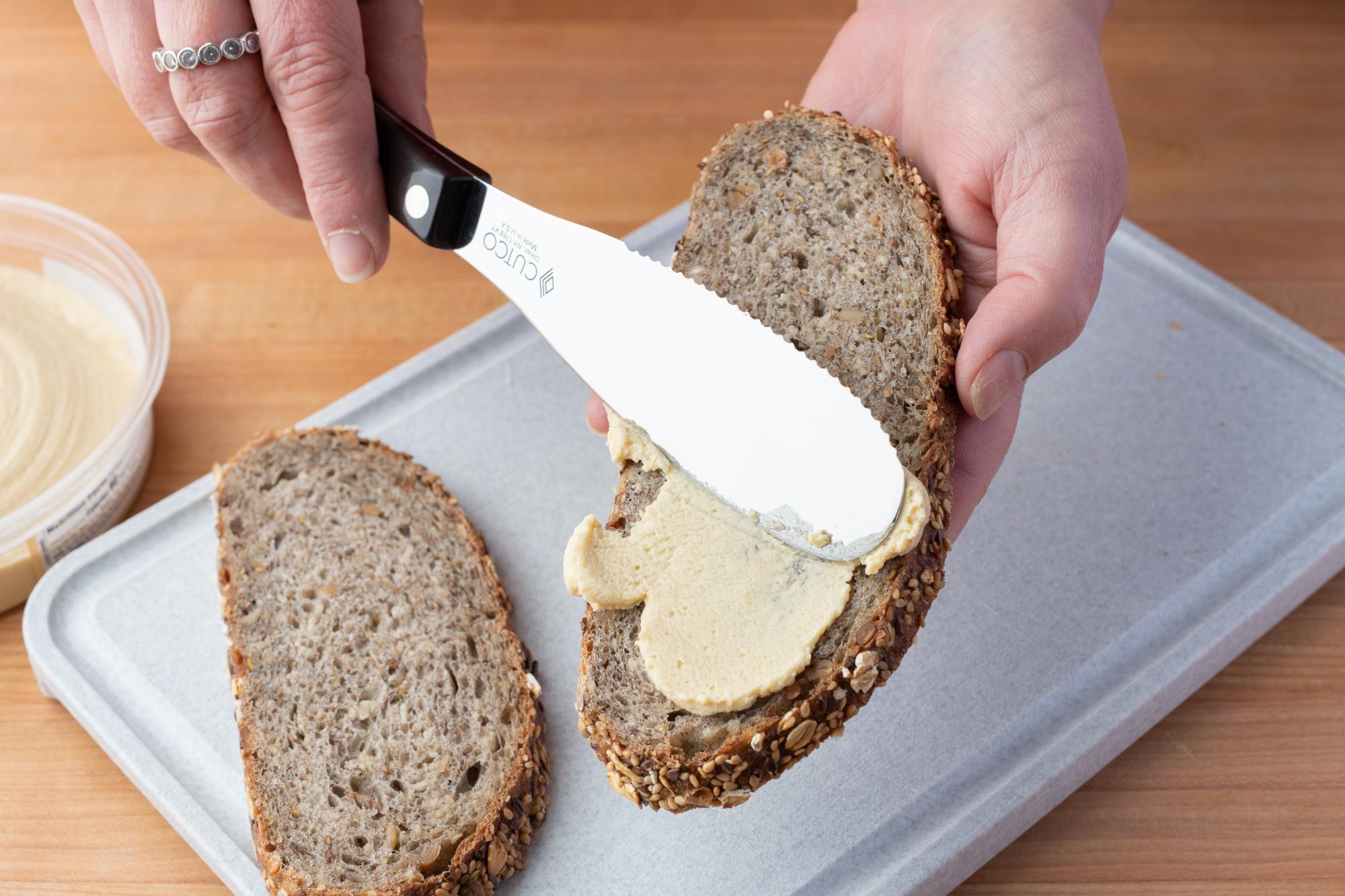 Layer the cucumbers, radishes, avocado, mozzarella and lettuce on the bread with the chickpea spread. Top with some sprouts and the piece of bread with hummus. Gently press the entire sandwich down so everything sticks together and cut in half with the Spatula Spreader.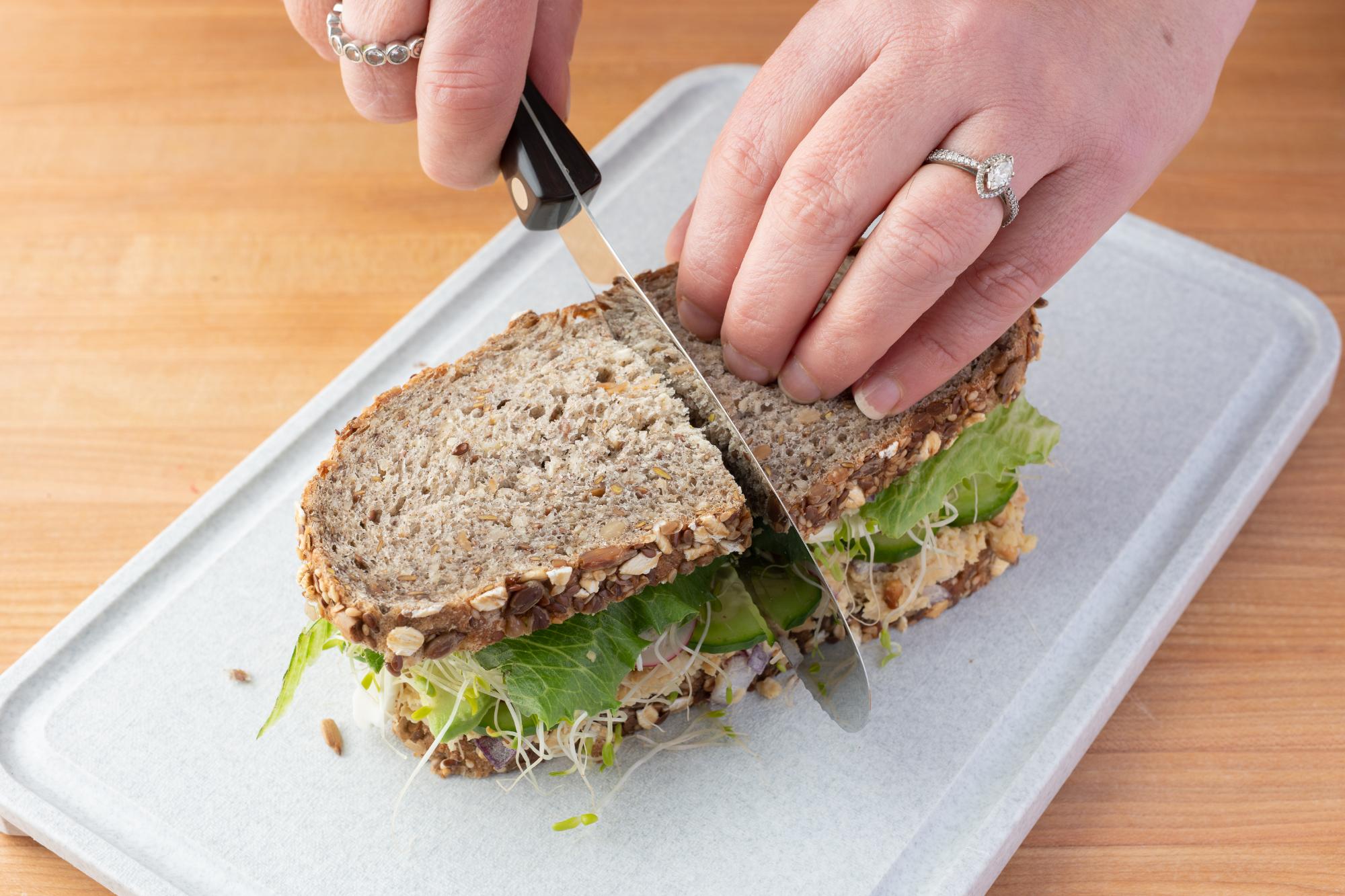 I don't think I've liked a sandwich as much as this Green Sandwich with Cucumber, Avocado, Sprouts and Chickpea Spread. It has crunch, greens, nuttiness and just tons of flavor. In fact, the day after we prepared it for the blog, I pulled out the leftovers and made another one. It was that good. And the chickpea spread? I slathered some of the leftovers onto a piece of bread and had that with some cucumber soup that we featured earlier this month. This will be one recipe I'll keep on file for future lunch options. It's a definite winner!
Ingredients
For the Chickpea Spread:
1 can chickpeas, rinsed and drained
1/2 medium red onion, finely diced
1/4 cup roasted pine nuts
4 tablespoons tahini
1/2 tablespoon Dijon mustard
1 teaspoon honey
Generous pinch salt and pepper
For the Sandwich:
4 slices seeded or whole-grain bread
1/2 cup hummus
Chickpea spread
2 Persian cucumbers, thinly sliced
4 radishes, thinly sliced
1 avocado sliced
8 ounces fresh mozzarella, sliced thinly
2 large lettuce leaves (bibb lettuce or red or green leaf or romaine)
1 cup sprouts (broccoli or alfalfa)
Directions
Prepare the chickpea spread:
Add the chickpeas to a medium mixing bowl and smash with a fork. Add the red onion, pine nuts, tahini, mustard, honey, salt and pepper and mix together. Taste and adjust seasonings as needed.
Make the sandwich:
Spread the hummus onto one slice of the bread.
Mound the chickpea spread onto the other slice of bread.
Layer the cucumbers, radishes, avocado, mozzarella and lettuce on the bread with the chickpea spread.
Top with the sprouts on the piece of bread spread with hummus.
Cut in half and serve.
Recommended Tools