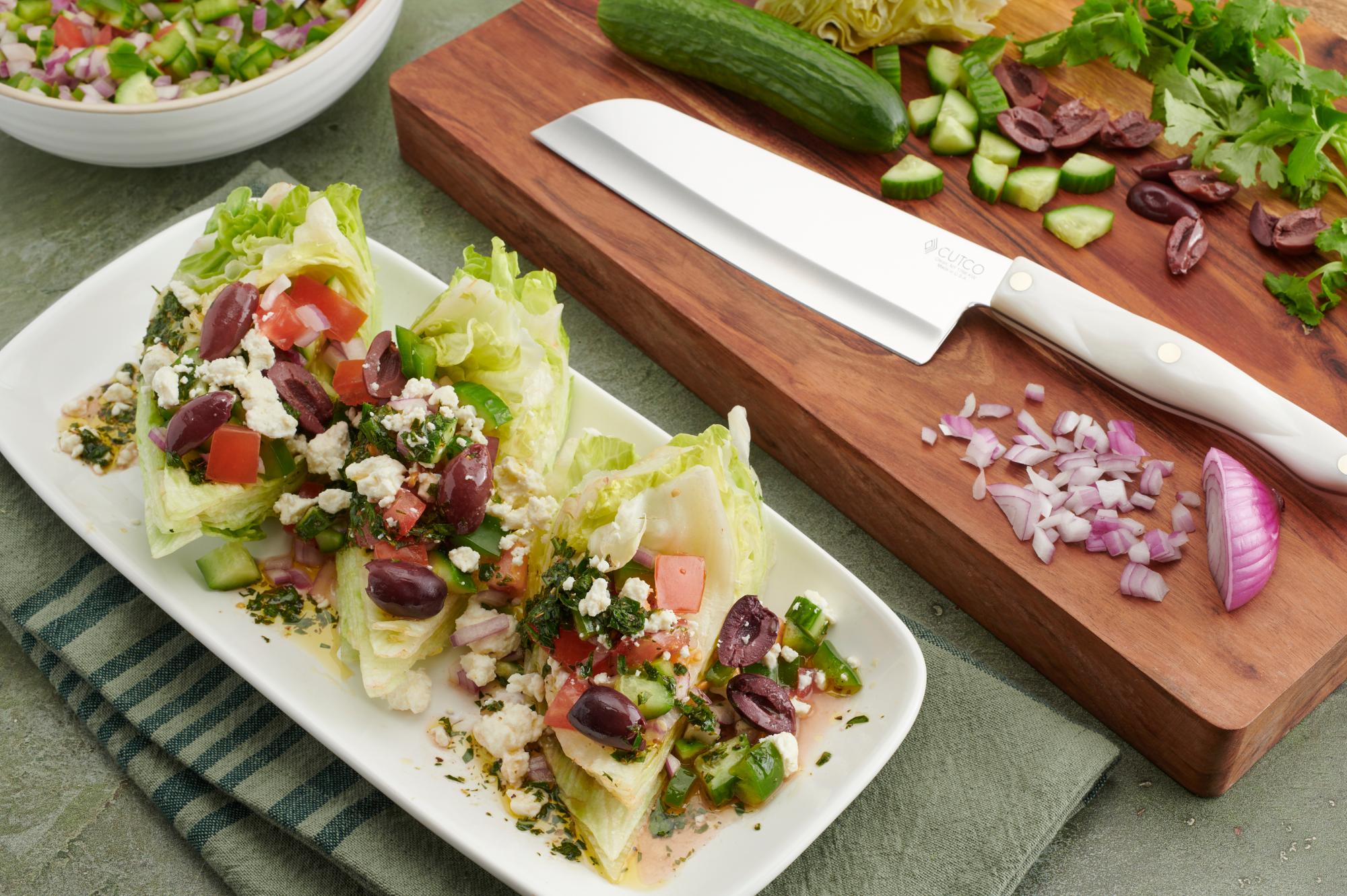 I love Greek cuisine and Greek salad with its salty feta cheese and anchovies on the side is one of my favorites. It was the inspiration for this Greek Salad Cups recipe, which can be eaten for lunch or dinner, or made for on-the-go.
The cups in this recipe are actually iceberg lettuce leaves, which hold the ingredients together. Eat them with a fork or fold the lettuce cup up like a taco and enjoy.
Preparing the Ingredients
Before getting started, wash all vegetables and dry them well. Also, cut all the ingredients ahead of time to make them quick and easy to assemble.
What you need for this recipe is iceberg lettuce leaves, chopped tomatoes, diced red onion, cucumber and bell pepper, halved olives and crumbled feta cheese.
The 7″ Santoku knife is useful for prepping all of the veggies.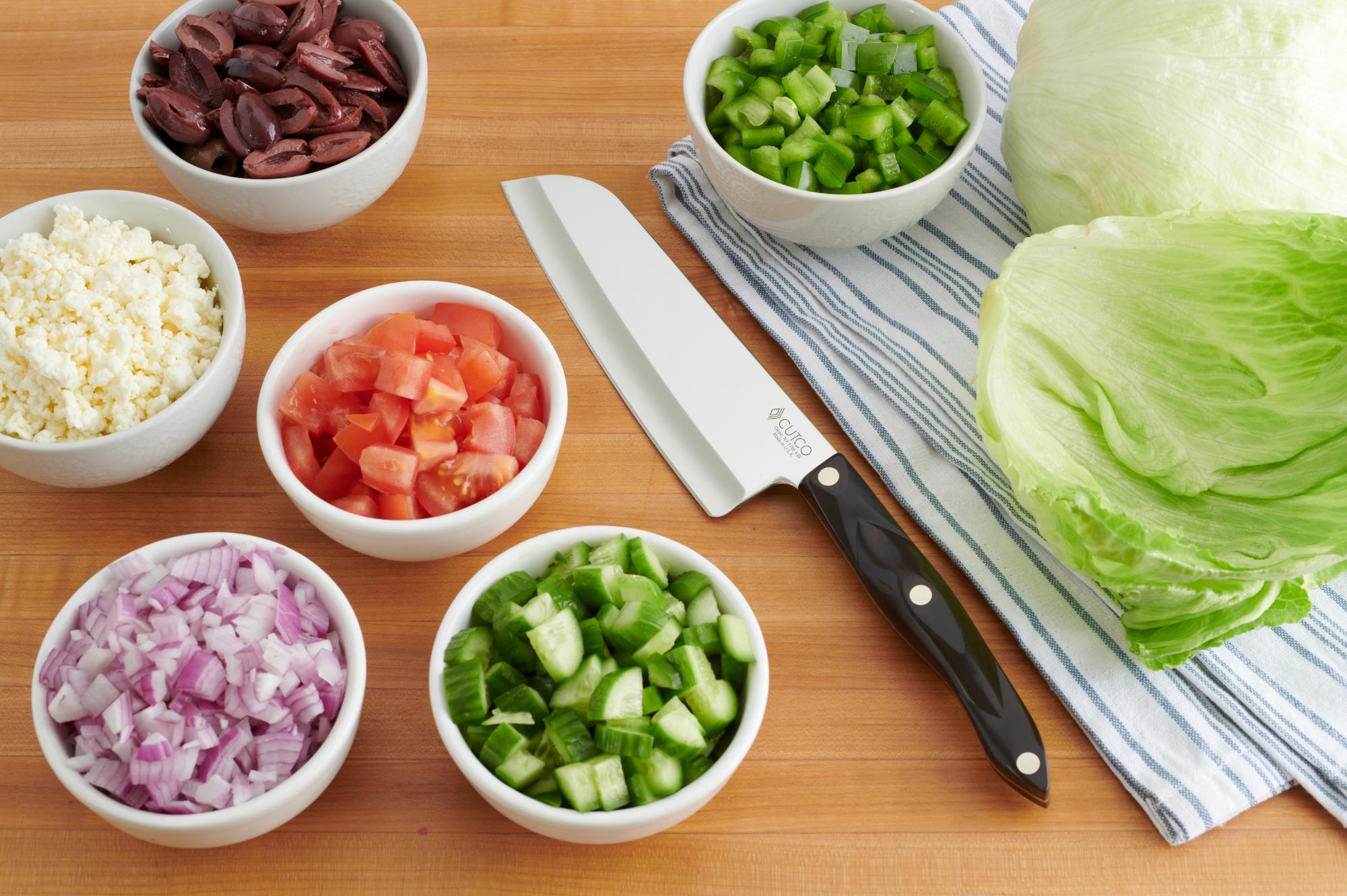 The dressing comes together pretty quickly with ingredients you probably already have on hand. With a Mix-Stir, whisk together red wine vinegar, olive oil, honey, dried oregano, fresh parsley and some salt and pepper.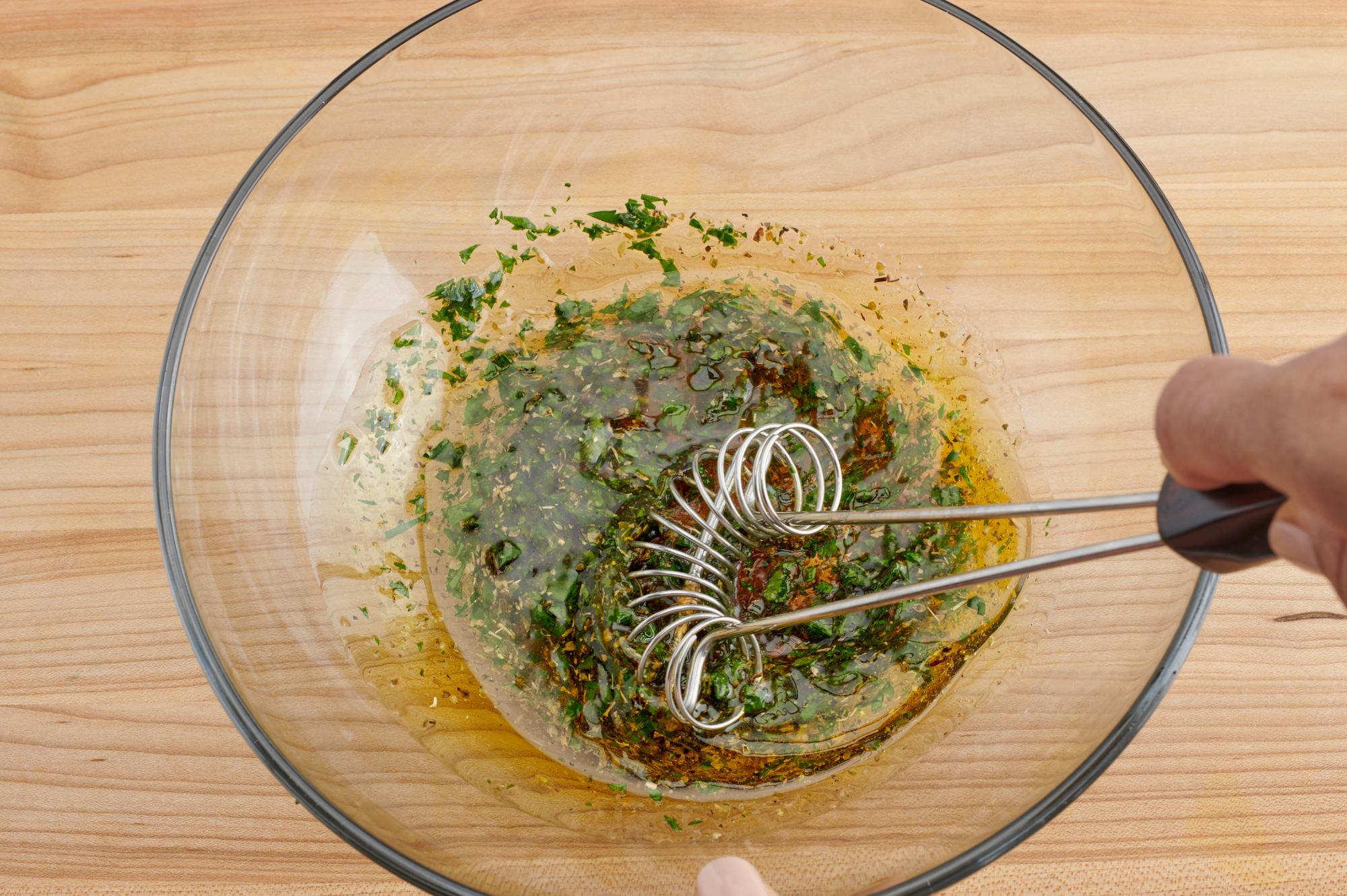 It's a simple dressing, but delivers a lot of flavor. You may want to make extra to have on hand for use on other salads.
Serving the Salad Cups
Once all the ingredients for the Greek Salad Cups are prepped, it's time to assemble them. Place the lettuce cups on a platter, layer everything on, drizzle with dressing and top with crumbled feta cheese.
This recipe uses iceberg lettuce, but you might also try Boston bib lettuce or even romaine. If you want to make this more of a main dish instead of a side, add grilled shrimp, chicken or lamb.
While the title of this recipe says "salad" you could also consider it a healthy version of a wrap that you can take on the go.
Ingredients
For the salad:
1/2 head iceberg lettuce (torn into cup-like pieces)
2 to 3 tomatoes from the vine, chopped
1 small red onion, diced
3 Persian cucumbers, diced small
1 green bell pepper, diced
1 cup of Kalamata olives, halved
1 cup good quality feta cheese, crumbled
For the dressing:
1/4 cup red wine vinegar
1/2 cup olive oil
1 teaspoon honey (optional)
1/4 teaspoon dried oregano
1/4 cup fresh parsley, chopped
Salt and pepper, to taste
Directions
Wash all vegetables and dry well.
Add lettuce cups to a platter.
Top with all other vegetables.
Cover with cheese and dressing.
Serving suggestion: To make them more of a main dish, add grilled shrimp, chicken or lamb to create a meal that's ready to roll and go.
Recommended Tools