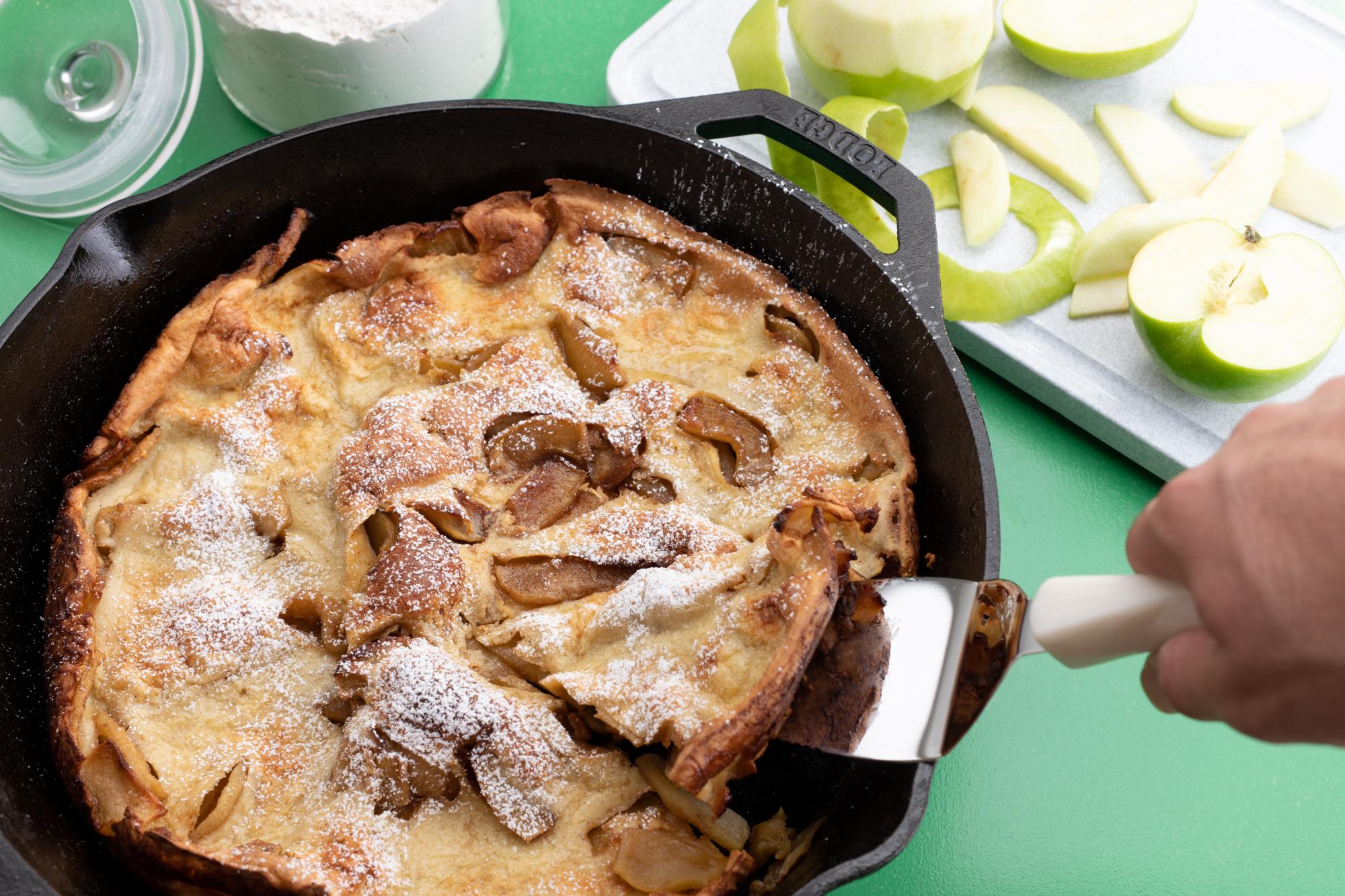 Pancakes are always a good idea in my humble opinion, but my colleague mentioned changing it up a bit and trying our hand at making a German Apple Pancake, which is similar to a Dutch baby. As we tested different approaches to this recipe we learned a few things that we share in the tips below. Learn from our mistakes.
What I love about this recipe is that it is not overly sweet and the apples really are the star ingredient. I recommend using Granny Smith apples as they are such a good baking apple, but you can use another apple of your preference. Just make sure it's a baking apple like Honeycrisp or a Pink Lady.
Pancake Tips
For the flour, we recommend you sift it before blending. You want to avoid any lumps in the batter so that you end up with a fluffy pancake.
Make sure your eggs and milk are at room temperature. We found that if these ingredients were too cold, the batter cooked a bit flatter and didn't rise as much as we would have liked.
Really caramelize your apples. Cooking the apples down with some good caramelization will ensure that your pancake is not doughy.
We found that using a cast-iron skillet was ideal. It gives the pancake a good fluffy consistency, allows it to cook all the way through and results in nice browning throughout.
Preparing the Pancake
To start, mix together your dry pancake ingredients and then your wet ingredients separately. Using the Mix-Stir, combine the wet ingredients into the dry and thoroughly combine, setting the batter aside for at least 30 minutes.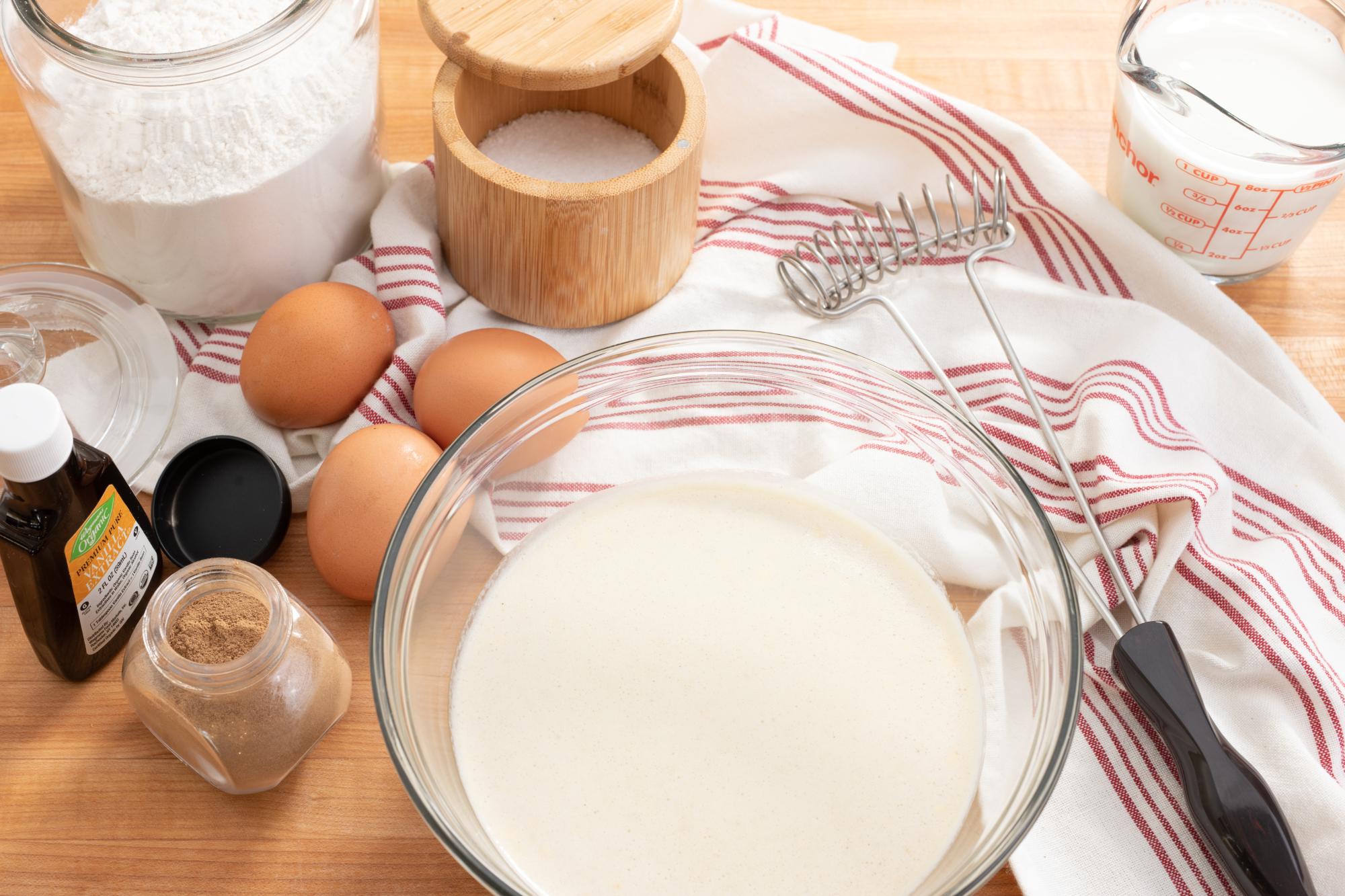 Peel the apples with a Vegetable Peeler or paring knife and then, using a 5" Petite Santoku, slice the apples into quarter-inch slices.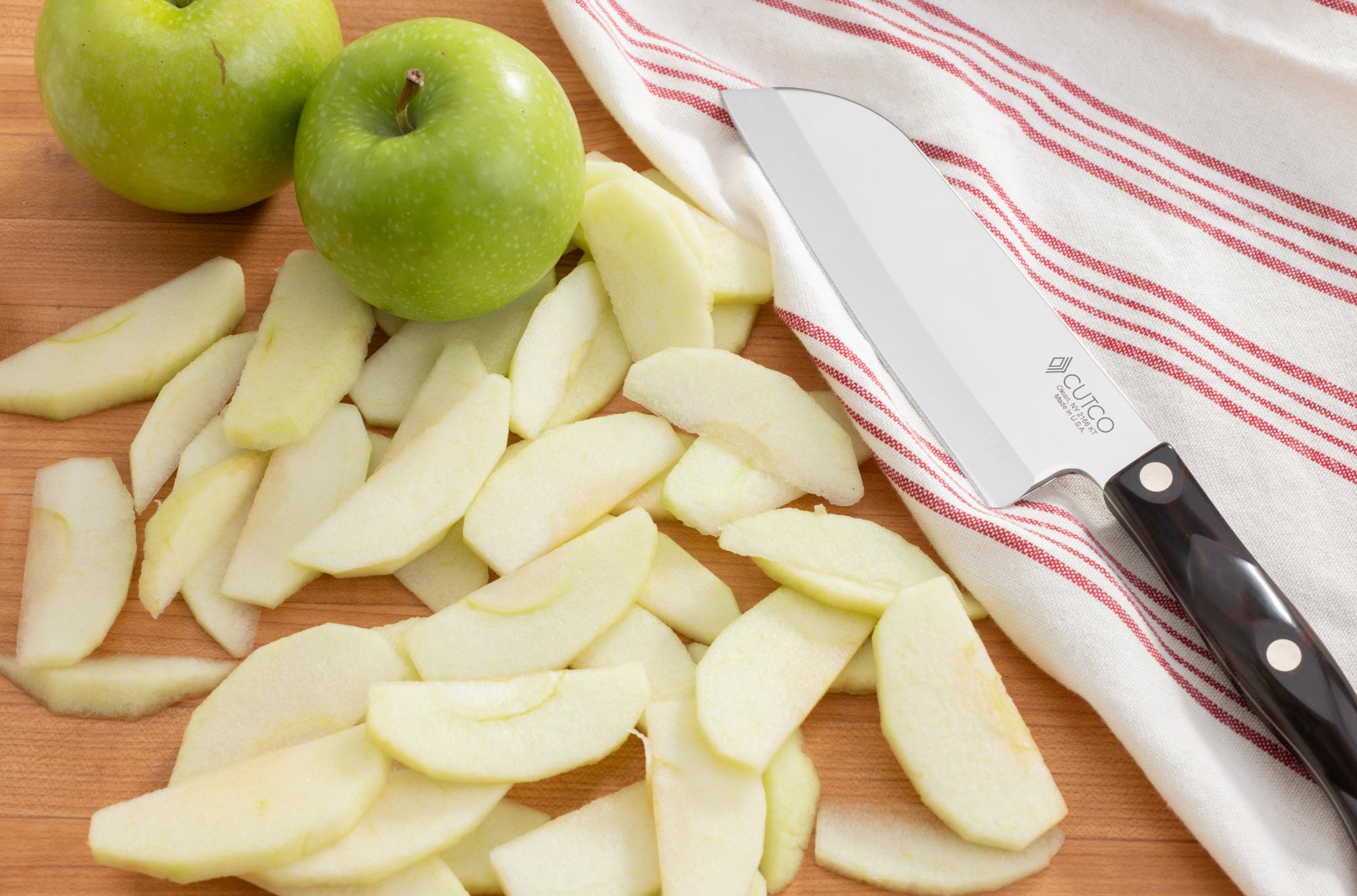 In a cast-iron skillet, melt the butter and add the apples, sugar and cinnamon. Cook the apples down until they are nicely caramelized and there is not a lot of liquid left in the skillet. Evenly pour the prepared batter over the apple mixture and transfer the skillet to the oven for the recommended baking time.
Once the pancake is done, sprinkle with some confectioners' sugar and use the Slice n' Serve to cut the pancake into six servings.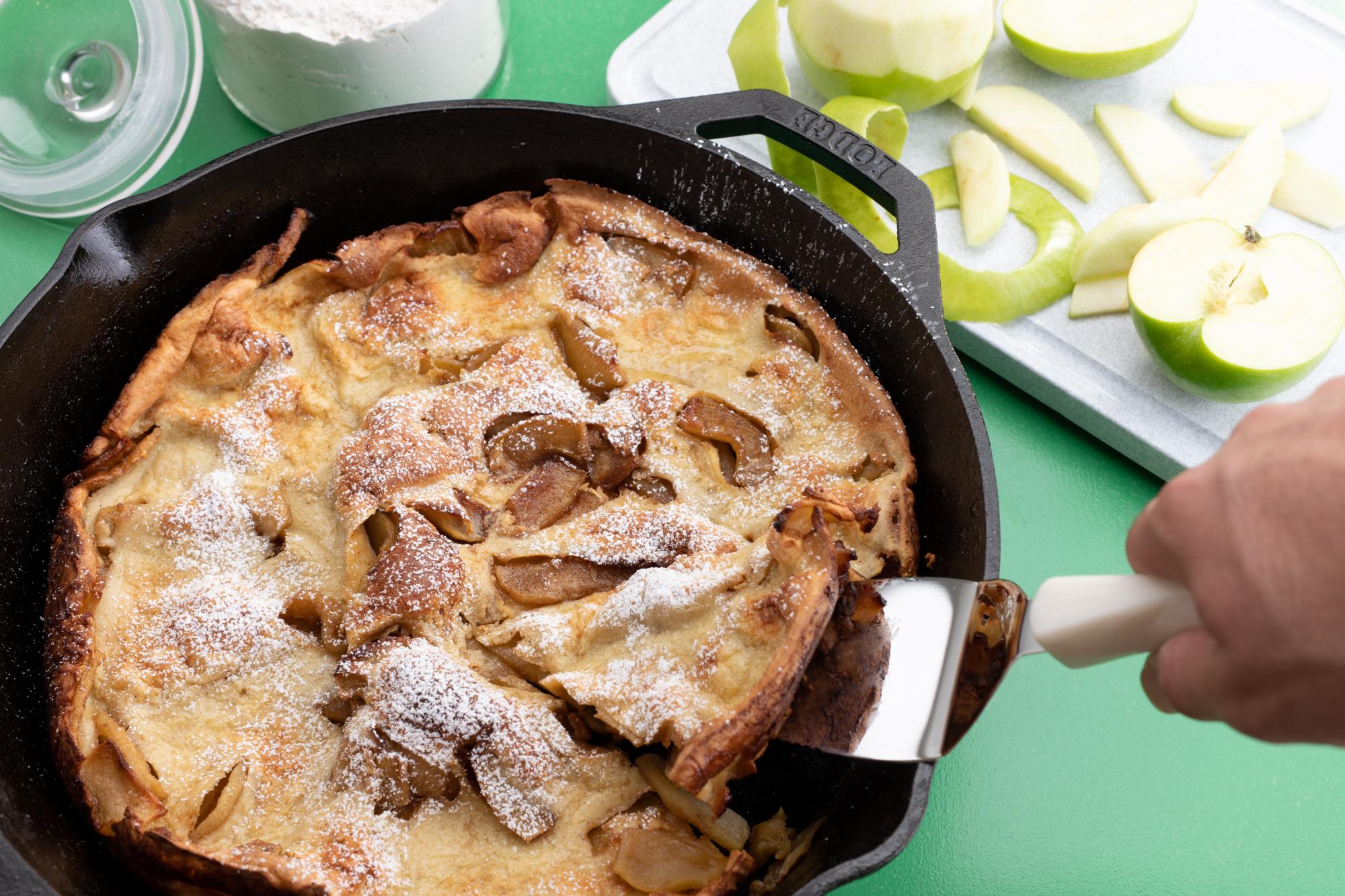 This German Apple Pancake is a great brunch item for the weekend or even as a dessert. It's elegant yet easy to make. The apples bring a natural sweetness to the dish but not too much. I'll definitely be making this again!
Ingredients
For the pancake
3/4 cup all-purpose flour, sifted
1 tablespoon granulated sugar
1/4 teaspoon salt
1/4 teaspoon ground cinnamon
3 large eggs, beaten and at room temperature
1 cup whole milk, room temperature
1/2 teaspoon vanilla
For the topping
3 tablespoons unsalted butter
3 Granny Smith apples, peeled and sliced
2 tablespoons granulated sugar
1/2 teaspoon ground cinnamon
Confectioners' sugar for dusting
Directions
Heat oven to 425 F and position rack in center of oven.
In a large bowl, whisk together flour, sugar, salt and cinnamon. Whisk in eggs, milk and vanilla and mix until just combined. Set batter aside for 30 minutes.
In a 12-inch cast-iron skillet over medium-high heat, melt butter. Add apples, sugar and ground cinnamon and cook until the apples are soft, lightly golden with some caramelization. Approximately 8-10 minutes.
Pour prepared batter evenly over the apples. Using an oven mitt, transfer the skillet to the oven and bake until the pancake is puffy and the edges are browned and crisp, about 15-20 minutes.
Remove from the oven and sprinkle with confectioners' sugar. Cut and serve immediately.
Recommended Tools