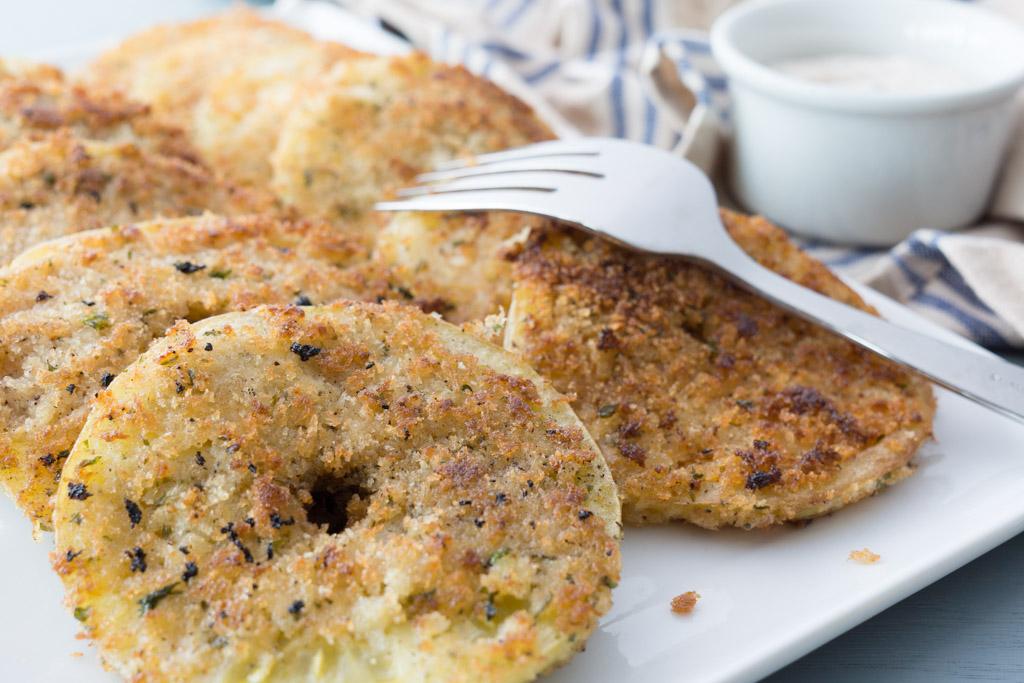 I've only had fried green tomatoes a couple of times. The last time was with a group of friends during a visit to a restaurant in Buffalo, New York. Someone in the group had had fried green tomatoes there before and raved about them. So, we gave them a try and it was confirmed that they were delicious. After having them there, I wanted to try making them at home.
Our local farmers market had beautiful green tomatoes, just the excuse to make fried green tomatoes. They take some time to make but they are certainly worth it. The most important thing is to get as much moisture out of the tomato slices as possible so the breading sticks.
After talking with a couple of friends who make fried green tomatoes, they recommended using panko bread crumbs instead of cornmeal which is what most recipes recommend. The panko coats the slices well and fries up nice and crunchy.
Ingredients
the Tomatoes
4 green tomatoes
Creole seasoning
2 eggs
A pinch of freshly ground pepper
4 cups seasoned or unseasoned panko bread crumbs
3 teaspoons kosher salt
1/2 teaspoon cayenne pepper
2 teaspoon freshly ground pepper
1/2 cup or more vegetable oil for frying
the Dipping Sauce
1 1/4 cups mayonnaise
1 cup buttermilk
1 tablespoon red wine vinegar
2 teaspoons minced garlic
1/4 cup finely chopped chives
1 tablespoon lemon pepper
1/4 cup grated Parmigiano-Reggiano cheese
1/2 teaspoon kosher salt
1 teaspoon Creole seasoning
Directions
Use a Trimmer to slice off the ends and core the tomatoes. Slice them into quarter-inch rounds and dry between several layers of paper towels to get rid of the excess moisture. Sprinkle both side lightly with Creole seasoning.
Whisk the eggs and a pinch of black pepper together in a shallow bowl and set aside. In a separate bowl, combine the bread crumbs, salt, cayenne pepper and 2 teaspoons black pepper. Mix well. Dip the tomato slices in the egg mixture and then into the crumb mixture. Press to coat on both sides and around the edges. Place the coated pieces on a wire rack set over a baking sheet and refrigerate for 30 minutes to allow the crumbs to set.
Heat the vegetable oil in a heavy 12" skillet over medium heat. When the oil is hot, slide a few tomatoes into the pan. Do not crowd. Cook 2 – 3 minutes on each side or until brown. Remove and drain on paper towels. If necessary, add more oil to the pan and allow it to get hot before adding more tomatoes.
To serve, arrange tomatoes on a serving platter and set a bowl of the dipping sauce in the middle.
Alternate serving suggestion: Place a slice of thick cut bread on a plate; layer with the dipping sauce, lettuce, 2 slices of crisp fried bacon and 2 fried tomatoes. Drizzle with a little more sauce and sprinkle with chives.
Recommended Tools