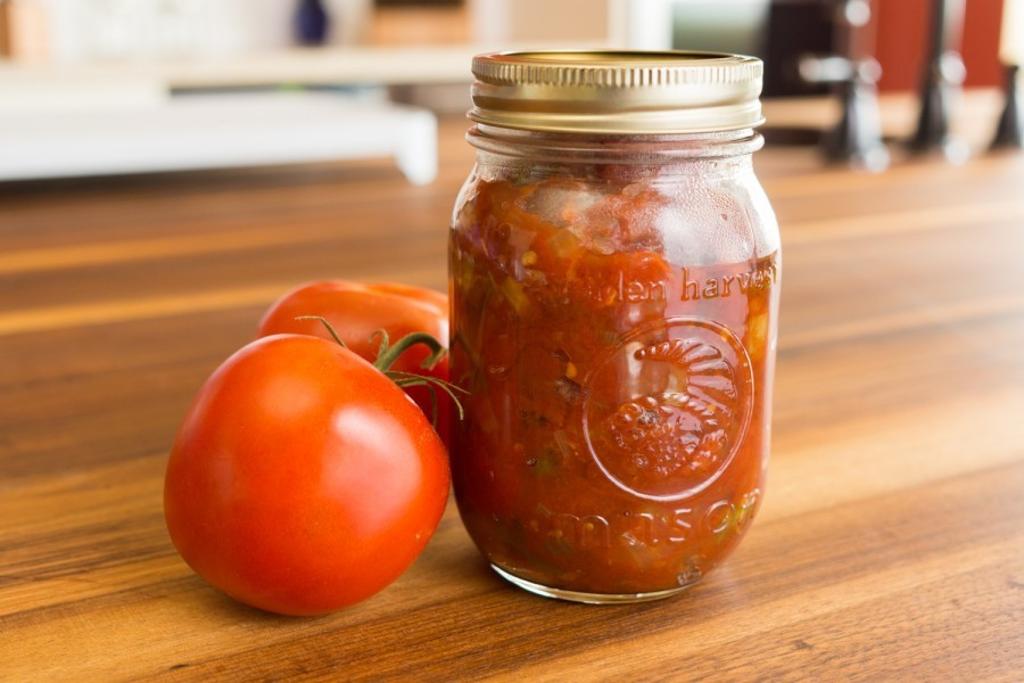 I recently wrote about one of our local farmers markets and the variety of produce for sale there. There are several people from Cutco who choose to grow their own and reitree Sharon Carls is one of them. She and her family have planted a large garden at their country home for many years.
We visited Sharon's garden on a sunny day in July and found some vegetables ripe for picking and others just starting to produce.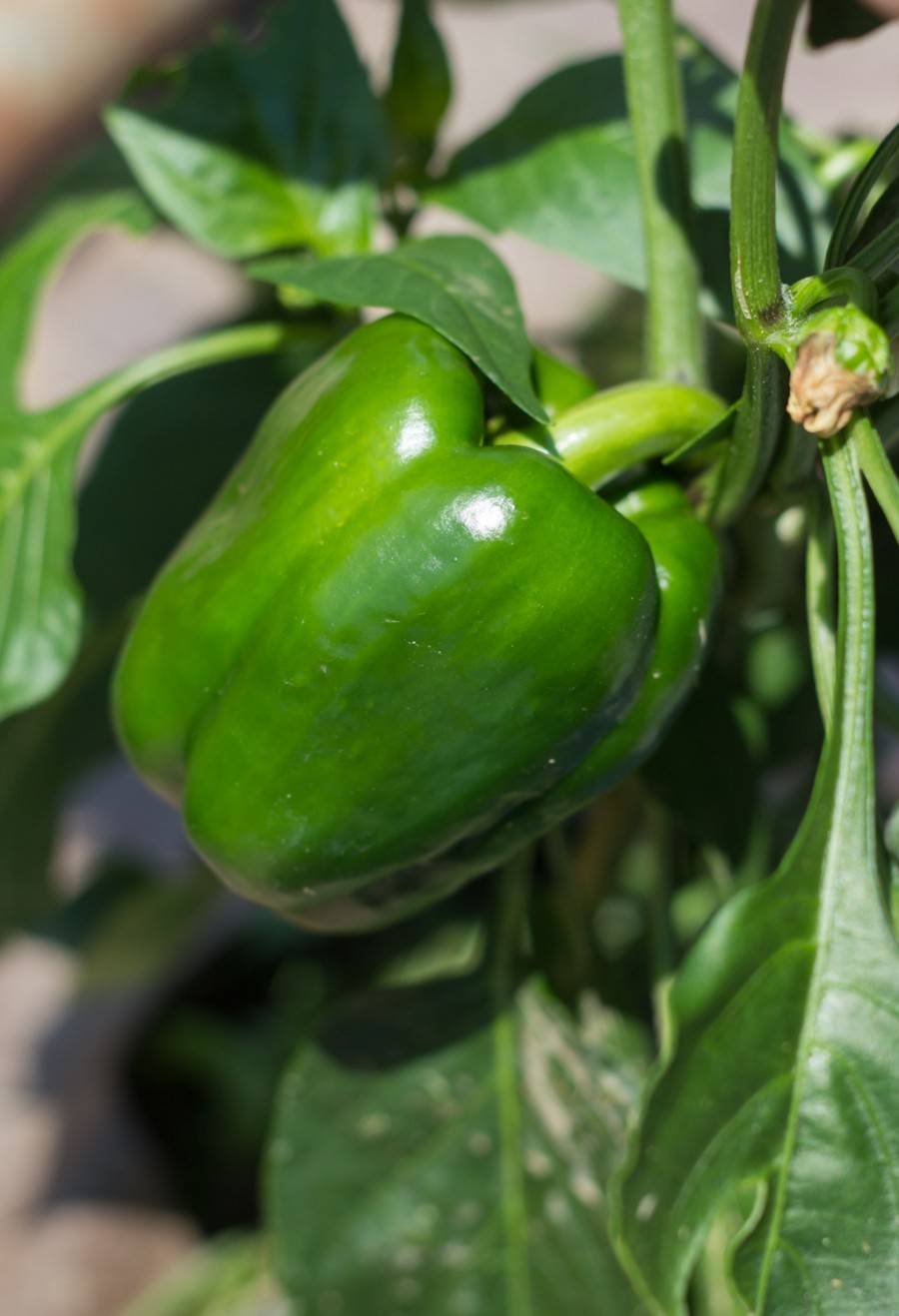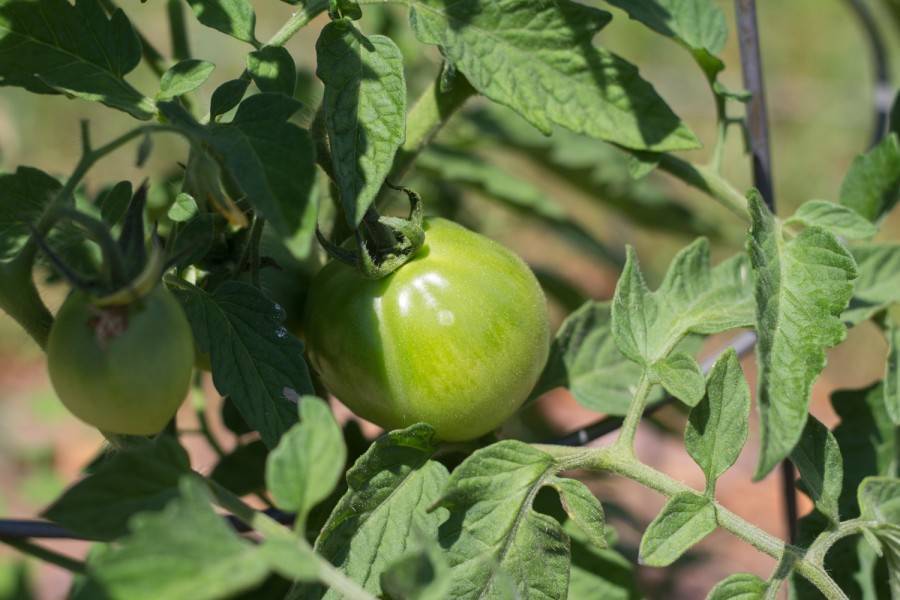 There were onions, peppers, green beans, tiny cucumbers and small green tomatoes starting to appear. Some of the peas were ripe for picking and little zucchinis were growing from their orange blossoms, although Sharon said they had already picked several.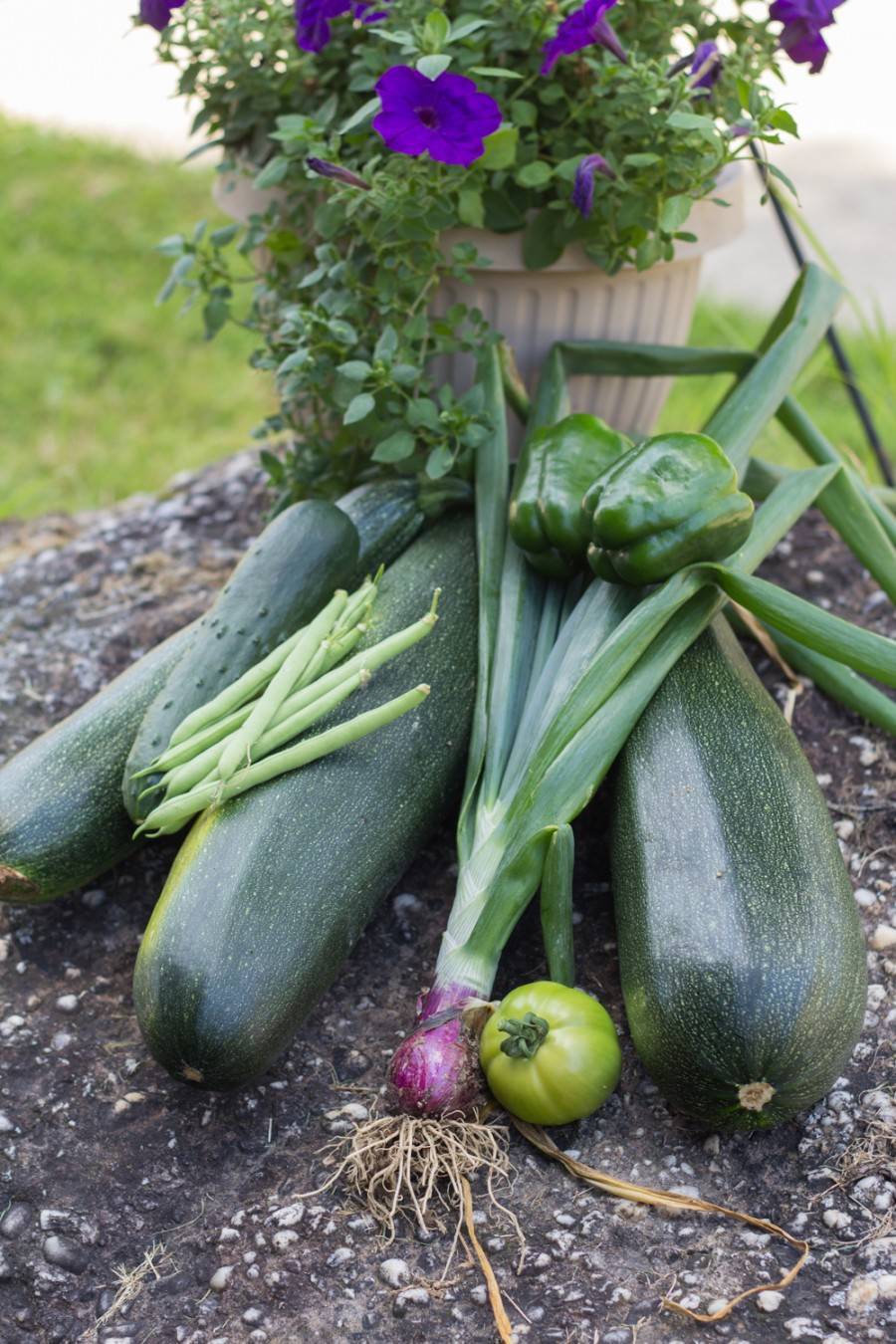 With the help of her daughter, Olivia, Sharon cans and/or freezes everything she grows.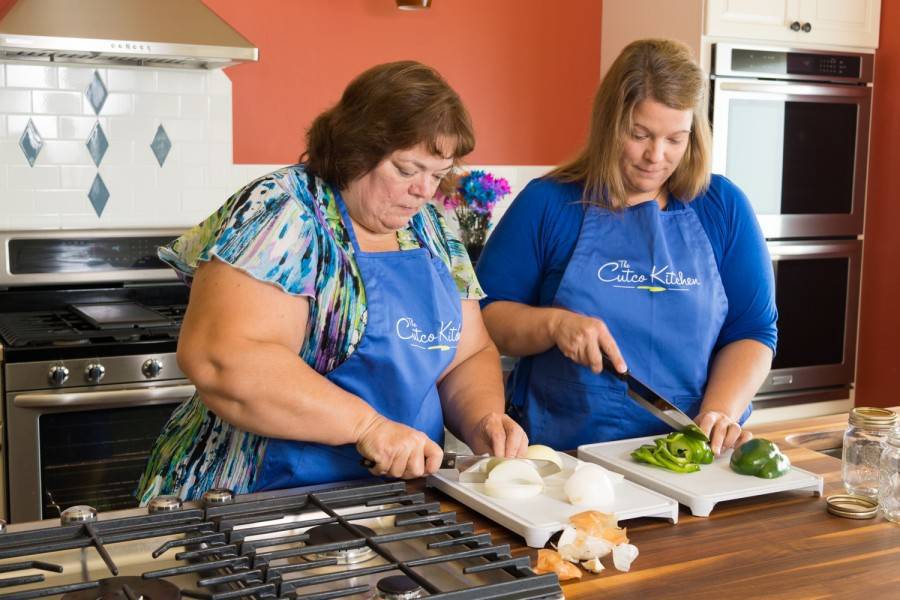 She makes homemade tomato juice, tomato sauce, pickles, dilly beans and salsa, which is a recipe she is sharing with us. She also makes zucchini bread and freezes it or shreds the zucchini to freeze and use later. She and her family enjoy the bounty of the garden throughout the fall and winter.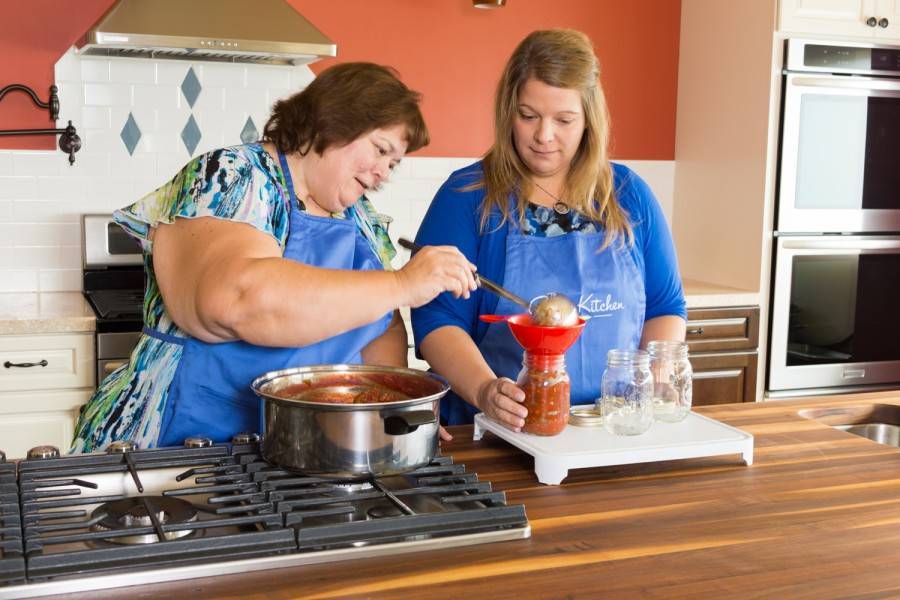 Depending on availability and price, Sharon either picks or purchases various kinds of berries and makes her own jam. I have been the lucky recipient of jars of mixed berry and blueberry jams which were both delicious. She and her husband, Steve, are also avid deer hunters and make a delicious venison chili.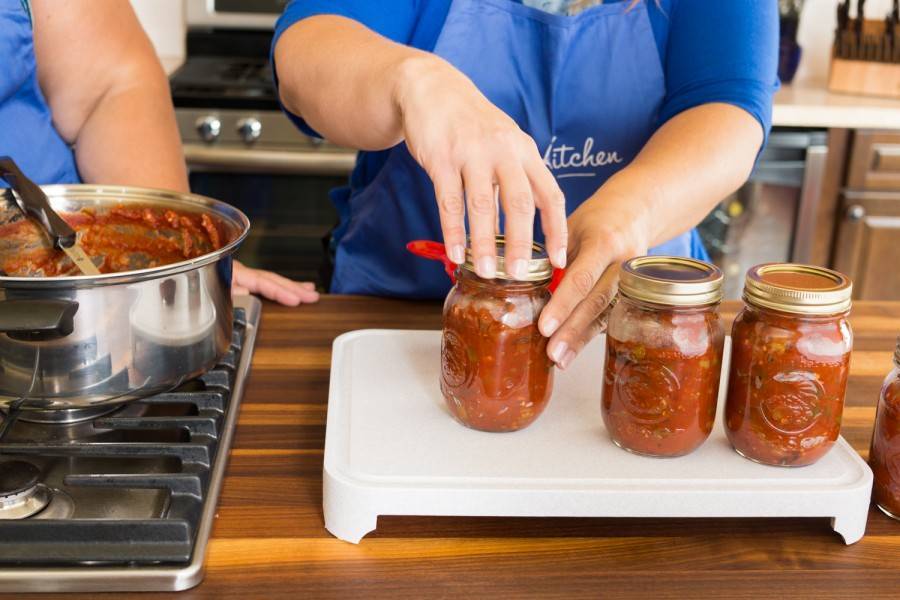 The Carls' are also the parents of another daughter, Stephanie and son, Dennis and grandparents of seven grandchildren. Sharon is one busy lady! After all this, she still finds time to scrapbook, sew and do crafts.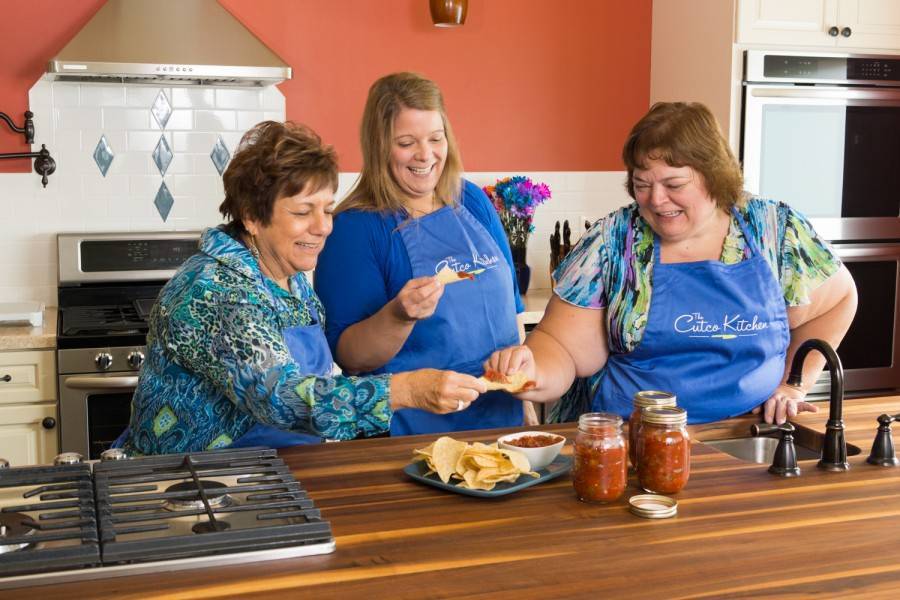 Serving suggestions for homemade salsa:

Use it as a topping on hamburgers

Add it to spaghetti sauce

Top French fries with fresh salsa and then sprinkle with blue cheese
Ingredients
1 red onion, chopped
1 white onion, chopped
1 yellow onion, chopped
6 pounds fresh tomatoes (preferably Roma), peeled and chopped
2 banana peppers, chopped
3 green bell peppers (chopped)
4 jalapenos, chopped (optional)
3 6-ounce cans tomato paste
1/2 cup white vinegar
2 tablespoons minced garlic
1 1/2 tablespoons kosher canning salt
1 tablespoon crushed dried hot pepper
1/4 cup or less brown sugar (depending on your preference)
1/4 cup or less white sugar (depending on your preference)
1 1/2 teaspoons ground cumin (optional)
8 pint canning jars with lids and rings, washed
Directions
Put all ingredients in a large stock pot. Stir and simmer until thick (about 3 hours).
Prepare jars, lids and bands by washing in hot, soapy water. Rinse well. Dry bands.
Pack salsa in hot sterilized jars, filling to 1/4 inch from the top. Run knife inside jar to prevent bubbles and allow more salsa in jars. Place lid on top of jar and screw on rings, tighten ring.
Place jars of salsa in large stockpot or canner with water at least 1 inch over the top of the jars. Allow space between the jars. They should not touch. Cover the pot/canner with the lid, bring to a boil and boil for 15 minutes. If you live in a high altitude area, adjust the processing time as necessary.
Remove jars from pot/canner, place them several inches apart on a thick towel. Cover with another towel and allow to cool. Once cooled, check lids for tight seal (lid does not move up or down). Sealed jars can be stored for up to one year. Any jars not tightly sealed can still be used. Store them in the refrigerator and use within 3-4 weeks.
Recommended Tools