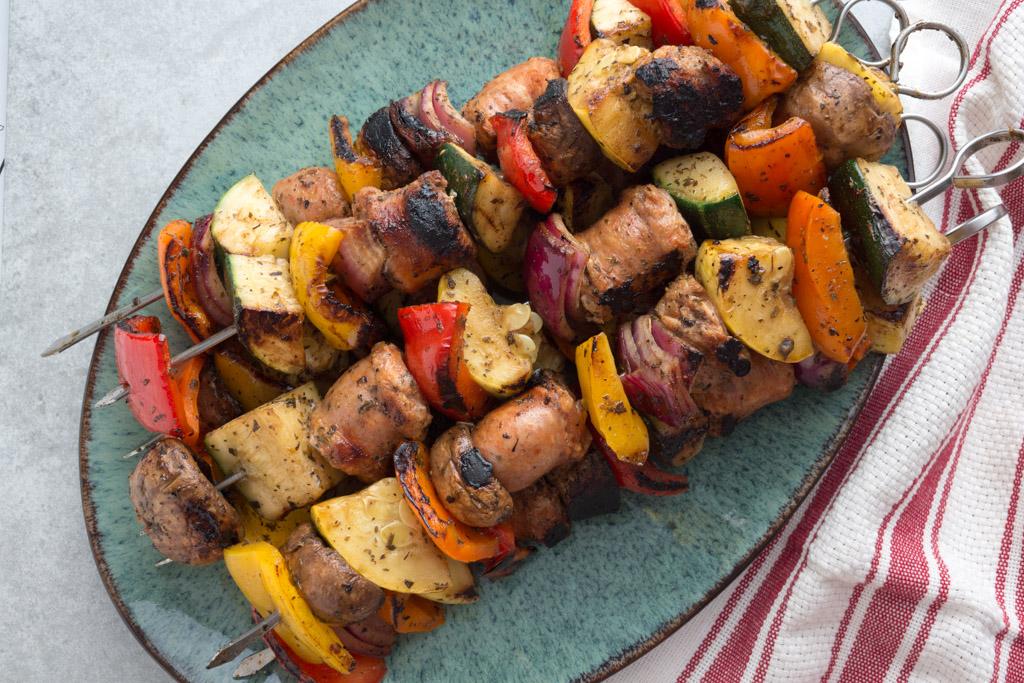 Grilling season is just around the corner although I know many people defy the elements and grill year round. There's almost nothing that can't be grilled. From pizza to beef, chicken and fish, even dessert can be made on a grill.
This easy recipe for Grilled Sausage Kabobs can be prepped ahead of time. It doesn't take long to cook and, because it uses chicken or turkey sausage, is quite healthy.
Leave the mushrooms whole and use the Vegetable Knife to cut the vegetables into pieces that are about the same size, which allows them to cook evenly. The Hardy Slicer cuts through the sausage with little effort and creates uniform slices.
For the kabob marinade, you can always choose to use your favorite marinade recipe or even a store-bought one if you prefer.
Whether serving alone or over a bed of rice, these Grilled Sausage Kabobs are sure to please.
Ingredients
Marinade
1/4 cup balsamic vinegar
2 tablespoons olive oil
2 tablespoons honey
1 tablespoon Dijon or yellow mustard
1 tablespoon Italian seasoning
1/2 teaspoon salt
1/2 teaspoon pepper
1/2 teaspoon garlic powder
A pinch of sugar or to taste (optional)
Kabobs
1 12-ounce package turkey or chicken Italian sausage
1 medium zucchini
1 medium summer squash
1 medium green bell pepper
1 medium red bell pepper
1 medium yellow bell pepper
1 16-ounce package mushrooms
1 medium red onion
Directions
For the marinade, whisk all ingredients together in a small bowl with a Mix-Stir and set aside.
Cut all the vegetables into same size chunks and the sausage into 1/2- to 1-inch disks. Put the vegetables in a zip top bag and pour in half the marinade. Put the sausage into a separate zip top bag and pour in the other half of the marinade. Refrigerate for at least 30 minutes or overnight.
Skewer the sausage and vegetables in alternating patterns. Place on a grill preheated to medium-high heat. Grill 8 to 10 minutes, turning a few times. Allow a bit a space between the vegetables and the sausage so the sausage can cook evenly.
If using wooden skewers, soak them for 15 to 20 minutes before assembling the kabobs to prevent burning.
Recommended Tools